apr 19, 2010
canon neoreal 'prism liquid' by akihisa hirata and kyota takahashi
japanese artist kyota takahashi and architect akihisa hirata collaborated on 'prism liquid', canon's neoreal installation at milan design week 2010.
'prism liquid' image © designboom
the space is structured as a polyhedron, which glows in various prism-like colors. the lights flicker and move just as if water was flowing, changing their shape several times. two opposite concepts – static and dynamic, concrete and abstract, input and output – coexist in one world. the polyhedral screens are arranged in a sprial that is connected three-dimensionally, in which a world of new images comes to life through the colorful lights created by takahashi which are projected onto the larger-than-life construction (almost 6 m high, 8 m wide, 40 m deep) by akihisa hirata. the technical details behind the installation are possible through canon digital imaging technologies. the images which are seen have been taken with a digital single lens reflex camera and are projected in many colors, through 21 projectors on several polyhedral screens.
image © designboom
image © designboom
the idea behind the installation originated from the projectors themselves. a bunch of light beams generated by these machines as the capacity to give birth to an 'invisible' pyramid-shaped space. the images break up into small pieces of bright color, similar to that of a puzzle, becoming abstract visions. the pieces come together, assembled three-dimensionally, like an origami sculpture, enhanced by the digital imaging technology and primitive color variations and dynamic movement of the lights and images.
'I wanted to express the idea of 'input to output' as simply and directly as possible. without using any computer graphics, elaborating the images, the brightness, and the projection method, I decided to try and extract the maximum appeal a picture can have. then I tried to express – in a single world – concepts such as 2D / 3D, concrete / abstract, static / dynamic – which are usually difficult to capture because of their binomial characteristics. these images begin with horizontal wide screens found at the back of the space. the images in this section are projected simultaneously with five single-lens reflect cameras which have animation shooting functions; using these images I managed to create a panoramic world of extremely realistic, vivid, digital images, just like an 'emakimon' (picture scrolls). then I installed the vision scroller* and created the conditions for those visiting the booth to taste the sense of interactivity and liveliness by themselves, by experiencing the images on their own.' – KT
image © designboom
image © designboom
the light emitted by projectors is usually projected onto flat screen screens in which we experience them as two-dimensional images. but actually, there is a cone-shaped light generated by the projector in which the screen blocks the light and what we really see is the reflection. a single cord connects the entire place while creating a spiral. this thick cord made by polyhedral range blends into the territory of the three-dimensional lights generated by the projectors. the cord runs throughout the space, changing in size. sometimes it creates a 6 m high space, and sometimes it cascades across, stretching over the floor, almost resembling fines or other climbing plants intertwining with the lights.
'I wanted to create a space which seems to play with the mass and the three-dimensionality of the light, and to make it possible to experience an almost physical blending with light. the mass of these lights is materialized and vivid color are generated, making one feel as if it is radiating. (…) tangling… come to think of it, the living world is full of peaceful, emergent, intermingled forms of life. from micro-proteins to forests where various plants and animals co-exist. the architectures and the spaces created by people should also be able to connect to the peace of this intermingled life. blending our own bodies with the world should generate a new reality, a new experience which is realistic and original at the same time.' – AH
projections of flowers image © designboom
image © designboom
color prism image © designboom
image © designboom
image © designboom
image © designboom
image © designboom
image © designboom
image © designboom
image © designboom
akihisa hirata demonstrating the installation models to designboom image © designboom
small scale model of the polyhedron image © designboom
image © designboom
diagram of the prisms
akihisa hirata gave designboom an explanation of the installation through the use of models:
akihisa hirata portrait © designboom
kyota takahashi portrait © designboom
image © designboom
image © designboom
image © designboom
image © designboom
image © designboom
image © designboom
image © designboom* a vision scroller is a live image creation device made by kyota takahashi, through the installation of a camcorder under an acrylic board which is used as a canvas. when materials such as sand and feathers are placed on the board, the camcorder takes a picture and the projectors connected to the camcorder project the image in real time. the materials can be moved sideways by rolling the board's transparent roll film, and the images can be rotated and moved by installing the camcorder on a table. a new version of the vision scroller was made specifically for this installation.
project details:
organizer: CANON INC. producer: toshiki kiriyama projector: XEED WUX10, XEED SX80 mark II, LV 7585 camera: EOS 7D camcorder: LEGRIA HF S21 concept and composition: kyota takahashi and reiko kawaguchi (artists), akihisa hirata (architect) exhibition design: hikaru mori (designer) camera work: kohei matsumura sound design: toru yamanaka imaging system: LUFTZUG.corp sound system: cabasse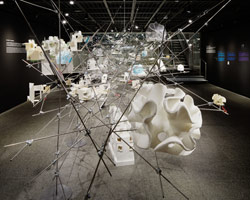 jun 22, 2018
jun 22, 2018
apr 16, 2018
apr 16, 2018
apr 19, 2015
apr 19, 2015
apr 17, 2013
apr 17, 2013
apr 08, 2013
apr 08, 2013
jan 26, 2013
jan 26, 2013
feb 07, 2012
feb 07, 2012
apr 13, 2011
apr 13, 2011
apr 21, 2009
apr 21, 2009
jun 01, 2010
jun 01, 2010
may 26, 2010
may 26, 2010
may 25, 2010
may 25, 2010
a diverse digital database that acts as a valuable guide in gaining insight and information about a product directly from the manufacturer, and serves as a rich reference point in developing a project or scheme.