jul 13, 2012
cartier ID two concept watch
cartier 'ID two' concept watch
engineering approach, cartier demonstrates the possibilities of revolutionizing mechanical watches by utilizing technology that consumes 50% less
energy and stores 30% more energy than a comparable internal movement. the case creates an internal vacuum by extracting 99.8% of air particles,
sealed through the reinforcement of gaskets doped with nanoparticles. the use of a vacuum minimizes friction to provide a 32 day power reserve,
whereas conventional systems waste 75% of the energy from the air resistance among internal components. for the first time in watchmaking production,
the internal springs have been made in glass microfiber, rather than metal. the timepiece was manufactured using one micron of tolerance
( 1/1000th of a millimeter), providing a highly accurate measure of time keeping.
3/4 front view
rear view
detail
ID escapement component
ID escapement component
double fiberglass springs
differential gearing
official 'ID two' video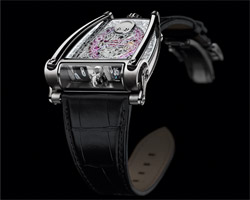 aug 10, 2017
aug 10, 2017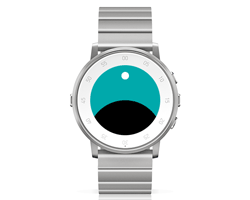 aug 02, 2017
aug 02, 2017
jul 11, 2017
jul 11, 2017