may 18, 2012
charging gadgets with solar powered urban infrastructure
'street charge' by PENSA!
the 'street charge' concept takes into account the changing urban environment and our social need to stay connected at all times via our smartphones or androids. the simple intervention, developed by brooklyn-based studio PENSA! looks to harness the potential of our current street infrastructure as a platform in which to power-up our mobiles and other portable gadgets; it makes use of what already exists, rather than considering that additional systems be installed on our sidewalks. PENSA!'s design would utilize photovoltaic cells to charge the integrated LED lighting and storage battery housed within the channel of sign structures. attached would be a shelf and bench, offering a so-called 'rest stop' for individuals to take a moment to read an e-mail or text a friend while giving their device a quick re-charge.
a small table or bench would attach to the street infrastructure acting as a 'rest stop' for individuals needing to re-charge their mobile devices
'street charge' would simply be integrated into existing sign structures
integrated photovoltaic cells absorb solar energy so that it may continue to be powered through the night
rendering of the photovoltaic cells embedded into 'street charge' video of how 'street charge' could work in our urban infrastructure video courtesy of PENSA!
via fastco. design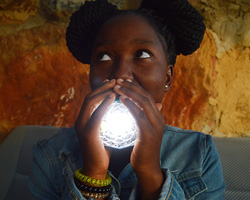 sep 01, 2017
sep 01, 2017
aug 26, 2017
aug 26, 2017
aug 24, 2017
aug 24, 2017
aug 17, 2017
aug 17, 2017
aug 14, 2017
aug 14, 2017
jul 24, 2017
jul 24, 2017