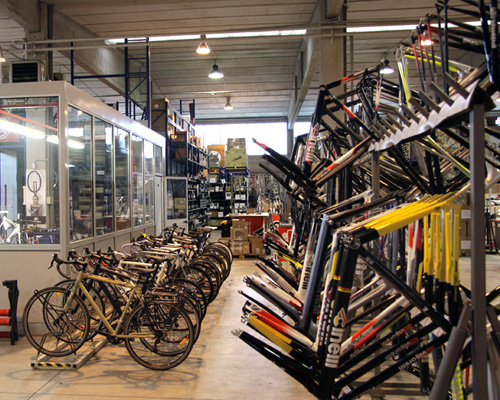 jan 21, 2015
explore the milan-based cinelli studio and the columbus tubing factory
explore the milan-based cinelli studio and the columbus tubing factory
image © designboom
following the interviews with fabrizio aghito, the head engineer for the italian bicycle manufacturer, cinelli, and their chief art director, alessandra cusatelli, designboom concludes our three-part studio visit series with a tour of their milan-based office and the adjacent columbus tubing factory.
representing all that is renown for italian design, the cinelli brand reflects passion, high levels of craftsmanship and detailed composition in a fusion of art, style and professionalism. their products – most notably bicycles – are internationally acclaimed for creating a relationship with customers based on fun, technology and art. this creative focus has led to collaborations with well-known creators including; barry mcgee, keith haring and mike giant, which have all further enhanced this emotional connection that groups cinelli riders in a community.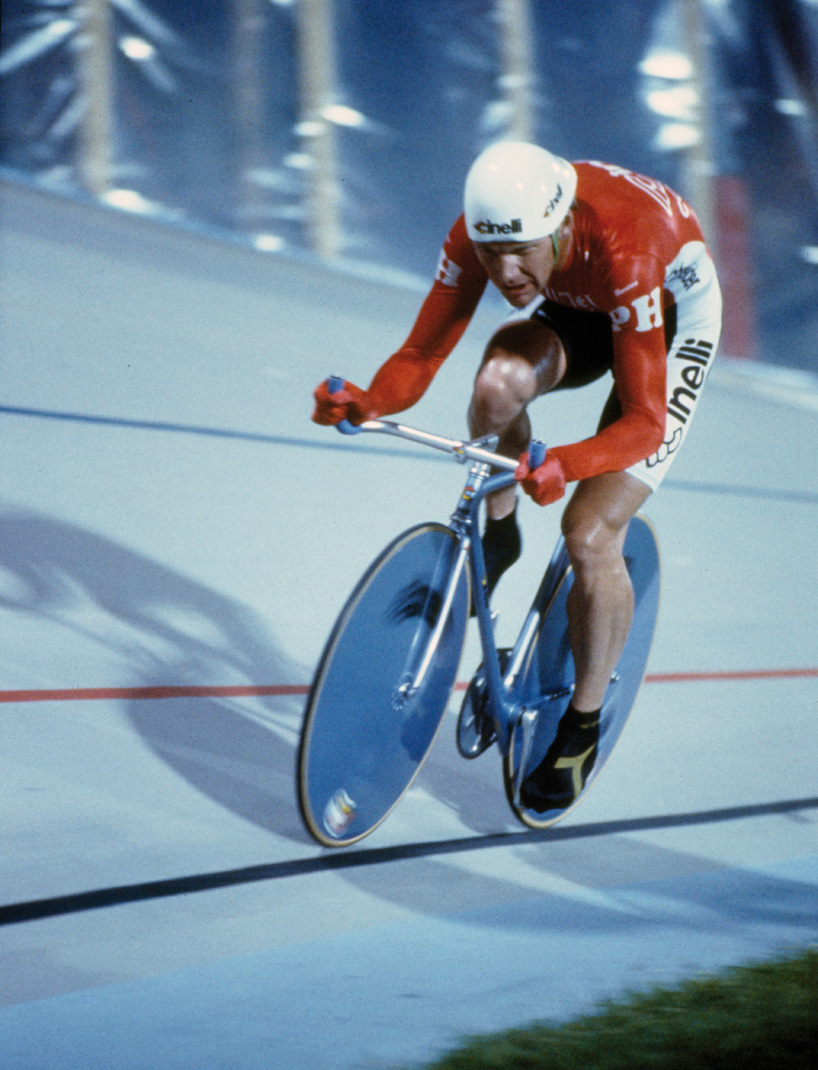 image courtesy of cinelli
because of the zio ziegler painted doors to the columbus steel factory, this pinpoint on art is immediately present when visiting their headquarters and continues when inside their studio. paintings, bespoke models and bicycle-based displays remind not only visitors, but also employees about the creativity that launched the company back in 1948 and is propelling their designs towards the future.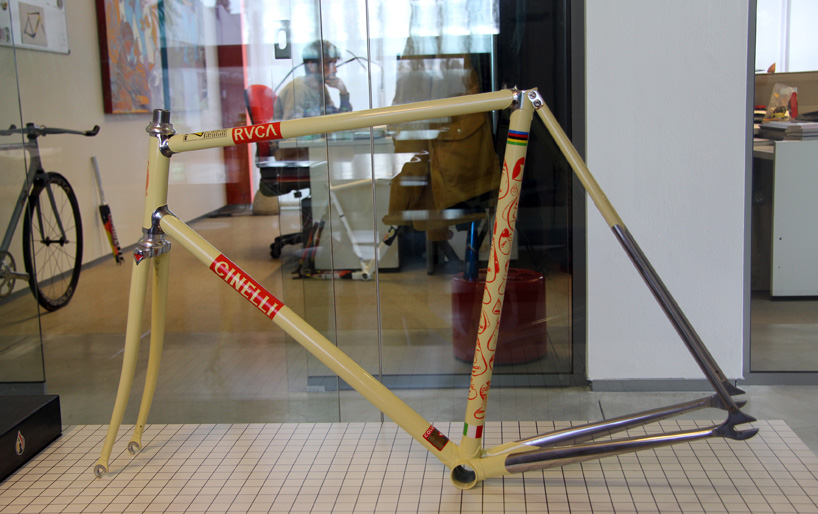 cinelli supercorsa pista limited edition by barry mcgee
image © designboom
work starts with the fabrizio aghito-led research and development department who use graphs to analyze how to maximize engineering possibilities for new products. this is paramount as the company's foundations were born on bicycle racing and their performance continues to be the most important aspect. a famous model the 'laser', showcases this racing heritage having accumulated 28 olympic and world championship medals, and motivates the R&D team to achieve continuous success.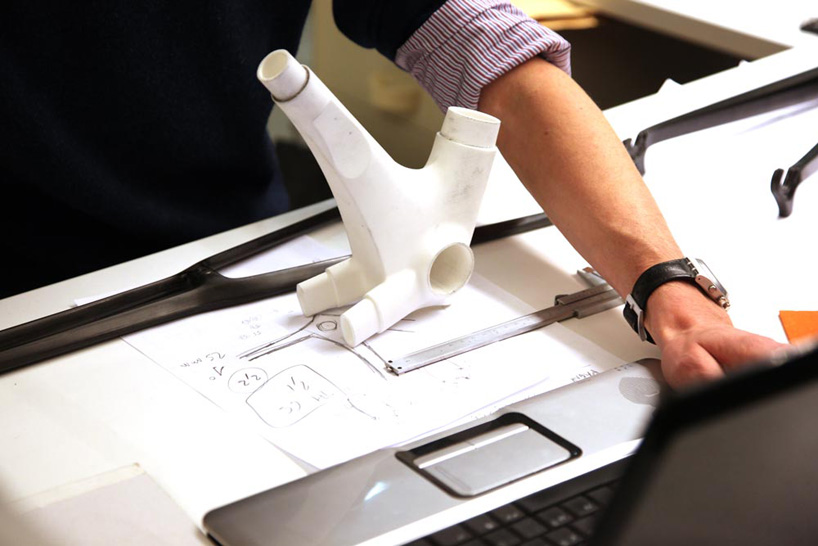 3d prototype of a carbon monocoque cinelli laser bottom/bracket
image courtesy of cinelli
after using autoCAD to establish lines and then solidworks for the 3D creations, prototypes are then analyzed with still photography, before they are progressed to the art and marketing division headed by alessandra cusatelli. many varieties of color combinations, styles and branding are explored using side profile illustrations of the new bicycles. creating a personality and generating an emotional connection with the consumers are the main aims of the team. no options such as color mixes, are out of the question because the company strives to be identifiable by its soul, not its colors.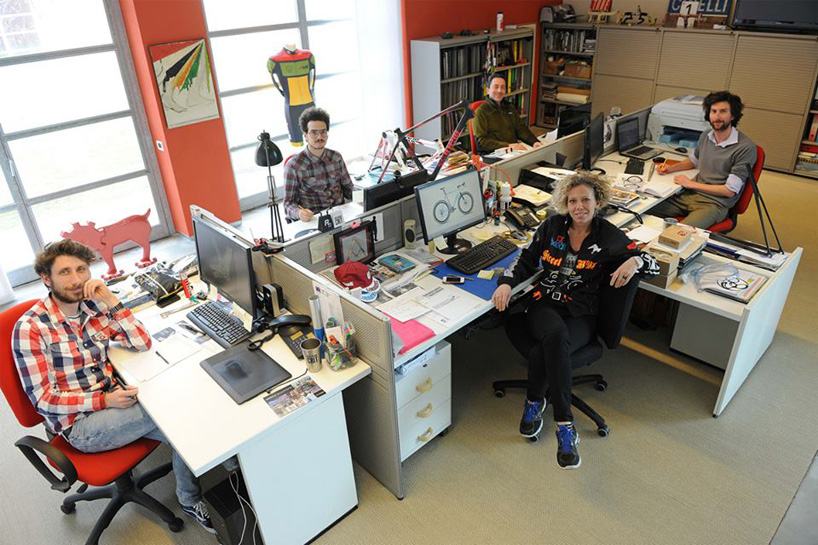 cinelli's staff
image courtesy of cinelli
a continuation of this character development is shown inside the adjacent columbus steel tubing factory, where each bicycle is manufactured and put together by hand in a workshop as clean as a surgery. the north italy workshop mainly deals with high quality steel that is delivered in bulk, but also processes a selection of aluminum models whose numbers are limited due to the material's engineering restrictions and costs.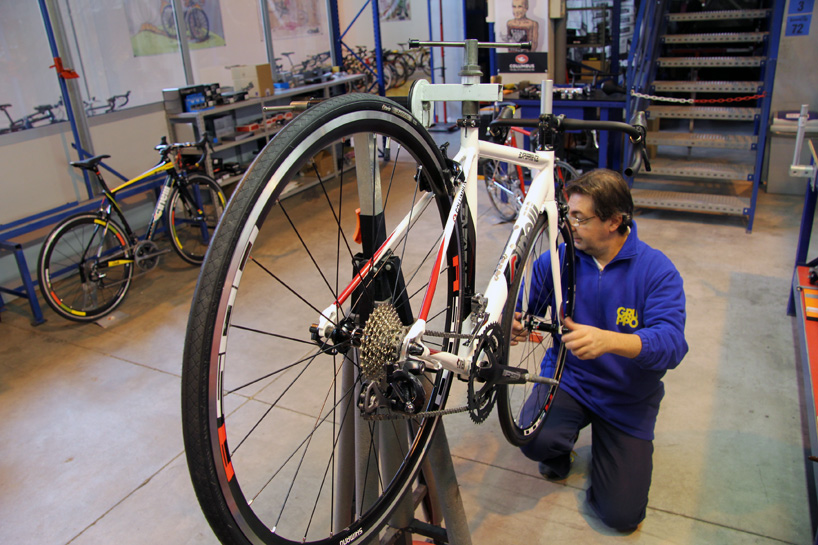 in a workshop described as being as clean as a surgery, the bicycles are constructed by hand
image © designboom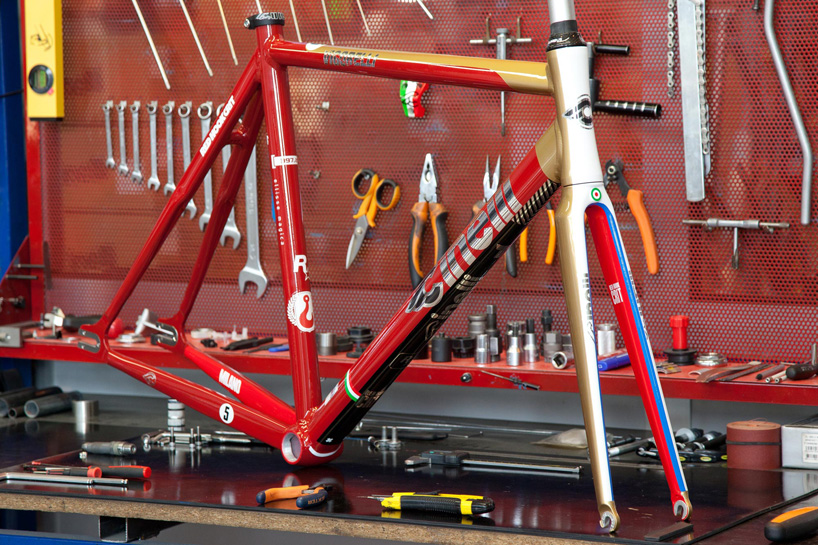 inside cinelli and columbus tubes factory
image courtesy of cinelli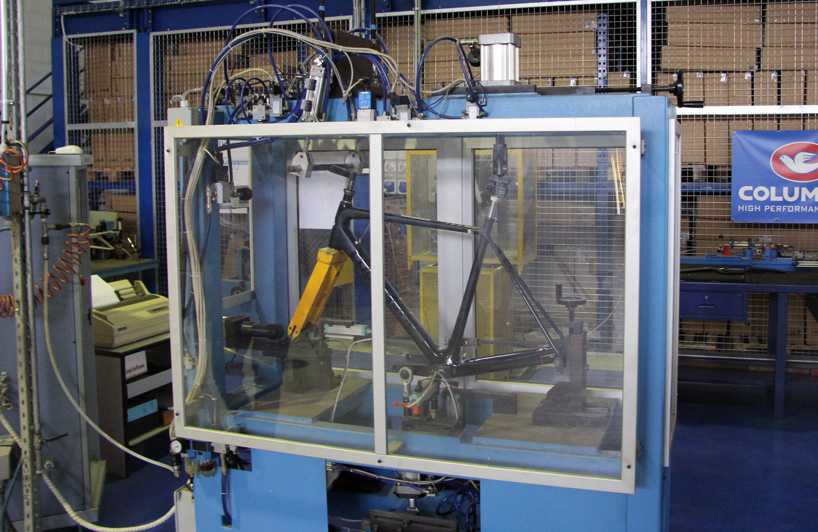 machines test the frames for stiffness and durability
image © designboom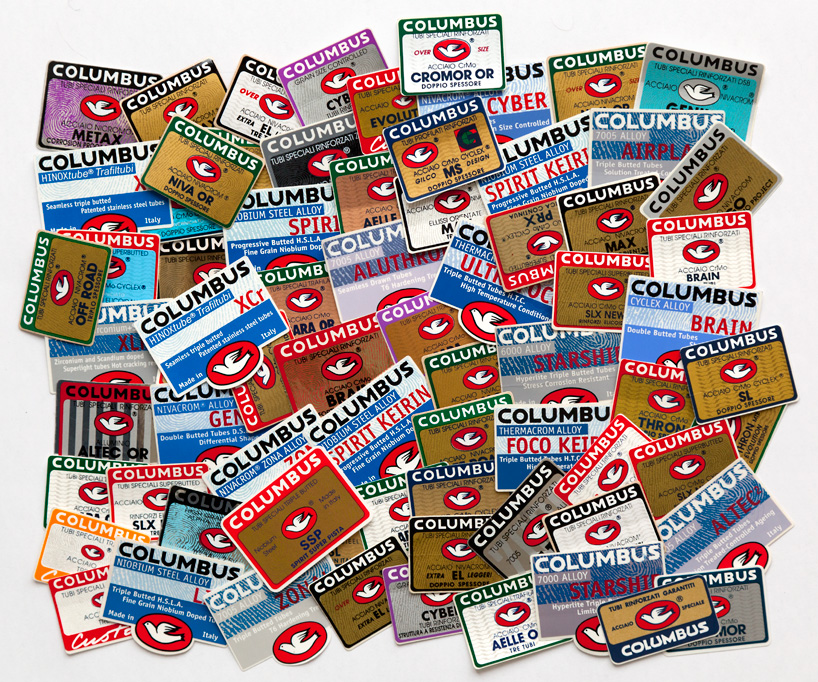 each tube manufactured is awarded its own authentic columbus sticker
image courtesy of cinelli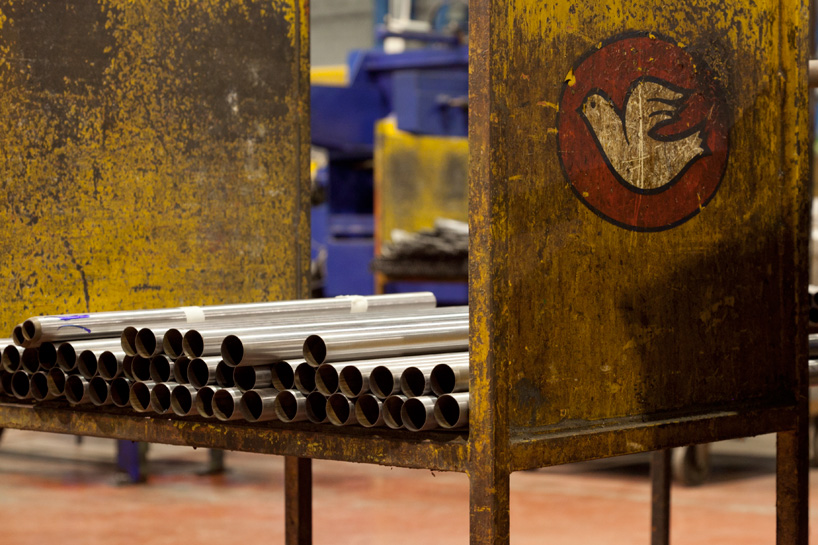 image courtesy of cinelli
the factory contains a vast range of machines which are all capable of forming different shapes with the steel, with the first being used to pull the metal tubes into longer and thinner shapes. tapering and bending the stainless seamless tubes to create the bicycle frames is also possible. cinelli's care for design is concurrent in their manufacturing as shown by the workers' craftsmanship, each of whom wear gloves to prevent any rusting to the living steel, and give each frame its own dove-derived columbus logo.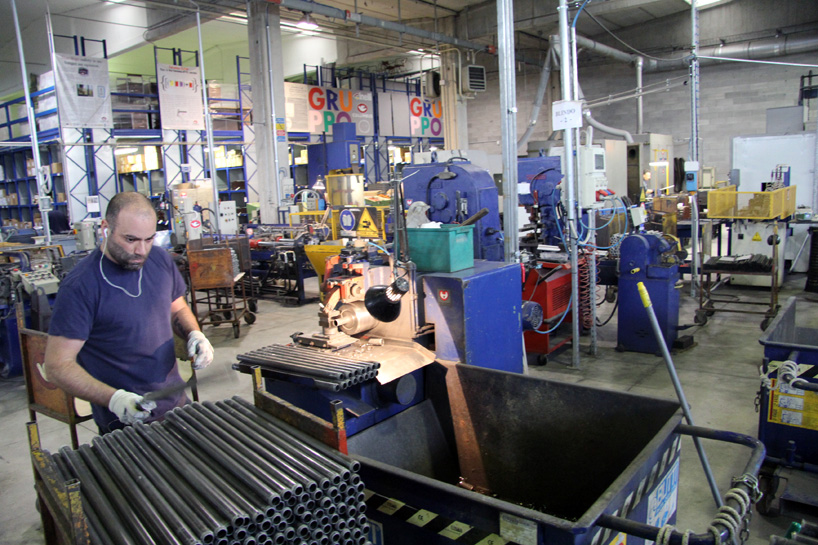 image © designboom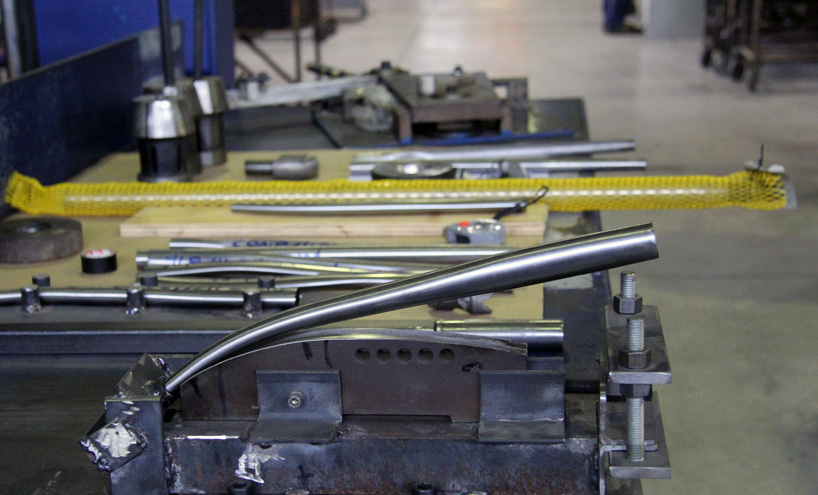 a tapered fork blade pictured after bending
image © designboom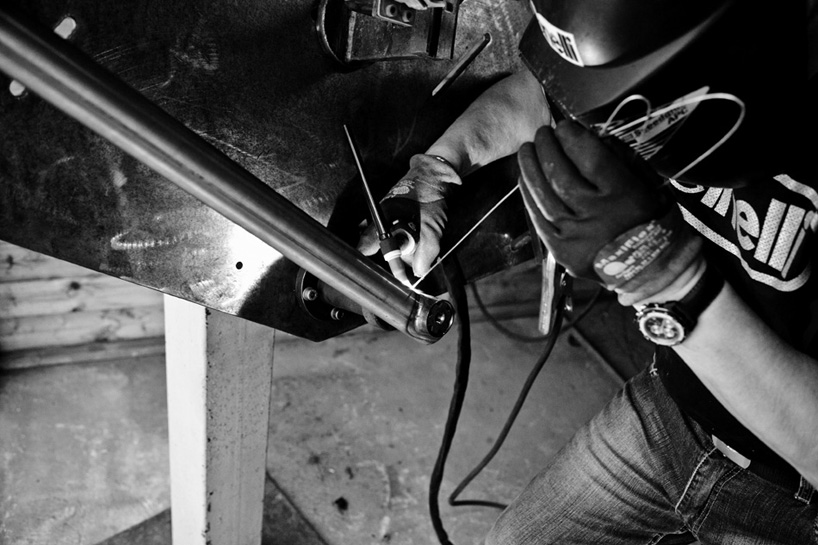 welding the steel tubes
image courtesy of cinelli
a visit to cinelli's studio and workshop would not be complete without viewing the showroom where they display past and present bicycle models and the accompanying range of accessories. the display exhibits all the types of bikes that they produce; road race, track, urban and bootleg, presenting models such as the 'saetta radical', the 'mash parallax' and the 'gazzetta della strada'. a large section was dedicated to the 'hobo' bootleg which, as the name suggests, shares its traveling traits with its influencing 1920s american adventurers persona. by combing fun and high performance, the two-wheeler's capabilities for journeying over tough environments was proven when lucas brunelle filmed himself completing the tour d'afrique which starts in cairo and finishes in cape town.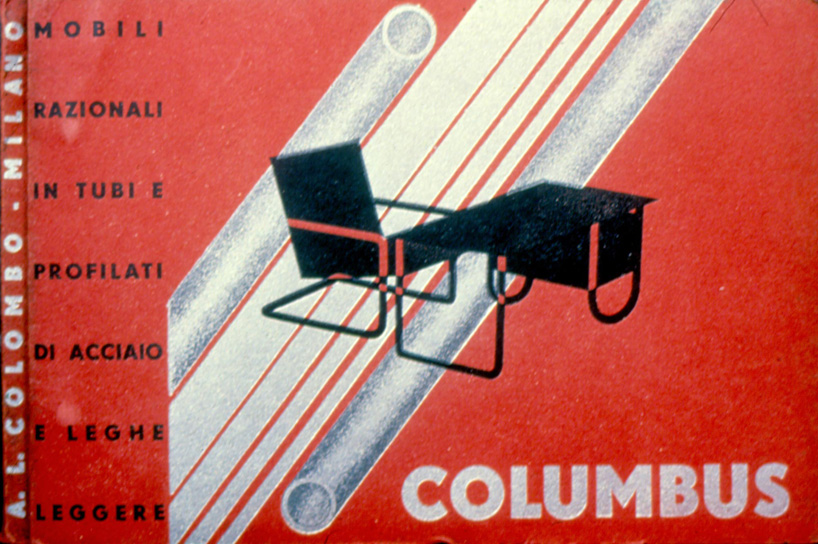 furniture is an important aspect of columbus tubing's heritage
image courtesy of cinelli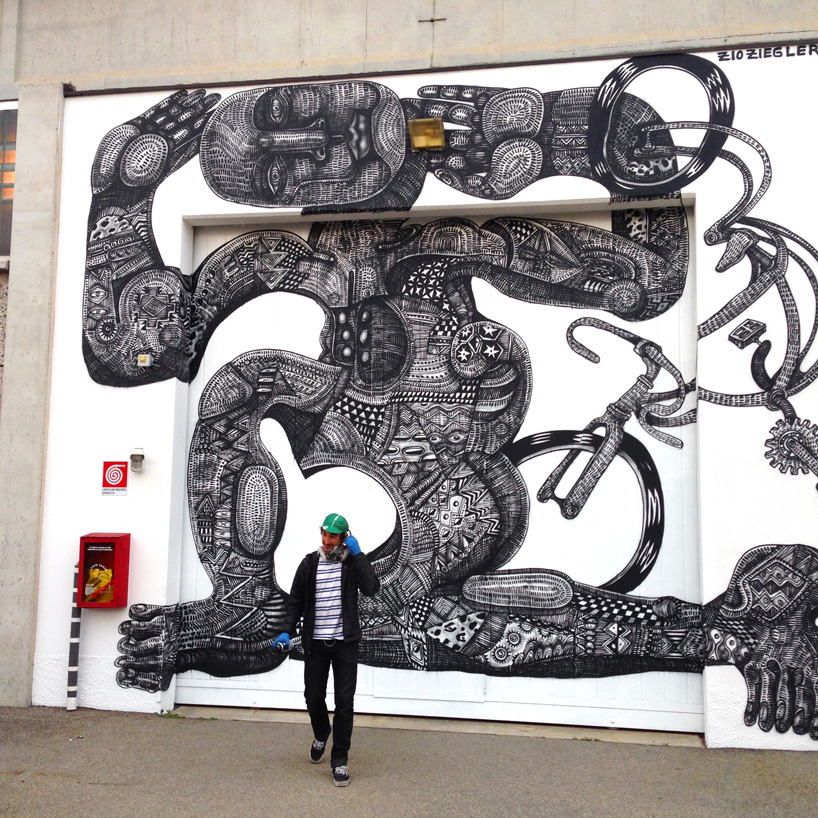 the zio ziegler painted doors of the factory
image courtesy of cinelli
the 'bootleg' demonstrates a new direction for the company where the divides between different bicycle types are being broken down and merged together. the model is suitable for harsh landscapes as well as for cities, and still reflects the cinelli brand's personal characteristics with its soul, performance and customization. with the studio working continuously on the 2016 range, cinelli, cyclists and italian design enthusiasts alike, will be sure to see a line of funky, high capability and precision-crafted models rolling out of the company's milan HQ in mid-2015.
jul 08, 2020
jul 08, 2020
jun 17, 2020
jun 17, 2020
jun 11, 2020
jun 11, 2020
jun 07, 2020
jun 07, 2020
apr 25, 2020
apr 25, 2020
apr 07, 2020
apr 07, 2020
mar 12, 2020
mar 12, 2020
dec 10, 2014
dec 10, 2014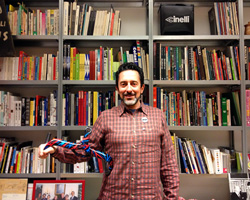 nov 25, 2014
nov 25, 2014
nov 25, 2019
nov 25, 2019
nov 10, 2018
nov 10, 2018
jul 09, 2018
jul 09, 2018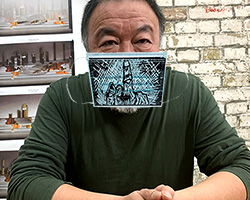 jul 02, 2020
jul 02, 2020
mar 17, 2020
mar 17, 2020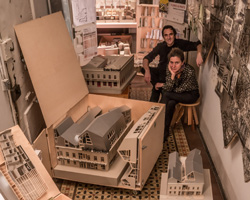 feb 10, 2020
feb 10, 2020
a diverse digital database that acts as a valuable guide in gaining insight and information about a product directly from the manufacturer, and serves as a rich reference point in developing a project or scheme.