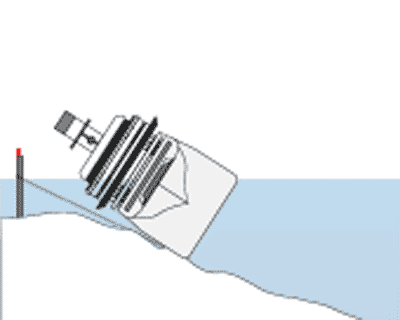 sep 16, 2013
costa concordia salvage plan: how the ship is being lifted
costa concordia salvage plan: how the ship is being lifted
image © designboom

parbuckling operations of the costa concordia ship – which crashed in 2012 onto the island of giglio, 18 kilometers off italy's western coast – will begin today, september 16, 2013. based on the weather-marine forecast for giglio island, the undertaking is expected to begin shortly after 6am. during the process, engineers will attempt to pull the half sunken cruise liner upright, and tow it away with tug boats. because the 317 meter costa concordia is perched on a steep sloping seafloor, any error in the procedure could send the ship tumbling down the ridge, causing it to break apart and spill its toxic contents into the coastal waters.
UPDATE tuesday september 17th — operations successfully completed. teams working overnight were slightly delayed by a storm, but the sea and weather conditions were considered right for the operation. the ship was declared completely upright shortly after 04:00 local time (02:00 GMT). engineers have never tried to lift such a huge ship – over 951 feet long (290m) – before.
image © designboom
to safely remove the ship in one piece, it needs to be properly stabilized; salvage crews have driven temporary steel post supports into the shore, wrapping it in chains to avoid the concordia from slipping down the seabed and sinking. six steel platforms are drilled into the granite ground floor, giving the boat a place to safely land when flipped. to tip the ship, a 'parbuckling' process is used  – hydraulic jacks will pull on cables connecting the to top of the caissons (water filled retaining structures) used on the platforms raising it upright. once flipped, welders will attach a secondary unit of caissons to the damaged side for reinforcement, which will later be drained, raising the ship afloat before being towed away with tugboats.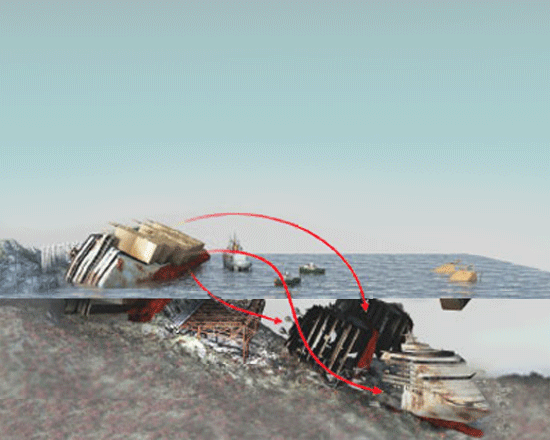 animation of what could go wrong when trying to flip the concordia
salvage process diagram
image courtesy parbucklingproject
jul 24, 2017
jul 24, 2017
jul 04, 2017
jul 04, 2017
jul 03, 2017
jul 03, 2017