feb 10, 2016
david obendorfer pays tribute to father of VW transporter T1 with revival concept
david obendorfer pays tribute to father of VW transporter T1 with revival concept
all images courtesy of david obendorfer
industrial designer david obendorfer praises dutch businessman ben pon, the first dealer outside of germany to sell vehicles manufactured by volkswagen with a 'T1 revival' concept. in 1946, pon visited wolfsburg with the intention of purchasing VW 'beetle' models to import into holland, until he saw an improvised parts-mover "plattenwagen" and realised the potential for something greater using the beetle chassis. he first sketched the van in a doodle dated april 23 1947, placing the driver at the very front. from there the 1950 VW 'transporter T1' was born, a van that that would come to be a cultural icon for the hippie generation of the 1960s.
T1 revival concept in red and silver
the 'T1 revival' concept pays homage to this first series of volkswagen commercial vehicles, designed on the current VW 'transporter T6' platform, with a wheelbase that has been extended by seven centimeters. while there are clear references to the original model, the concept doesn't aim at mimicking the 'T1' forms of over 65 years ago, but rather it tries to capture its unique personality, translating it into a contemporary language; with curved surfaces, rounded corners, circular headlights, chrome details and bicolour car paint. the interior sees a fusion of modern technology and evocative elements, with the dashboard echoing the colour of the vehicle's exterior, forging a stylistic connection even with the current generation of the VW 'beetle'. the ventilation vents in the centre of the dashboard are a nod to the past, with the original T1 having very similar grids. chrome door handles and the design of the seats give a retro touch to the passenger cabin. check out david obendorfer's other imaginative work here. 

video courtesy of david obendorfer   
the 'T1 revival' concept is a homage to the first series of VW commercial vehicles
a fusion of modern technology and evocative elements
nostalgic ventilation grids on the dashboard – a nod to the past
the interior includes all the latest touch screen amenities   
the concept captures the unique personality of the legendary VW bus
curved glass shape the corners of the concept 
the large back trunk panel
current volkswagen transporter T6 vs. T1 revival concept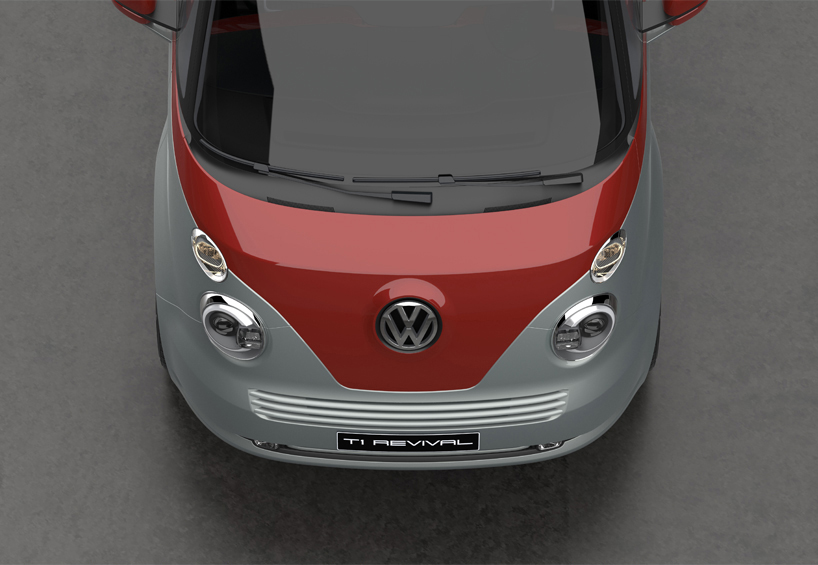 the 'T1 revival' concept from above
an old VW 'samba' bus versus new 'T1 revival' concept
apr 03, 2017
apr 03, 2017
nov 11, 2014
nov 11, 2014
mar 26, 2014
mar 26, 2014
mar 19, 2013
mar 19, 2013
jul 18, 2011
jul 18, 2011
nov 02, 2017
nov 02, 2017
oct 25, 2017
oct 25, 2017
aug 21, 2017
aug 21, 2017