jun 09, 2014
designboom drives 1,000 miles through italy with jaguar for mille miglia
designboom drives 1,000 miles through italy with jaguar for mille miglia
image courtesy jaguar landrover

designboom took part in the 2014 mille miglia. thanks to jaguar, we rode in the new supercharged V8 F-TYPE coupé (stay tuned for coverage in part two) – with 550 horsepower, four days of driving around italy, taking part in an open-race with celebrities, copious amounts of pizza and coffee, and navigation books. after 1000 miles of driving in the mille miglia with jaguar and jaguar heritage, we had the chance to discuss the race and bond between bernard kuhnt, the regional director of jaguar land rover europe, and belgian musician milow at the concluding #jaguarmille dinner.
only the cars selected from the models which took part in the original race can participate in the mille miglia, in which teams come from all over the world. thursday afternoon the cars leave brescia, heart of the mille miglia, and arrive in padova for the first overnight stay. the next morning they leave for rome, passing san marino and l'aquila on the way. on saturday they depart for bologna, where they stay overnight before embarking on sunday morning on the last stretch back to brescia, where they are welcomed home for prizes and a prestigious celebration. 

video courtesy jaguar
during the mille miglia, fellow racers and colleagues were paired with their classic jag's, which consisted of 'team fast' (martin brundle and bruno senna – riding in a long nose jaguar D-type), 'team fun' (musician example and wife erin mcnaught – XK120), team famous (jay leno and jaguar design director ian callum – XK120), team crazy (AC/DC's brian johnson and writer mark dixon – C-type) and the overall winners, team gorgeous (model jodie kidd and sas-novelist david blakely – XK-120). other teams included journalists and members of the jaguar community, and an extensive media team which rode in the F-TYPE coupés in a convoy of nine.
milow and bernard heading through the tuscany
image courtesy jaguar
designboom: the two have given each other nicknames while being partnered for four days, so what are they guys?
bernard kuhnt: giuseppe / giovani … [gives fist bump]
milow: bernardo/ il direttore … we are also 'team europe' the actual team that is from europe; the rest of the guys are from the UK, but we actually represent continental europe.
milow and bernard beside their C-Type 70XVK for mille miglia
DB: what were some challenges you guys faced along the way?
M: well as a musician, I need my ears, so I had my right ear plug (when I was driving) and some times when he talked too much, the left one too. (both laugh) but friday was a long night after covering 15 hours, and you cant make it up. you get in (to rome) and you're like, 'it's been 15 hours' and you still have two more days. but it is still really rewarding when you come into the center.
DB: what about the extra day they have added this year?
M: the evolution of the track was amazing. thursday you just go, but espresso really helps (chuckles). it's perfect for a race, you can take a five minute break.
heritage cars lined up outside fiera di brescia; these classics are principle to jaguar's identity
image © designboom
DB: how did you guys decide to take breaks?
B: this isn't my first time doing the mille miglia; I know that you rest when needed. we were driving past a restaurant and signaled to them a table for two. by the time we parked the car, we had a table right by the route and could see the cars right in front of us.
DB: are you serious?
B: I can't make it up. (shows a picture of the little table on the side of the road)
M: everyone was very friendly, we stopped by a pizza place so I could charge my phone.
B: (teasingly) how do you spell wimp?
jay and brian johnson laughing about how big their jackets were the first day
image © designboom
DB: it's a challenge – we were in a covered F-TYPE coupe and still it was exhausting.
B: yes, friday night it rained, and it is the longest night. you've got to deserve saturday.
 
DB: and you're exposed to the elements… even without a radio?
M: he was my radio.
B: (singing) you and me…you are the one.
team famous – jay leno and jaguar design director ian callum with their XK12o at the finish line

driving through tuscany with jay and ian ahead of us in car 1
jay leno and ian callum's jaguar XK120 parked next to our F-TYPE coupe during a quick lunch-stop
image © designboom
DB: bernard you've done three mille miglia now. anything advice to the novices?
B: you get through by adrenaline. you keep saying, 'wow, what is this?!'. the countryside is more social, more smiles. it's simple, and warm.
M: every time we got into a city, they would offer regional gifts and treats. the car was getting full. I tried eat what I could…it was unbelievable, very nice, and generous.
 
DB: how did you get into the mindset to take on this feat?
M: bernard told me weeks before the event that this is going to be unforgettable.
B: [in a nat king cole voice] unforgettable…
ian was always in good spirits, flashing a smile to us while mobbed by press to the point of standstill

outside a pizza restaurant with the F-TYPE's all lined up. we were in the jag with the polaris white exterior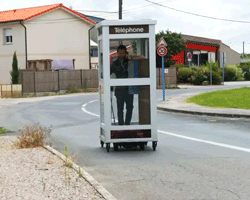 aug 15, 2017
aug 15, 2017
aug 07, 2017
aug 07, 2017
jul 16, 2017
jul 16, 2017
jun 30, 2017
jun 30, 2017
may 31, 2017
may 31, 2017
may 01, 2017
may 01, 2017
jun 11, 2014
jun 11, 2014