the world's largest artificial sun has risen in germany, and it's surprisingly mesmerizing to look at. wittingly named 'synlight,' the german aerospace center's solar power simulator is made up of 149 high-performance xenon short-arc lamps, all angled to project light onto the same 20 by 20 CM spot. to put things in perspective, just one xenon lamp is needed to project a movie onto a screen in a large commercial cinema. consequently, the high-powered machine produces solar radiation that's equivalent to 10,000 suns shining into the earth's surface. with a total 350-kilowatt array, temperatures at the target point of the lamps can reach up to 3000 degrees. in other word's, should you enter the room when all lamps are switched on—even slathered in factor 50 sunscreen—you'd burn to a crisp almost instantly.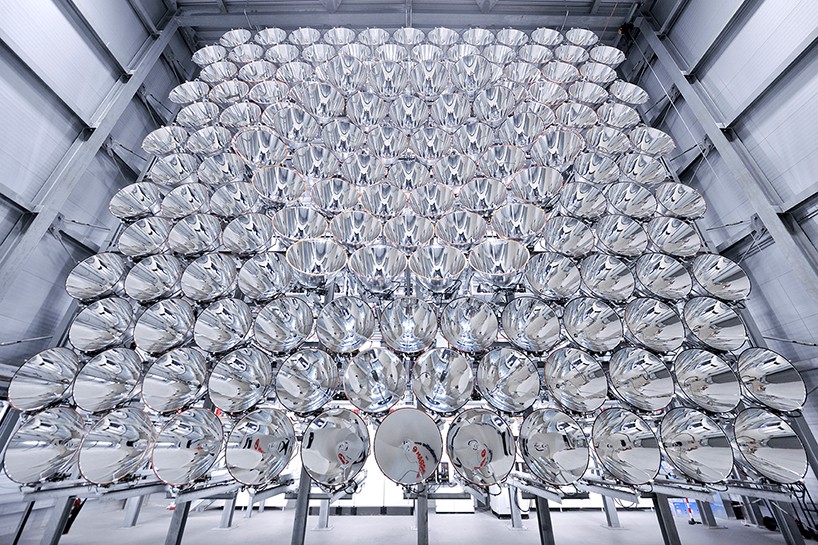 the mirrored-creation produces the light of 10,000 suns onto a single spot
images courtesy of DLR
the german aerospace centre (DLR)'s development will be used to shed light on possible future production processes for solar fuels, including hydrogen. researchers will use the high temperatures produces by the lamps to manufacture such fuels, mimicking the same process used in concentrated solar power plants which use a huge field full of mirrors to direct sunlight into one small, very hot area. the focused sunlight is then used to melt salt that creates steam, and in turn produces electricity. since sunlight in europe is unreliable and irregular, an artificial sun is the preferred choice to perfect such methods of clean energy production.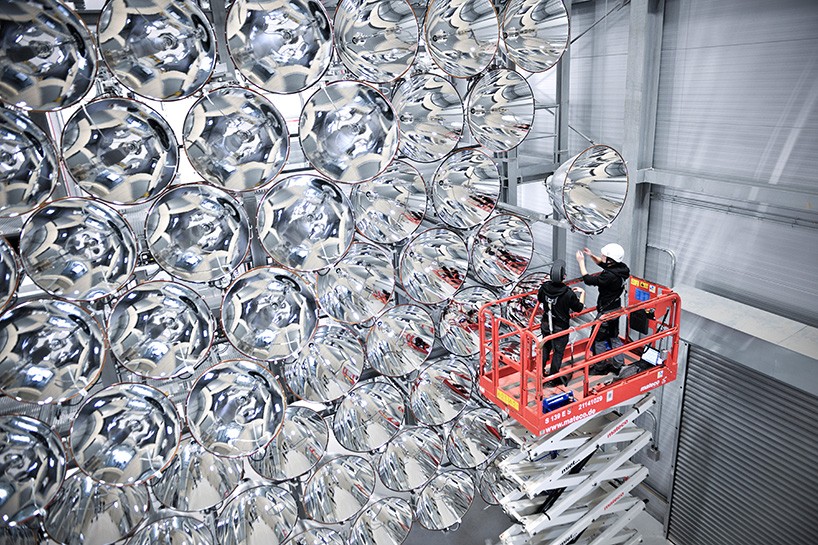 149 xenon short-arc lamps make up the artificial sun
johannes remmel, minister for climate protection in the north rhine-westphalia area of germany, emphasizes the importance of researching clean energy choices, explaining that 'we need to expand existing technology in practical ways in order to achieve renewable energy targets. however, the energy transition will falter without investments in innovative research, in state-of-the-art technologies and in global lighthouse projects like synlight.'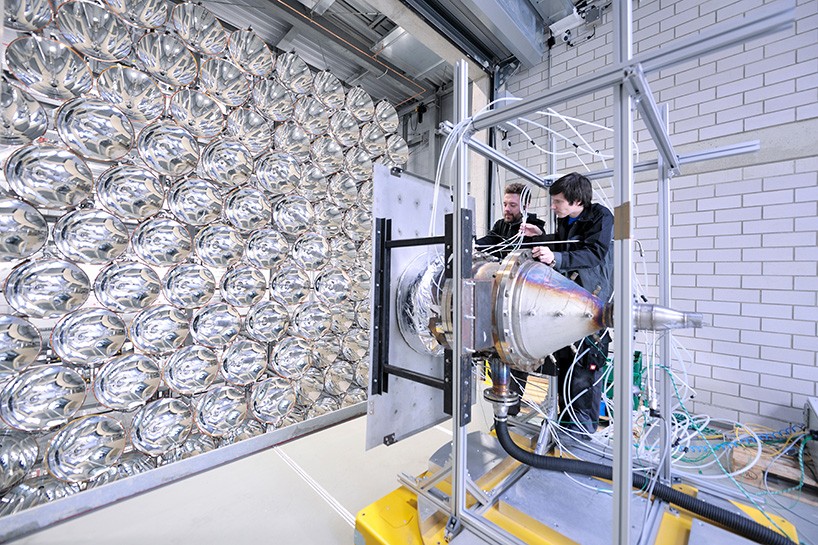 the artificial sun will be used to perfect the method of artificially producing hydrogen
hydrogren is widely considered to be the fuel of the future, due to its ability to burn without producing any carbon dioxide. yet the production of hydrogren, made by splitting water into its constituents of hydrogen and oxygen, requires large amounts of energy. once a process is perfected to produce the valuable gas, using technologies such as synlight, we will be able to go on to use natural energy from the sun to complete this process.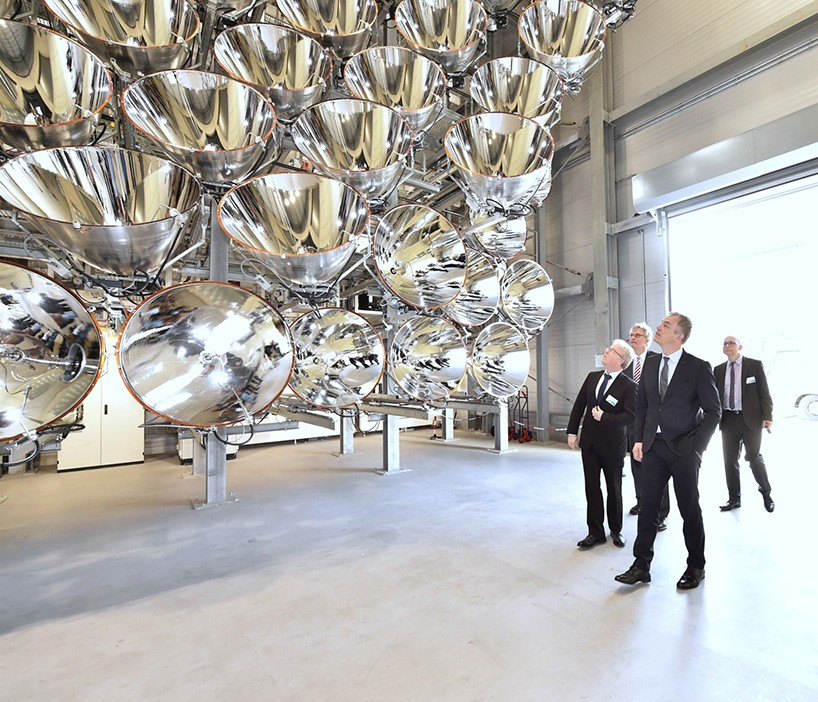 a single xenon lamp can be used to project a movie onto a large cinema screen
although the 'artificial sun' may be a heavy consumer of power, guzzling up the same amount of electricity that the average household consumes in an entire year in just four hours of running time, the insight into future clean energy it provides is invaluable and hopes to eventually be cost effective. as DLR executive board member karsten lemmer explains, 'fuels, propellants and combustibles acquired using solar power offer immense potential for the production of chemical raw materials, and the reduction of carbon dioxide emissions.'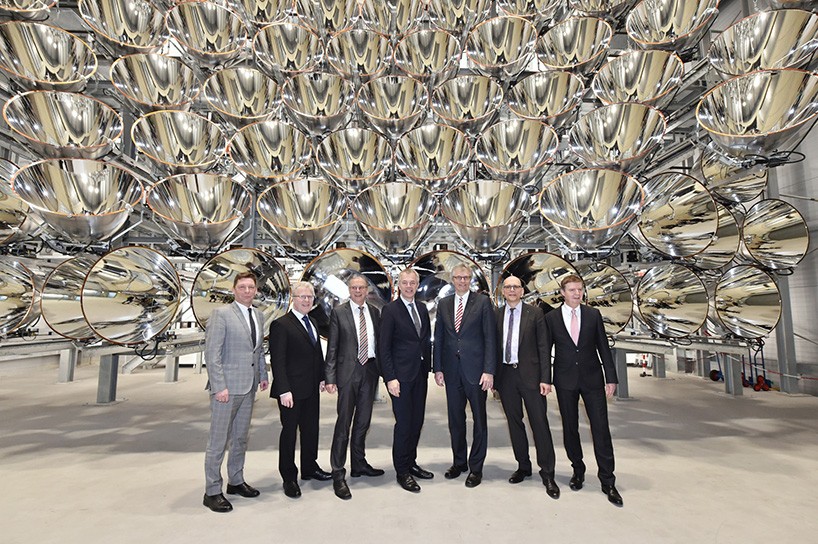 the DLR team stand proudly in front of their creation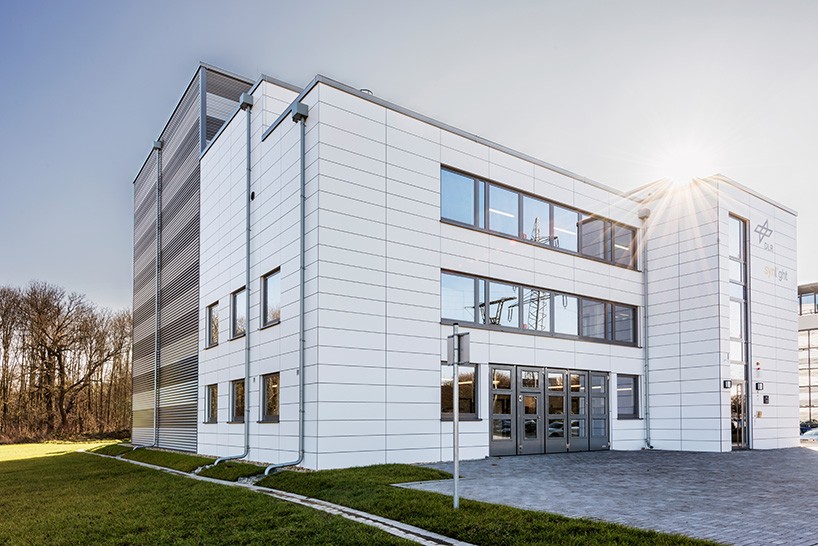 the world's largest artificial sun is housed in within four nondescript walls
jan 13, 2020
jan 13, 2020
jan 13, 2020
jan 13, 2020
jan 06, 2020
jan 06, 2020
jan 04, 2020
jan 04, 2020
dec 06, 2019
dec 06, 2019
nov 27, 2019
nov 27, 2019
a diverse digital database that acts as a valuable guide in gaining insight and information about a product directly from the manufacturer, and serves as a rich reference point in developing a project or scheme.