concept'BMW is famous for its sporty, elegant saloon cars so we decided to electrify our core with the four series,' explains domagoj dukec, head of BMW design, on the launch of the concept i4. with production scheduled for 2021, the concept is part of the brand's ambition to offer alternative power options to all models in their portfolio, from combustion engines through to hybrids and electric motors. however, at the same time, the electric car retains the authentic dynamic form and experience renowned to BMW. this is thanks to the styling and detailing of its design, which helps accentuate its electrified character alongside inherent sportiness and elegance.
delving into the design of the concept i4, designboom interviews domagoj dukec as he details exactly how electrification can be the power behind BMW's famed sheer driving pleasure.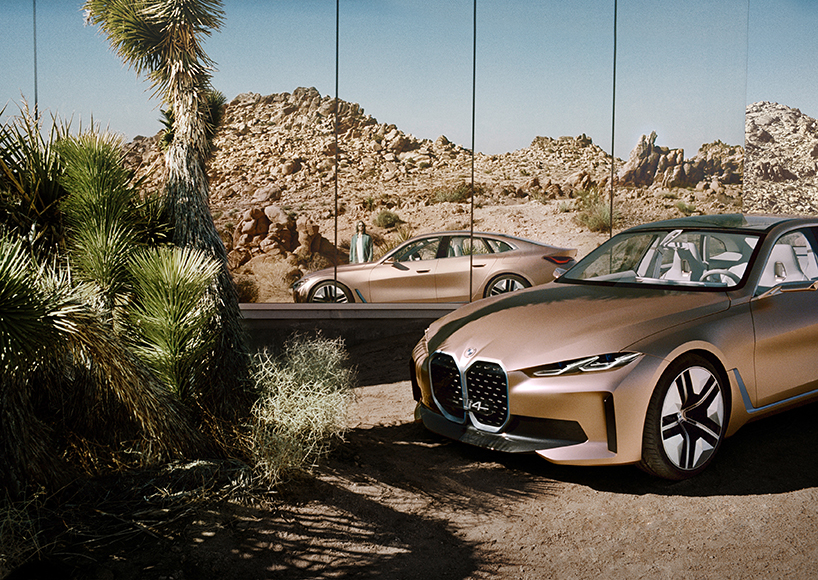 all images courtesy of the BMW Group
as a gran coupe, the BMW concept i4 is defined by a long wheelbase with a sloping roofline. the minimal lines and smoothly sculpted surfaces of its exterior body shapes an aerodynamic design that maximizes its electric range. to start, the kidney grille has been closed off and replaced as an intelligence panel for sensors. exhaust pipes are then substituted for air diffusers at the rear. the design's sporty profile is coated in an elegant finish, where the frozen light copper paint is emboldened by vivid electric blue lines on the front, flank and rear. 'these aerodynamic details ensure BMW's renowned dynamic expression is retained authentically,' notes the head designer.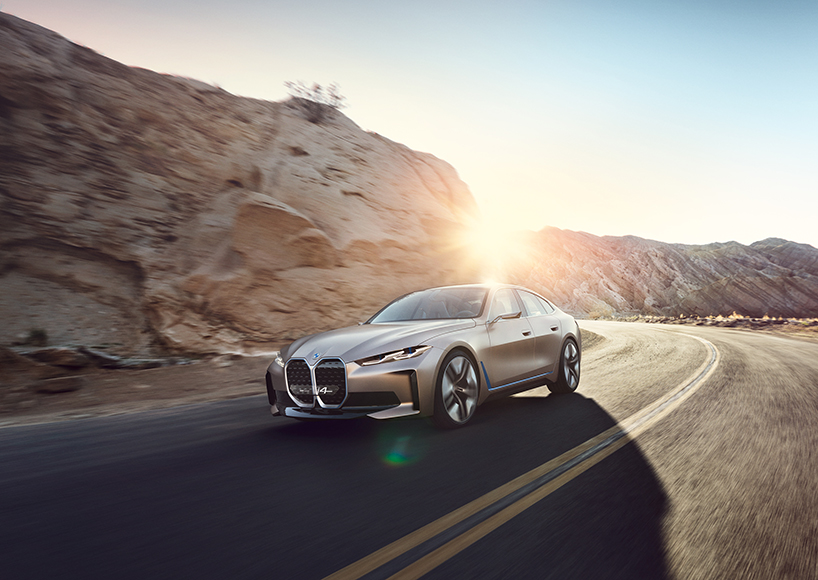 much like the image of the exterior, the interior is one of luxury and sportiness. its extensive use of glass extends the perceived boundaries of the cabin and highlights its generous spaciousness and functionality. the clean, light cockpit is distinguished by a long, curved display, which is at the heart of its new user experience. as the driver changes between the four driving modes, the screen changes with the ambient lighting to fit the experience. this lighting accentuates the interior's architecture which is crafted from environmentally-conscious choices of materials. such as its sustainably-sourced leather, rarer materials are used only where most appreciated by users to convey elegance, like on the steering wheel. 'luxury and sustainability must go hand-in-hand in the future [for BMW],' concludes domagoj dukec.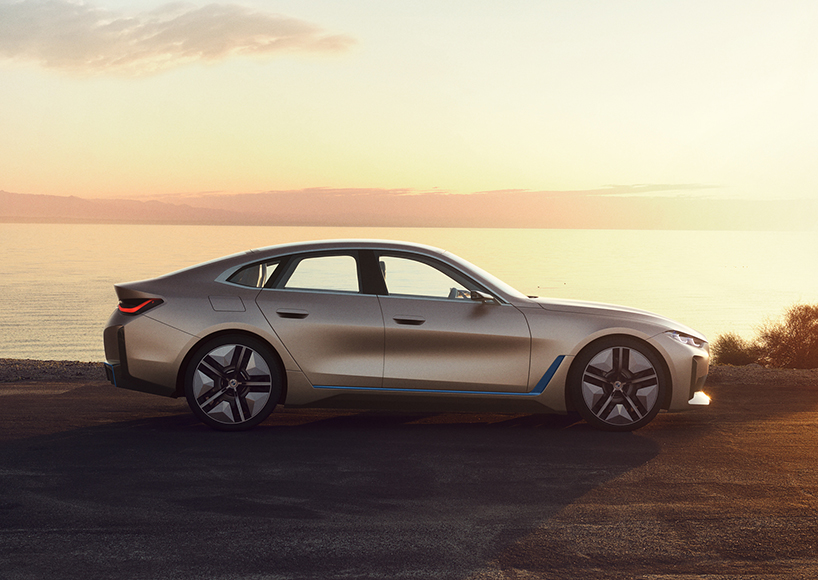 see the full transcript from our interview with domagoj dukec, below.
designboom (DB): introducing the concept i4, how does this model bring electrification to the core of BMW?
domagoj dukec (DD): after we launched our first fully electric car with the i3 in 2013, we realized that we needed to resonate more with our core customers. the i3 was very brave, revolutionary in its aesthetics, and showcased a new approach from BMW. it was a successful foundation and has been growing year-by-year, but we want to build upon this movement even further. BMW is famous for its sporty, elegant saloon cars so we decided to electrify our core with the four series, like this gran coupe. it still delivers a very emotional design but utilizes our new flex architecture – all with zero local emissions.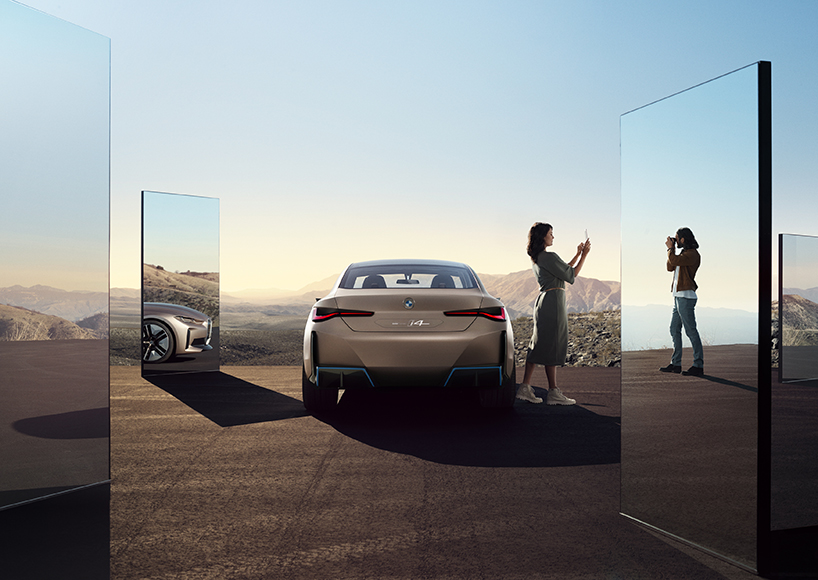 DB: what is BMW's flex architecture and the benefits it offers?
DD: in 2017, BMW announced that future vehicles will be constructed on a highly flexible architecture. this is to be more adaptable to market evolution. with flex architecture, our cars will always deliver our renowned luxurious, dynamic mobility but customers will have the choice of whether the model has a combustion engine, plug-in hybrid or electric motor. that is our promise – you will have the power of choice, literally.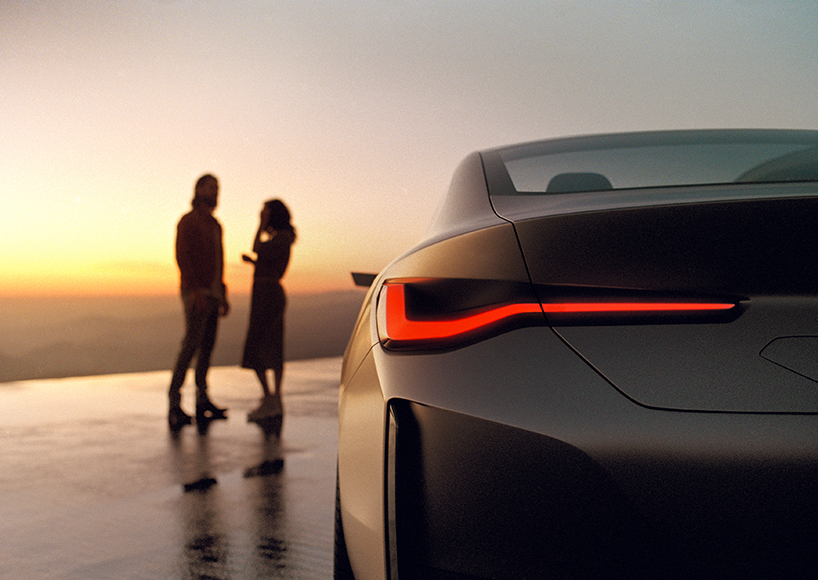 DB: as well as the flex architecture then, what similarities and differences are there between the designs of the concept 4 and concept i4?
DD: both cars share the same approach to minimalist, expressive design. it should be clear, however, that the concept i4 has an electric character, and this is where styling and detailing come in. whereas the concept 4 needs big air intakes on the front to cool the combustion engine and convey performance, the concept i4 is focused on aerodynamic efficiency to maximize the range of its electric motor. for example, the kidney grille is closed as air intakes are not needed, and air diffusers replace the exhaust pipes at the rear. these aerodynamic details ensure BMW's renowned dynamic expression is retained authentically.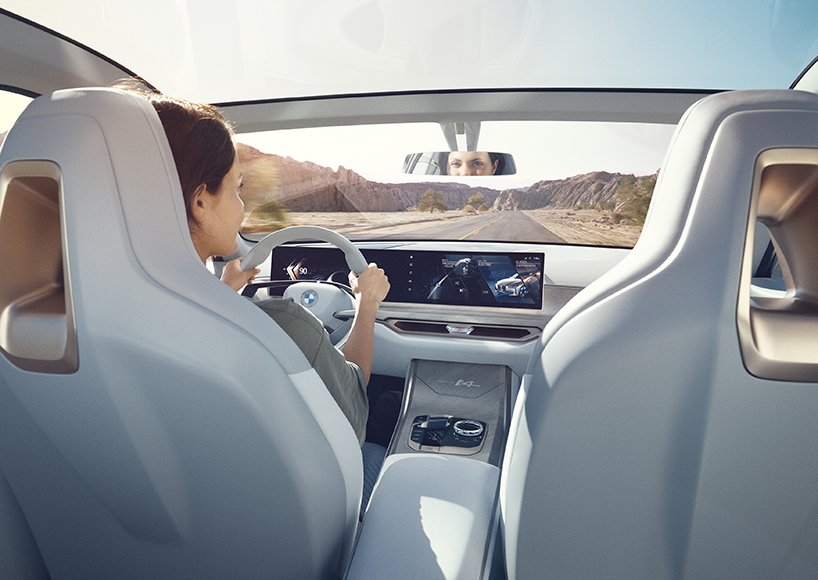 DB: specifically for the exterior, how does the design evoke a balance of two seemingly opposing characteristics in elegance and sportiness?
DD: to start, the low and stretched proportions of a gran coupe automatically adds an impression of elegance to its sporty profile. we then built upon this elegance using color and trim, such as its light copper paintwork. these two aspects really transform the character of the car.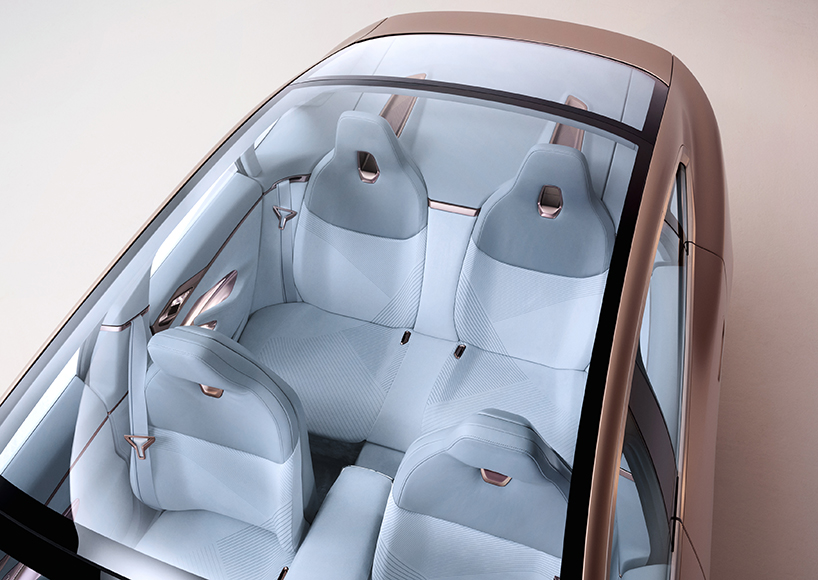 DB: said to offer much more room than it would appear from outside, how has the model's design enhanced passenger space?
DD: design is about using human psychology to create emotions, desire and new possibilities. as such, we made lots of incremental changes to achieve more space in the interior. for example, the glass roof and windows visually extends the boundaries of the cabin to create a more airy perception inside.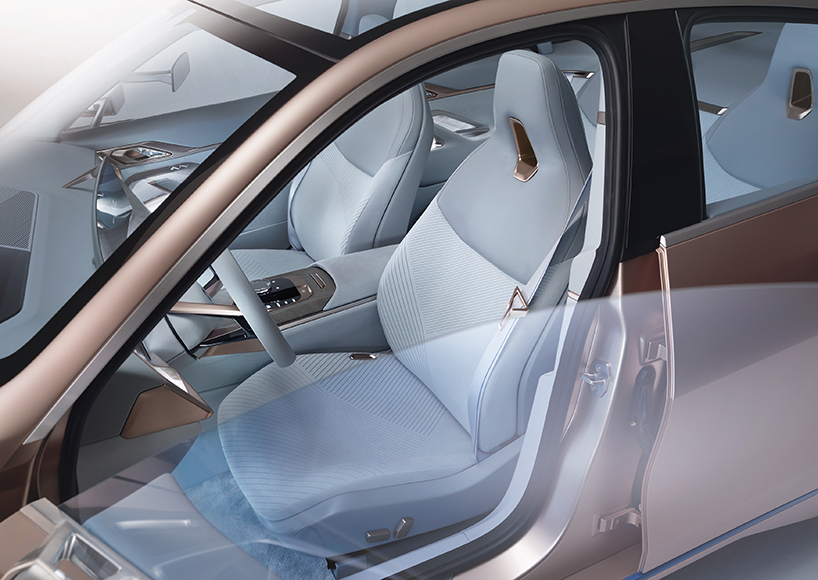 DB: how and why does the ambient lighting system redefine the interior throughout a journey?
DD: together with smart materials and elements like the air vents and speakers, the ambient lighting system is part of a new, more immersive user experience for our different driving modes. when the driver shifts from sport to efficient mode, the change in driving characteristics is reflected in the interior too. lighting changes in intensity and color to fit the experience. this happens subconsciously around you to create a range of different unique and meaningful emotions. we call this 'phygital' – an artful combination of physical elements, like our cabin architecture, and digital components, such as lighting.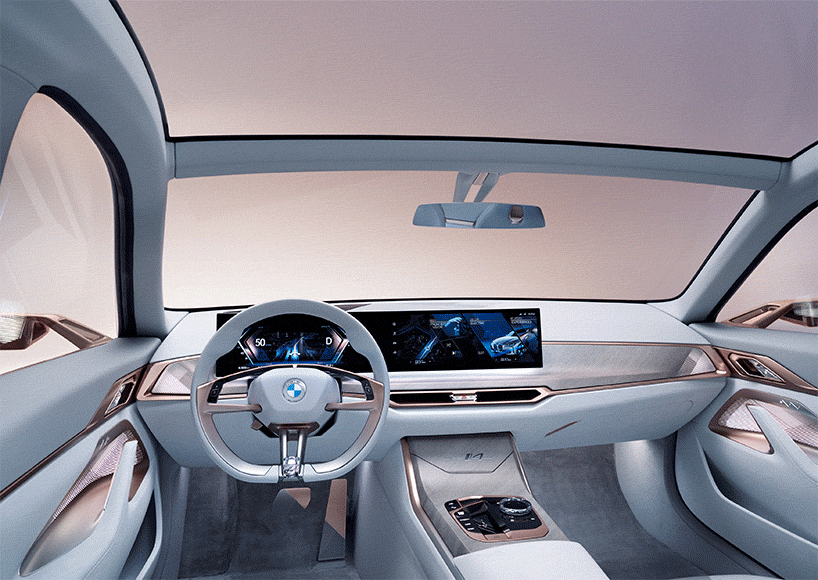 DB: in our last interview in 2019, you mentioned that the importance of sustainable choices should not compromise BMW's renowned luxury. with that said, what sustainable materials create this modern cabin for the concept i4?
DD: luxury and sustainability must go hand-in-hand in the future. for BMW, it is our responsibility to be sustainable and conscious for our customers. however, at the same time, our users should not be disadvantaged by our use of sustainably materials. in the concept i4, we demonstrate a refined and balance choice of materials to retain luxury. premium options have been used only on the most important touch points, such as sustainably-sourced leather on the steering wheel and upper parts of the seats.
DB: will the concept's design be exactly what we see in production in 2021?
DD: our concept cars might not always be 100% realized from concept to production. they still, however, showcase features or styling elements that might appear in many different BMW segments in the near future. for the concept i4, at least 80% of the design will be realized in production.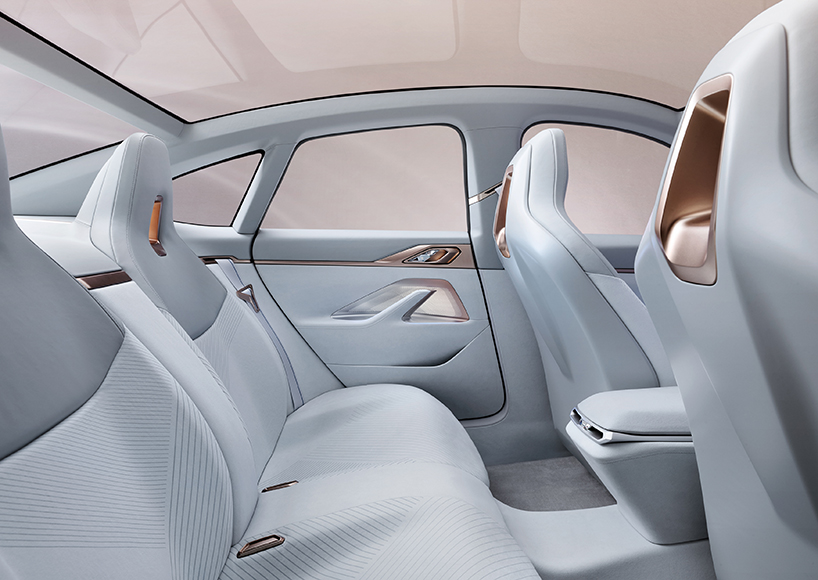 concept info:
brand: BMW
model: concept i4
production: 2021
BMW
(205 articles)
jul 05, 2020
jul 05, 2020
jul 05, 2020
jul 05, 2020
jun 23, 2020
jun 23, 2020
jun 11, 2020
jun 11, 2020
jun 02, 2020
jun 02, 2020
may 27, 2020
may 27, 2020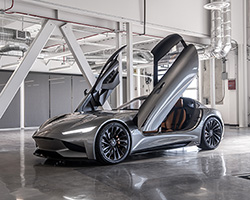 jul 10, 2020
jul 10, 2020
jul 05, 2020
jul 05, 2020
jun 13, 2020
jun 13, 2020
aug 04, 2020
aug 04, 2020
aug 04, 2020
aug 04, 2020
aug 04, 2020
aug 04, 2020
a diverse digital database that acts as a valuable guide in gaining insight and information about a product directly from the manufacturer, and serves as a rich reference point in developing a project or scheme.