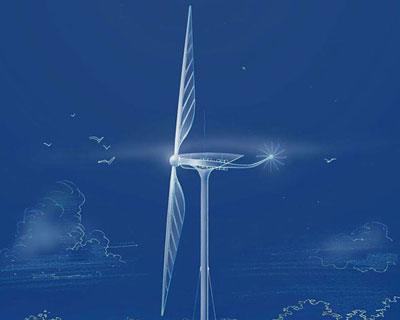 oct 23, 2013
dragonfly invisible wind turbine designed by renzo piano
dragonfly invisible wind turbine designed by renzo piano
image courtesy renzo piano building workshop

testing has begun on the mini-wind-turbine blade designed by the genoese architect renzo piano and developed in partnership with ENEL green power, an italian multinational renewable energy corporation, at the molinetto test field, in the province of pisa (which is also home to the ENEL research center).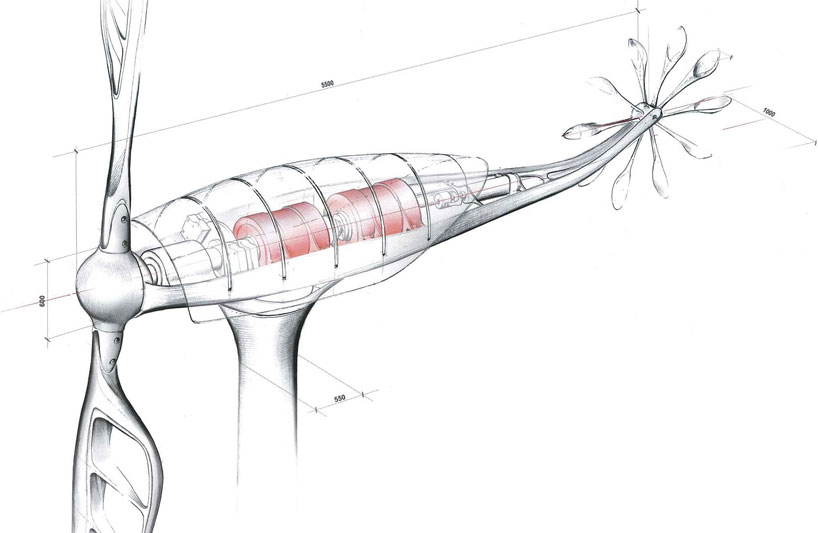 the way a dragonfly remains stable in flight is being mimicked to develop wind turbines to withstand gale-force winds
image courtesy renzo piano building workshop
the new slim-line, two-blade turbine is less visible than the traditional three-blade design, to the extent that it is difficult to detect in the landscape, but it has also shown itself to be capable of functioning well in low-intensity wind.
wind turbines have to work well in light winds but must avoid spinning too fast when a storm hits. to get round this problem, larger turbines use either specially designed blades that stall at high speeds or computerized systems that sense wind speed and adjust the angle of the blade in response. this technology is fairly expensive for use with small-scale turbines, though, because they don't produce enough electricity to offset the cost. that's where dragonflies come in.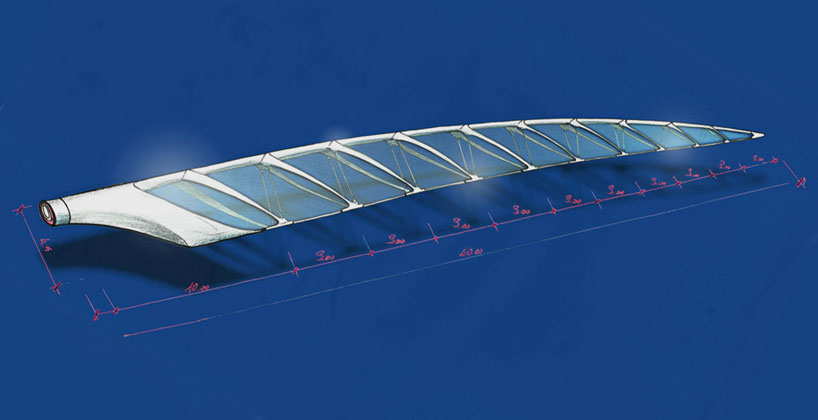 constructed to take advantage of lightweight and resilient composite materials (carbon, polycarbonate), the dragonfly is able to harness even the lightest breezes, requiring winds of only 2m/second to power it more or less continuously. this also means that it can be installed successfully at low altitudes.
image courtesy renzo piano building workshop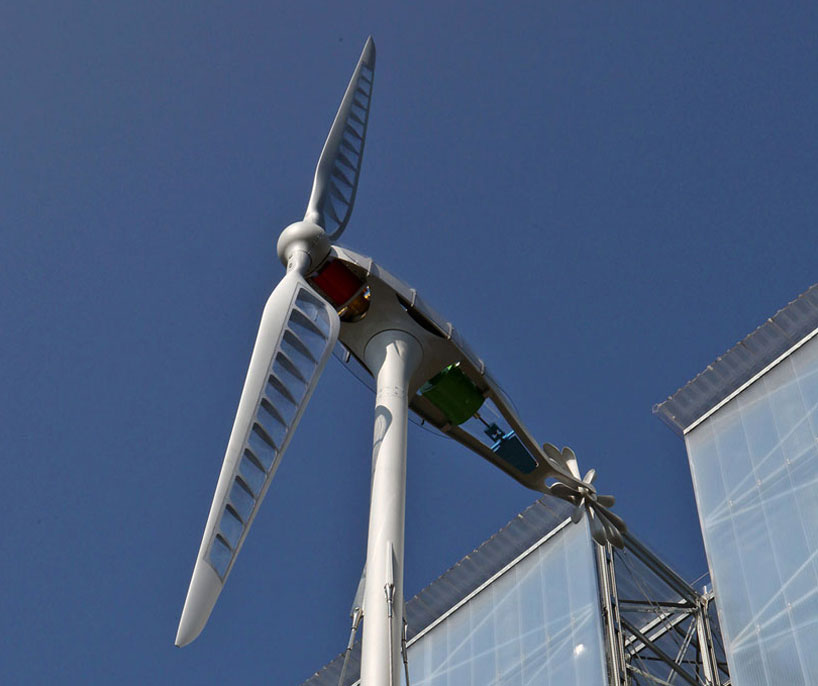 the turbine blade with transparent plexiglass panels, intended to show off the carbon structure inside
image courtesy renzo piano building workshop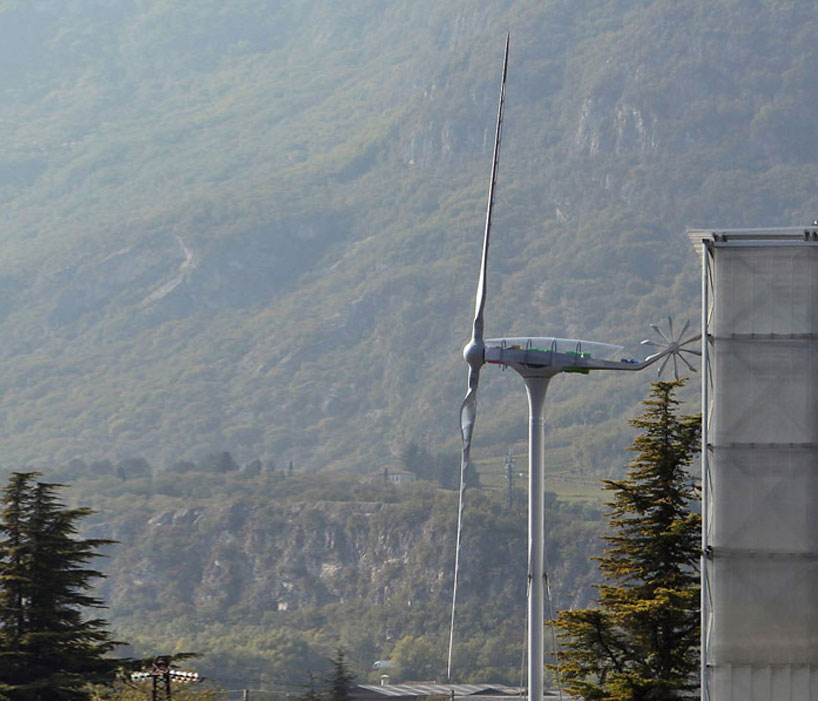 side view
image courtesy renzo piano building workshop
the turbine has been designed to have a minimal visual impact and has only two blades, rather than the more usual three. when the turbine is not turning, the blades align vertically with the mast. in the total absence of wind, the turbine is capable of blending perfectly into the surrounding environment, being reduced to the slim vertical line of the tower which is 20 m (65 ft) high and barely 35 cm (13 inches) in diameter, and the two aligned, vertical blades with a diameter of only 16 m (52 ft).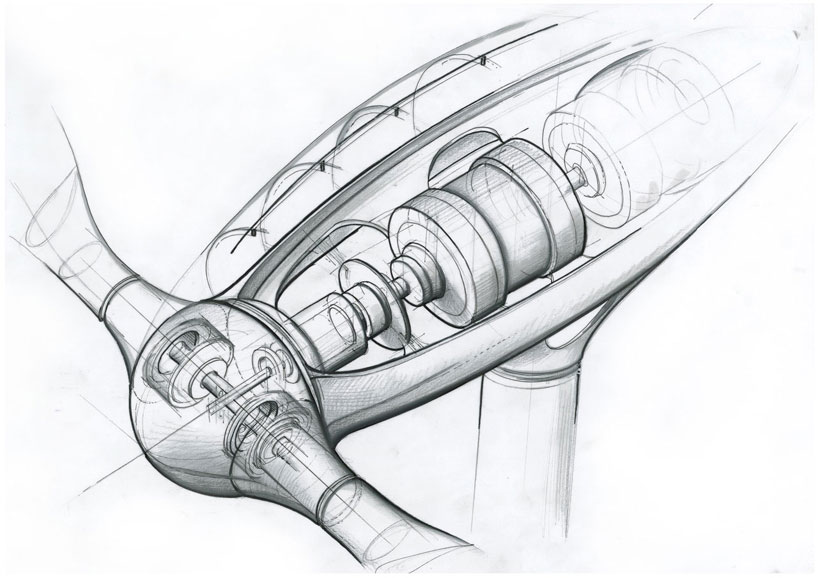 detail
image courtesy renzo piano building workshop
the slim, 35cm-diameter mast stands only 20m high, and is secured to the ground with cables
image courtesy renzo piano building workshop
in only two months, the prototype has generated over 1200 KW·h which have been fed into the distribution grid. rumour has it that mass production for the italian market will begin on completion of the test phase, which is due to continue for another few months. the new mini-wind-turbine blade is part of a strategy for innovation that targets improving the performance of all the renewable technologies, making them more available and less prone to problems linked to the intermittency of wind power. the aim is ever greater integration of renewable resources in heavily populated areas, thanks to the deployment of more compact machines with lower visual impact, within both the natural, and architectural environment. it is worth noticing, though, that even without the blades designed by a famous architect, wind turbines do not decrease the value of the adjacent residential property.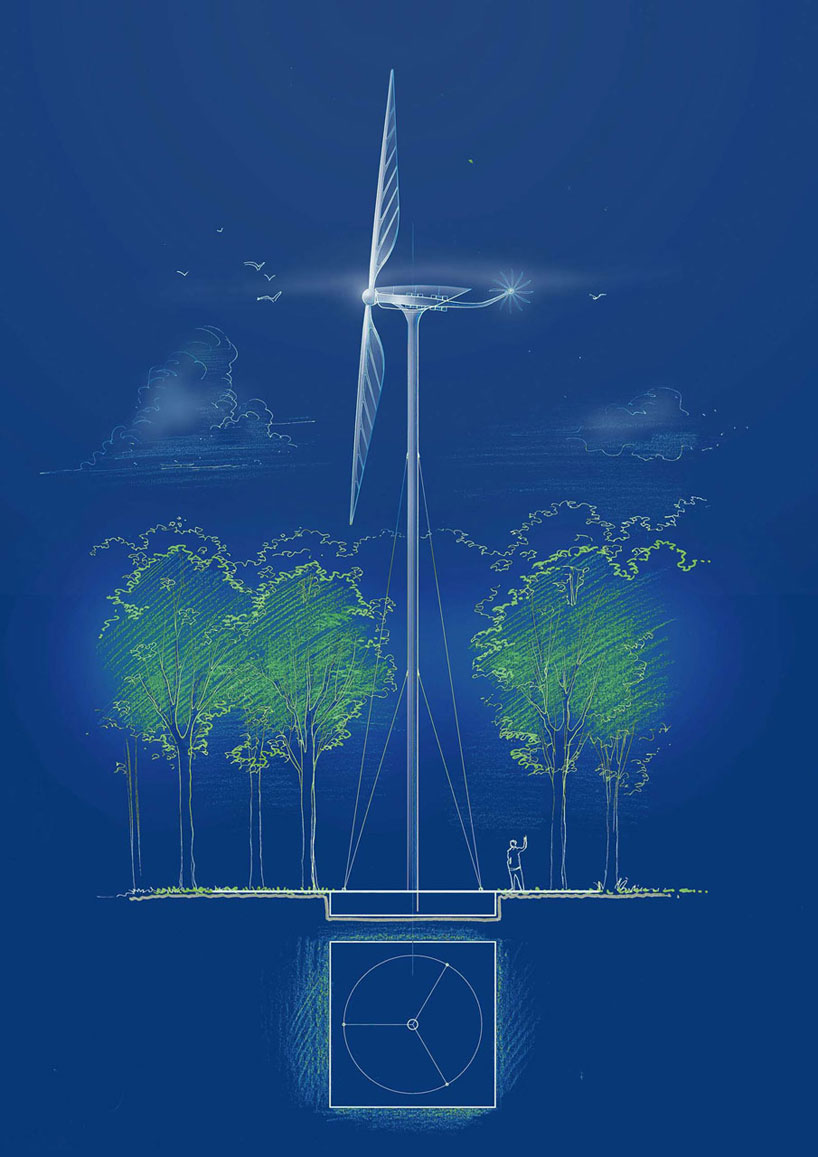 image courtesy renzo piano building workshop
credits
client: ENEL green power SpA
design team: renzo piano building workshop, architects /s. scarabicchi, e. donadel (partner and associate in charge), m. rossato piano
consultants: this project has benefited from contributions from studio favero & milan in venice, (structural, consulting executive architects for the final design), and metalsystem of rovereto /near trento, (for mechanical service engineering and construction).
jun 08, 2020
jun 08, 2020
apr 28, 2020
apr 28, 2020
feb 28, 2020
feb 28, 2020
feb 10, 2020
feb 10, 2020
nov 25, 2019
nov 25, 2019
mar 28, 2019
mar 28, 2019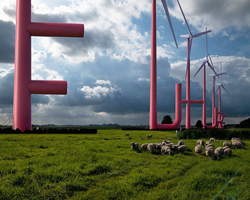 dec 22, 2019
dec 22, 2019
may 02, 2019
may 02, 2019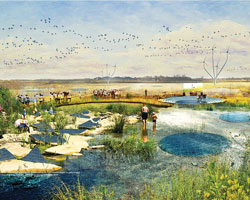 feb 08, 2019
feb 08, 2019
a diverse digital database that acts as a valuable guide in gaining insight and information about a product directly from the manufacturer, and serves as a rich reference point in developing a project or scheme.