BMW motorrad R 1200 R at EICMA fires up with keyless ignition
all images courtesy BMW group
born in freising, edgar heinrich is the man in charge of motorcycle design at BMW motorrad – the chief designer currently manages and leads the development for all BMW motorcycles and accessories. since 1986, heinrich has been involved with creations such as the R1100 and K1200 series, and most recently, the hugely popular concept ninety R90S. during the occasion of EICMA 2014 in milan, heinrich unveiled his latest development alongside his team of designers – the new BMW R 1200 R, a classic roadster with flat-twin boxer engine. for more insight on the bike and his past experiences working with the german luxury brand, designboom asks the boss at BMW motorrad a few questions.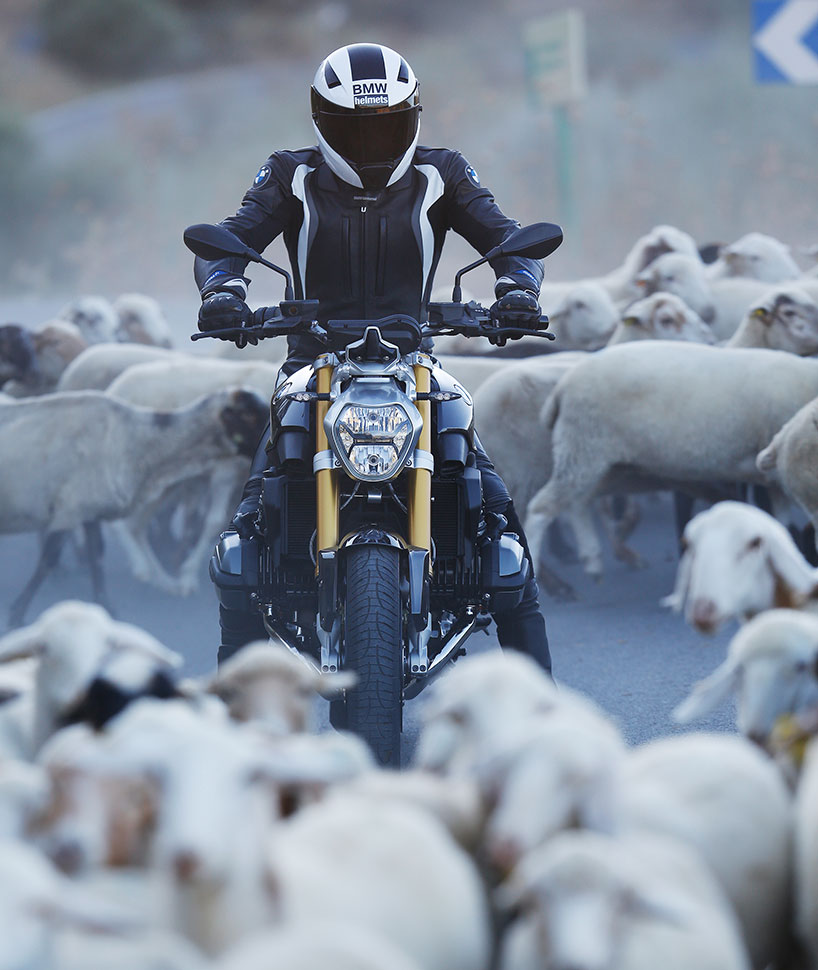 the R 1200 R boasts a classic flat-twin boxer engine with 125 hp at 7,750 rpm and 92 lb‑ft at 6,500 rpm
designboom (DB): could you tell us briefly about your background and the evolution of your work?
edgar heinrich (EH): I have been passionate for motorbikes since my boyhood, when my elder brother rode a bike, sometimes me on the pillion. and also, since I can remember, I was drawing a lot. consequently I went to university and studied design, my thesis was a full-scale motorbike. looking back, I had completely underestimated the amount of work…..
I presented my thesis bike to the BMW design team, and eventually I started working with BMW motorrad design in 1986.
 my first projects were details of existing bikes, face lifts etc. and after two years I had proudly won my own full project. many other followed, slowly the new bikes started changing the perception of BMW motorrad. bikes like the R1100S, the K1200 R, megamoto, or the S1000RR had a big impact on the evolution of BMW motorrad from a technically driven company to what we think we are creating now: precision and emotion.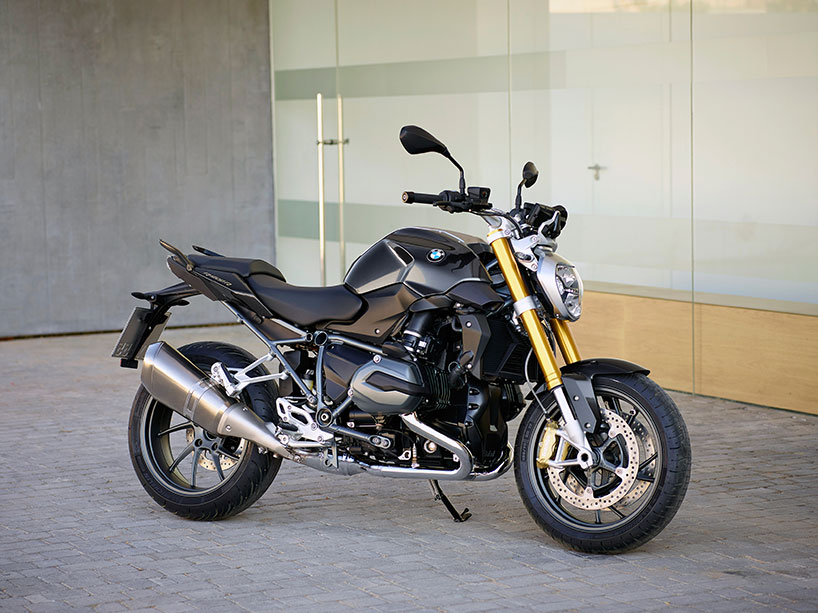 new intake air ducts and central radiators are implemented for an ultra-compact front silhouette
DB: what is your design philosophy?
EH: there is no basic rule for 'bike design', we follow the rules of segmentation. that
 means you have to apply the rules respecting the segment. 'tourers' are different from 'sport bikes' from 'dual purpose bikes' from 'naked bikes'…
 BMW bikes have always been known for quality, innovation and perfect technology, these are our roots. conserving this heritage, and adding the emotion of the respective segment, this is our philosophy of 'precision and emotion'.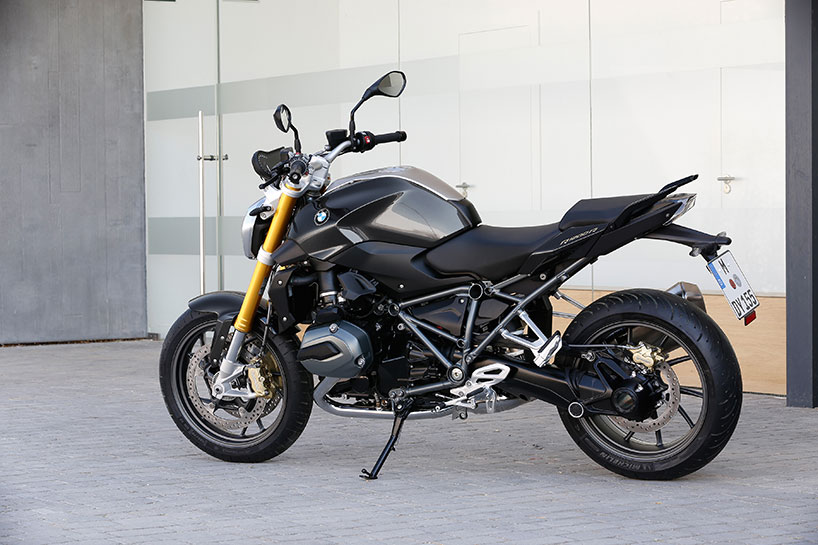 the bike is designed around a torsionally rigid tubular steel bridge frame
DB: can you briefly talk about the design of the R 1200 R?
EH: a roadster is always about reduction. frame, engine, wheels – that's about what you want. now this is not so easy to achieve in a modern bike, packed with technology, safety and comfort. with the new R we used a USD (up-side-down) fork to achieve a compact and muscular front end, packaging all the components, while keeping the rear light and minimalistic. the brute power of the new boxer engine contrasts with the lightness of the rest of the bike.
the bodywork parts are kept simple, but valuable. tank, headlight, seat and seat cowl work as functional elements, and are kept separate design wise accordingly. all the mechanical parts are carefully designed, with love in detail, and with refinement in surfaces, like the aluminum tank cover, or the anodized cast parts. to satisfy our traditional customers, we launched a classic version with elegant color setup, and, for the more sporty guys, a louder version with red frame and big decals. many aftermarket options will compliment the riders needs and taste additionally, as you know from BMW. the R 1200 R encapsulates all: from short rides that allow you to relax at the end of the working day, to sunday outings along winding roads, to extended holiday trips. it is a modern roadster with the best of technology you can get – while at the same time it twinkles a dose of classic roadster feeling.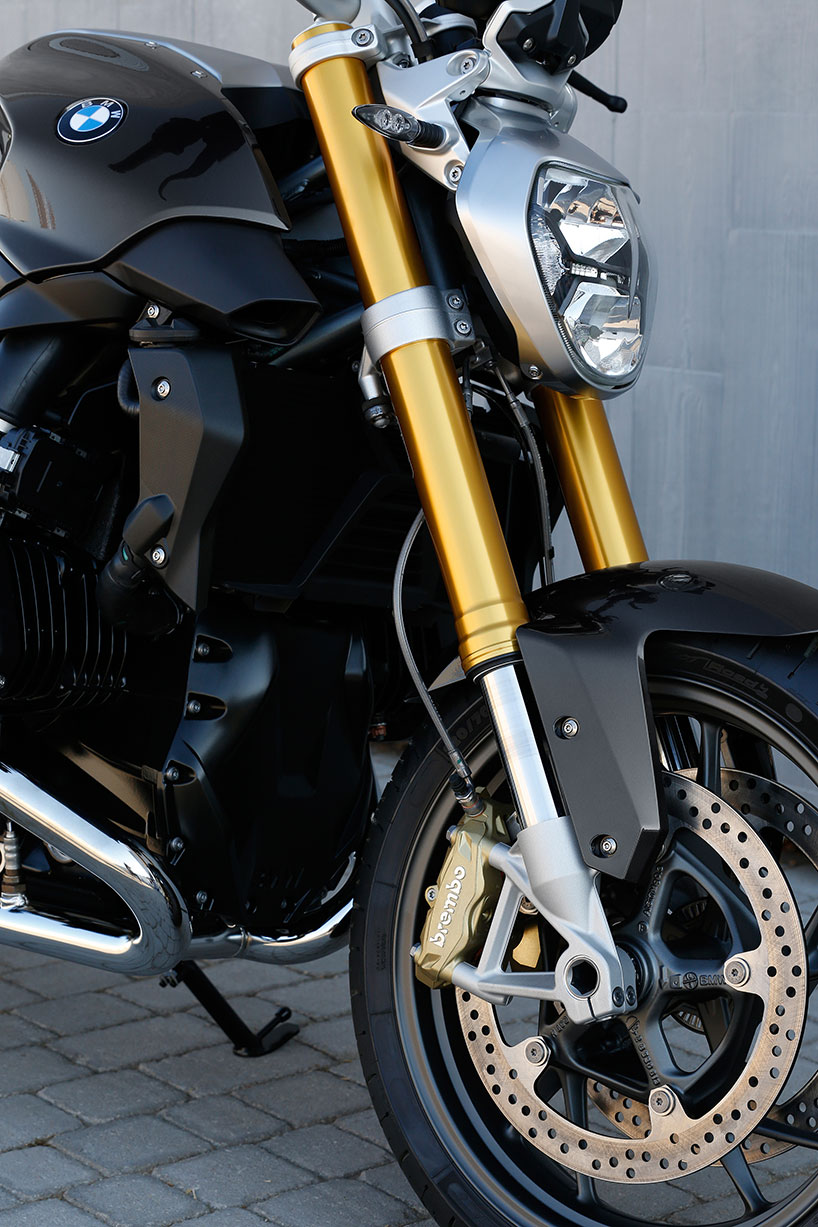 detail of the classic wheel suspension concept using upside-down telescopic fork at the front
DB: where did the idea behind the motorcycle originally come from?
EH: usually, over the last generations, the 'R' had been a stripped down version of the 'bigger siblings', such as RT, GS, RS. which ended up in one or the other compromise. with the latest R 1200 roadster we wanted to design a genuine 'naked' version, minimalistic, clean, light. throwing out everything which is not necessary for a naked roadster. so we could build it leaner, lighter, and more dynamic.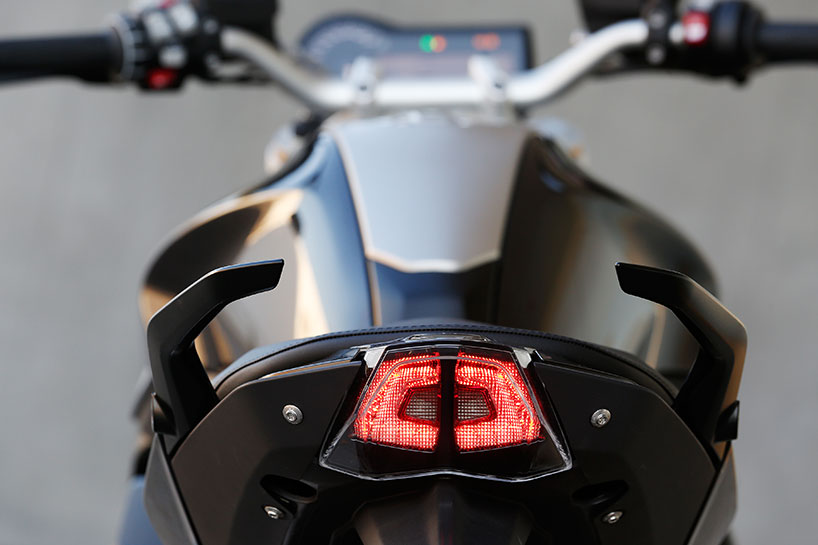 rear view
DB: with the R 1200 R, what innovations and details have been emphasized the most?
EH: we designed a new frame for the R 1200 R , optimized for that one bike, in order to get best proportions for a naked bike.
 all details are designed with high attention, valuable surfaces and love for detailing: tank cover in nicely brushed aluminum, the instrument clamp or any mechanical component like for example the swing arm.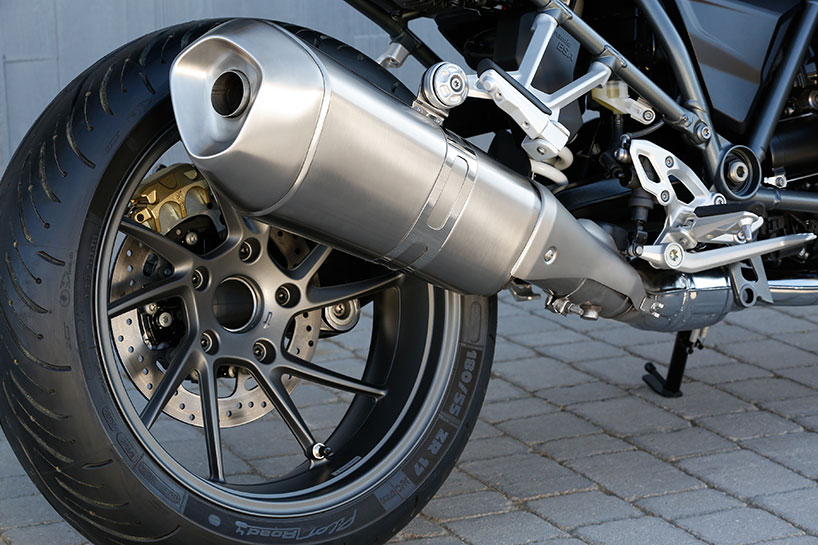 exhaust gases are routed through a 2-in-1 exhaust system with a dynamic-looking, steeply angled rear silencer
DB: you've overseen the designs of several bikes before; the C evolution electric scooter, concept 90 for instance – what BMW bikes have you particularly enjoyed working on over the years?
EH: hard to choose a specific one. each project has its special moments. of course, concept bikes are always special, first in terms of time – always very tight schedule, and it runs aside the normal work. and they are kind of halo bikes that show the potential for production bikes. also, on a show bike you can do extreme things, stretch limits and check out your creativity. I really loved working on the factory dakar bikes, probably because off-road riding and racing was a personal passion of mine and they were also the essence of what 'GS' meant to me.
however, a very interesting bike for me to create was the K 1200 R, this was one of the first bikes to really reflect a noticeable change in the perception of the BMW management. the bike was not a logical or obvious choice to do – and certainly not a 'typical' BMW of the time – but we were able to do it, even though it was a bit crazy – and I liked that…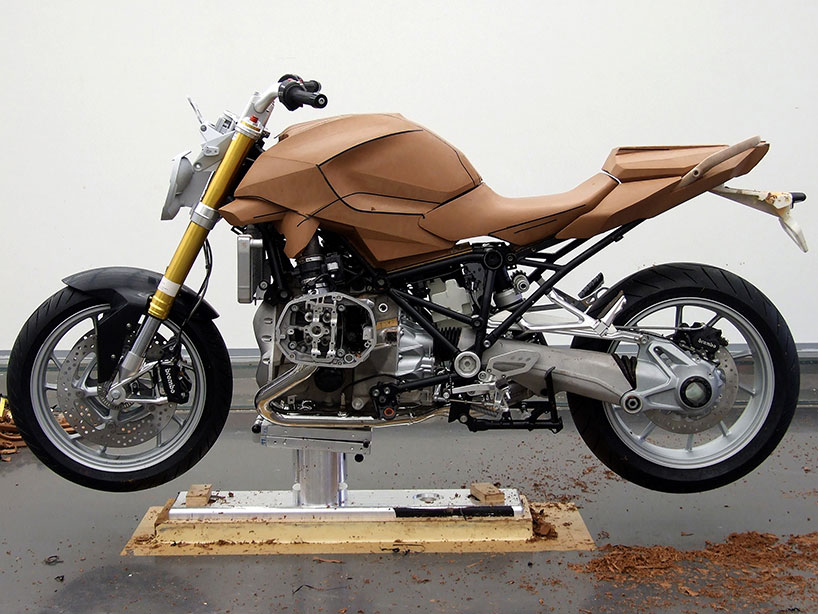 the bike incorporates a modified airbox, newly shaped air intake snorkels and a centrally positioned radiator
DB: how has motorcycle design evolved over the years?
EH: I started working with BMW motorrad design in 1986. in those days there was no systematic process of motorbike design; it was a very small division attached to motorbike R&D. consequently, design had no real power, it was more of an extension of engineering. function and utility came before aesthetics, and were given priority accordingly. 
these things are different now, since customers expect that function, quality and performance are a given when buying a BMW. emotions and looks are very important factors for buying or rejecting a bike.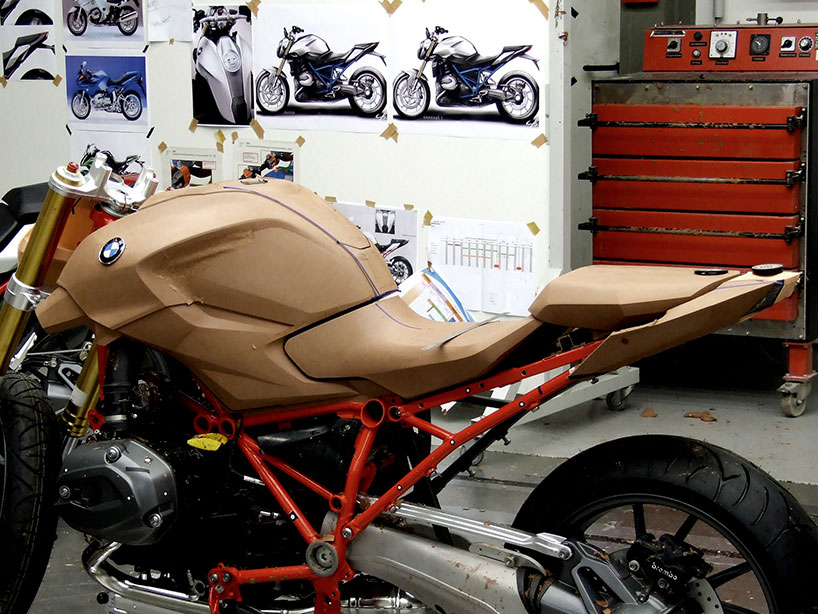 design process taking place at the BMW motorrad studio in munich
DB: what can we expect to see in the next 5 years with BMW motorrad?
EH: the segmentation will extend, we will see sub-segments within the standard segments. for example there will be performance roadsters, standard roadsters, and classic roadsters within the roadster segment. electric commuting will be on the rise, since the need for 'green' and 'safety' will always grow. carbon footprint and parking space are issues in these urban areas and will be addressed with appropriate vehicles. the design of these vehicles will follow different strategies, and the designers might use a different toolbox, since the packages are also way off from what we were used to. but there is no reason why these electric bikes should not be emotionally designed. an electric scooter does not need to look like coffee maker design, just because it speaks utility.
on the other hand, the 'classic' motorbike as a device for certain lifestyles will stay, is included in performance bikes or in concepts where look and feel is more important than performance. all these options are valid and quite likely, as the motorbike will play a role in this highly regulated world, be it as a mode of escape, as a device to express your individuality, as being part of a certain group or just enjoying an hour taming a beast.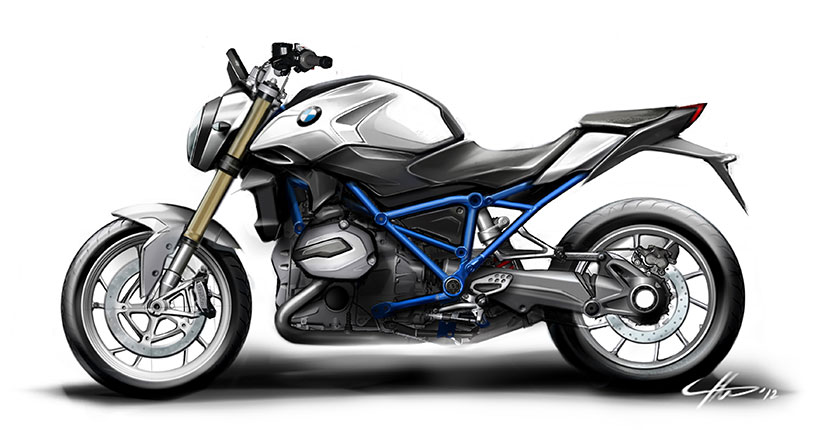 sketch of the R 1200 R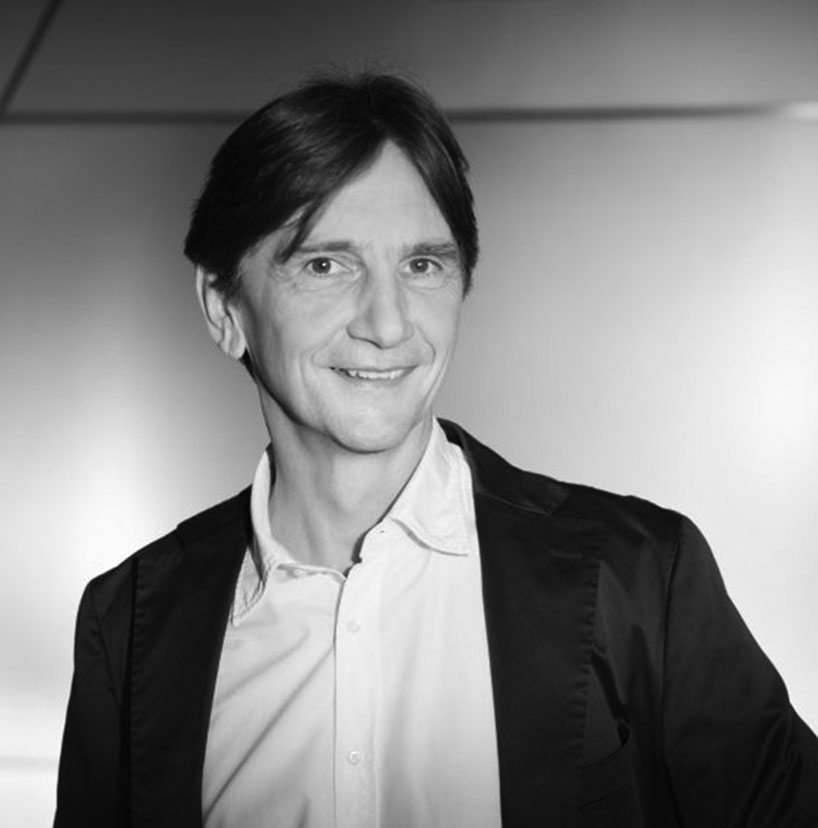 BMW motorrad chief designer, edgar heinrich
e
rodrigo caula
I designboom
nov 11, 2014
a diverse digital database that acts as a valuable guide in gaining insight and information about a product directly from the manufacturer, and serves as a rich reference point in developing a project or scheme.
designboom will always be there for you
milan, new york, beijing, tokyo

,
since 1999