dec 04, 2012
ELF velomobile a solar and pedal powered electric hybrid vehicle
'ELF' – a solar and pedal powered electric hybrid vehicle by organic transit
classified as a bicycle in all 50 states, 'ELF', the three-wheeled solar and pedal powered electric assist velomobile by american organic transit hybridizes the advantages of bicycle and automotive transportation into a waterproof body. fully equipped with lights, signals, and mirrors, the one-seater incorporates 60 watt roof top solar panels that charge the vehicle's 480w lithium battery to provide up to a 30 mile range when full.
made with 45% recycled aluminum and a vacuum formed trylon (composite of 85% recycled ABS and solarcote) frame, the shell and 26 inch high volume front and rear wheels with disk brakes provide safety, while still efficiently fitting into standard bike lanes.
the 'ELF' is currently seeking funding on kickstarter. 
'ELF' driving on the street
driving detail
context
ELF kickstarter campaign video
jul 16, 2017
jul 16, 2017
jul 16, 2017
jul 16, 2017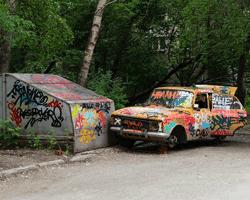 jul 13, 2017
jul 13, 2017
jul 21, 2017
jul 21, 2017
jul 15, 2017
jul 15, 2017
jul 04, 2017
jul 04, 2017