sep 12, 2012
eton FRX3 solar powered AM/FM/weather alert radio
eton FRX3 rechargeable portable solar AM/FM radio image © designboom
california-based manufacturer eton has developed the 'FRX3', a rechargeable portable solar AM/FM radio. the compact device features a variety of functions that make it perfect for traveling on-the-go, camping or any situation that leaves users stranded without charge. using a combination of a hand crank and a small photovoltaic panel on its ergonomic
carrying handle, the unit can be manually or solar-powered to charge a smartphone or listen to any favorite radio station. one minute of hand cranking generates approximately 15 minutes of dump charge.
the keys/dials are distributed sparsely and are recognizable by touch, making it easy to operate at night. a glow-in-the-dark indicator strip also makes the 'FRX3' easy to locate in pitch-black situations. emergency alerts or alarms can be set using NOAA weather-band stations in case of any emergency situations. a renewable power source replenishes any depleting DC battery that can be connected using a USB without needing to access a power outlet. an internal rechargeable Ni-MH battery provides additional charge from accumulated energy that is produced using the solar panel or hand turbine.
its small, but powerful speaker provides high-quality audio with the addition of an auxiliary input, enabling
users to select playlists off any music device. a bright LED flashlight accompanies the radio for night-time use, alongside with a red flashing amber that signals for help in the case of an accident.
see designboom's guest post on the eton blog here.
front view image © designboom
detail of the front and dials image © designboom
top view of the solar panel image © designboom
hand crank for generating power image © designboom
rear detail of the antenna and LED image © designboom
back view showing rechargeable battery and additional AA slots image © designboom
3/4 front view detail image © designboom
packaging detail image © designboom
radios
(14 articles)
mar 05, 2017
mar 05, 2017
jul 14, 2016
jul 14, 2016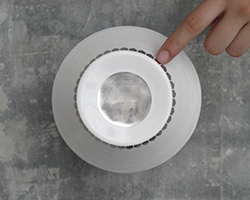 jun 13, 2013
jun 13, 2013
aug 03, 2017
aug 03, 2017
aug 01, 2017
aug 01, 2017
jul 28, 2017
jul 28, 2017