art is expanding into new fields, and this time it's going further than the boundaries of planet earth. a 3D-printed sculpture has become the first work of art ever to be created in space and released into the atmosphere. the project is the brainchild of israeli contemporary artist eyal gever, in collaboration with NASA's made in space inc. and created aboard the international space station with a gravity-independent 3D printer.

the sculpture is a visual representation of human laughter
all images courtesy of eyal gever
the israeli artist was picked by NASA's partner made in space inc. to create the fist sculpture in zero gravity. gever found it fitting to design the sculpture around the subject of laughter, as a symbol of human positivity to be launched into space. eyal gever elaborates on his subject, explaining that 'the earliest cave paintings were of human hands which were a way of proclaiming and celebrating the presence of humanity. #laugh is the 21st century version of that – a mathematically-accurate encapsulation of human laughter simply floating through space, waiting to be discovered.'

eyal gevel released his work into the atmosphere to represent human happiness
the project entitled '#laugh' involved gever's creation of an iOS app that lets anyone record the sound of their own laughter and submit it to the artist. the app then converted the sound waves into a 3D visualisation, called a 'laugh-star.' the users were able to view and listen to all the submisssions, and vote on their favorite model. over 100 thousand people took part, and each 3D-printed laugh sculpture took the shape of a ring, spiked with colorful waveforms. the most popular laugh was then printed and launched into space. the microgravity print was a 4-hour process, and it was monitored from earth.


the '#laugh' app created digital visualizations of the giggles its users recorded
known for their expertise in on-orbit manufacturing capabilities, made in space inc. owns and operates the additive manufacturing facility (AMF), which is a gravity independent 3D printer that supports the daily operations of the international space station. made in space's CEO explains their decision to use the device to create a piece of artwork, saying that 'it's important for the world to see that technology and art are not independent of one another.'

made in space's AMF prints out the 'laugh-star' 
whilst many notorious artists, including andy warhol and damien hirst have created works of art that have then been sent into space, gever's sculpture is the first work ever to be created off the earth's surface. the 'laugh star' will be showcased by eyal gever and made in space at this south by southwest festival on march 13 2017.

the microgravity print was a 4-hour process monitored from earth


eyal gever's star was manufactured with gravity-defying 3D-printing technology

initial prototypes of the 'laugh star'


made in space's HQ at the NASA research park, CA
image courtesy of kayla rriët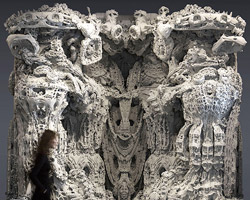 jul 14, 2017
jul 14, 2017
jul 14, 2017
jul 14, 2017
jul 13, 2017
jul 13, 2017
NASA
(42 articles)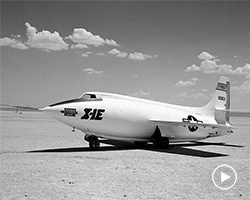 jul 20, 2017
jul 20, 2017
jun 27, 2017
jun 27, 2017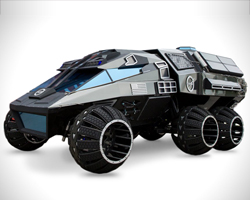 jun 07, 2017
jun 07, 2017