ferrari production line + manufacturing facilities
image © designboom
in the second of the three-part series, designboom follows up on coverage of the 2013 ferrari FF, taking an exclusive look into the manufacturing facilities of both the V12 and V8 production lines at the factory in maranello, italy and speak to design chief flavio manzoni. stay tuned for part three, as we experience what it's like to personalize and order a one-of-a-kind ferrari at the company's unique tailor made department.

organized into a functional 'cittadella' for the people, the design plan for the ferrari headquarters features buildings by renzo piano, massimiliano fuksas and most recently, the new assembly line developed by french architect jean nouvel. conceived as an extension to the existing V8 and V12 production plant, the 'nuove linee di montaggio', which were completed in 2008, occupy over 21,000 sqm, divided into two levels for both the 8 cylinder and 12 cylinder vehicles, test area, prototype development facility, offices, meeting rooms and relaxation areas.
designboom visits the ferrari FF production line + manufacturing facility
video courtesy ferrari
one of the main differences in production, is the time it takes to assemble a V12 FF. the process is slightly longer than the 8-cylinder 458 italia and 458 spider, taking up to four days instead of three and a half. during the assembly, all the 12-cylinder ferrari's are put together by hand by the assembly-line workers with the most experience. on the V12 line, the cars remain on each of the work stations for nearly 1 hour, where three skilled workers complete their assembly tasks. in comparison, the V8 line has 50 separate stops, compared to the 35 of the line upstairs, where the sports cars receive around 30 minutes of attention per station. each car travels along the assembly line with an individual trolley indicating everything about its design, color and even interior specifications for reference. requiring an average of about one half hour of assembly per station, each ferrari takes up to four days before it is completely finished and receives inspection and an 80 kilometer road test.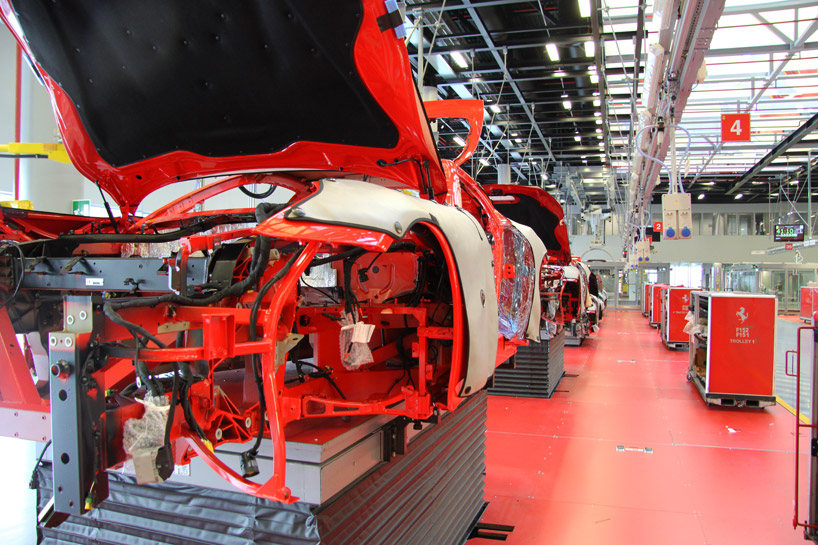 a ferrari FF on one of the first assembly line stations
image © designboom
DB: when designing a luxury vehicle, specifically, a 4-wheel drive sports car like the FF, what are the greatest challenges ferrari and pininfarina faced during the design process?
FM: the number one challenge a designer faces is always the one inherent to vehicle architecture: the basic layout and package of the car. it has a fundamental impact on the general proportions and stance of the car. most importantly, we need to achieve an optimal equilibrium in the proportions, which is not a straightforward process, quite the opposite: it requires a certain instinct. in the earliest phase we must sometimes confront the engineers so as to obtain an initial compromise that will help the design. this crucial phase already defines how a car will sit on its wheels and the interaction of volumes that will confer it its identity.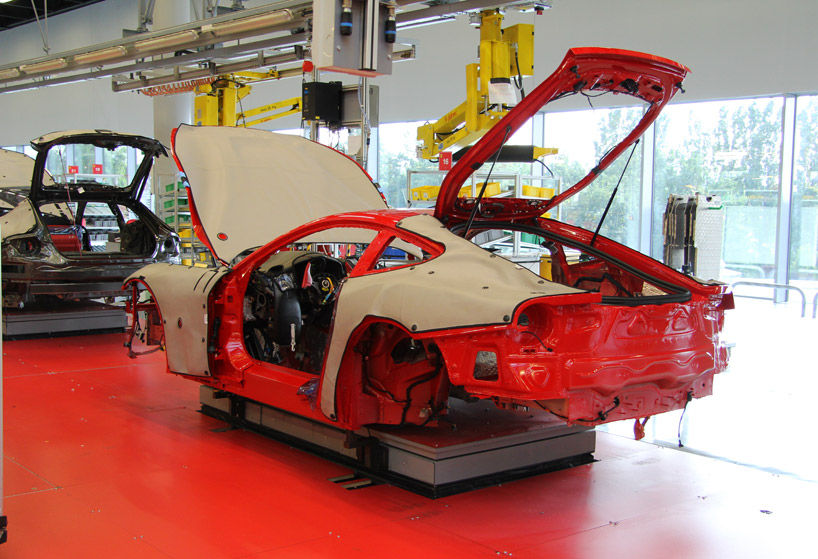 (left) ferrari FF, (right) ferrari F12 on the assembly line
image © designboom
DB: to you, what is the most fundamental design element that was emphasized on the FF's styling?
FM: the FF was designed with the intent of keeping volumes in check, to avoid any excessive weight not just in absolute terms but also visually. truth be told, this principle applies to any ferrari: it's an indelible part of our design language. but here it was even more a focus point, because of the specific challenges inherent in defining a shooting brake architecture. the whole volume is dictated by the interior space, in other words, the need to provide excellent headroom for the rear passengers. there are few references in ferrari history we could draw upon, but some ferrari one-offs in the past experimented with this body style. the extended roofline and anti-conventional volumes of the shooting brake make for an idiosyncratic shape; it forced pininfarina and ourselves to seek a new interpretation of classic ferrari proportions.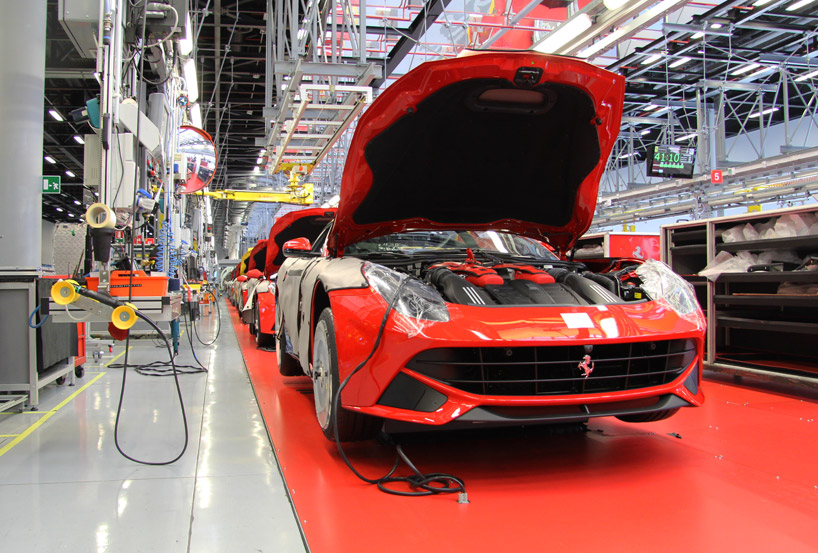 a nearly completed ferrari F12 on the upper V12 assembly line
image © designboom
DB: as a luxury brand – are there certain aspects in the design that take longer to develop – whether it be engineering or architecture?
FM: I tend to think the design of a ferrari as a three-dimensional sculpture, both technical and sensual at the same time. the process that takes longest is marrying those two seemingly competing aspects into shapes that flow well together. at ferrari every form we come up with has to be justified, our design language is not organic. we cannot allow ourselves to delve in any superfluous effects or artifacts. we have to be extremely rigorous in order to reach a great purity with our form language, and any shape is driven by function, whether aerodynamic or other, never by gratuitously aesthetic reasons. a kind of natural selection process thus takes place whereby, step by step, all solutions hinging solely on aesthetics get filtered out. ferrari cannot be self-referential, here the concept of beauty does not represent an end unto itself.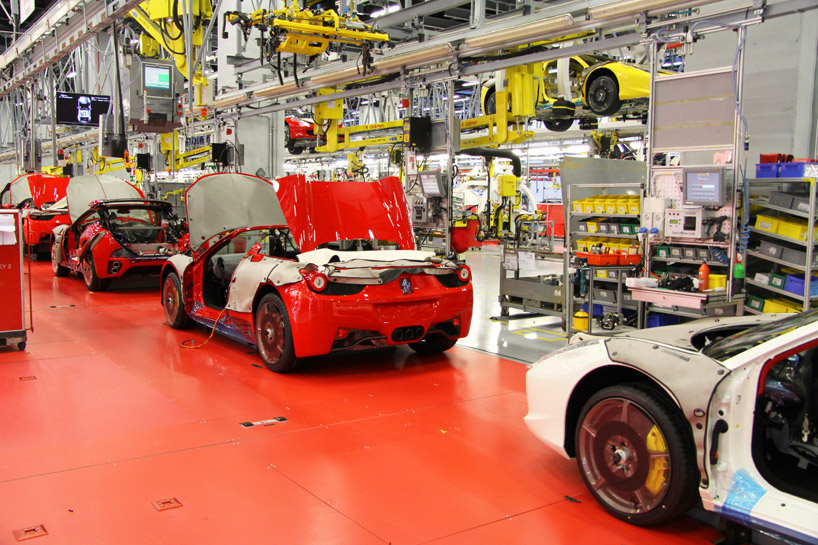 a series of ferrari 458 italia's awaiting the final installations on the lower V8 assembly line
image © designboom
DB: how do you keep a level of consistency when designing a car? how does the FF maintain the ethos and brand identity of ferrari?
FM: this is the challenge we are faced with every time we work on a new ferrari. the challenge resides in coming up with a completely new shape while staying true to the values ferrari stands for. any repetition of design ideas invariably gets dismissed by our president mr. montezemolo as 'déjà vu'. the basic rule is that a true ferrari must be immediately identifiable even without any badging. contrary to other brands we do not rely on a precise set of design guidelines which can be simply implemented across the model range. we instead call upon on a higher paradigm and need to come up with a fresh interpretation of it every time. with each new model we search for that subtle link with tradition and with the other models in the line-up. it is not a link that derives from the repetition of "graphic" traits, but from the comprehension of the kind of plasticity and formal language a ferrari lives by.
ferraris are distinguished by a combination of sensuous shapes (although not, as pointed out earlier, in an organic sense): strong features and whole figures, alternated sequences of convex and concave forms, volumes carved by subtraction. it marks a subtle approach to design, a syntagmatic language born from the relationship between semantic elements. it is this linguistic code of form and surface treatment which define ferrari's identity and renders it unique, different from all other brands.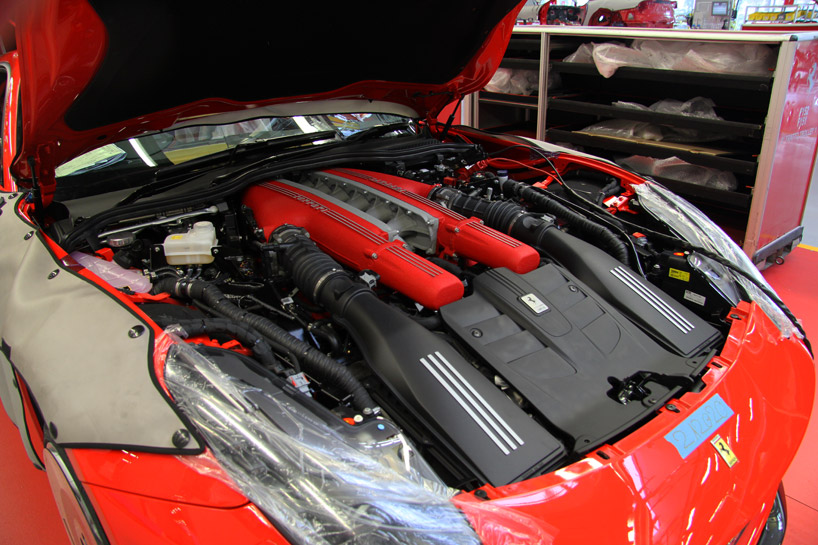 detail of a ferrari F12 with the engine components installed
image © designboom
DB: in terms of process, what stages of development do designers find themselves most invested in?
FM: obviously designers are passionately involved in the early design research, when one has to set a project in motion with the force of one's ideas. but that same passion is carried through the following development stages. in fact we can identify two main phases in the industrial design process: first a phase of strong expansion, an explosion of ideas spanning 360°, then a convergence phase during which the strongest and most relevant of those ideas emerge on top. extracting the most beautiful substance out of the initial burst of creativity makes it an equally demanding phase for the designer. clearly from there follows a more technical phase in which we need to defend the concept, so as to maintain its integrity and validity in the face of the process of industrialization.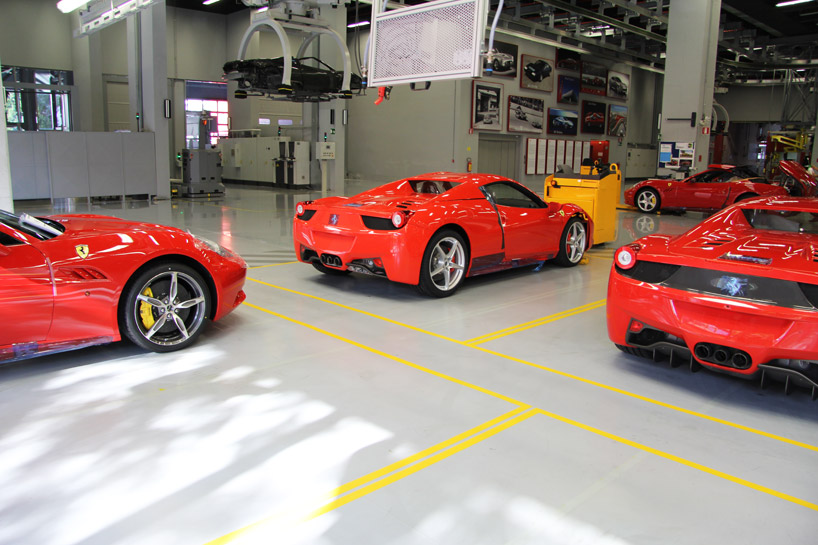 completed ferrari 458 italia's awaiting the 80 kilometer test drive
image © designboom
DB: what is the most important risk you have to take when designing a vehicle?
FM: the greater risk would be to find ourselves unable to express something new within the boundaries of our brand identity. there is a relative lack of courage nowadays in car design, which in fairness is not directly imputable to car designers themselves. but indirectly perhaps designers should feel responsible if they have come up with innovative concepts but haven't shown sufficient strength, while keeping to the company's brand values, to bring them through to production.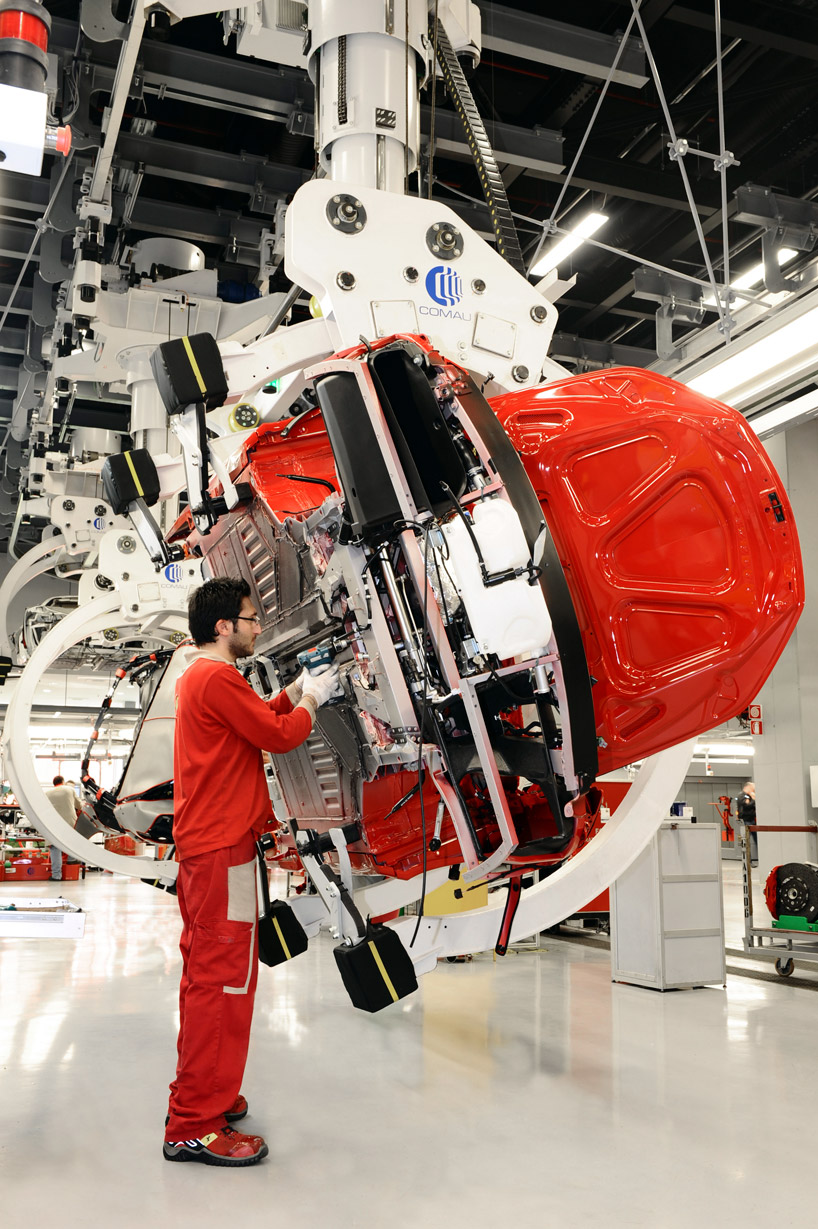 the ergonomic carousel places the vehicles at the best height for the worker, rotating to allow access to its underside
image © ferrari
DB: what was your first car? do you have all-time favorite?
FM: the first car I ever owned was a lancia delta integrale. sadly I no longer have it. as to my all-time favourite, that is always such a difficult question… if it has to be a ferrari, then I'd have to say i am very fond of the 330 P3 and 330 P4. to my eyes this particular design perfectly embodies the spirit of all that ferrari stands for: it's a pure race car, yet simply gorgeous to look at from any angle.
to see designboom's previous coverage from the 2011 factory tour + mechanical production facility, see here.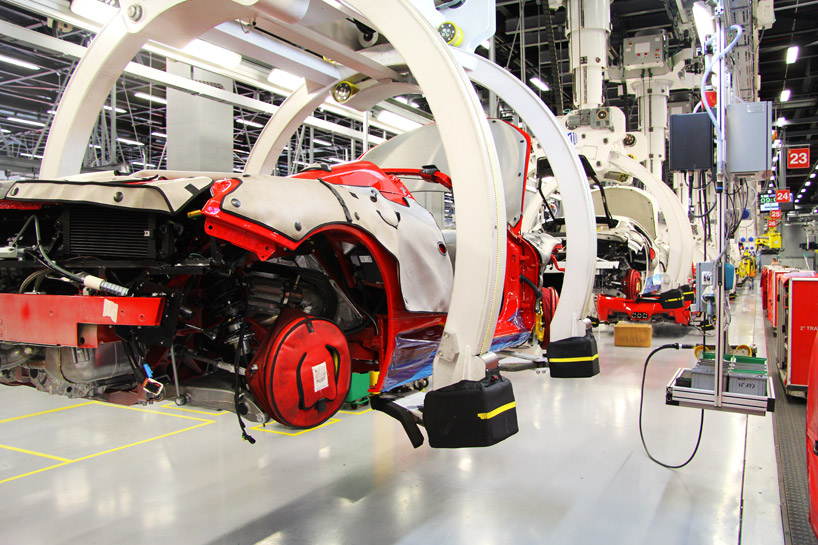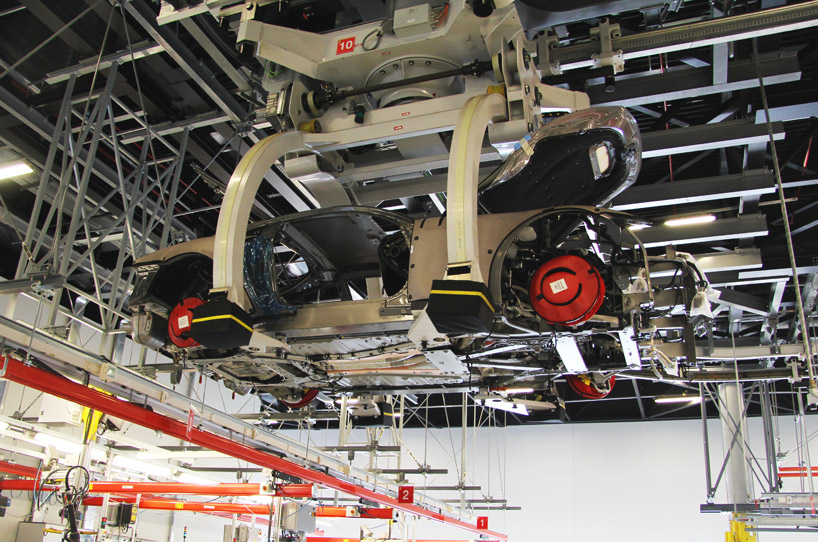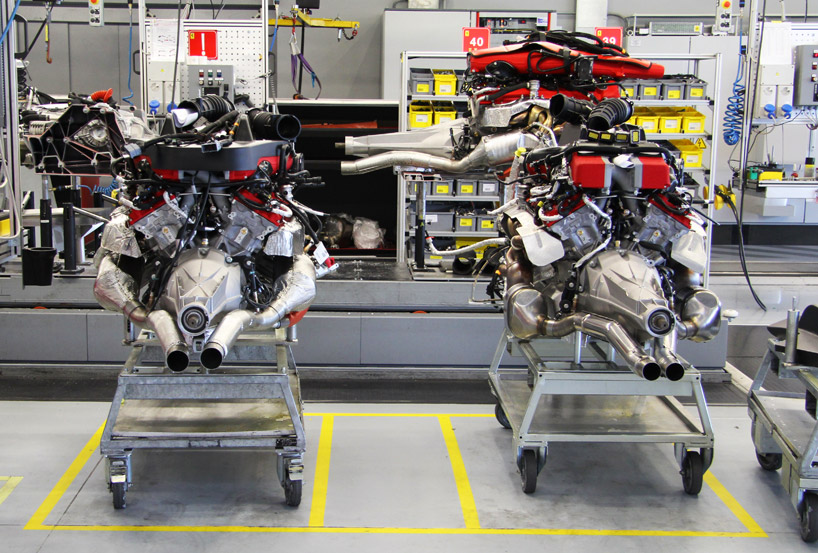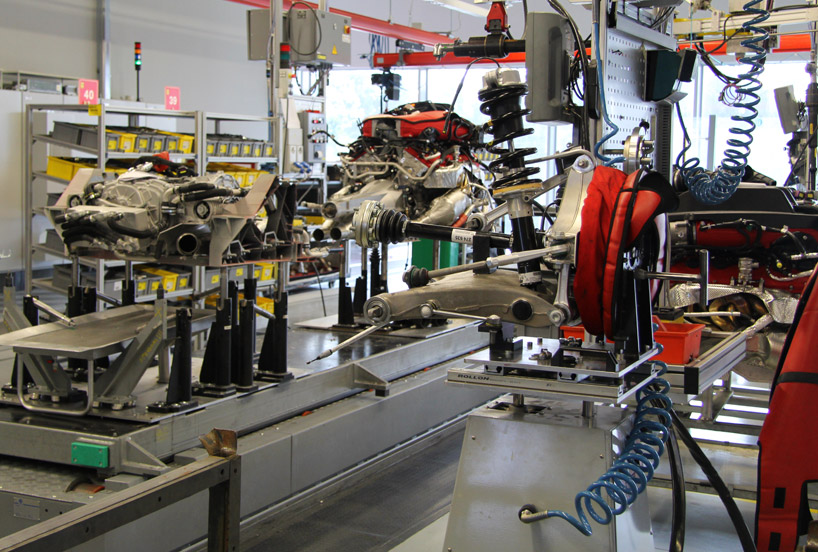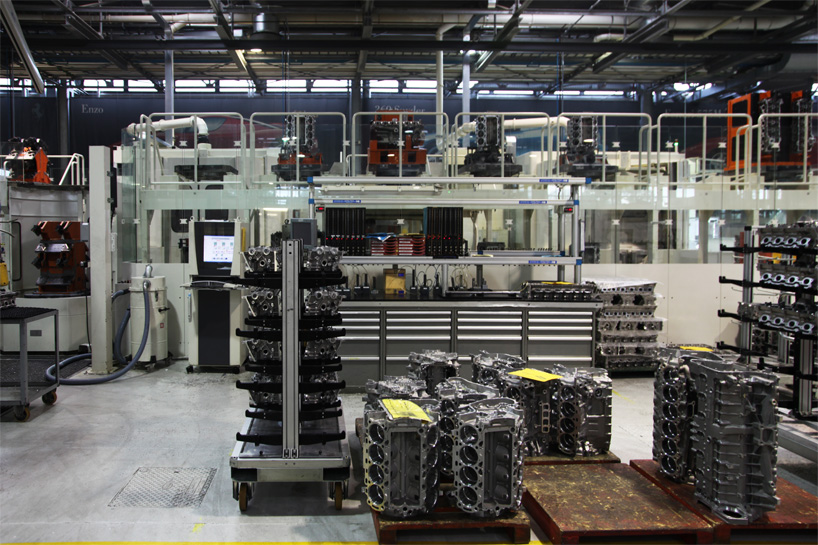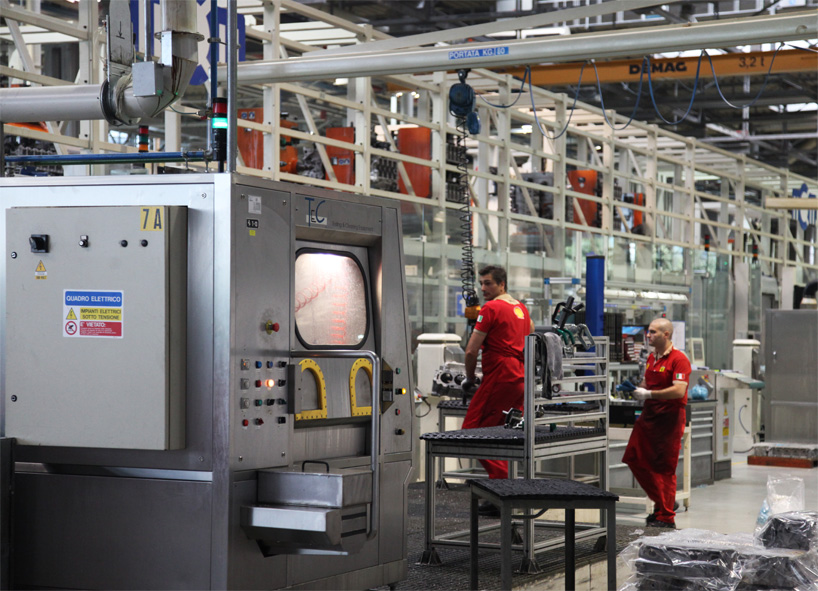 rodrigo caula
I designboom
oct 13, 2013
a diverse digital database that acts as a valuable guide in gaining insight and information about a product directly from the manufacturer, and serves as a rich reference point in developing a project or scheme.
designboom will always be there for you
milan, new york, beijing, tokyo

,
since 1999