jun 14, 2010
frackenpohl poulheim: myon
left: 'myon' endoskeleton right: 'myon' with skin image © designboom
cologne-based industrial design studio frackenpohl poulheim designed the humanoid robot 'myon', which was created by the neurorobotics research laboratory at the humboldt-universität zu berlin within the framework of the european research project alear. myon represents the m-series, which consists of five similar robots that are based on a novel modular construction principle. the third party in creating the external appearance of 'myon' is bayer materialscience.
at a very early stage within the development process of the robot, frackenpohl poulheim and the neurorobotics research laboratory started with their close cooperation. the result of the first phase of workshops was to define the nature and character of 'myon' together with the scientists. thereafter, the appropriate proportion for the stature needed to be designed and aligned with the construction team.
skin of 'myon' is made of a transparent top layer of makrolon and a layer of glass fibre stabilized polycarbonate. image © designboom
'this step has an enormous impact on the impressions, that a robot gives to its beholder. robots easily appear menacing, if for instance shoulders are designed too massive. myon was supposed to look friendly. analogue to its actual body height that equates the size of an eight year old child, it shall not stand for danger' – andré poulheim, who worked in collaboration with thorsten frackenpohl.
all project partners conformed that no copy of a human being should be created, but a product combining a biological human format with a technical appearance.
detachable head that functions autonomously even without the body image © designboom
besides its creative-symbolic functions, the housing of the robot has to meet technical applicatory functions as well. if 'myon' tumbles, his skin protects the sensitive endoskeleton. similarly, the unproblematic handling and transport of the robot becomes possible only after mounting the external, thermoformed shells. bayer materialscience succeeded in developing a special material for this application which at the same time meets design requirements and technical specifications. a transparent top layer from makrolon provides a favoured depth effect while fibre-glass reinforced polycarbonate as the base layer gives the necessary strength.
built in touchscreen image © designboom
video demonstrating myon's movements the model here has no arms showcasing that each of the body parts can work autonomously from each other.
endoskeleton framework image © designboom
image © designboom
purpose built adapters connect the modular bodyparts and provide power as well as data transfer. image © designboom
debuting the newly developed robot 'myon', the neurorobotics research laboratory introduces the worldwide first humanoid robot whose body parts can be demounted and mounted during operation mode. during this process, all body parts keep their functions as they are fully autonomous concerning three aspects: energy supply, processing power and neural network are arranged locally on the robot.
'myon' is a high complexity system. nevertheless, its behavior does not collapse when damage occurs. cutting a cable or removing an electronic part therefore won´t lead to malfunction of the robot. the body parts have multiple cross-links and work together cooperatively.
image © designboom
technical specifications:
125 cm in height 15 kg in weight 6 self sufficient bodyparts 7 multifunctional adapters for physical and sensorial connection 30 active envelopes 48 actuators 35 torsion springs for biological movements 192 multimodal sensorical data every 10 ms
'myon' was showcased at DMY international design festival berlin 2010.
image © designboom
image © designboom
image © designboom
image © designboom
'myon' scans the space identifying this specific shade of yellow
once identified, it follows the movement of this yellow object
screen showcasing 'myon's focus on identified item
from left to right: torsten siedel, andré poulheim, thorsten frackenpohl, christian thiele
jul 18, 2010
jul 18, 2010
jul 12, 2010
jul 12, 2010
jul 08, 2010
jul 08, 2010
jul 05, 2010
jul 05, 2010
jul 04, 2010
jul 04, 2010
jul 03, 2010
jul 03, 2010
robots
(429 articles)
jul 11, 2020
jul 11, 2020
jul 08, 2020
jul 08, 2020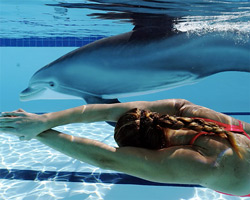 jul 07, 2020
jul 07, 2020
a diverse digital database that acts as a valuable guide in gaining insight and information about a product directly from the manufacturer, and serves as a rich reference point in developing a project or scheme.