aug 22, 2013
giken automatic underground bike parking system in japan

giken automatic underground bike parking system in japan
image © alastair townsend + kayoko ohtsuki

with urban cites not having enough street space for setting up proper bike storage infrastructure, the problem of overcrowding and illegal parking can cause potential hazards for emergency situations and general pedestrian navigation. in japan, an earthquake-resistant underground bike parking system has been developed by giken to help resolve the issue, approaching the situation through their design concept, which is based on culture above ground, and function underground. known as the 'eco cycle', the project is engineered as individual cylindrical shaped structures measuring 8.5m x 11.6m below the street surface, where a mechanically operated carrier lifts and organizes bikes into any of the open 204 stalls. the design utilizes a staggered arrangement with loading pallets that maximize the amount of storage with a minimal spatial footprint.
 
'eco bicycle parking'
video courtesy Giken Seisakusho
a mechanical carrier lift brings each bike into a designated parking space
image © alastair townsend + kayoko ohtsuki
user loading the bike into the corresponding loading bay
operation is easy: an IC tag mounted on the front wheel corresponds to the user's membership card– all they need to do is load the bike onto the bay and press start. inside, a carrier lift that holds the bicycle rotates downwards, placing the vehicle into an open rack. to get a bike out, one swipes their IC card, and the automated system retrieves the bike and places it above-ground in about 8 seconds, ideal and efficient for peak, and rush hour times.
left: inside the high-tech underground parking bay
right: bike share parking lot above
images courtesy asahi.jp
'giken eco cycle' construction
image © alastair townsend + kayoko ohtsuki
the individual cylindrical shaped structures measure 8.5m x 11.6m below the street surface
image © alastair townsend + kayoko ohtsuki
'giken eco cycle' construction overview
image © alastair townsend + kayoko ohtsuki
oct 28, 2017
oct 28, 2017
oct 20, 2017
oct 20, 2017
oct 20, 2017
oct 20, 2017
oct 12, 2017
oct 12, 2017
oct 05, 2017
oct 05, 2017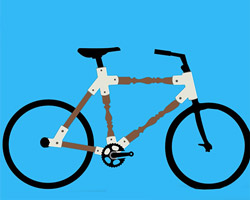 sep 22, 2017
sep 22, 2017
aug 10, 2017
aug 10, 2017
aug 08, 2017
aug 08, 2017
jun 28, 2017
jun 28, 2017