IFA: the grundig 'connected home' collection has been unveiled at IFA 2016 in berlin, displaying a range of new products that focus on the future vision of smart kitchens and the linking technology of 'grundig homewhiz'. the european electronic appliances company owes its latest developments to four market-shaping trends and principles; internet of things, smart home, design and sustainability.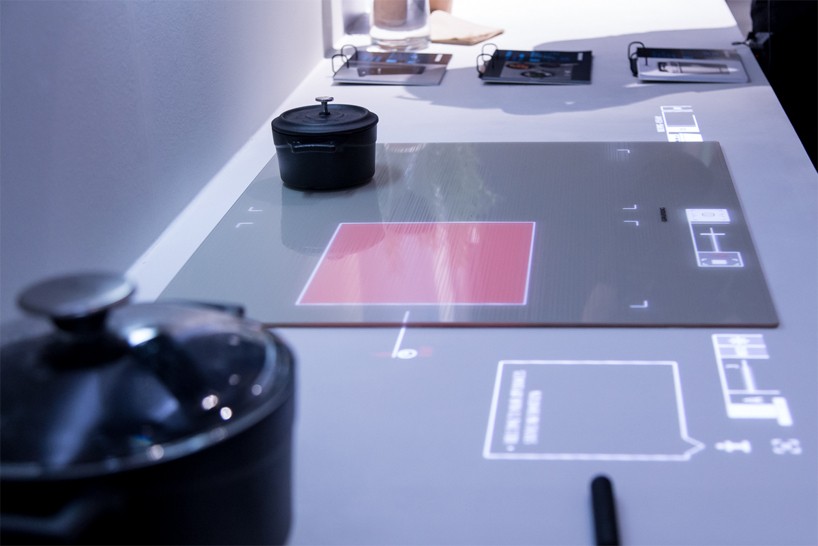 new products that focus on the future vision of smart kitchen
as a clear example of how grundig's present innovation is predicting the dynamic changes in our homes, the 'VUX marble induction hob' offers a new user experience in our kitchens. through using projection technology, an ordinary induction hob is transformed into an enhancing and intuitive work surface. the system enables the user to completely control appliances, such as hobs, dishwashers, mobile phones and even cameras, from one point. furthermore, the touch displays and information are flexible to move around on the surface, in order to avoid any cutting boards, pots and other kitchen tools.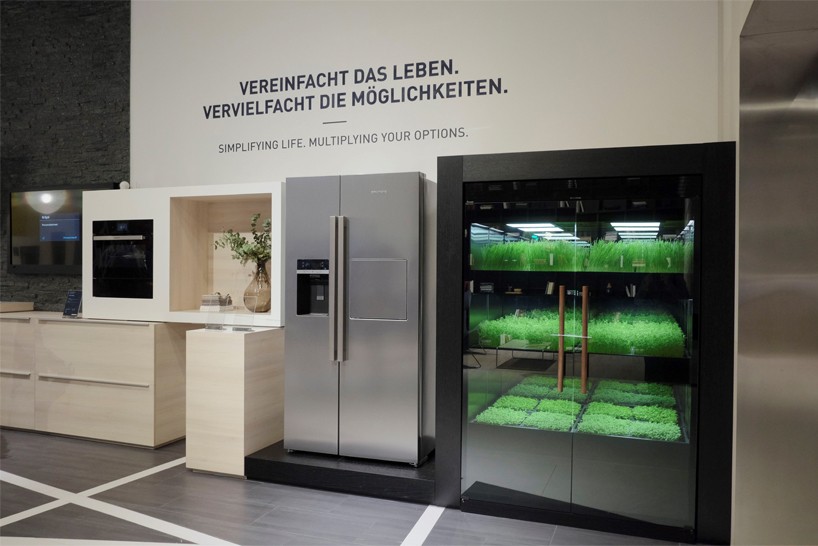 grundig's new product line; cooling oven, freshmeter (with the freshmeter inside) and the herbgarden
reducing the amount of food wastage is a major aim for the company, as shown with the new 'no waste' initiative, and grundig has presented three connected products that help achieve this task. the 'herbgarden' enables users to grow fresh, organic and tasty herbs at their own home, even if they have no outdoor space. this product needs no pesticide and features three sets of growing chambers, a LED light box, air pump and a fan to adjust the humidity. through a mobile app, the user can not only control and monitor the 'herbgarden' humidity, but can also track what herbs are growing, when the last harvest was, approximate harvest time for each item, its temperature and the remaining water levels. it also allows home owners to perfectly grow the amount of herbs needed, with the security of knowing exactly when harvesting is.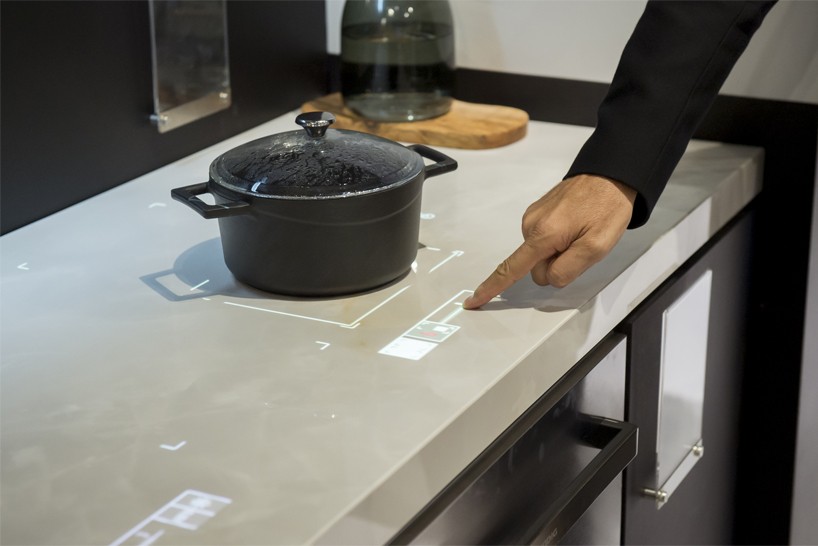 a close-up of the VUX and its interactive technology
image © designboom
combating sustainability and reducing food wastage in a different way, the grundig 'freshmeter' equips special technology in order to preserve food for the longest amount of time possible and to keep the home owner informed about their freshness. one such piece of technology, the 'smart food sensor' recognizes food adulteration in special compartments of the refrigerator. colored blue and kept at 0⁰C, it alerts the consumer via their mobile app, if the food placed inside is fresh or not.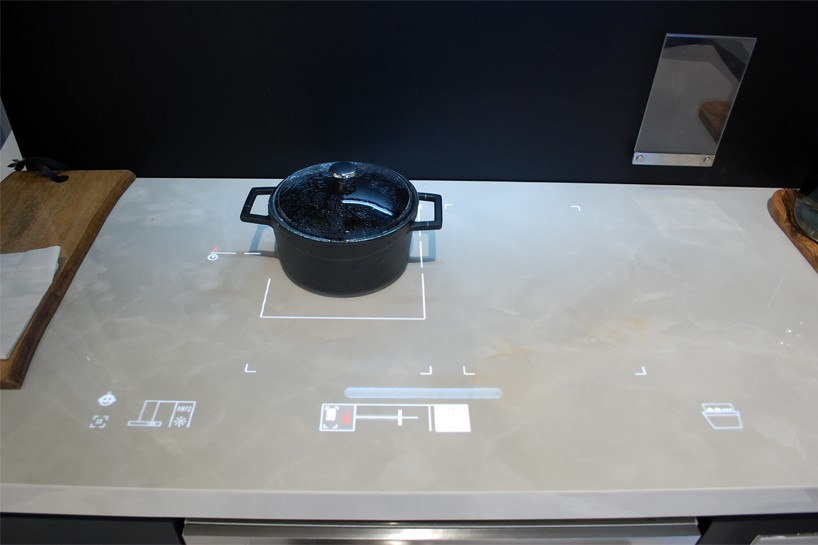 image © designboom
finally, using a unique piece of innovation, the grundig 'cooling oven' enables the user to cool and cook in the same oven. this allows a dish, which is prepared early in the morning, to be kept cool at 5⁰C until cooking is started remotely from the connected app. the clever kitchen appliance displays its current mode – cooling or cooking – through a blue or red illumination respectively.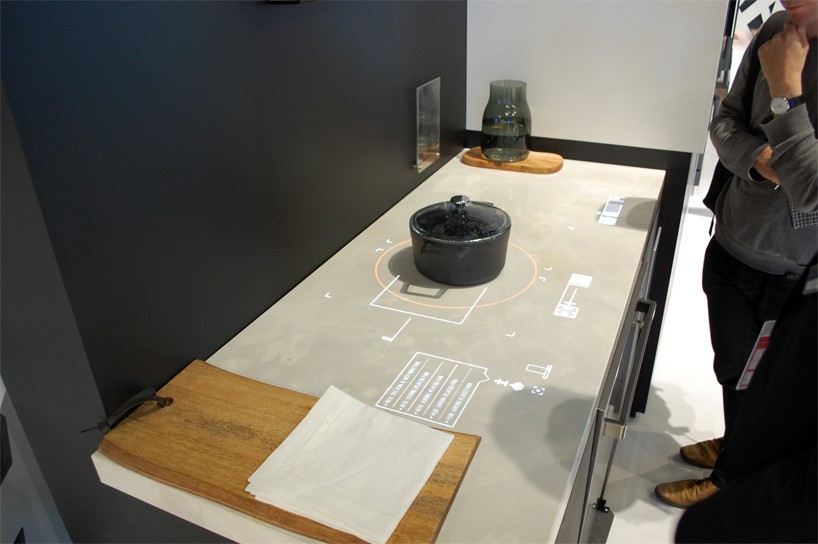 the device warns users if the pot is in the wrong spot and when the area is dangerously hot
image © designboom
after the presentation and tour, we sat down with grundig's head of design, serdal korkut avci, to discuss in depth about their new range of technology-packed products and how they aim to improve the home consumers' lives.
designboom (DB): first of all, could you describe your role and responsibilities for grundig?
serdal korkut avci (SKA): I am the head of design for grundig products, which is a company that provides solutions at home in order to ease the life of consumers. the brand is known for creating solutions for audio and video, but actually, when we started, we aimed to offer solutions in the lifestyle segment for homes. we do not only design devices for audio and video, its not possible. instead, we provide solutions for washing, cooking, air conditioning, cleaning and all other household electric appliances.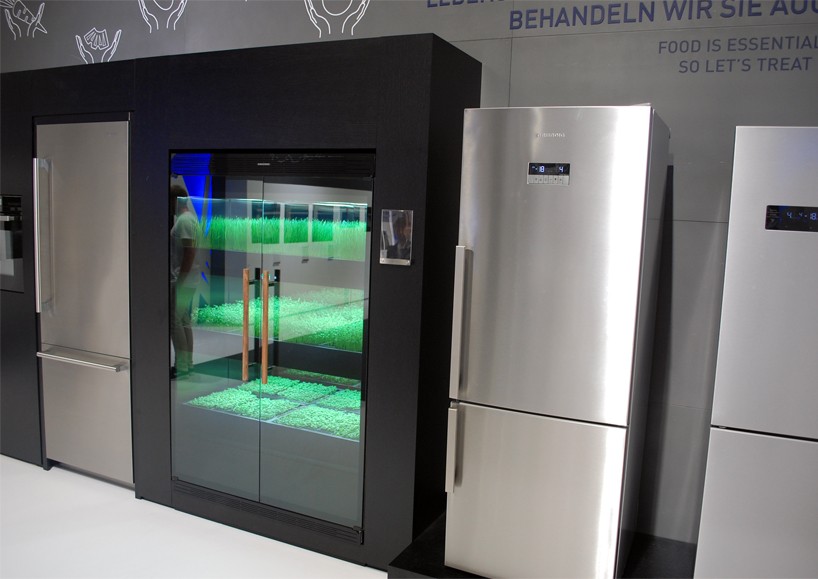 the 'herbgarden' features three levels
image © designboom
DB: with the collection of grundig products revealed at the IFA 2016, what do these appliances offer to the consumer?
SKA: there was quite a few that I explained during the tour, that were quite critical. at present, the really basic functionality of household appliances is a big problem, and something that we wanted to challenge, to change. for example, a washing machine is purposed to wash garments, but when you add some value, with provided services, the machine's functionality is different, is better. previously, they only had one directional command set, but right now, this is changing. we need more options as we are balancing so many aspects in our household.
the purpose of the new products and their services that are on display at the IFA, is to provide additional time to the user. we believe that time is the most precious value and benefit that you can offer the consumer. if you do that in a proper way, and communicate it in a proper way, then you can be successful – much like how grundig's products are doing it.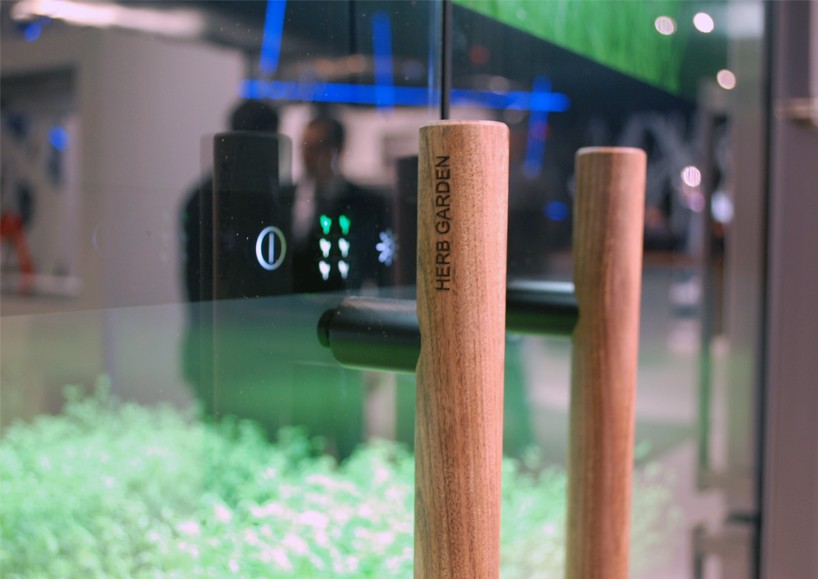 a close-up of the 'herbgarden' and its button controls
image © designboom
DB: how are grundig keeping up to date and integrating new technologies with their range?
SKA: first of all, the products that we propose are mainly driven by the consumer needs. of course, we do not ask the customer what they need because their answers will only be of things, products, ideas that they have already seen on the market. that is why we are trying to learn the core of their needs instead. through that information, we can propose additional products with additional services. technology is so fast. in terms of processing data, in terms of capturing data, there is and will be a lot of improvement soon. this information about the user is very critical for the new product and it needs to be feed to the designers whilst creating the device. we believe the main functionality is driving the form of the product. as dieter rams said, form follows function, but now, form follows interaction. the interaction is shaping the way products are created; with materials, shape and composition. the form, material and shape is creating an emotional aspect, which together with the embedded technology providing function, leads to a successful product.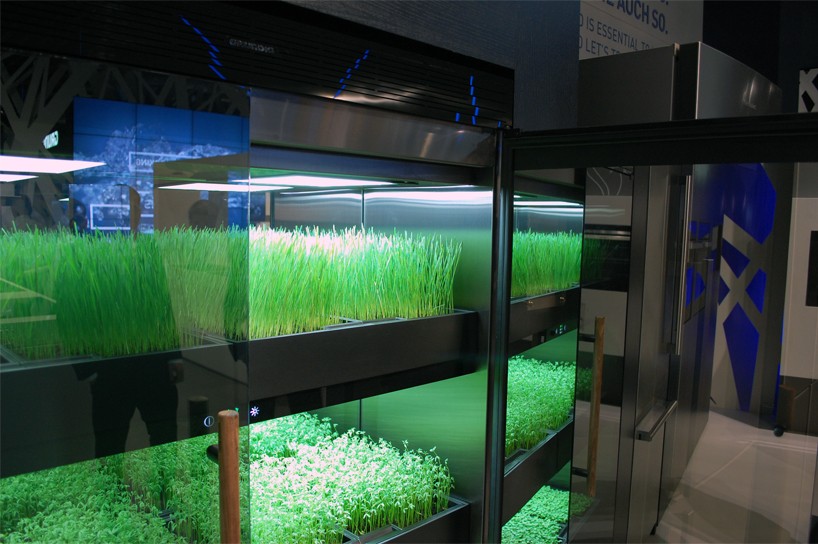 image © designboom
DB: how will the new collection of connected kitchen appliances aid user lives?
SKA: we are always focusing on saving time and how we do that. it is all about how you set the experience with the consumer. if you just reduce the complexity of just communicating with the device, then you are saving time. just accumulate this over the whole of the product's life-cycle and you are saving a vast amount of time.
these WIFI connected appliances enable users to communicate, control and receive information with them from within and outside of the home. in the future, we are considering to introduce bluetooth in to our systems, in order to communicate with controlled data in a very closed environment.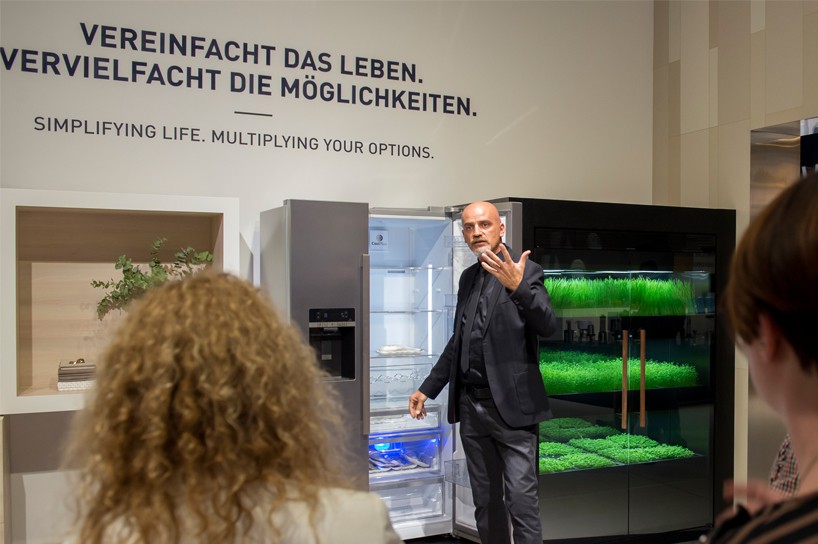 grundig's industrial design director, serdal korkut, explaining the 'freshmeter'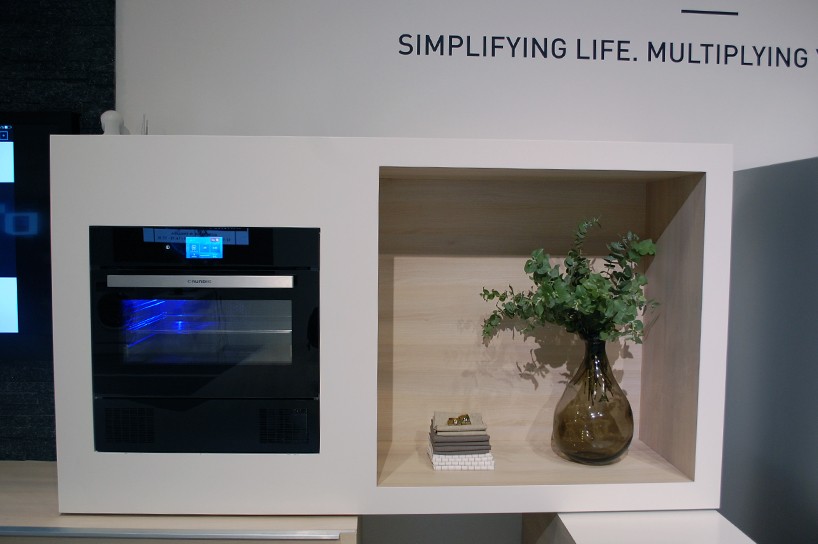 the grundig 'cooling oven' enables the user to cool and cook in the same oven
image © designboom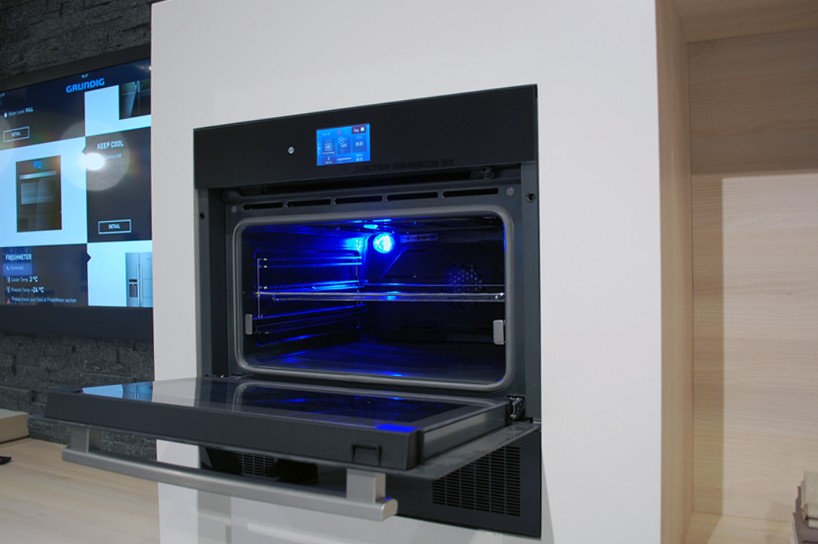 the 'cooling oven' blue light indicates that the food would be cooling and not cooking
image © designboom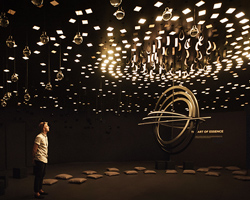 sep 12, 2016
sep 12, 2016
sep 11, 2016
sep 11, 2016
sep 10, 2016
sep 10, 2016
sep 09, 2016
sep 09, 2016
sep 09, 2016
sep 09, 2016
sep 09, 2016
sep 09, 2016
a diverse digital database that acts as a valuable guide in gaining insight and information about a product directly from the manufacturer, and serves as a rich reference point in developing a project or scheme.