oct 16, 2016
honda and kabuku 3D print an all-electric mini van
honda and kabuku inc. collaborate to unveil one of the largest products produced in japan using 3D printing technology based on the idea of a variable design platform. the mini van features the japanese-automaker's micro EV technology, used on its ultra-compact electric vehicle. meet the 'hato sablé' delivery van.
hato sablé, if you're unaware, is japanese dove-shaped shortbread, and it is the prime cargo of this 3D-printed tiny EV. the car itself was jointly developed by honda and kabuku inc, based on a variable design platform and unveiled at this year's CEATEC japan show. the chassis itself was built using a lightweight pipe-frame structure, but the body panels and luggage space were all produced using a 3D printer. manufacturing things like this isn't new, of course.
power comes from micro EV technology, which is already used on the 'MC-β' ultra compact EV in japan–with 15 bhp, and is capable of traveling up to 50 miles/80 kilometers at a heady top speed of 43 mph/69 kmph. it weighs 600 kg. it is 2.5 m in length; 1.2 m in width; and stands 1.5 m tall.
this particular micro EV only has space for a driver, though, because of its 'generous space to carry deliveries of sweet treats'. that'll be the dove-shaped shortbread, toshiyama's 'most famous product'.
oct 30, 2017
oct 30, 2017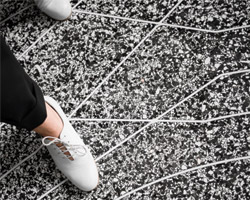 oct 23, 2017
oct 23, 2017
oct 18, 2017
oct 18, 2017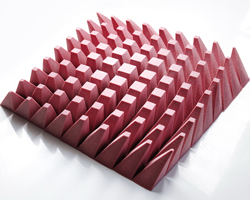 oct 17, 2017
oct 17, 2017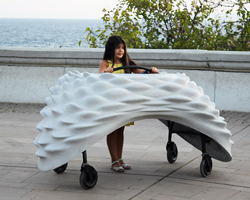 sep 28, 2017
sep 28, 2017
sep 13, 2017
sep 13, 2017
oct 26, 2017
oct 26, 2017
oct 25, 2017
oct 25, 2017
oct 25, 2017
oct 25, 2017
honda
(32 articles)
oct 31, 2017
oct 31, 2017
oct 26, 2017
oct 26, 2017
oct 04, 2017
oct 04, 2017