aug 21, 2014
chris malloy's hoverbike fuses the use of helicopters and motorcycles
chris malloy's hoverbike fuses the use of helicopters and motorcycles
images courtesy of malloy aeronautics
the 'hoverbike' developed by chris malloy, is the result of combining the sense of freedom from a helicopter and the adventure of riding a motorbike. the flying motorcycle works like a quadcopter. although it is not just cheaper than a regular chopper, it is more rugged and easier to use. the bike operates at a safe, low level height and is designed to replace conventional one man helicopters for professional tasks such as cattle mustering. it is purposed to complete jobs such as search and rescue, precision farming, first responder emergency services and cargo shipping of up to 120kg (265lbs).

the product went through stages of testing – this is the tethered hovering trial
the reliable 'hoverbike' considers the safety of pilots in its design and operation, and the ducting around the propellers reflect this. these two large fans direct the flying bike by using control vanes to deflect the thrust. as well, they incorporate patent pending offset and overlapping rotor blades that reduce weight and platform area. the lightweight hovercraft has a foam core surrounded by carbon fiber, kevlar and aluminum. it is capable of folding to a third of its size, meaning transportation of the professional and personal vehicle is easy and efficient. to learn more about the 'hoverbike', see the kickstarter campaign here.

the hoverbike and the scaled down model at work
video courtesy of malloy aeronautics

a 3/4 view of chris malloy's 'hoverbike'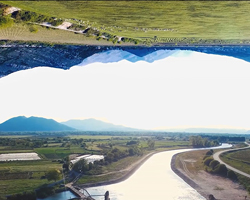 jul 19, 2017
jul 19, 2017
jul 18, 2017
jul 18, 2017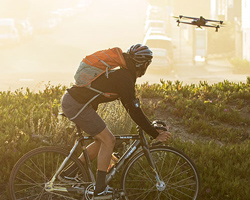 jul 12, 2017
jul 12, 2017