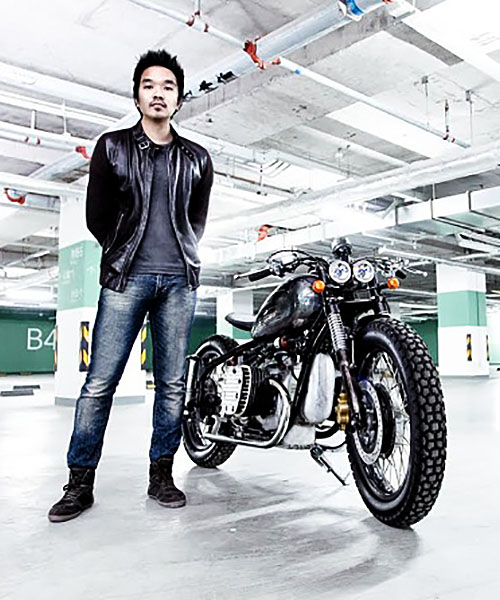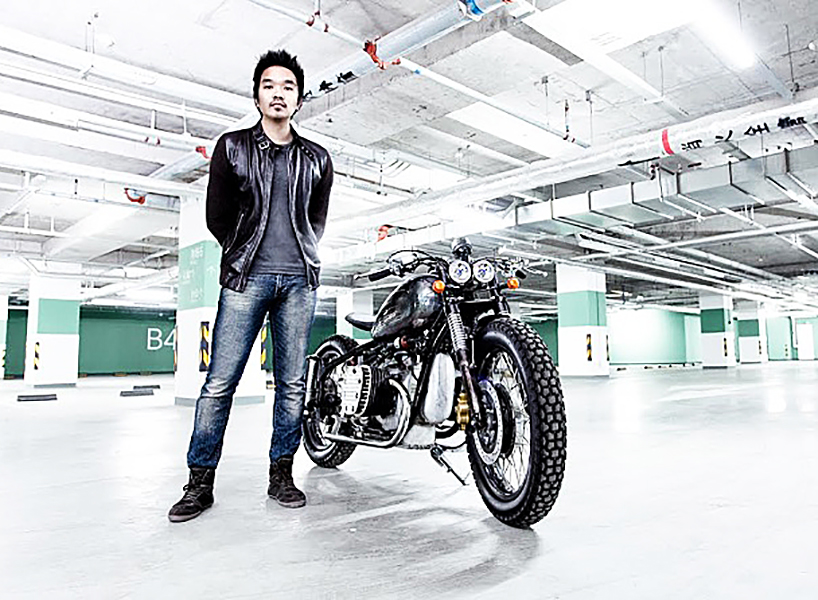 dec 04, 2016
interview: bandit9 motorcycle's chief daryl villaneuva
interview: bandit9 motorcycle's chief daryl villaneuva. earlier this year bandit9 unveiled its sci-fi influenced steel 'EDEN'; and its liquid black 'EVE' motorcycles, breaking the mould of convention and building bespoke bikes with futuristic forms. designboom spoke with bandit9's CEO daryl villaneuva, who discussed how the company started; the influences and philosophies behind its designs; and his passion outside of the motorcycle realm–science fiction movies.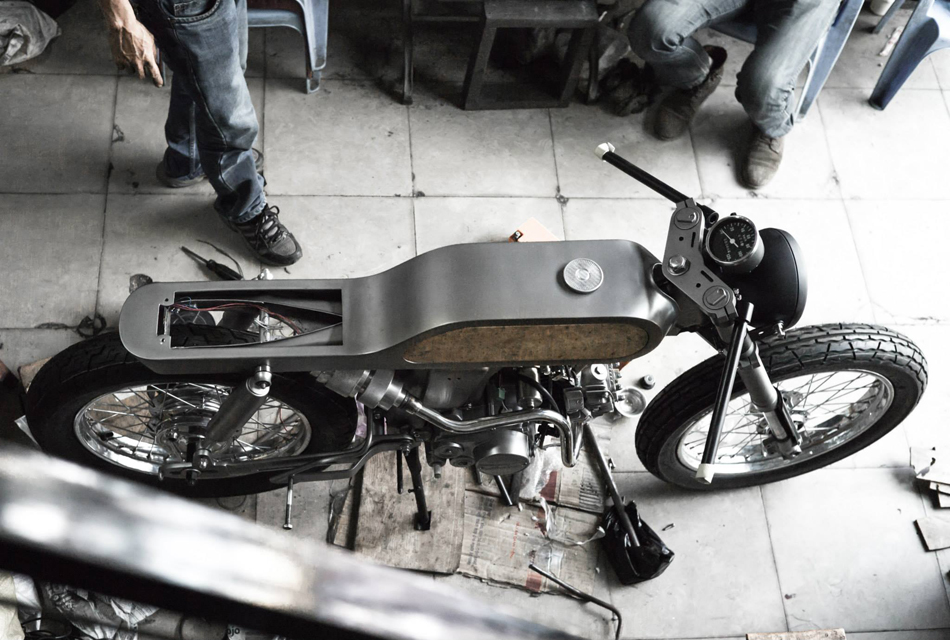 bandit9 bishop motorcycle limited to nine models
see more of this project of designboom here
designboom (DB): firstly, can you tell us about how bandit9 first started, and what were the founding principles; and philosophies that guide your motorcycle designs?
daryl villaneuva (DV): I first thought about starting a company 6 years ago. I was still in advertising and I'd go for late night rides to clear my head. I couldn't take the advertising life anymore. there's a lot of creative firepower that goes to waste. there are too many folks involved in creating ads and this design-by-committee thing doesn't work for me. and it angers me whenever these 'suits' start dictating (what should be and should have been) art.
advertising, to me, felt like a prison for artists. so I started clawing at the walls. it took me 4 years to get out. it wasn't about building the coolest motorcycles out there. it was about saying 'enough'. I wanted to make something pure without interference. on a superficial level, my bikes are about closing the gap between science fiction and reality but the reason bandit9 was born in the first place is one that all motorcyclists understand–it's a symbolic middle finger to corporate prison and my bikes are my getaway car.

'EVE MK.ii' custom made for M.A.D. gallery
DB: looking at the 'bandit code', your creations aim to reconnect bikers with the reasons why they first fell in love with riding. how do your designs help re-establish this emotion and place motorcyclists in this state of enlightenment?
DV: I think everyone will agree that purchasing a motorcycle is an emotional decision and the way I tap into that is to challenge what a bike is by delivering what could be instead. these bikes bring out the inner-kid who dreamt of being an astronaut or a jedi! the kid before he was forced to adapt to the real world.
bandit9 motorcycles are time machines. they bring you back and forth between a past when you believed anything was possible to an optimistic future where that possibility becomes reality.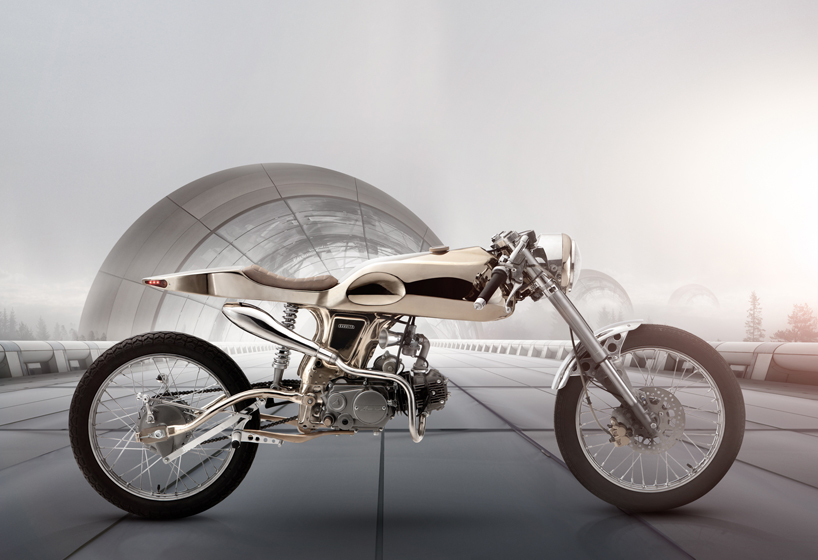 'EDEN': now available in limited production of nine
DB: following the 'EVE' photographed with fashion designer konstantin kofta; and the 'EVE MK.ii' for M.A.D gallery, will there be many more future collaborations to look forward to, and if so, how do you decide on the perfect partnership for creating a new bike?
DV: I hope so! the great thing about these collaborations is we bring out the best in each other and the work we do sprawls into each other's industries–fashion, haute horology, fine art, etc. what helps me decide on the right partnerships is if our personalities are compatible and a basic test of that is if we are given the space and trust to do our thing.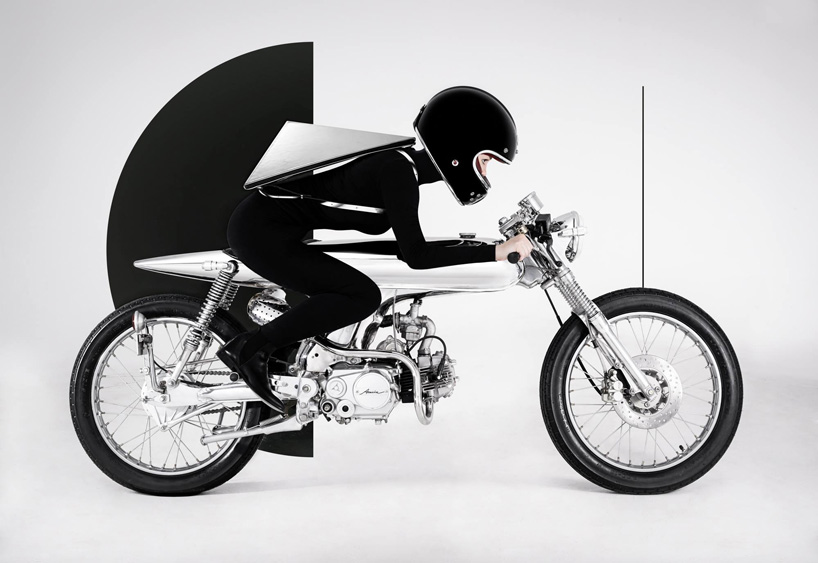 fashion designer konstantin kofta with 'EVE'
DB: we recently heard that you were influenced by science fiction in some of bandit9's designs, could you please shed a little light on this?
DV: I'm the biggest geek. I spend a lot of time day-dreaming and I spend a lot of my free time watching movies and reading books. and my favorite genre is sci-fi. the good ones, and there aren't that many, are incredibly thought provoking because they force us to think about our place in the universe. they ask compelling 'what if' questions. it's what drives me. what if a motorcycle doesn't look like a motorcycle? what if a motorcycle drew inspiration from satellites rather than classic bikes? what if we designed bikes solely for women–would that yield a different result? what if the guys that designed the USS enterprise tried their hand at motorcycles, what would it look like? it's quite endless!
I find that this is a more fruitful launching pad. take a look at the design of the dark side; it bears resemblance to ridley scott's 'alien'. it's elegant; terrifying; surreal; and sensual all at the same time. it's hard to bring that kind of polarity in the description of a motorcycle if all we do is look at old café racers; bobbers; and choppers.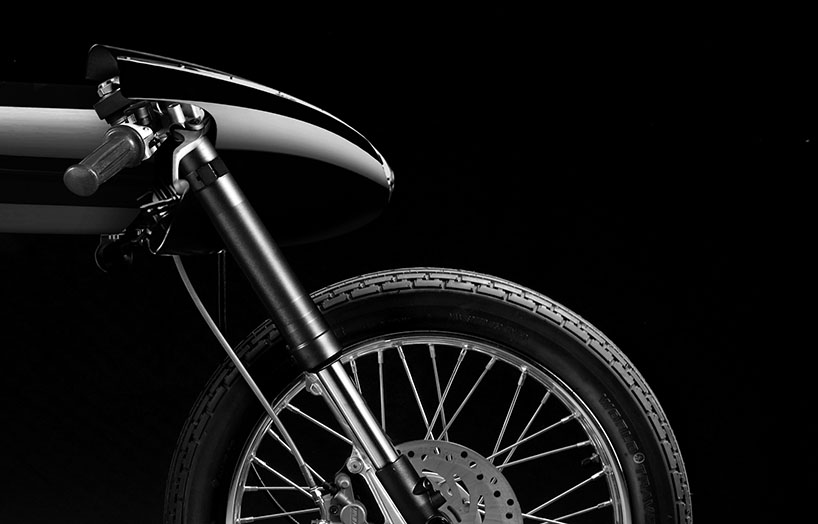 'EVE liquid black': also available in limited production of nine
DB: which particular motorcycle/s do you enjoy riding, and why?
DV: the honda 'cub' is a sentimental machine to me. it's really what started all of this. like I say, motorcycles for me are very emotional devices.
dec 24, 2018
dec 24, 2018
dec 17, 2018
dec 17, 2018
mar 09, 2018
mar 09, 2018
dec 11, 2017
dec 11, 2017
aug 29, 2017
aug 29, 2017
nov 21, 2016
nov 21, 2016
mar 18, 2019
mar 18, 2019
mar 08, 2019
mar 08, 2019
feb 24, 2019
feb 24, 2019
a diverse digital database that acts as a valuable guide in gaining insight and information about a product directly from the manufacturer, and serves as a rich reference point in developing a project or scheme.