interview with cinelli's head engineer fabrizio aghito
images courtesy of cinelli
as the first installment of a three-part studio visit series, designboom discusses with cinelli's chief engineer fabrizio aghito, about his past experiences, methodology of design and future visions for the company. fabrizio has been a part of gruppo srl, which cinelli is a division of since 1996, and over the years, has lead many pivotal developments in the bike industry. most notably, he has overseen the invention of the street cycling concept, the bootleg adventure bicycles and the radical ram handlebars.
designboom (DB): please could you tell us a bit about your background and how you came to work as the chief engineer for cinelli?
fabrizio aghito (FA): I'm an aeronautical engineer graduated from the politecnico of milano with a specialization in aerospace technologies. I've always been attracted by scientific topics since I was a child, because of my curiosity towards the understanding of how things works. I remember a book I liked to read when I was eight or nine years old which was titled: 'how things works'. it was full of drawings of the inside of ships, airplanes and mechanical objects, showing how they all worked. I started to work for columbus in 1996 after submitting my resume to an application they published in a famous italian newspaper, for a job as the research and development manager. at that time, columbus, as well as cinelli and 3T, belonged to mr. antonio colombo but were three separate companies. after a couple of years, the three brands were merged together and I became chief engineer of gruppo.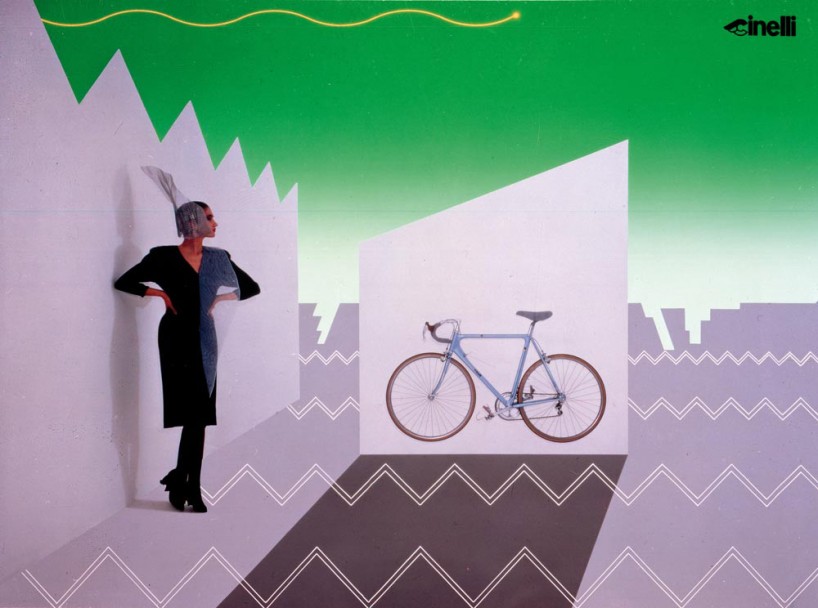 cinelli occhio magico alchimia advert showing the brand's history and identity
DB: who/what has been the biggest influence on your work to date?
FA: I cannot say that I have a specific influence in my works, I like to be updated about what other brands do in the bike industry. there are some I like more than others and for sure, there are some I look at just to stay away from what they do… but I will never tell anybody which ones! what I really like to do is to be updated on technologies used in other fields and in sport.
DB: overall – what would you say is your strongest skill and how have you honed that skill over the years?
FA: I don't know if this is a skill or something that has come out thanks to my personal experience in this company, but what I consider important for me is the possibility of a 360° view of the company, not only related to the product development but also its industrialization and selling. this can give me a global view of products lifecycle.

one of the most successful track bikes in olympic history, the cinelli laser pista 1984 reinterpreted by keith haring
DB: what are the main aspects taken into consideration during the bicycle design process?
FA: when you design a new product the first thing you must have in mind is what is the purpose of the object you are designing. what is this thing designed for? sometimes designers fall in love with projects that fulfill needs that are valid for themselves but don't meet the needs of the public. the best comes out when you are able to understand the needs of the final user or better, to unveil a need that they are still not aware of. of course all the other aspects related to the engineering and industrialization are of top importance too.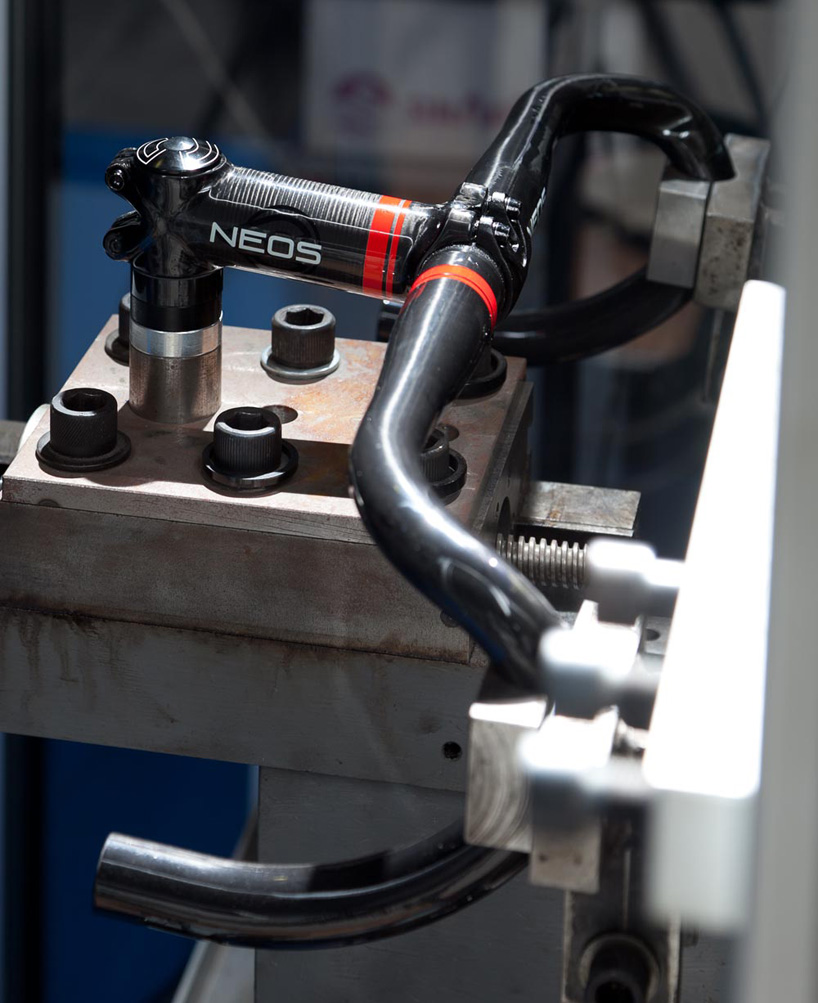 stress test of a cinelli neos carbon stem and handlebar
DB: what production techniques and materials have you enjoyed working with the most to realize your work? what processes or materials would you like to explore further in the future?
FA: when I started to work for columbus, the first challenge I had was the design of a new tube set for bicycle frames made in aluminum alloy. after years of butting steel tubes, columbus had to work with a new material and I immediately loved it! I worked with aluminum alloys that changed their mechanical characteristic after special heat treatments and it was really challenging to find the correct parameters for the construction of frames that weighted less than 1kg… this was an incredible goal to achieve at the time. after that period I started to work with carbon fiber, which opened a wider range of possibilities in terms of shapes and performances, but to be honest, I prefer to work with metals, they are more honest and predictable… you can even say that they are alive.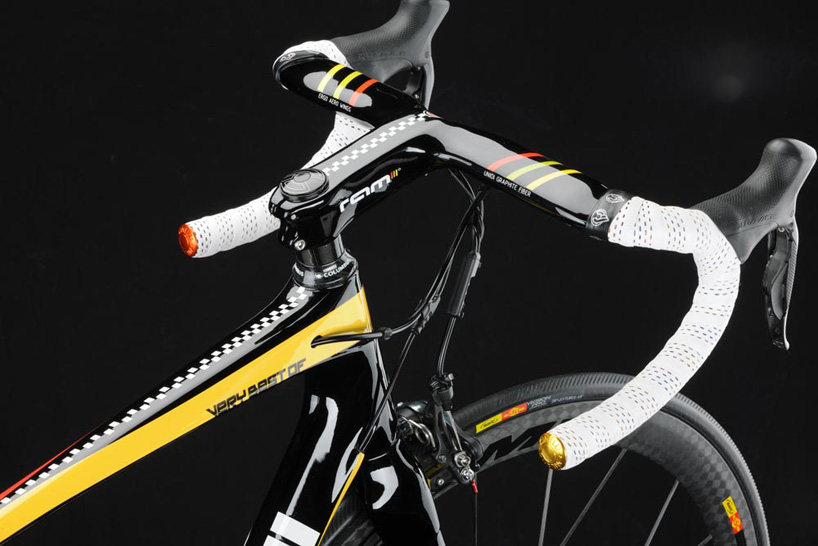 the RAM integrated handlebar
DB: what do you consider to be the most interesting developments in your field at present and why?
FA: the most interesting developments in which I've been involved in is the RAM: an integrated carbon handlebar which at the time was really advanced for the concept and the manufacturing. for this project, the production and the maintenance of the quality standard has been a tough process. this is something that in the design of a new product must always be taken into consideration: from the 3D prototype to the mass production product – they must respect the set quality and safety standards.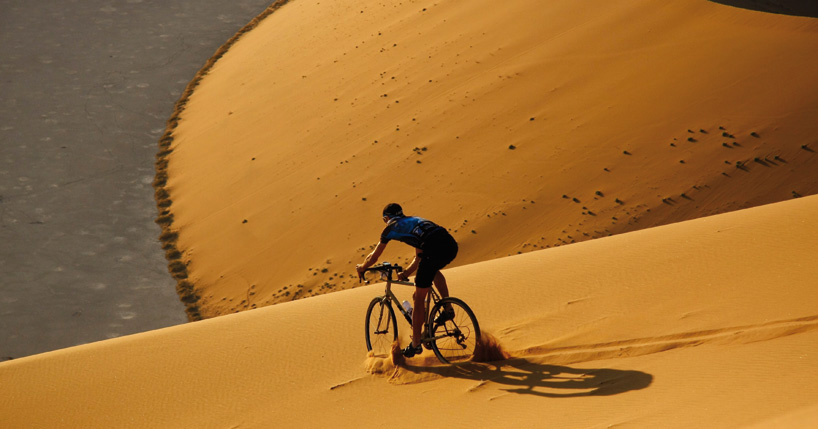 the bootleg toured across africa from cairo to cape town
image courtesy of dario toso
DB: how is cinelli incorporating and keeping updated with technological advancements?
FA: this aspect is fulfilled by always being updated about the new technologies for both material and production techniques. the internet is a big help now but the most important thing to do is to always be curious about everything, particularly what is done in other sectors of the industry and not only related to sporting goods. always going into great depths of things, trying to understand how and why some decisions are taken, and critically analyzing them; would I have done the same?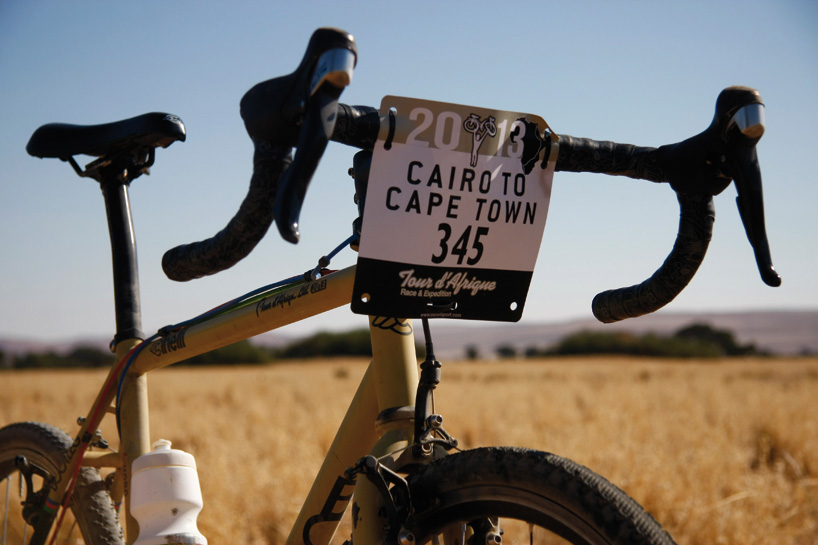 the cinelli hobo during the tour d'afrique
image courtesy of dario toso

DB: are there any new projects that you are working on? if so, could you enlighten our readers with some information?

FA: the new generation of bikes I'm working on is the hybridization of existing models. the old schemes that put rigid categories around bikes, such as road, mountain, trekking and city, are now being overcome and it's really nice to design something that can be used for different purposes. the hybridization of models means that bicycles don't belong to a specific category anymore. an example of this is the zydeco, which was born as a cyclocross bike and now is also good for trekking, commuting or winter training. this sometimes is easily reached by adding a nice carrier, designing the frame to allow the use of bigger tires and fenders, or changing the geometry of the frame a little bit… but I don't want to anticipate too much about what will be next.


lucas brunelle riding the bootleghobo cinelli bike through the final stage of the tour d'afrique
video courtesy of cinelli

DB: what was your first bike?

FA: I got my first bike when I was seven years, it was a saltafoss. it was what used to be called a 'cross-bike': it had big tires, three speeds, rear suspensions and a long saddle so that you could also carry a second passenger… usually a girl. with that bike we went to the parks riding single racks and jumping when you found bumps. in those years the bigger boys used cross motorbikes, they were really popular and we little kids wanted to imitate them with our bikes.

the cinelli XCr bicycle
DB: is there a bike that you have designed that you would love to have as your own?
there isn't a bike that I designed that I would not like to have. I always love the products I design, it would be wrong if I didn't.
DB: what advice would you give to emerging designers and students who are entering the bicycle industry?
FA: for those that want to enter the bike industry as designers, the first suggestion is: you must love the bike, you must love riding and you must ride. there is no other way to understand the bike than riding it. then of course it is important to study the bike, see what other brands do, read about what has been done in the past and how much the bike has changed in the last 20 years… but first of all, you must ride it!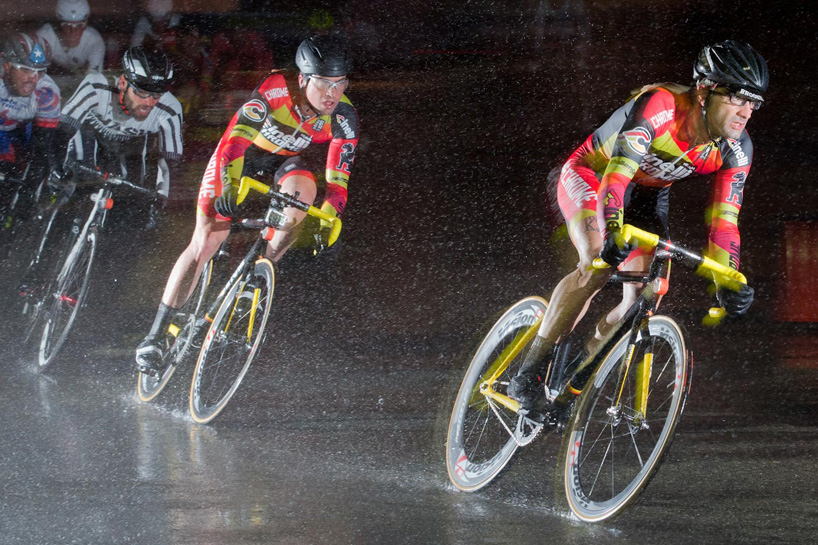 team cinelli chrome in action during a track-bike criterium in NYC
DB: what are you passionate about besides your work?
FA: my big passions are always related to sports that involve being outside, such as riding, ski-touring, scuba diving and walking, but I also like reading, listening to good music and watching movies. I recently discovered how intense it is to spend five/six days at a time touring on bikes with good friends and discovering places you've never been before.
DB: what's your personal motto?
FA: what's next.
a diverse digital database that acts as a valuable guide in gaining insight and information about a product directly from the manufacturer, and serves as a rich reference point in developing a project or scheme.
designboom will always be there for you
milan, new york, beijing, tokyo

,
since 1999