MINI VISION NEXT 100: celebrating BMW group's 100 year anniversary, earlier this year MINI unveiled their vision for the future of mobility covering several key issues for the decades ahead with the MINI 'VISION NEXT 100' concept. at the official unveiling in june, MINI's head of design anders warming provided us with some exclusive insights into the car.
at the launch of the final BMW 'VISION NEXT 100' concept motorcycle in los angeles, it marked the first time all four concepts: BMW; rolls-royce; and MINI, were all together. at the momentous event, designboom spoke with MINI's head of exterior design, christopher weil, who discussed his background in the automotive industry; how the innovative concept vehicle was realized; and the future of the MINI brand.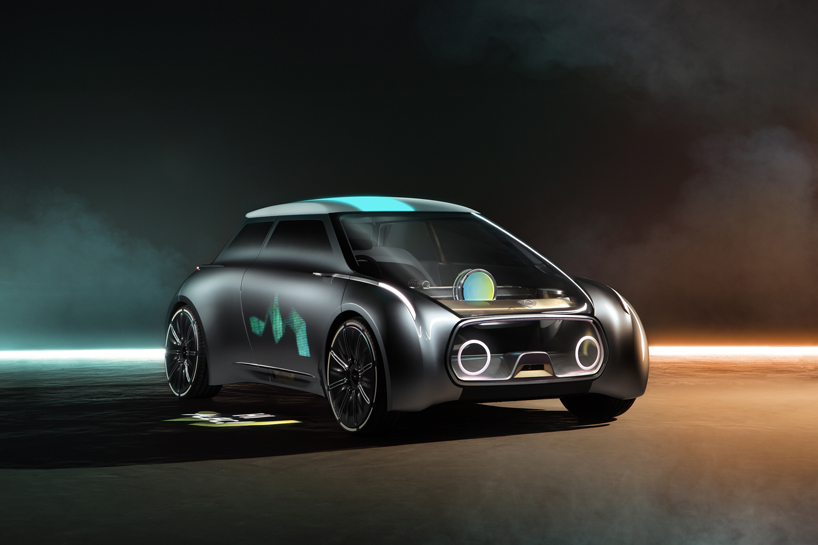 vision 100 concept showcases innovative features
designboom (DB): firstly, could you describe your background about how you got into design; how you got started with MINI; and how the brand has changed over the time that you've been there?
christopher weil (CW): in the past, I started with advanced design, and then I was designing some production cars for BMW, e.g. the current three series; the two series; different cars. Afterwards, I was came back the Munich, Germany to work with MINI on exterior design.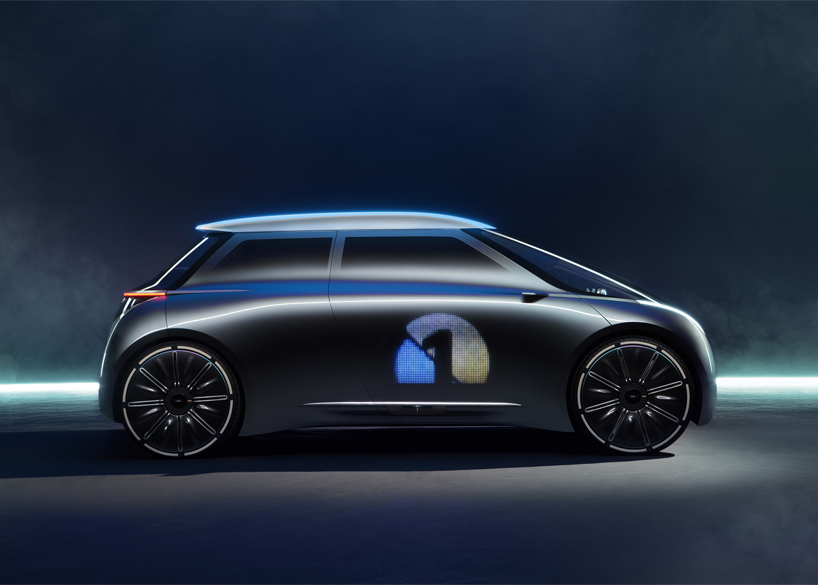 the side profile of the car reflects the traditional MINI form
DB: setting aside this concept, what would you say is the most challenging project you've worked on as part of MINI?
CW: well something also particularly challenging was the MINI 'superleggera' concept, which is also a show car. the entire car was made out of hammered aluminum, and to see this process through to completion gave us a lot of challenges, in order to get the level of precision in its design. I liked the approach of this as we were able to see people actually handcrafting things, which was incredible.
DB: how long did the process of forming the 'superleggera' concept take?
CW: I'd say the process took almost a year to say that the car was ready. there was a lot of ping-pong (back and forth) between companies and departments. having now worked with superlegerra, I think there are only a few places in the world where you'll find the level of expertise that can be found there.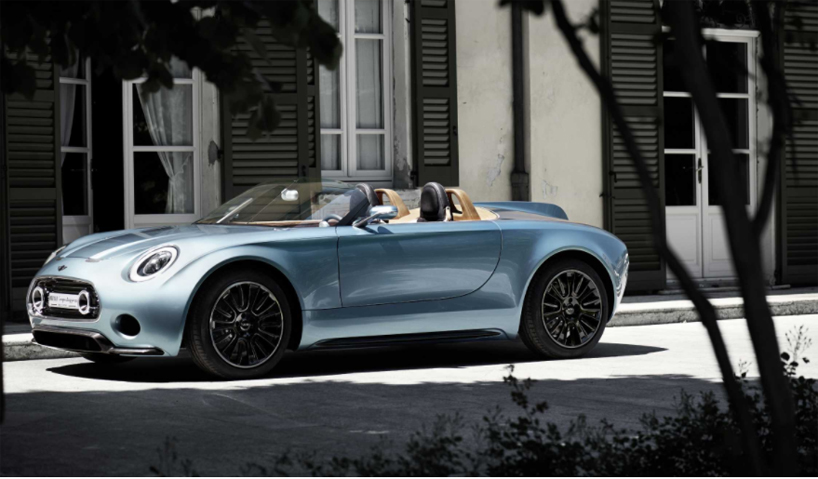 MINI superlegerra
DB: talking about the 'VISION NEXT 100' concept, here in LA: could you tell us a bit about the key features of the exterior design; and, some of the initial ideas that you led with when starting the process?
CW: when we started the process, let's say we 'extracted the DNA' of MINI. we wanted to know what MINI stands for, and if you have a car like MINI which has so much heritage, it's not that easy to find the core of what it's about. this was the starting point for the design process. we found out that the car is urban, which is a key feature. so is the 'go-kart' feeling which we have addressed through the glass window here, and the instant customizability of the car which is very important to the MINI audience. you want to be able to express yourself through the car. there are a lot of design icons from MINI which you can find nowadays, so we looked at every single icon and thought, 'is this really necessary?'. then we tried to refine the design to the maximum amount possible. somethings, such as the roof and the hexagonal grill, are very important and so, when you close the doors, you can find the silhouette of the original MINI. if you look at current models, there is a waistline finisher which is lying around the chrome-piece. this you'll find here as well, but we were interpreting it in a different manner. Here, the waistline finisher houses the taillights and the front lights so it has functionality. we believed that if we have such stylistic features on-board, then we could give it a meaning. we haven't added any additional volume for the tail lights, so the reduction was a core task for us.
furthermore, for the interior, you will find a frame which also describes the dashboard. to enhance the 'go-kart' feeling, when you're sitting inside you have a complete panoramic view. you can see the street; and the movement, more than you can in a current car. this offered us the possibility to project on to the road, so navigation 'rings' are directly in front of the car (in front of your eye sight) and there is this analogue / digital connection happening which is very important to us.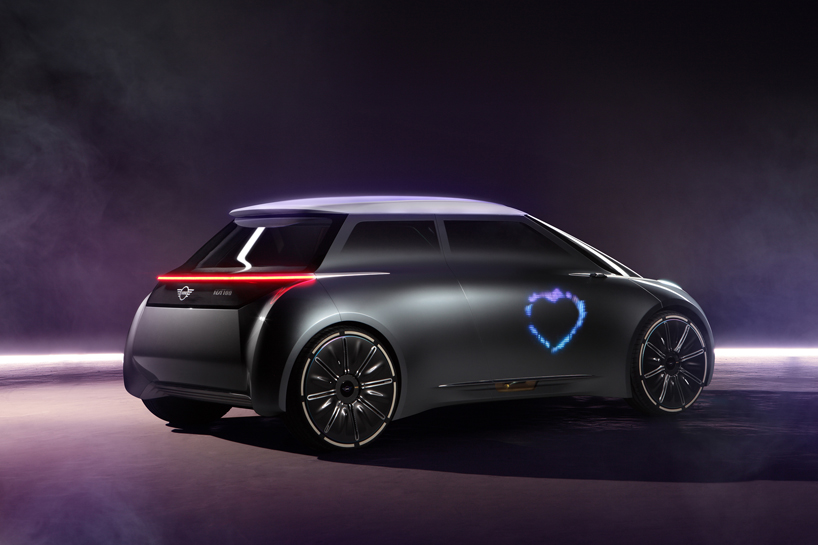 vision 100 concept vehicle exterior
DB: you were mentioning how the heritage of the brand is continuing with the silhouette of the side, and the high level of personalization: would you say the new projection technology is translated into this personality?
CW: yes that's exactly the point. because the car is autonomous, but can also be driven, this feature can disappear as soon as you no longer need it, so you don't have to park the car, nothing. conversely it's appearing as soon as you need it again, but it's looking like yours. so you choose your signature graphic; roof color; etc. and the car comes personalized to you. As well, the seat is automatically adjusted, likewise your music, and this is also reflected on the exterior. the idea is that you no longer need to choose a car and then customize it once, as with your cellphone. you can customize your background any day that you want. that's exactly what you can do with this car. it's learning about your needs and your personality every day. This is also the reason why we've placed the 'cooperizer' inside, as it is learning about you to create a more intuitive interaction. it's a bit more like communicating with a human, rather than a machine.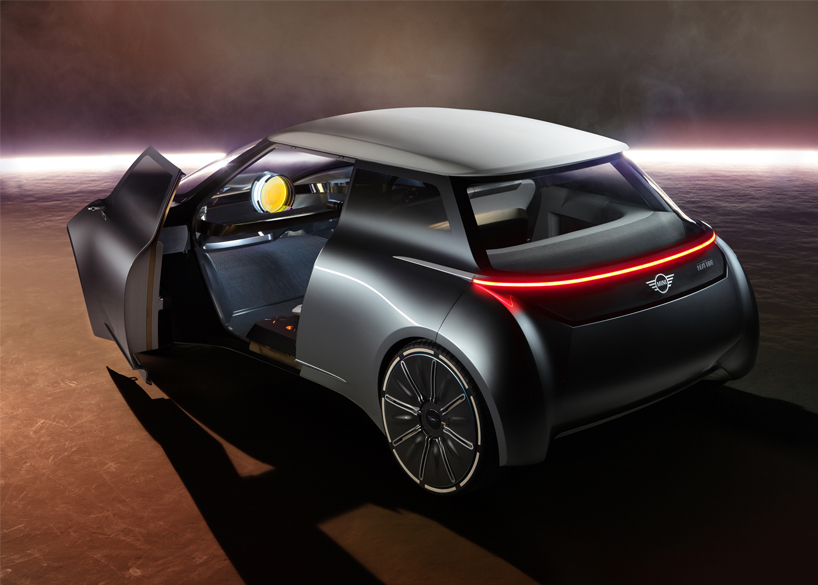 DB: talking about the glass front, was it an idea that was started by the exterior team or, did the idea manifest from the interior, where you realized you could take away the dashboard and the instruments?
CW: we started on the exterior because we previously asked people about their favorite features and the glass front was their choice. this is something that is really new to cars and it's made possible through autonomous driving. after this, we realized that there is a new need for designing the interior in a different way because it's like a swiss-watch e.g. when you move it you can see the interior clockwork, and here, you can see the interior mechanisms as well.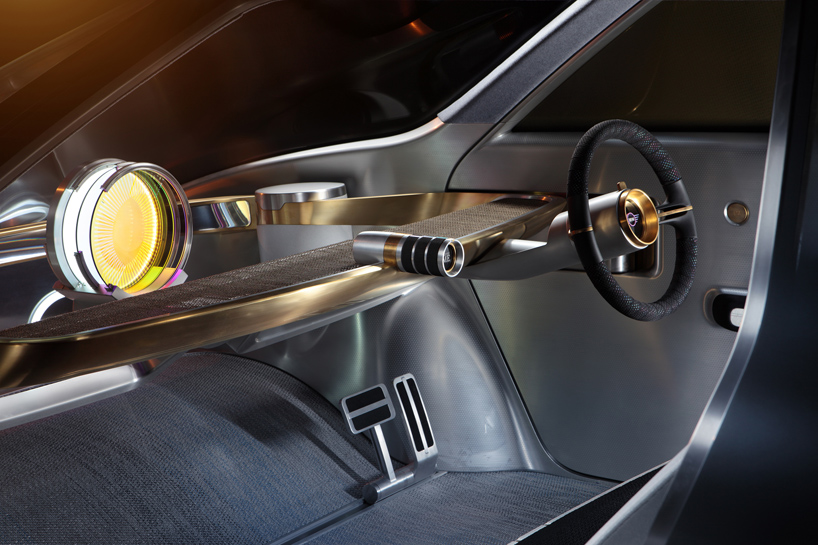 vision 100 concept vehicle interior
DB: do you think this could eventually move into a completely transparent vehicle?
CW: maybe, but we thought that it was important for the drivers to have a certain amount of privacy. therefore, there is a certain amount of shade on it, and there is also an 'ash' structure on the glass sides, which is referring to the rally history of MINI. This means that if you're sitting inside, you can see out of the sides very well, but you are more protected as you have the enhanced visibility at the front. because you are exposed more at the front, you need additional protection from the sides. so to sit in an entirely glass car would be kind of strange.
DB: could you please shed some light on the exterior materials?
CW: there are aluminum parts but mainly for the exterior, it was very important to explore how to get a special paint in. we wanted a special paint which could be neutral to allow the car to be the 'canvas' and be individualized. we thought that if there is a certain color on the exterior, it's maybe not everyone's exact taste. therefore, we decided that it should be kind of neutral, so that then the customer customizes it exactly how they want to. the interior is made from 'real' materials, for example, we have used brass which is uncoated, so it can age. this was something of great importance to us as this is also kind of an urban theme. we can see that the car has actually experienced something. we choose materials which are sustainable, but are also new like knitted alcantara, which can take padina. these are materials which are very tasteful, but also very human.
DB: would you say the styling of this concept has now influenced future projects for MINI?
CW: not the total concept, but the essence of it maybe. MINI can be more masculine and sporty, but it's not like we're taking this concept one to one and this is the next MINI. it's a study for the future, it's reflecting what could be possible for, let's say, 2030 for example.
DB: we have the benefit of looking at the feedback and responses of this vehicle from when it was officially unveiled back in june, is there anything now that you feel like adjusting or modifying to enhance the concept?
CW: I think that we are all still very proud and confident of this concept. this is because if you transfer something which is unchanged for decades, and then there is a product coming out which reflects this core creation 30 or 40 years later, this product does have evolutionary steps which are reaching out to the future. people need to digest and become comfortable with this. we believe the essence of MINI is in this car without being too close to the original one. you can see at first glance that it is a MINI and it feels like a MINI.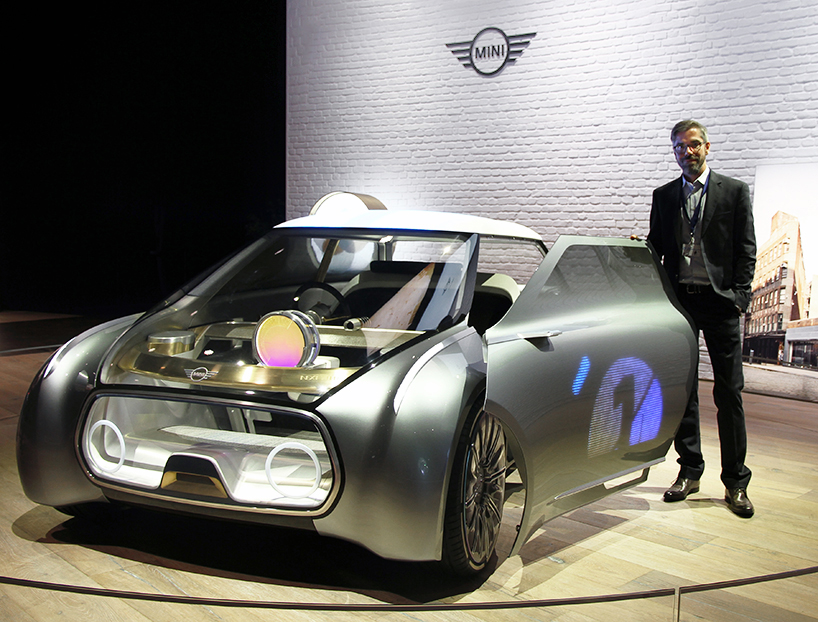 christopher weil stands next to vision next 100
image © designboom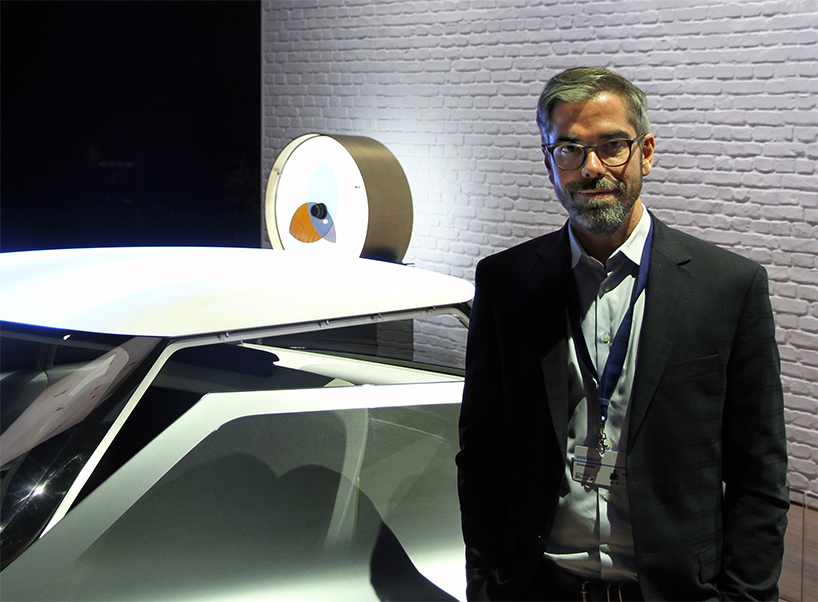 image © designboom
martin hislop
I designboom
nov 06, 2016
a diverse digital database that acts as a valuable guide in gaining insight and information about a product directly from the manufacturer, and serves as a rich reference point in developing a project or scheme.
designboom will always be there for you
milan, new york, beijing, tokyo

,
since 1999