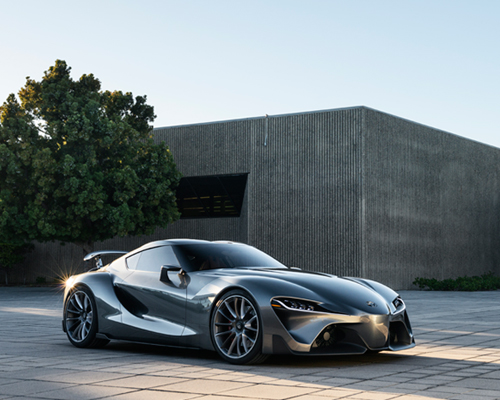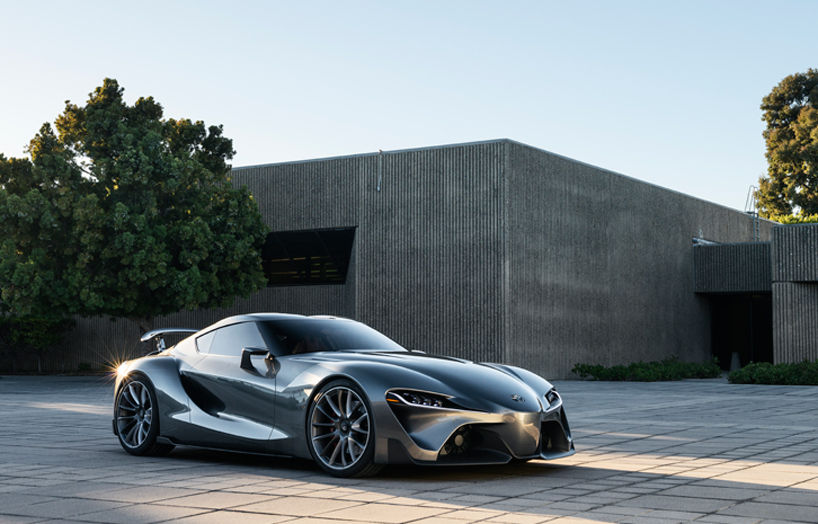 aug 14, 2014
calty design research's interview on the second generation toyota FT-1
calty design research's interview on the second generation toyota FT-1
images courtesy of calty design research
the original toyota 'FT-1' debuted in january 2014 (to read the article about the first generation car, click here) and reflected the new direction of the automotive company's global design, built upon their sports coupe heritage dating back to the 2000GT, celica, supra, MR2 and scion FR-S. the initial's design language incorporates curved, expressive body forms that are seemingly shaped by the wind and possesses inlets, air ducts and vent features to help aerodynamic performance. at pebble beach's 2014 concours d'elegance, they have revealed their second generation of the 'FT-1' which features new interior styling and exterior color. the concept was developed by calty design research in newport beach, california, and designboom speaks to sellene lee (creative designer), alex shen (chief designer) and william chergosky (interior chief designer) about the evolution of the 'FT-1'.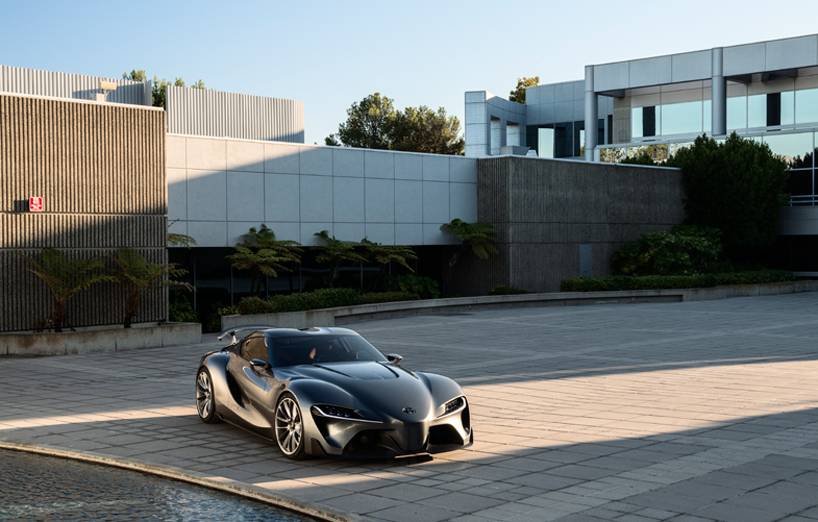 the FT-1 interior was influenced by the modern, high-tech performance materials used for today's superhero costumes
designboom (DB): can you briefly talk about the design of the second generation toyota 'FT-1' concept?
alex shen (AS): we wanted to provide a different flavor of the FT-1, something completely different than the original red version. the second FT-1 has a more sophisticated color and material palette while still maintaining its sports car image.
sellene lee (SL): while the first car emphasized the 'bold and raw' images with a black dominant color palette and red accents, the 2nd FT-1 represents the 'premium authentic sporty' image with natural saddle leather coordinated with a graphite exterior.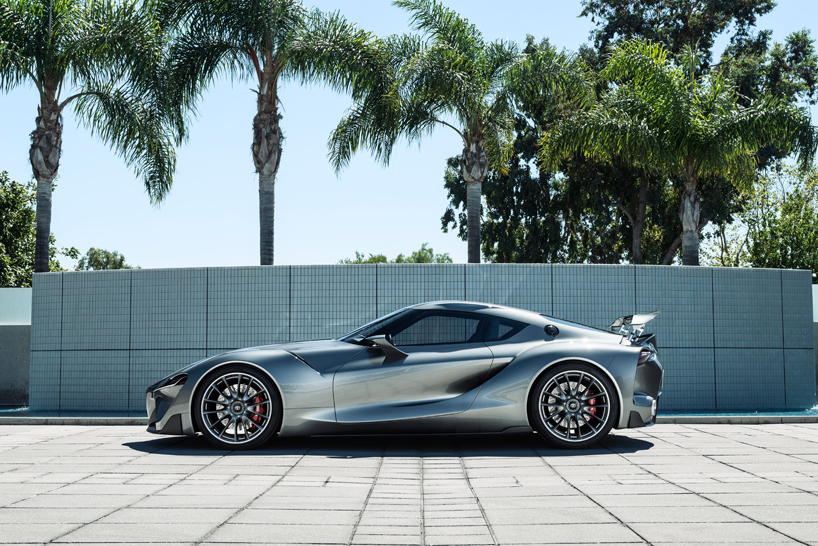 side view of the second generation FT-1
 DB: what was the jumping block for the interior design of the toyota FT-1 concept?
william chergosky (WC): the jumping point was to design a serious place for serious driving. we needed to get down to the essence of what a sports car was for this century of toyota. we tried to reinterpret every aspect of the interior so that we can enhance the driver's connection to the car and increase driving pleasure.
SL: throughout the research and brainstorming phase, we wanted to create an interior space to help the driver to focus on the road with a feeling of 'flow' or 'in the zone.' having that idea in mind, I was inspired from spontaneous experiences in my everyday life. I was at the movie theater one day, and a 'man of steel' movie poster drew my attention and it dawned on me that the days of red and blue tights were no more. since then, I kept my eyes on all the new superhero movies and their upgraded costumes. they were all made of high tech performance materials that optimized the superhero's function. the superhero has many similarities with a toyota sports car in that they both have huge fan bases that anticipate their next appearance. that's how we came up with the "superhero" story for the FT-1.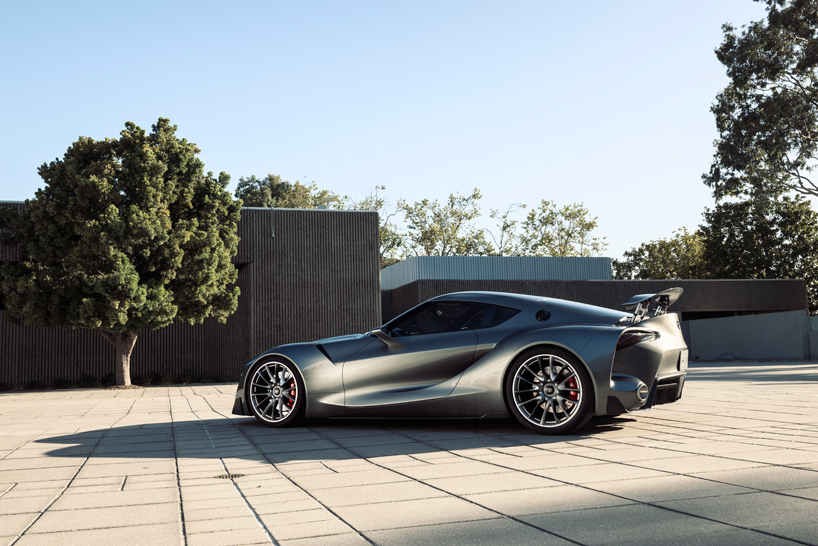 DB: how will connectivity play a role with the toyota FT-1 concept?
WC: connectivity is extremely important in a sports car, especially since the driver's focus needs to be on the road. we didn't want to create anything that would be a distraction to the human connection with the road. we pared down what and how you receive information on the heads up meter so the driver can focus on just the pure simple pleasure of driving. the HMI (human-machine interface) system that we developed is between 2-4 clicks in and out for anything.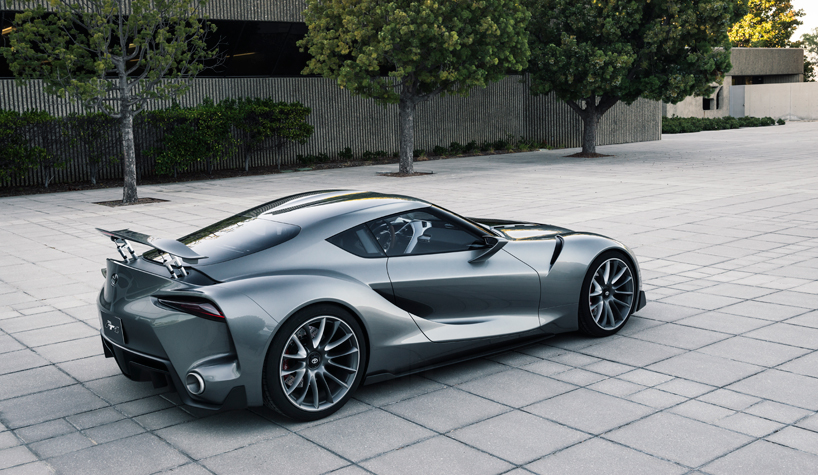 the new graphite color adds a new sophisticated perception
DB: what does the FT-1 concept represent for the toyota brand?

AS: the FT-1 concept represents a glimpse of the future for more emotional, exciting products from toyota.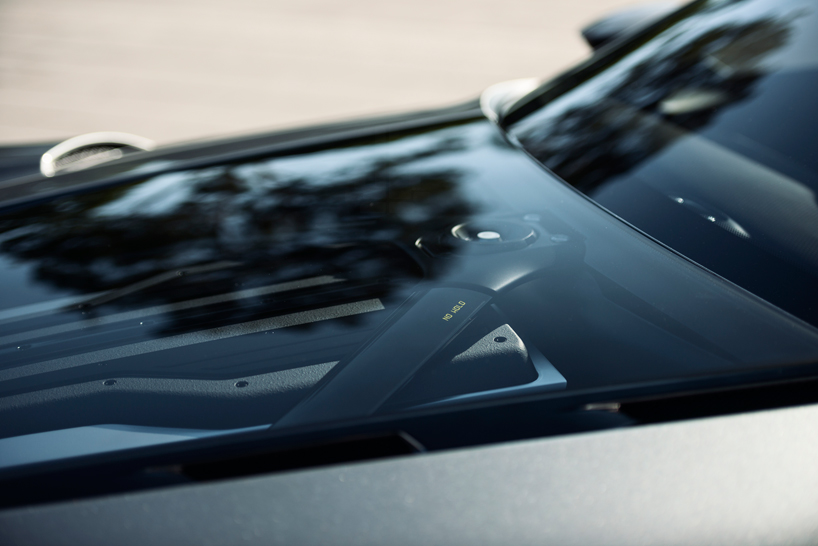 DB: what is your design philosophy? do you have any rituals you follow when designing a car?
AS: my general design philosophy is always to challenge and push the lines and constantly try to create something new; don't get too comfortable with the design too quickly. design is a process of discovery so through this process, provide a task that will spawn discovery.
WC: my general design philosophy is to maintain a sense of wonder as I had when I was a kid. if I don't feel that kind of wonder as I'm starting to create things, then i have to keep striving to satisfy it. essentially it's being in touch with my inner 13-year old who didn't design cars for a living, but for passion. I have to think about how each element of the interior makes me feel – does it excite me? it's not just about making a shape, but how does it make me feel and does it connect me to the overall idea of the concept.
SL: I always try to draw inspiration from the design world, and it was applied to the FT-1 concept as I found inspiration from a movie poster and even my own personal shopping experiences. as a female designer with a non-automotive background, I can bring a different perspective to every project.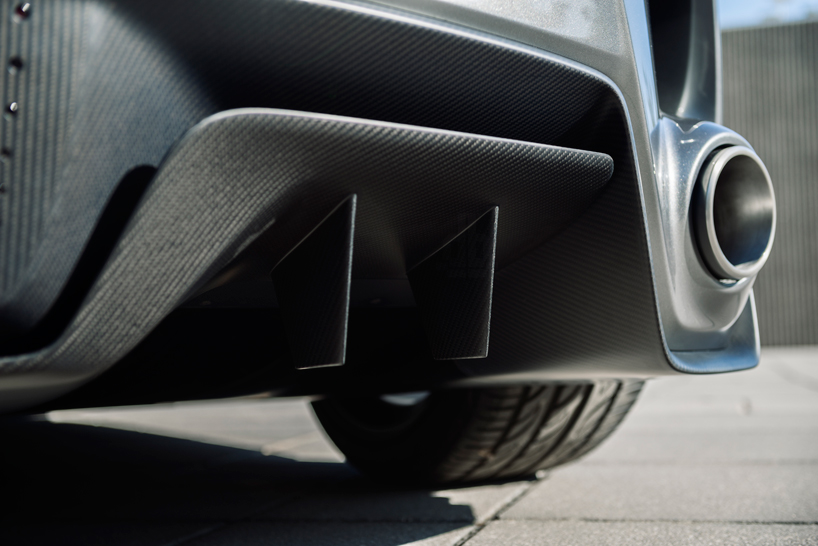 DB: can you talk about the design of the headlights and taillights?
AS: for the headlights, we gave it a functional look by allowing the lamps to float in the corner fenders. we designed the entire lamp around the airflow management concept that we have on the entire car. the headlamp modules are bullet-like, where each module is designed to be exposed for air-flow management.
the taillights have a big profile and it also flows within the rear corner fender while acting as an air outlet. the lens itself has a trip edge that enhances downforce.
DB: what can we expect to see in the next 5 years with toyota?
AS: the FT-1 is a sign of where we're heading as a brand from a product point of view, which is more emotional and more exciting.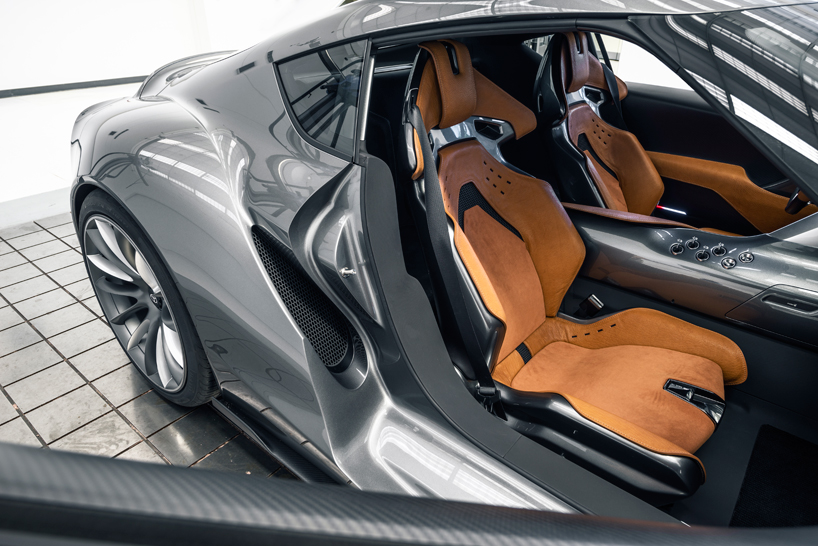 a light brown saddle color interior has been introduced
DB: what was the biggest challenge you encountered when designing the FT-1?
AS: the biggest challenge was trying to establish the perfect proportion for a car like this. we actually played with a lot of different proportions, but ultimately came up with the front engine rear wheel drive, which i think is perfect for the FT-1. it was also challenging to create an authentic sports car while making it look sexy and beautiful.
WC: everyone had such high expectations, including myself, that I never felt satisfied during the entire design process. in the end, I feel like a proud parent looking at the FT-1, and it ultimately looks better than I ever imagined it to be, but when you're going through it, you're constantly second guessing yourself, 'am I seeing deep enough into it?' it's a once-in-a-lifetime project, so you want to do your best. the challenges were more internal than external.
SL: as a color designer, the biggest challenge was how to optimize the impact to upgrade the image by changing the color coordination without losing the original concept of 'superhero.' the saddle colored natural grain leather made a huge impact although everything else stayed the same. it was a great experience for me as a color designer learning how color can change the whole atmosphere with different proportions and variations.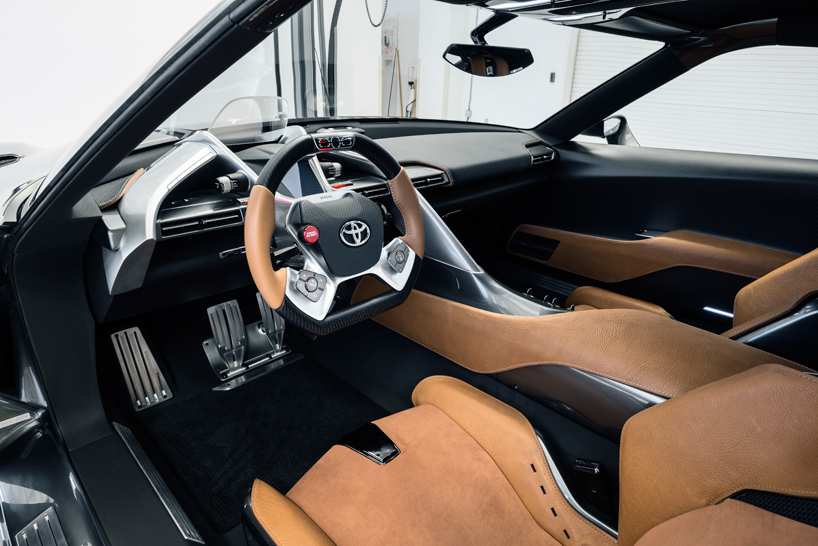 the seats are supple with an all-natural grain, giving it an authentic appeal
DB: where do you think the most significant developments in technology have been made with this concept?
WC:  it's the re-thinking of the HMI and meters, and the deliverance of information to the driver. it offers a good road map to our future HMI system and shows toyota's innate sense of safety. when things are designed in a smart, pared down way like the FT-1, the car can deliver information to the driver safely and quickly, but in a modern, purpose-driven way.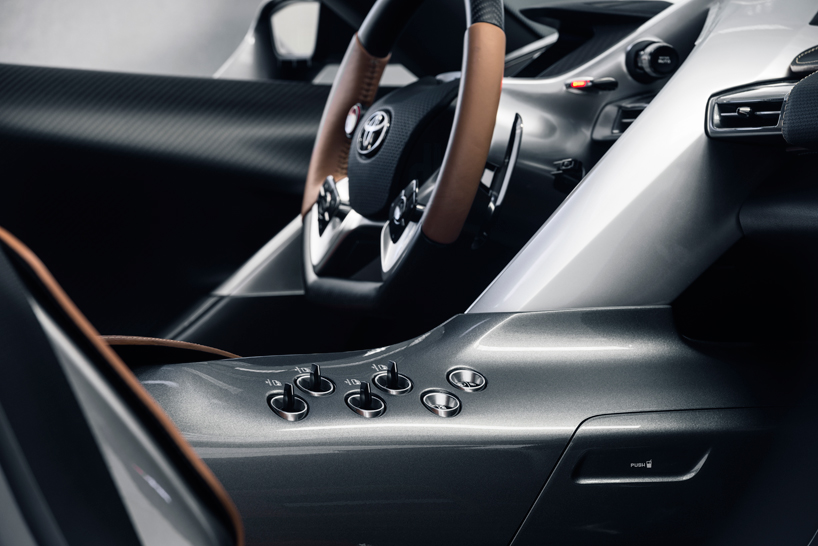 in celebration of the 15th anniversary of the gran turismo series (racing franchise for playstation) calty also created a high performance race version of the 'FT-1'. known as the 'vision GT', it is avilable for download in gran turismo 6.

toyota FT-1 'vision GT' race concept for gran turismo 6
video courtesy of toyota
designboom has received exclusive images of the second generation FT-1's design process, these are available by clicking on our gallery.
oct 24, 2019
oct 24, 2019
aug 21, 2019
aug 21, 2019
jul 05, 2019
jul 05, 2019
may 21, 2019
may 21, 2019
apr 05, 2019
apr 05, 2019
mar 16, 2019
mar 16, 2019
aug 29, 2019
aug 29, 2019
aug 21, 2019
aug 21, 2019
aug 14, 2019
aug 14, 2019
a diverse digital database that acts as a valuable guide in gaining insight and information about a product directly from the manufacturer, and serves as a rich reference point in developing a project or scheme.