shimmering like a crystal and splintered as if by a crash into thousands of reflective pieces of stainless steel, 'wreck' by jordan griska evokes both luxury and mortality. the life-size sculpture is a perfect replication of a mercedes benz S550 car, disjointedly constructed from sections of highly polished pieces of stainless steel. by taking a 3D model of the mercedes benz S550 and manipulating it with digital software, griska successfully managed to translate the luxury automobile into a disjointed piece of art, without losing the resemblance to the car on which it has been based. the manipulations to the car are influenced by fatality wrecks and online pictures of car crashes, and constructed by mirrored pieces–precisely laser cut to seamlessly fit together.

image courtesy of jordan griska
with his work, griska sets out to mirror the peak of today's automobile industry by using digital technology and meticulous handcraft to subvert both utopian dreams and reality. the brooklyn-based artist echoes the themes of f. scott fitzgerald's 'the great gatsby,' juxtaposing the efflorescence of luxury with the brutality of wreckage. griska also takes influence from andy warhol's colored 'car crash' serigraphs, combining both the digital and physical, and the sterile nature of stainless steel with the disorder of the fragmented car.

image courtesy of jordan griska
notorios for takling 'heavy' subject matter in his work, griska's 'wreck' is no exception. with his simultaneously spectacular and haunting piece, griska captures the dual nature of american culture by contrasting wealth, freedom, and individuality with decadence, debauchery, and tailspin, as flip sides of the same coin.

image courtesy of philedelphia contemporary

image courtesy of philedelphia contemporary

image courtesy of philedelphia contemporary

image courtesy of philedelphia contemporary

image courtesy of philedelphia contemporary

image courtesy of philedelphia contemporary

image courtesy of philedelphia contemporary
nov 02, 2017
nov 02, 2017
oct 29, 2017
oct 29, 2017
oct 15, 2017
oct 15, 2017
sep 19, 2017
sep 19, 2017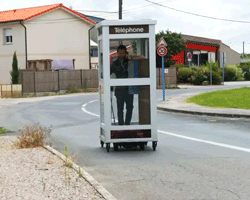 aug 15, 2017
aug 15, 2017
aug 07, 2017
aug 07, 2017
mirrors
(105 articles)
oct 22, 2017
oct 22, 2017
sep 26, 2017
sep 26, 2017
sep 13, 2017
sep 13, 2017
aug 15, 2017
aug 15, 2017
aug 01, 2017
aug 01, 2017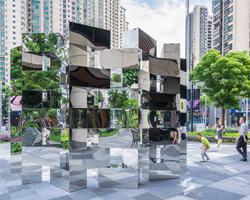 jul 24, 2017
jul 24, 2017