julien montousse is director of design for mazda north american operations. as part of his role, he oversees next-generation vehicle design, exterior, interior, and brand strategy development. montousse joined mazda in 2009, leading interior design at the company's irvine, california studio with long-term assignments at the hiroshima headquarters in japan. since taking up his current role in 2015, montousse has been instrumental in strengthening the brand's design direction, placing a renewed focus on creating driver-centric experiences.
while test driving mazda's latest cars in san diego, designboom spoke with julien montousse, who explained how he and his team work on developing new ideas, and the role that design has to play within the automotive industry.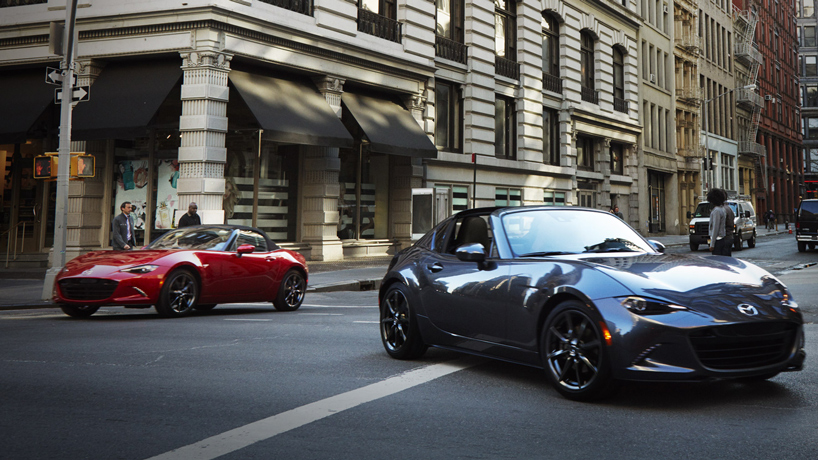 mazda's latest vehicles represent the company's shift towards 'mazda premium'
designboom (DB): can you start by explaining mazda's philosophy on car design?
julien montousse (JM): mazda has a unique process that we call 'car as art' — we try to be as artistic as we can be. however, we have to bring it to reality, and solve the equation of practicality and economics. the exterior tends to be very emotional, meaning we are trying to trigger your subconscious, so that you fall in love with a beautiful form. that is part of the 'irrational seduction' that we are trying to push for. we do a lot of focus groups and we try to really engineer a formula for people to feel genuinely attracted to a shape.
a lot of other car manufacturers play with a philosophy where they feel adding more is better. however, you never judge your car on volume, you look for an expression. mazda is looking to provide a beautiful form that hits you on a much deeper level. we are moving away from a graphical study, to reflection based surfacing. this means we are studying how the environment is going to be reflected on the bodywork. that reflection has a rhythm to it, it can look more relaxed, or have more tension. that hits your subconscious on a much deeper level.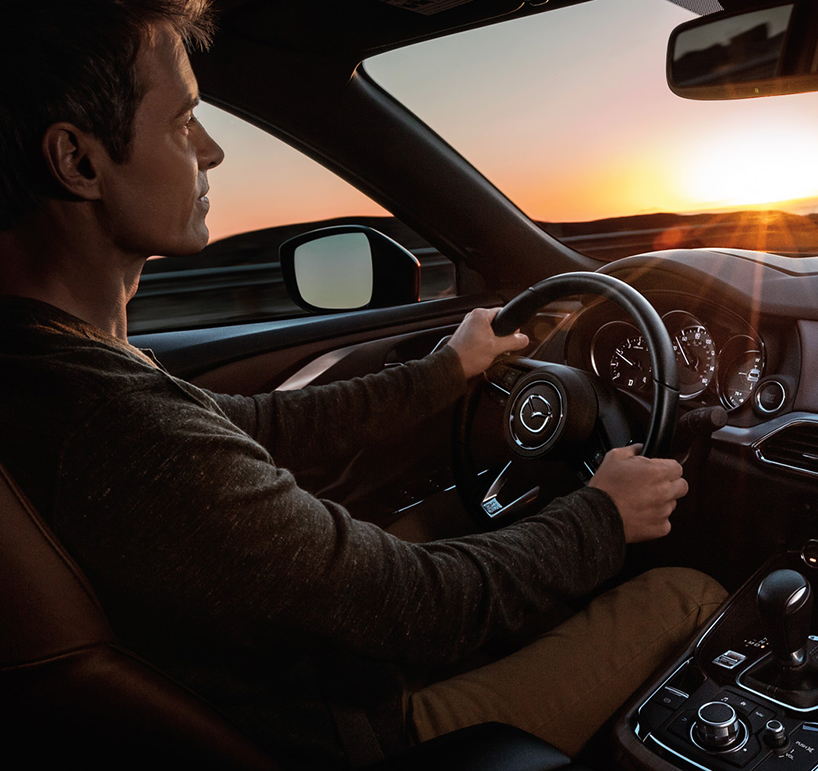 the car's interior architecture places the driver in a balanced and central position
DB: how about inside the car?

JM: for the interior, it's almost the opposite because we want to connect the driver and the car as one — we call this philosophy 'jinba ittai'. we always start with the driver, and we want to make the driver as balanced as they can be within the rest of the vehicle. right now, the philosophy of mazda is to have a symmetrical layout around the driver. if you look at other automakers, everything is more symmetrical around the car's axis.
we're trying to completely break away from that, and give priority to the driver. when you are driving, you don't realize, but everything is perfectly symmetrical around you. the whole dash is perfectly symmetrical, so that already puts you completely in tune with the vehicle. even the air vents are perfectly symmetrical around the driver.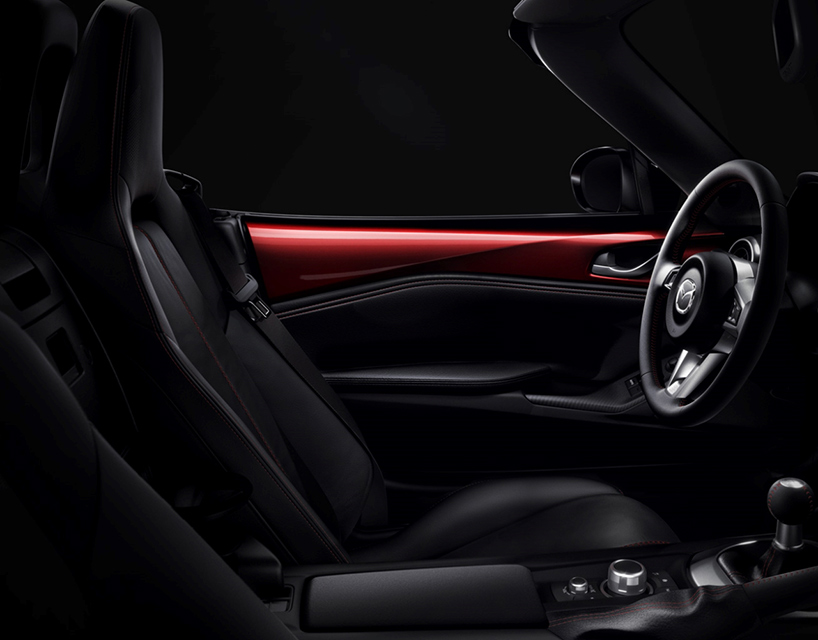 the dashboard and even the air vents are laid out symmetrically around the driver
JM (continued): going one step further, we have a lot of the bodywork on the exterior flowing to the interior. this makes you feel like you are part of the outside. a lot of people in the studio ride sports bikes, and there is something to be said about being connected to the exterior element. we try to bring a little bit of that experience, making you feel a sense of danger in a way — making you feel part of the airflow. the interior design discipline is a lot more engineered based on economics and practicality, and being driver-centric, everything has to be studied around the driver.
the mazda CX-9 helps a busy architect re-energize during her drive home
DB: how is this approach applied across other mazda vehicles?

JM: when you sit in the new CX-9, and you have your head on the headrest, you realize that the brightwork on the console and the door goes straight forward and connects perfectly with the brightwork on the steering wheel. those two lines converge perfectly into the center gauge. you might not notice this, but you're going to feel that depth towards and in front of you. we call this 'concentric dynamics'. mazda is trying to three-dimensionally form a point of view from the cabin where everything is aligned to one center-point.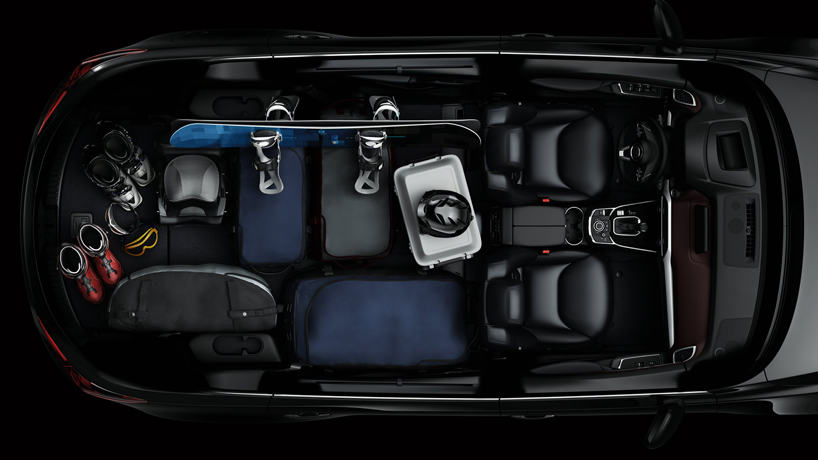 an aerial view of the 2017 CX-9
DB: people driving the car for the first time may not know why it feels right, but they would notice if it was wrong.
JM: exactly, and that's where mazda comes into play. we're not a company who says 'hey! how much brightwork shall we use, how many buttons can we have?'. we want to head in a much more subconscious direction, so that you really fall in love with the vehicle. we are always trying to provoke 'hashiru yorokobi', which is the japanese term for 'driving pleasure'.
when I drive the CX-9 home everyday, I feel good! I feel more refreshed, I feel like I have been in tune with a practice that makes me feel better, a recreational practice. the first time you drive the MX 5-RF, you just have a big smile, you don't really know why, but you feel great! we engineered that smile through the architecture, the shape, the section, your focus on the road, and the angle of your vision — you see a little bit of danger.
if you drive a mercedes, everything is perfectly enclosed, you can do 120mph and not feel anything. the MX 5 is the complete opposite. even if you are doing 60mph, we want you to feel like you are going faster than you are. we engineered the bodywork to make you feel connected with the act of moving, rather than being completely enclosed. we want you to enjoy the journey. we don't see the car as an appliance, we see it as a recreational practice.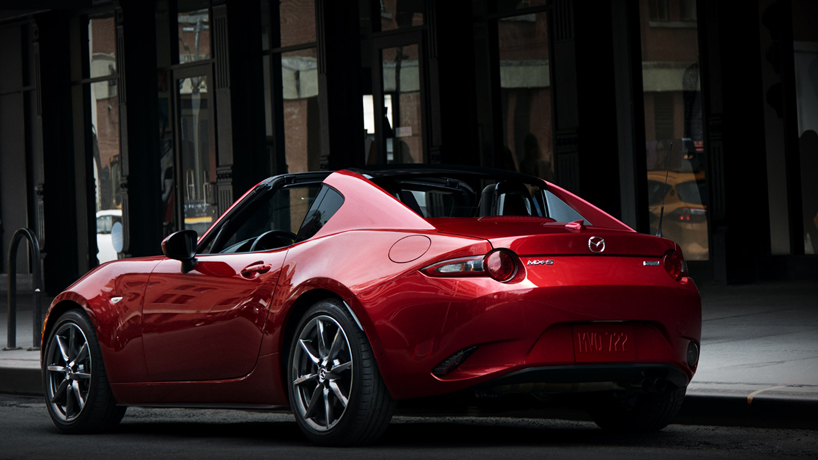 the MX-5 RF features a retractable fastback roof
DB: you spoke about the 'irrational seduction' and how you want people to fall in love with the car. how are you able to address that in the early stages of the design, is there a specific process you go through?
JM: it's difficult to even talk about, because it's so abstract! we want our customers to fall in love with the vehicle, and, in a way, we want their purchase to be irrational. mazda is becoming premium, and we are moving away from the commodity landscape. it doesn't make sense to add to premium quality if you don't pay attention to the emotional side — we have to pay attention to how a human being falls in love with an object, and what it is that triggers all of your senses.
we play with what we call a 'moment of awakening'. people are very busy and they only have a few seconds through a TV ad or looking at a car on the street to fall in love with our vehicles. within our process we have to build in this awakening. we want to awaken your senses in order for you to fully grasp what we have to offer, and we try to engineer this.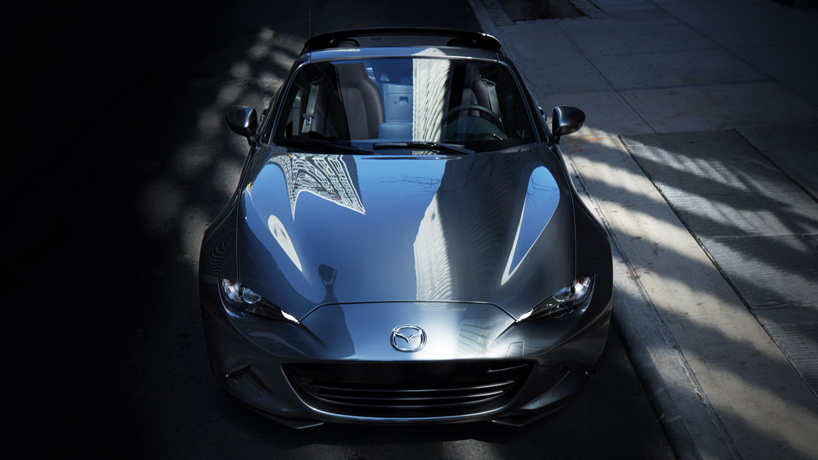 a great deal of attention has been paid to the reflections that bounce of the car's surface
JM (continued): for example, we did a dealer meeting in florida last year. we realized that those guys are going to be arriving on buses and will go straight into a big unveiling with screens where we show them a lot of things. we asked: 'how do we know they are going appreciate what we are going to show them?' so we engineered a tunnel with 'komorebi', which in japanese is the light that is filtered by the leaves. people went through this very long dark tunnel, and the dealers were thinking, 'holy crap! what is going to happen at the end of this?!'. and at the end — with just one light source — we had our executive or CEO waiting to shake their hand. we captured their attention, and we engineered a moment of awakening to get their attention.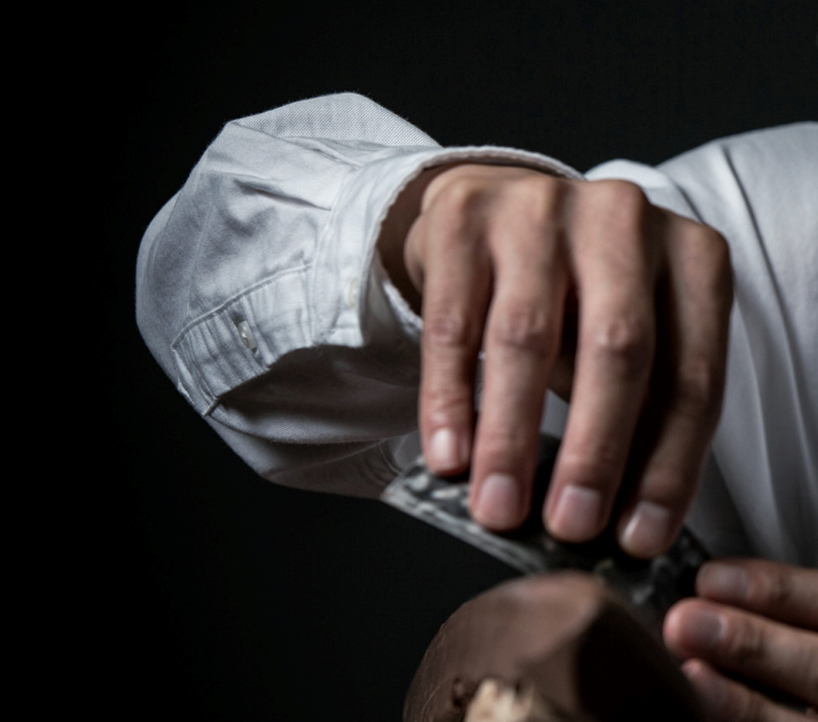 mazda uses clay models and speedforms throughout its design process
DB: you've said that you are one of the few car companies using modeling and clay speedforms in such an in-depth way. how does that tie-in to your design process?
JM: a lot of other manufacturers are giving up working with clay. mazda is pretty unique in that we are not just sustaining what we did with clay 20 or 30 years ago, but we now go even deeper in working with clay to transform an emotion into a physical form.
we realized that when you work with clay, you usually go straight into hardcore car design. you do a color-scale model with all the engineering inputs — you have the ridge zone, the vision angles, the side impact etc. when you do all this, designers' minds get very crowded and that initial emotion gets diluted. so we try to work with the tools to translate purified emotion. we ask designers: what is it you want me to feel when you look at your car? when the car is on the road, what is the emotion, you want people to feel? we define it, we contain it, and then we translate it into a speedform that doesn't look like a car, it just expresses a feeling.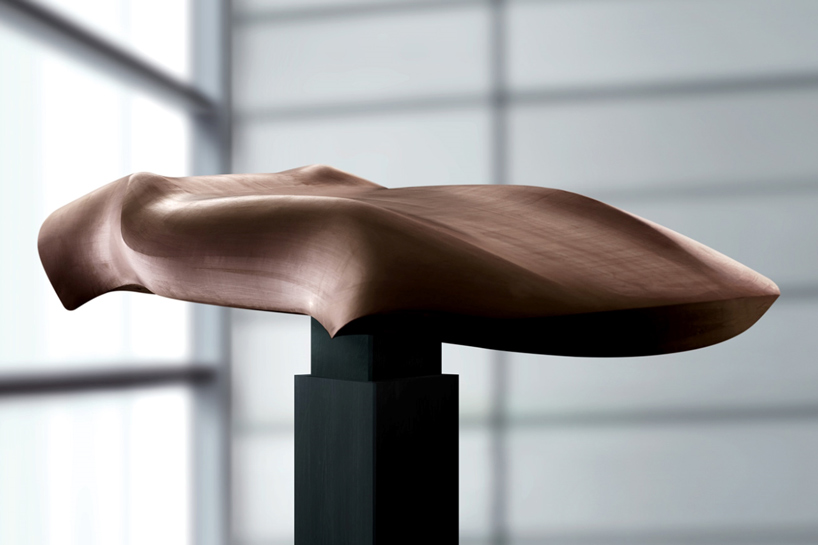 the speedforms are designed to express a feeling or strong emotion
DB: how do you then bring the engineering into play?
JM: we build 20, 30, or 40 speedforms in our three studios. we put them side-by-side and try to pay attention to what you feel when you look at those sculptures, and usually we go for the one that has the most power. then we can start the car design with engineering, and try to extract that purified emotion into the next stage of the design.
'takumi', the japanese craftsmen who work with clay, really believe that they are injecting life into what they make. in the US, the highlight of your life is to be the best man you can be in society, but in japan, it is about passing on an object that you put a lot of energy into. when they work on the car, there is a human energy contained by that object. it is philosophical, but it makes sense. when someone buys the vehicle, and feels how much work went into it, that energy gets released and that is very powerful. we don't want our product to feel over-manufactured or mass-manufactured, we want it to be made just for you.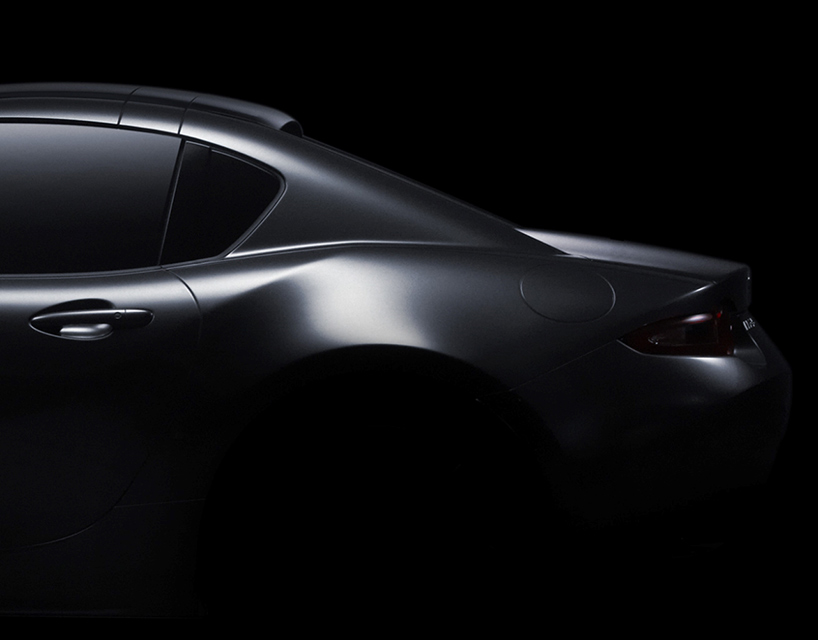 mazda's latest designs seek to provoke 'hashiru yorokobi', the japanese term for 'driving pleasure'
DB: such a strong application of design seems to be a relatively new idea in the automotive industry. how do you see this evolving?
JM: for me, it has become essential in a way — it's half of the job. one half focuses on the car and its design, and the other aspect is focusing on the brand spirit. you cannot just show a car, you have to engineer something that is much grander in order to capture someone's feelings. even though it is a little bit abstract and irrational, we are focusing on making you feel 'hashiru yorokobi'. when you see someone smiling in an advert, you may smile back at it passively, but mazda wants to make you feel 'hashiru yorokobi' — 'the joy derived from driving'. any type of activity or event we do has to make you feel something amazing. when you drive our vehicles, we want you to feel this so that you engage with the brand. this is a big departure from just showing someone smiling.
we have to be a more authentic, boutique brand where each car is personalized for you. it is a huge movement. today we have a society where people don't want to go to starbucks anymore, they want the guy with the mustache that makes the coffee in front of you because it is authentic. someone is making something personalized and handcrafted for you.
Save
Save
Save
Save
Save
Save
Save
Save
Save
Save
Save
Save
Save
Save
Save
Save
Save
Save
Save
Save
Save
Save
Save
Save
Save
Save
Save
Save
Save
Save
Save
philip stevens
I designboom
mar 19, 2017
a diverse digital database that acts as a valuable guide in gaining insight and information about a product directly from the manufacturer, and serves as a rich reference point in developing a project or scheme.
designboom will always be there for you
milan, new york, beijing, tokyo

,
since 1999