there's more to a pair of earplugs than just to mute the painful sound of snoring – there's colleagues at work who won't stop talking, neighbours music that's too loud, not to mention the irritating child sat behind you on a flight. dutch startup knops has a smart solution however, and has created a stylish looking set of earplugs that work as a 'volume button for your ears'. after previewing the earbuds last year, designboom recently put a pair to the test.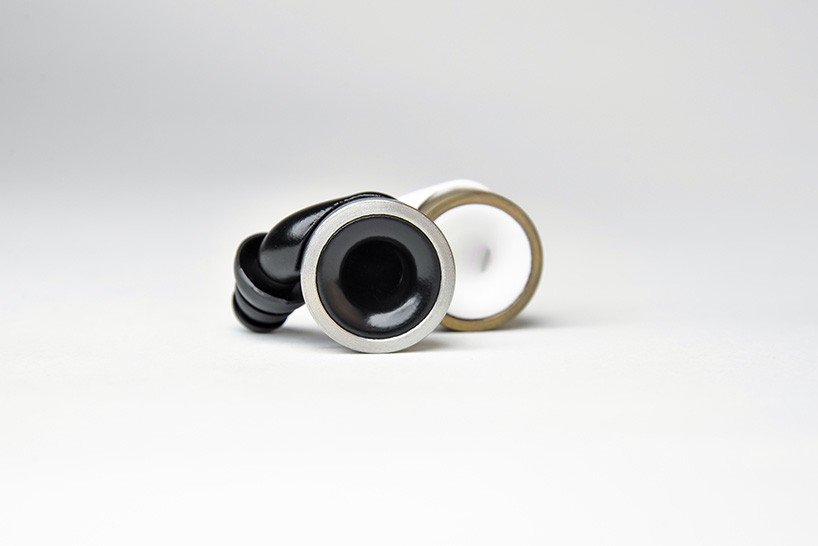 images courtesy knops
each pair of knops has four settings, ranging from noise reduction to complete silence. there's one that lets you hear what you would without earplugs, there's another designed to filter the noise of a vibrant city, one that's perfect for a live music setting, and finally one that cuts sound out altogether.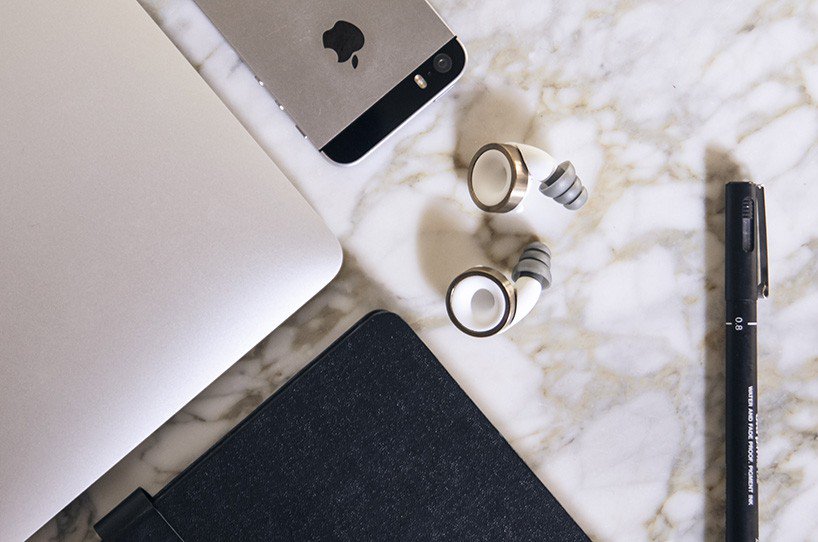 knops are based on a classic round volume button, with inside the shape of a gramophone cone, showing the link with volume and sound. meanwhile, the option of various colors and trims makes gives wearers the chance to fit knops to their personal style.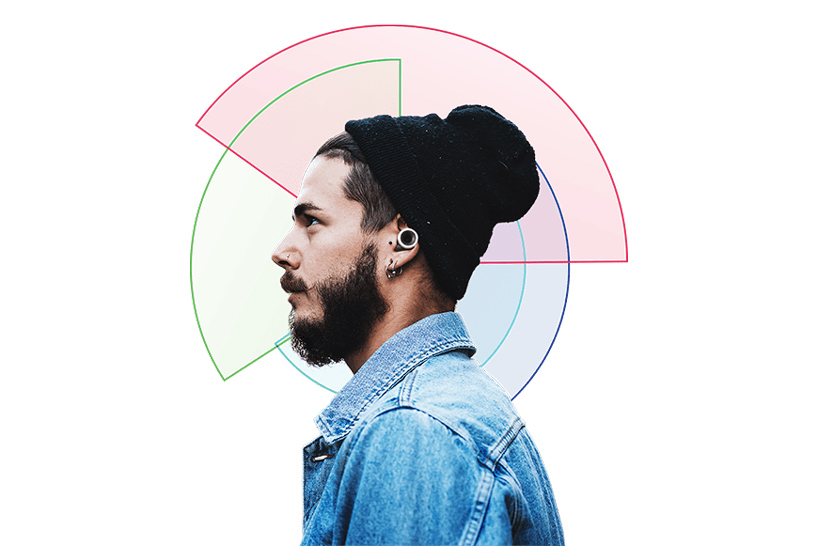 but how does it work? knops uses no electronics, no apps and no batteries. instead they have been acoustically engineered with sound being filtered using good old physics. knops was born from a need for comfortable, high-functioning earplugs that actually looked good—all this while providing a decent user experience. whilst electronic hearables were good at lowering noise levels, the electronics distorted the sound, and provided feedback with a slight lag.
on the constrast, knops works completely acoustically and each level of noise filtration has been fine-tuned in acoustic labs to perfect the sound quality. by mimicking the natural response of the human ear to sound, the team managed to create a reduction in decibels across all noise frequencies, meaning that sound travels through all the four steps with minimal distortion.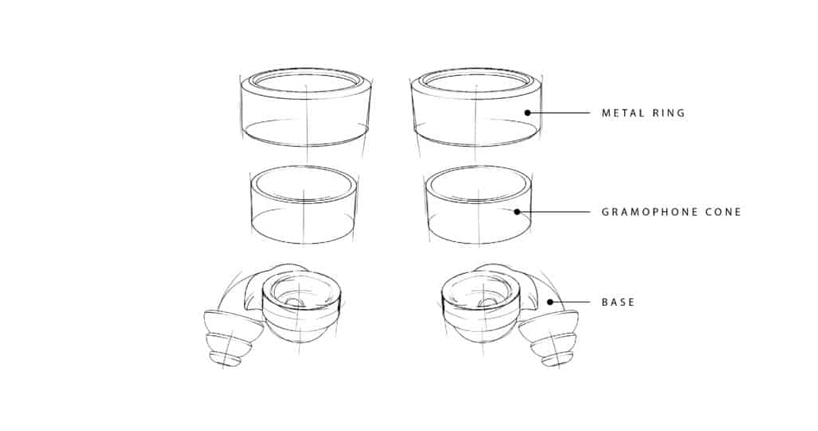 'with the help of computer simulations and real-world prototypes tested in acoustic labs, we tuned knops', the designers explain. 'we spent a lot of time fine-tuning the sound, so we can provide the best quality sound at every volume level. working with the natural response of the ear canal.'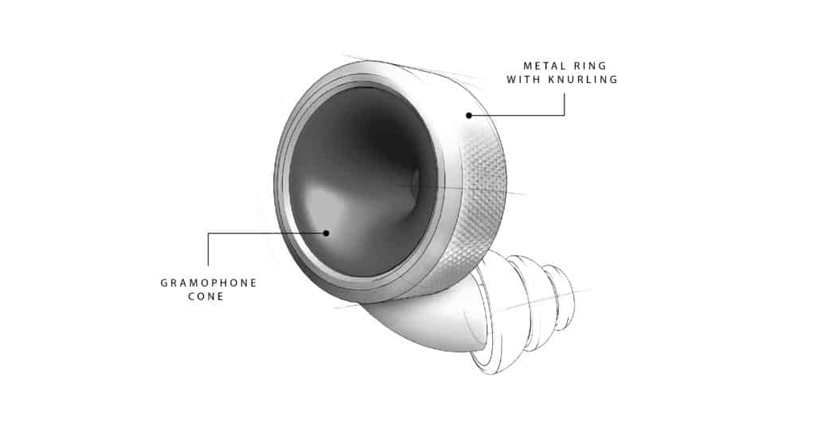 what's even more impressive is that designers created a similar reduction in dB across all the frequencies creating a very flat response curve. this means that sound travels through all the four steps with minimal distortion. they mimic the natural resonances of the human ear so crystal clear sounds, vibrant and natural.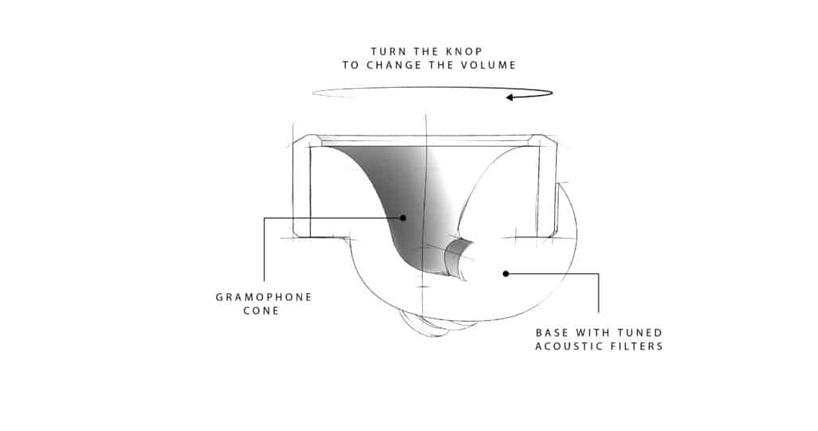 'instead of using electronics to try and synthesize something artificial, we're taking the actual soundwaves that come into your ear, and modifying them,' explains arjen de jong, founder and head of technology at knops, who has a PhD in acoustics. 'so, what you hear is the actual, physical pressure wave, as it was already arriving into your ear.'
its impressive because they do just that. by simply rotating the outer ring ambient sounds gets a 10, 20, or 30-decibel filter, cancelling out construction work, conversation or pretty much everything. yes, you can still feel the base of most sounds but there is definite protection from overwhelming volume. knops start at €85 (US$97) with knurled or gold-plated rings at an extra cost.
apr 12, 2020
apr 12, 2020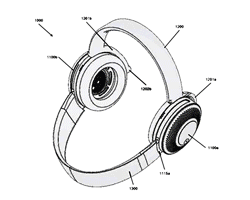 feb 26, 2020
feb 26, 2020
dec 28, 2019
dec 28, 2019
oct 29, 2019
oct 29, 2019
may 29, 2019
may 29, 2019
mar 28, 2019
mar 28, 2019
a diverse digital database that acts as a valuable guide in gaining insight and information about a product directly from the manufacturer, and serves as a rich reference point in developing a project or scheme.