following the introduction of the 'centenario coupé', lamborghini unveils the open version of its latest one-off creation, a natural successor to its coupé counterpart, the 'centenario roadster' is also limited to 20 units worldwide and represents a true illustration of the bologna-based automaker's commitment to advance car design to new, influential heights. the italian manufacturer continues to honor the centenary of its dynamic founder, ferruccio lamborghini, with this special commemorative series.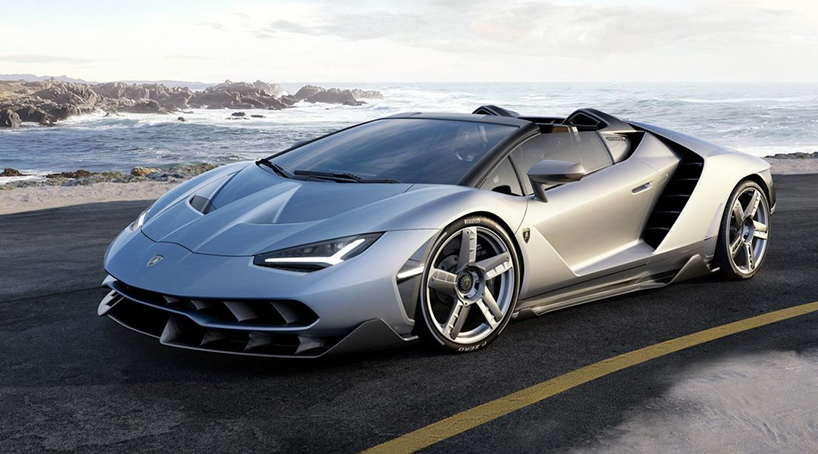 designers were given the freedom to create an open design that embodies the progressive qualities of lamborghini's visionary founder and shines in an elegant environment. this next level roadster embodies a whole new design direction for lamborghini accentuated by clean surfaces and superb reflections as 'form follows function' — true to the brands core design DNA. 'centenario's' silhouette features low overhangs in the front and rear creating a clean, sensuous, mono-body shape.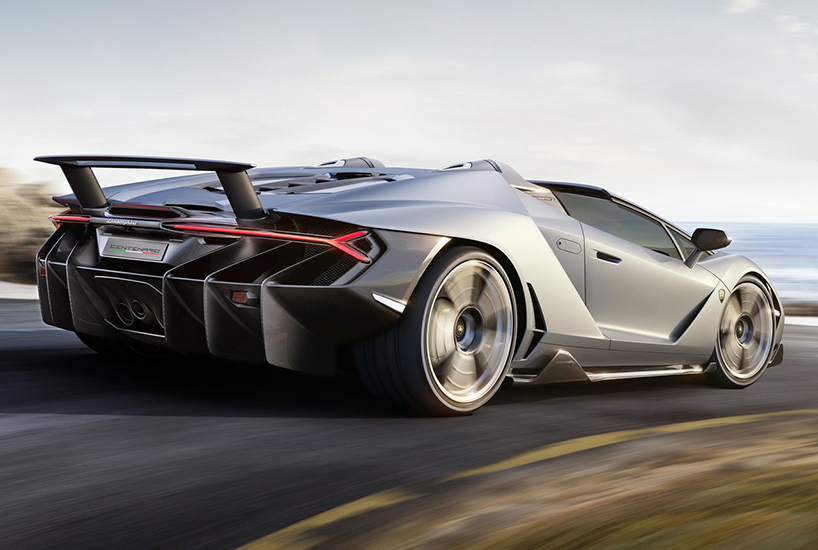 strictly limited to 20 units produced worldwide
'lamborghini prides itself on the relentless pursuit of experimentation. we are proud to unleash centenario's further potential in the form of a classic roadster; the perfect harmony between innovation and timeless design. this unique engineering achievement is a befitting tribute to lamborghini's extraordinary past and a preview of its brilliant future. centenario roadster embraces the cutting edge characteristics of its coupé sibling and embraces the freedom of a true open-top super sports car for a pure drive experience', stefano domenicali, automobili lamborghini CEO, said.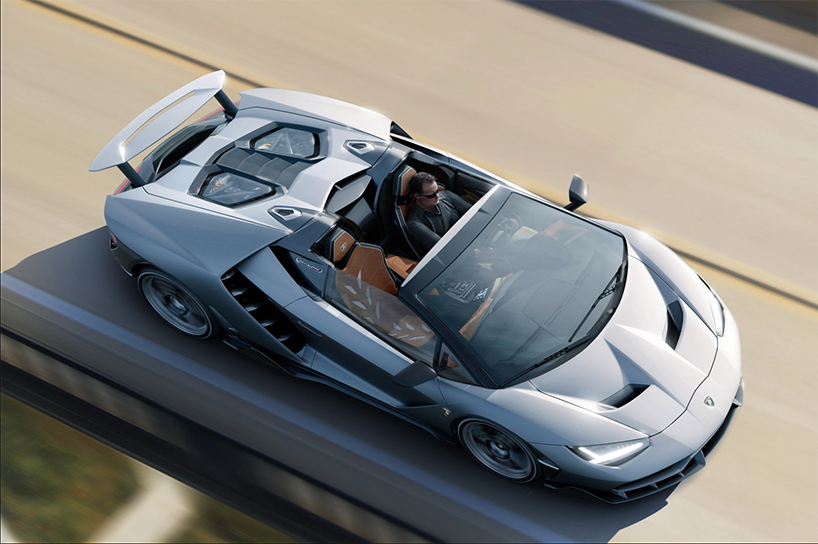 the body is made completely from carbon fiber
the body of the 'centenario' is defined completely in carbon fiber. the front bonnet, scissor door panels and open top roof line are fluent, aerodynamic and organic. the lower parts in shiny carbon fiber are functional, technical and dedicated to aerodynamic superiority, including the front splitter, side skirts, wheel arches and rear diffuser. air flows through ducts within the front headlight casings and others in the sideskirts and around the wheel arches, improving airflow to the rear radiators and providing optimized cooling. the prominent profile of the rear wheel arch accentuates the centenario's rear-wheel steering. pirelli 'pzero' tyres, developed specifically for rear-wheel steering, sit on exclusive front/rear rims in forged and milled aluminum. the spokes' fan shape, accented in carbon fibre, mask ducts extracting hot air from the carbon ceramic brakes, finished with a central- locking wheel nut sporting the lamborghini shield. it also adopts a new rear-wheel steering system. this system increases turning agility at low speeds and requires less steering angle, as well as a reduced turning radius. at high speeds the rear tires turn in the same direction of the steering angle which leads to a virtual increase of the wheelbase. as a result the rear-wheel steering provides increased stability and optimizes vehicle response.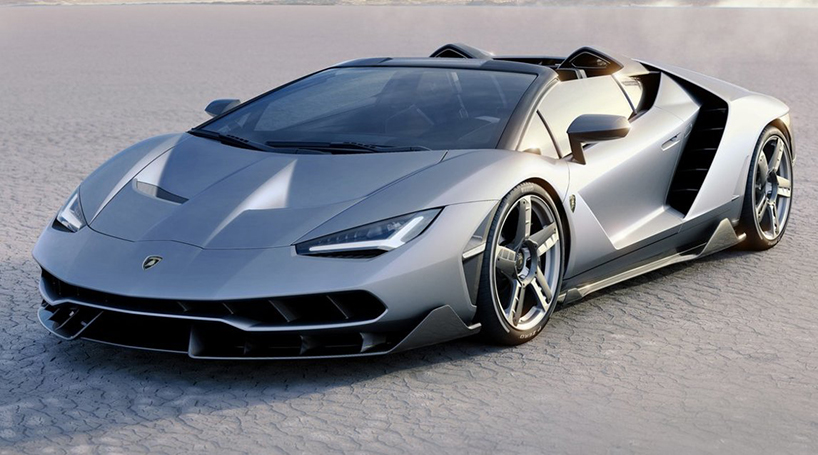 rear-wheel drive system turns with enhanced precision at low speeds
a performance-driven model, this one-off open-top model is built on a carbon fiber monocoque and the body parts are made of carbon fiber. known for experimenting with new cutting edge colors, designers developed a silver exterior finish, called 'argento centenario', fashioned exclusively for the 'centenario roadster', accentuating its curvaceous profile. to achieve a signature matte finish, designers applied a new high-tech process dissolving the metal while diluting and diminishing the appearance of the metal grain giving it a silky and rich exterior finish.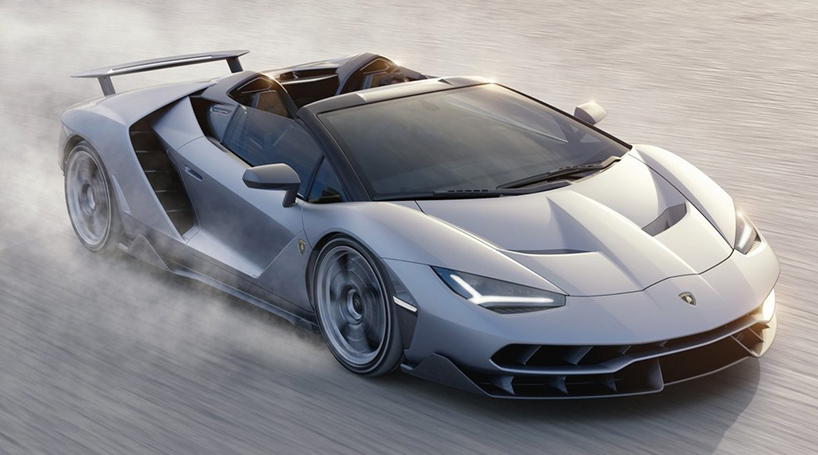 ducts extract hot air from the carbon ceramic brakes
the car's enhanced aerodynamic design includes an extending rear wing providing more downforce at high speeds and is equipped with rear-wheel steering for increased agility and stability. a new fully connected infotainment and innovative touchscreen system includes internet browsing and apple 'carplay' for easy use. advanced aerodynamic studies were conducted also to achieve maximum comfort for the interior, specifically for the roadster. the front windscreen is shaped to reduce turbulence for the cabin passengers, deflecting the air around and above their heads, keeping the level of ventilation within the cockpit to an optimal level for a sunlit environment. sleek, frameless windows surround the interior, providing a light and airy effect while improving insulation.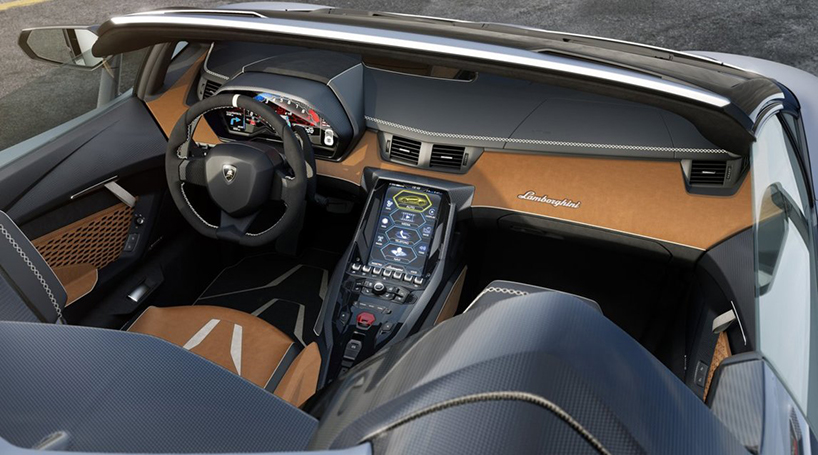 frameless windows surround the interior, offering a refined feeling
equipped with the most powerful engine produced by lamborghini to date, the 'centenario roadster's' elegant exterior is matched with the unmistakable power of its naturally aspirated v12 engine. excellent power to weight ratio in combination with the optimized aerodynamic design allows to easily reach 350 km/h, delivering superior balance and maximum stability. the highly responsive v12 architecture delivers 770 hp (566 kW) with an engine speed regulator raised from 8350 rpm to 8600 rpm. accelerating from 0–100 km/h in just 2.9 seconds, the 'centenario roadster's' top speed is more than 350 km/h. braking distance is equally impressive: from 100–0 km/h in just 31 m (102 feet). just as the coupé version, the 'centenario roadster' will be produced as a limited edition of only 20 units to be delivered through 2017.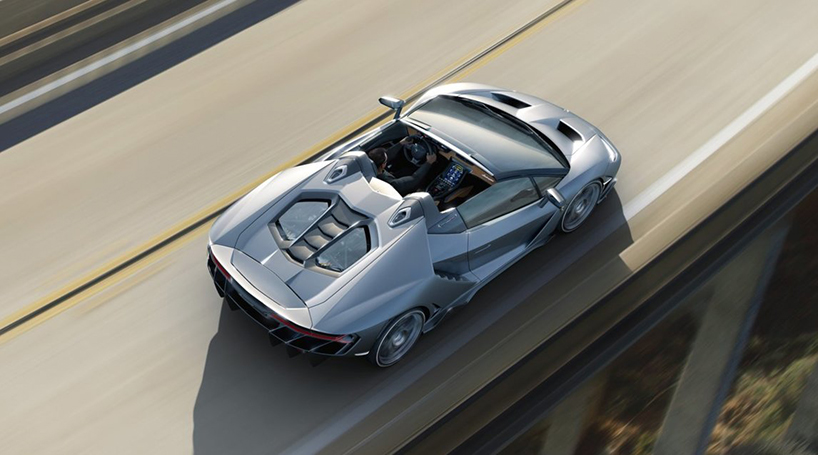 naturally aspirated v12 engine delivers 770 hp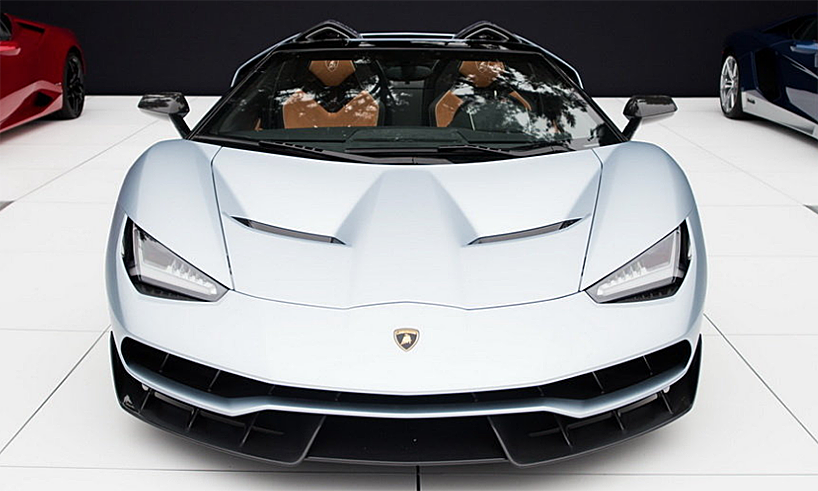 jul 10, 2020
jul 10, 2020
jun 30, 2020
jun 30, 2020
jun 21, 2020
jun 21, 2020
jun 21, 2020
jun 21, 2020
may 27, 2020
may 27, 2020
may 20, 2020
may 20, 2020
jul 10, 2020
jul 10, 2020
mar 14, 2020
mar 14, 2020
jan 04, 2020
jan 04, 2020
nov 26, 2019
nov 26, 2019
sep 04, 2019
sep 04, 2019
jul 08, 2019
jul 08, 2019
a diverse digital database that acts as a valuable guide in gaining insight and information about a product directly from the manufacturer, and serves as a rich reference point in developing a project or scheme.