nov 04, 2011
lomokino super 35mm video camera
'lomokino super 35' analogue video camera
lomography has just released the 'lomokino super 35', an analogue 'moviemaker' that mimics the low frame rates and noisy image quality of early film cameras. battery-free and powered by handcrank, the device shoots 144 images over the course of 60 seconds (2.4 fps). it accepts any 35mm film cartridge, displaying the amount of film remaining on a built-in display and popping a red flag up on top of the camera when there is none remaining. the camera automatically keeps subjects beyond one meter away in focus, while a 'close-up button' lets the device focus on subjects as close as 0.6-meters. step-less aperture stops from f/5.6 to f/11 permit users to easily adjust the setting even during shooting. the 'lomokino' contains standard tripod and hot-shoe mounts.
the 'lomokinoscope' permits users to view their films in analogue format by loading the developed, uncut film rolls directly into the device, rotating the viewing crank, and watching the frames stream by. the film can also be scanned, uploaded to computer, and converted to digital files.
the camera sells for 79 USD (65 euro), while a package kit containing the 'lomokino' and 'lomokinoscope' retails for 99 USD (89 euro).

animated full view of the hand-cranked 'lomokino super 35'
'lomokino super 35', detail view on handcrank
'lomokino super 35', detail view on lens
'lomokinoscope' film viewer, front and back views
example footage shot with the 'lomokino', which takes any 35mm film
closer view of film roll
introduction to the 'lomokino'
sample footage shot with the 'lomokino'
'a walk in vienna' sample film shot with the 'lomokino'
'el mariachi' sample footage
jul 20, 2017
jul 20, 2017
jun 14, 2017
jun 14, 2017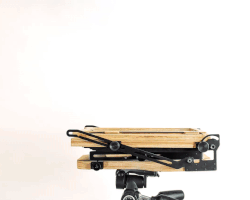 may 30, 2017
may 30, 2017