known for developing a dialogue between architectural form, geometry, sustainability and smart materials, margot krasojević has unveiled her latest project, the revolving rail bridge. commissioned by the ordos government to cross the wulanmulun river — located in ordos city, kangbashi district mongolia — this bridge proposal is a flexible structure that can relocate by sailing along the river to its new position.

the revolving rail bridge has been proposed to cross the wulanmulun river in mongolia
all images by margot krasojević via v2com
the revolving sail bridge by margot krasojević architects consists of a main floating section that supports three expanding walkways, and a carbon fiber triple sail. thanks to its transformable nature, the moving bridge can fold its multiple sections in a stackable way to move along the river in a more natural way. its flexible walkways adapt to different quays and span across the river, expanding and folding accordingly. the hydraulic walkway is supported by the river bank's landing docks while the main body of the bridge is kept afloat by the sail and its rotator.

the flexible structure can relocate by sailing along the river to its new position
set within an array, the cylindrical crossflow turbines skim the water's surface. their buoyancy aids in the support and stabilization of the bridge's primary structure as it acts as a raft. when the bridge is in use, the sail is lowered and acts as a canopy over a seated area for people to enjoy the views and the platform gardens. solar panels line the walkway providing energy for the three electric motor generator. the bridge can be towed, sailed or motored into different locations.

it consists of a main floating section that supports three expanding walkways

the triple sail is made of carbon fiber

the moving bridge can fold its multiple sections in a stackable way to move along the river

the hydraulic walkway is supported by the river bank's landing docks

sailing along the mongolian river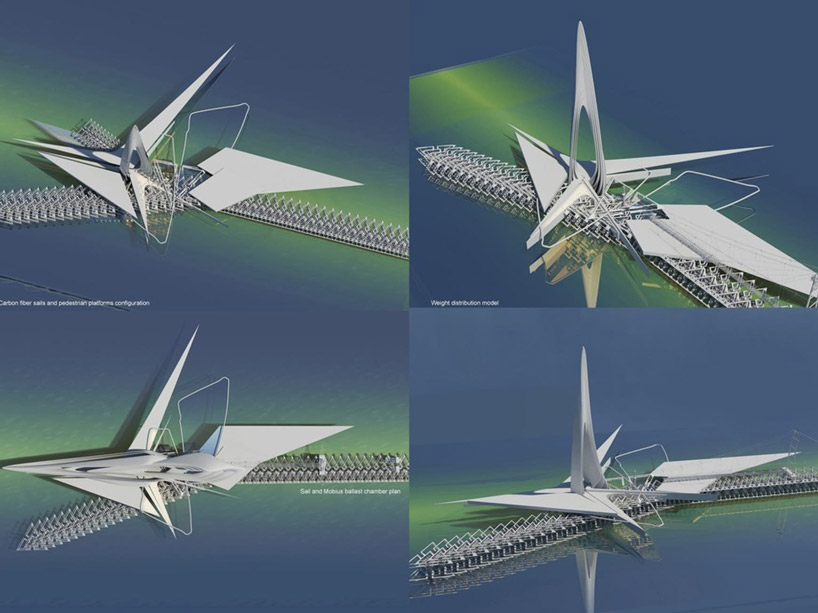 different positions the flexible revolving rail bridge can adapt
oct 31, 2017
oct 31, 2017
oct 30, 2017
oct 30, 2017
oct 04, 2017
oct 04, 2017
sep 26, 2017
sep 26, 2017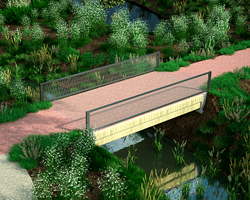 sep 08, 2017
sep 08, 2017
aug 01, 2017
aug 01, 2017
aug 25, 2013
aug 25, 2013
mar 26, 2013
mar 26, 2013