driving over 1070 km (665 miles) in three days in an electric car might seem daunting but not in the mercedes-benz EQC. from its extreme winter testing to its world premier in stockholm in 2018, scandinavia has been an integral backdrop for the brand's first production EV. this story continues, though, as designboom embarked on an epic, all-electric adventure from oslo, norway through sweden and denmark to our final destination in berlin, germany. along the way, the EQC not only disproved any preconceptions about electric performance but also divulged a unique experience that sets the mark for the future of luxury mobility.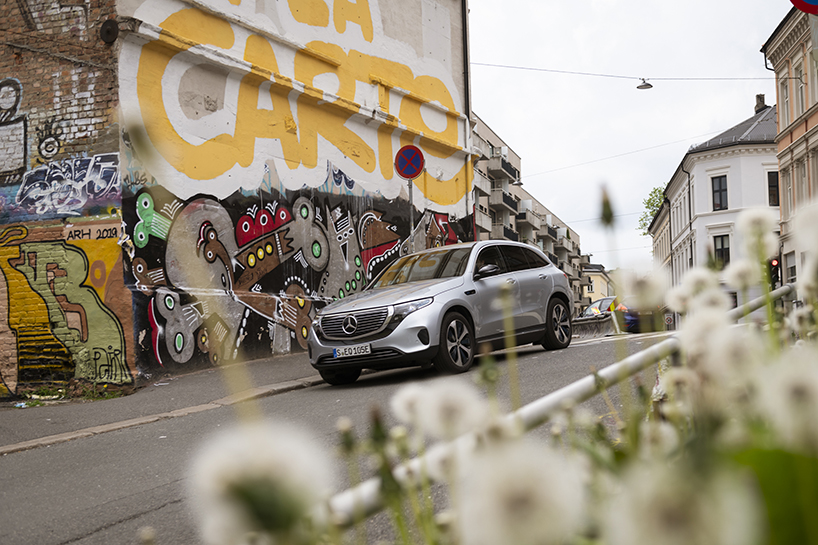 our three day road trip started in oslo, norway – the electric car capital of the world
all images courtesy of daimler
by mercedes-benz's ratings, travelling over 1070 km would consume the EQC's battery range two times over. this fluctuates between 445 and 471 km – as well as depending on different driving behaviors. 300 kW and 760 Nm of torque rapidly zip from the electric powertrains at the front and rear axles, which also helps provide an all-wheel drive feel. SPORT was our favorite of the five driving modes – also including COMFORT, ECO, MAX RANGE and an individually adaptable program – handling exceptionally on the scandinavian forest tracks.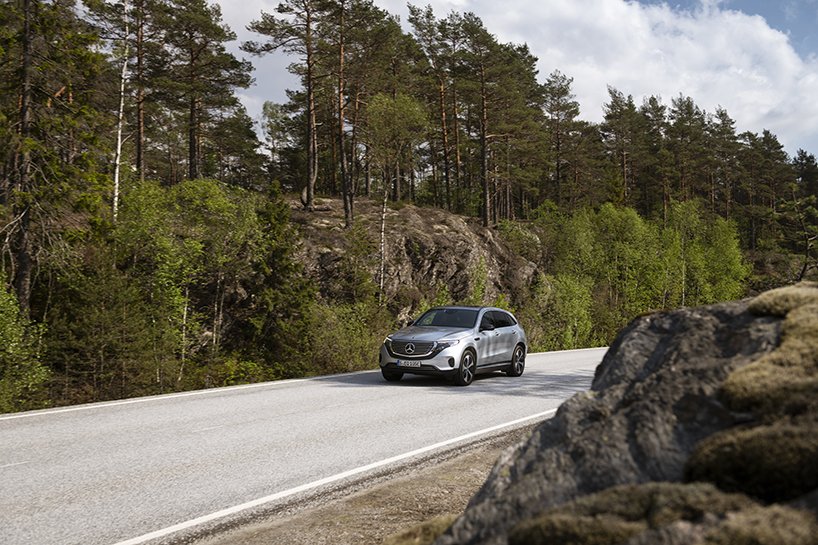 the EQC in the scandinavian wilderness
as soon as our journey began, the mercedes-benz user experience – MBUX – intelligently linked services and functions throughout. drivers are informed with updated routes in real-time, including optimal charging stops, arrival times and even the battery charge needed for the next day of our road trip. although points can be set manually, the smart route is automatically determined and registers the battery's charge status, available stations, weather, topography and traffic flows. especially suited to road trips, another preferred setting allows navigation to avoid all motorways where possible, which meant we could relax, race and take in the picturesque, curving country lanes that the EQC excelled on most.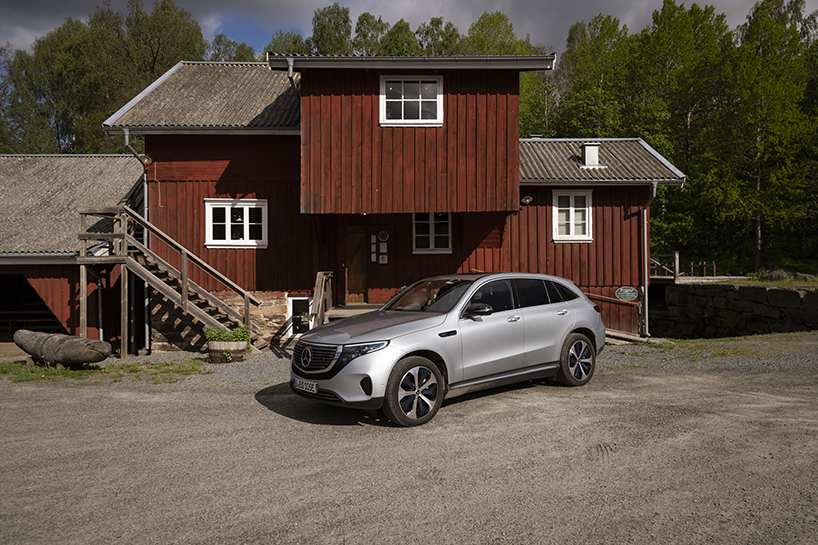 after driving nearly 400 km, our first overnight stop was in hyssna, sweden
as the electric car capital of the world, norway was the perfect place for charging points. ionity stations – a venture between BMW, daimler, ford and volkswagen – wires 110 kW to energize the EQC from 10-80% battery in only 40 minutes. typical for long distances, we made plenty of stops for leisure and rest, where, every time, we charged a little more just in case our trip took any unexpected turns. sensing the proximity to an ionity station, the car's MBUX automatically configures with your account to start charging immediately, and this can be monitored from afar on your smart phone app.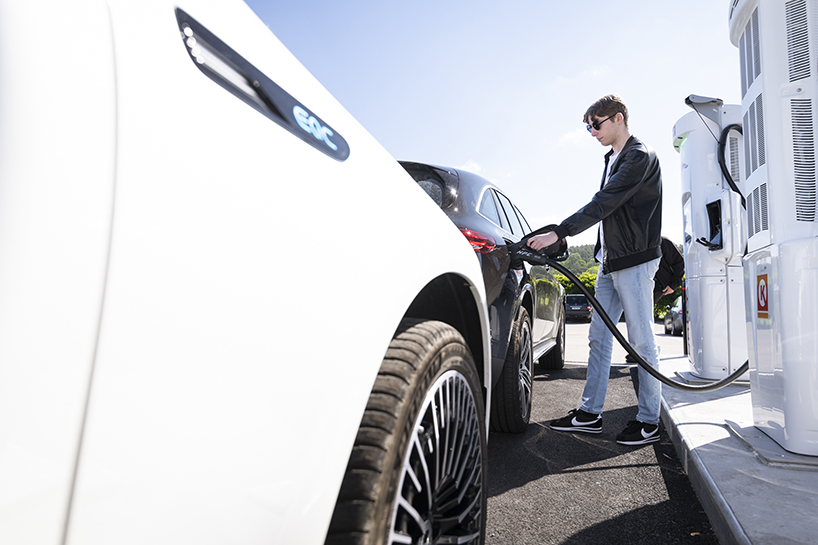 designboom editor tim spears recharging the electric SUV
our journey became tougher as fast chargers became a rarity, almost in line with our descent south into germany. when 110 kW ionity chargers were not available, 50 kW DW chargers were the next best option and then the super slow 7.4 kW chargers as a last resort. the latter is equivalent to plugging your car into a domestic socket, only making sense if charging overnight for short day trips rather than long distances. by 2020, 400 ionity stations will be placed along europe's main traffic routes but, until then, we had to adopt an energy saving strategy for the remainder of our road trip.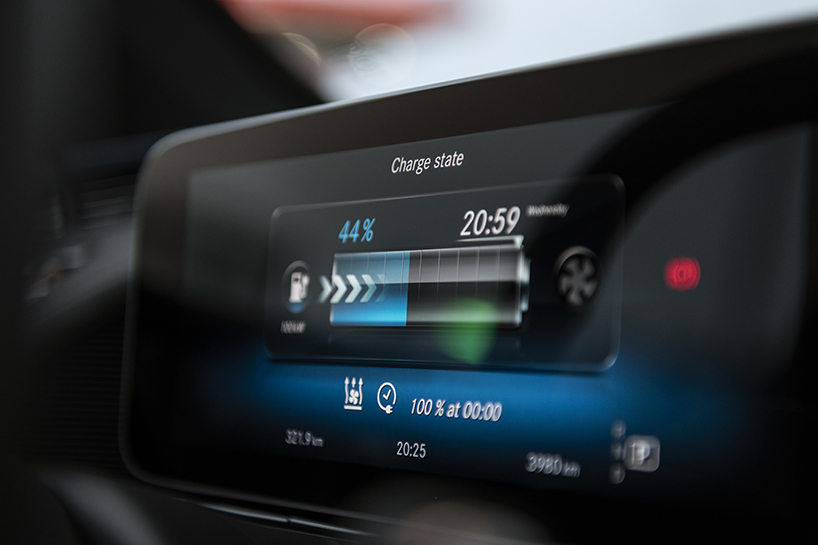 the charging status can be shown on your smartphone as well as the in-car display
as well as using the MBUX system to navigate towards the optimal chargers nearby, the EQC also enhances a range of innovations to prolong power. its overrun and braking helps convert mechanical rotation into electrical energy during the drive. drivers can also influence recuperation depending on behavior and by selecting the different driving modes using the steering wheel paddles. stage five – MAX RANGE – offers the highest recuperation, even allowing one-pedal driving as the recuperation deceleration is enough to not need braking.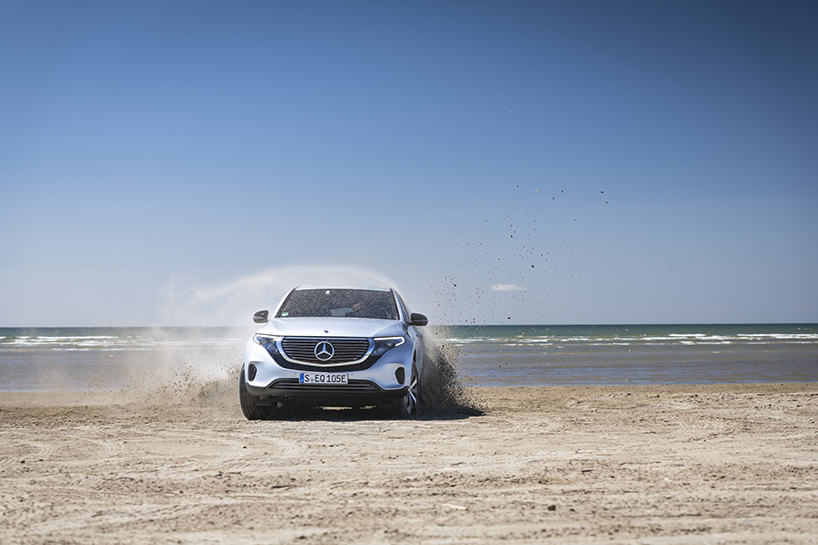 beach fun in falkenberg, before catching an electric ferry across to helsingor, denmark
with all the charging time needed, our trip gave plenty of moments to reflect upon the exterior design of the brand's first EV. its smooth, sculpted body is complemented with elements of electrical aesthetics that, as expected, soon start to dominant its character. as the extended roofline slopes towards the rear like a coupe, the wide shoulder line becomes even more distinctive with a large LED that spans the width of the car's rear. similarly on the front, a large black panel encloses the faux-grille and headlamps. this blend of analogue and digital elements pushes the vehicle's avant-garde style into the future or, in mercedes-benz's terms, to a vision of progressive luxury.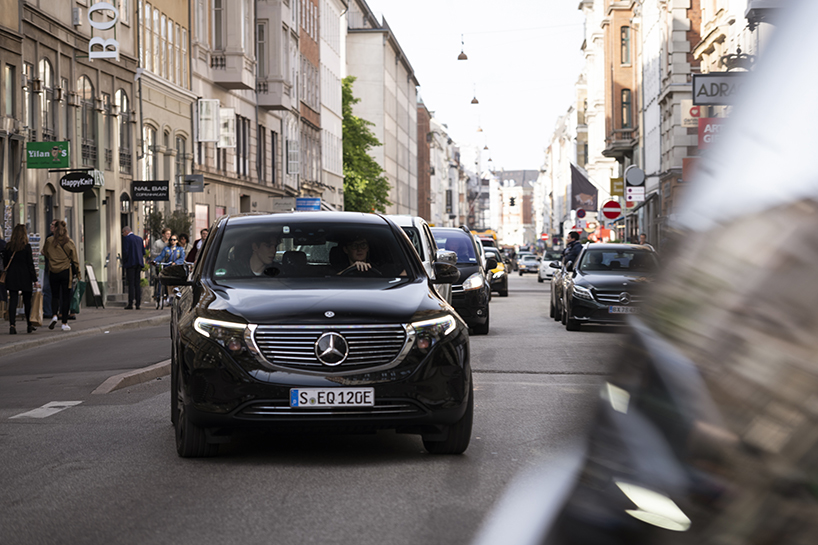 cruising into copenhagen, denmark
the ideas of progressive luxury infiltrate the interior as well, where highly crafted materials are paired with electro-looking highlights, such as rose-gold details, ribbed edges and thin LEDs. the cockpit itself is very driver-orientated with the instrument panel angled towards their seat. with the removal of the combustion engine, the cabin's noise control and even vibrations are significantly improved. the new cabin creates a spacious, comforting platform for the music, ambient lighting and massaging seat settings to then take over. this elevates mercedes-benz's typically exceptional elegance to a whole new level, especially appreciated over long distances.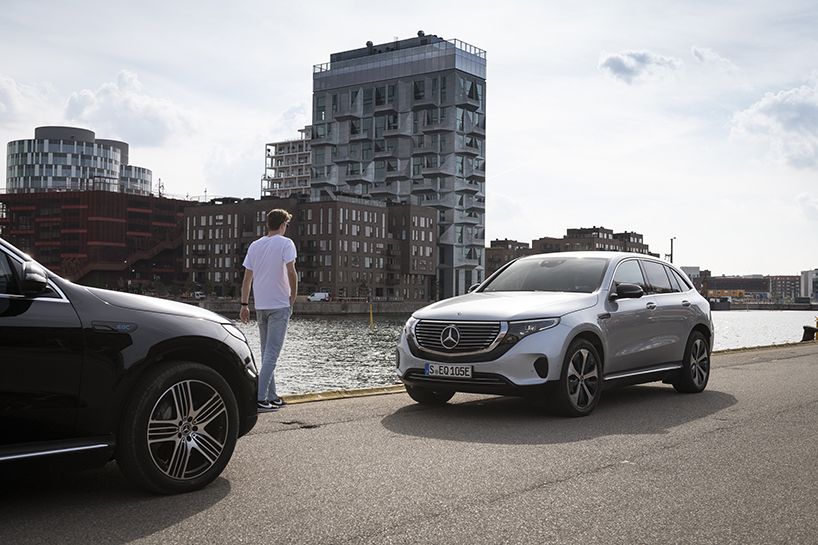 designboom editor tim spears looking across to 'the silo' designed by COBE
read more about this project, here
statistically speaking, three hours of charging is needed to travel 100 km in the mercedes-benz EQC. for short day-to-day trips, this is not an issue as even slow, low capacity charging is easily sufficient. for longer journeys, like our 1000 km+ journey from oslo to berlin, the charging speed and battery range becomes more of a challenge. as per any road trip, though, it is the unexpected, unique things that ultimately make it memorable. from the idyllic german villages found whilst searching for the next charger to the picturesque pit-stops for re-charging in scandinavia, these moments all made for a better trip. as well as being incredibly capable, with the switch to electricity, the mercedes-benz EQC has made for a richer and more connected driving experience.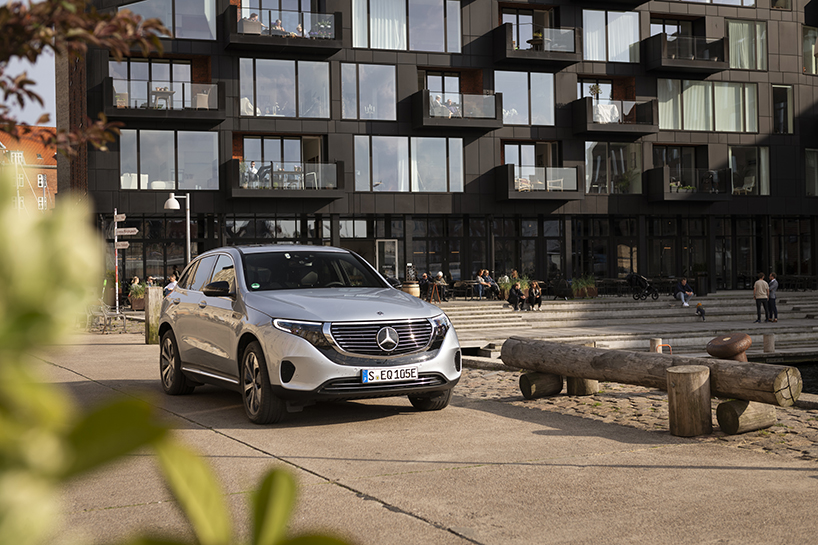 with touches of modernity, details of the exterior design hints at the car's electric capability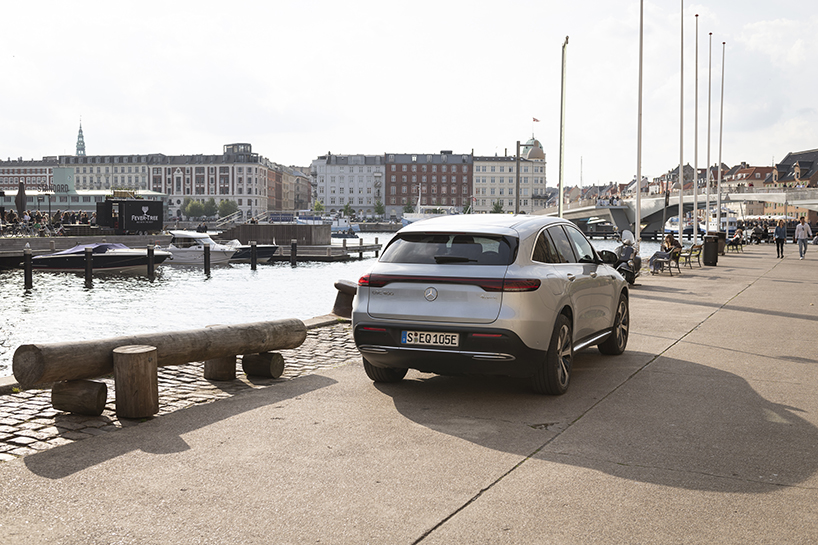 the rear is defined by a highlight LED that spans its width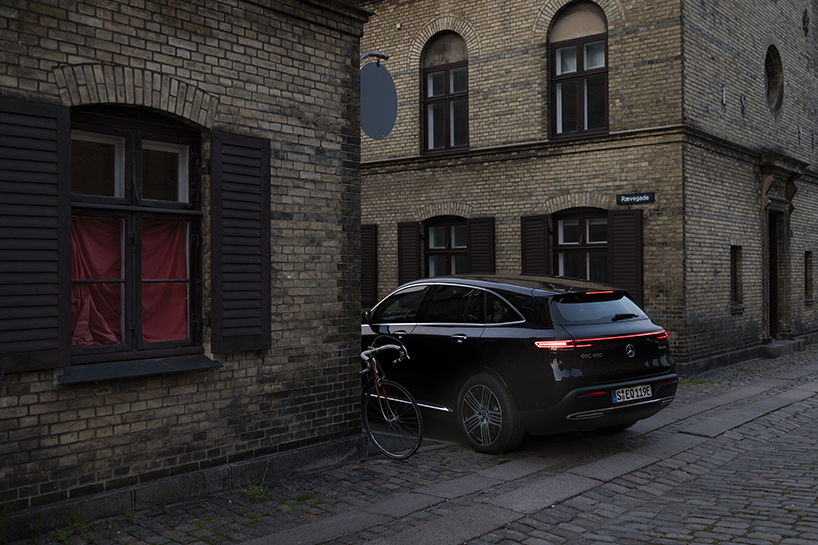 after travelling over 250 km, our second overnight stop was in copenhagen's city center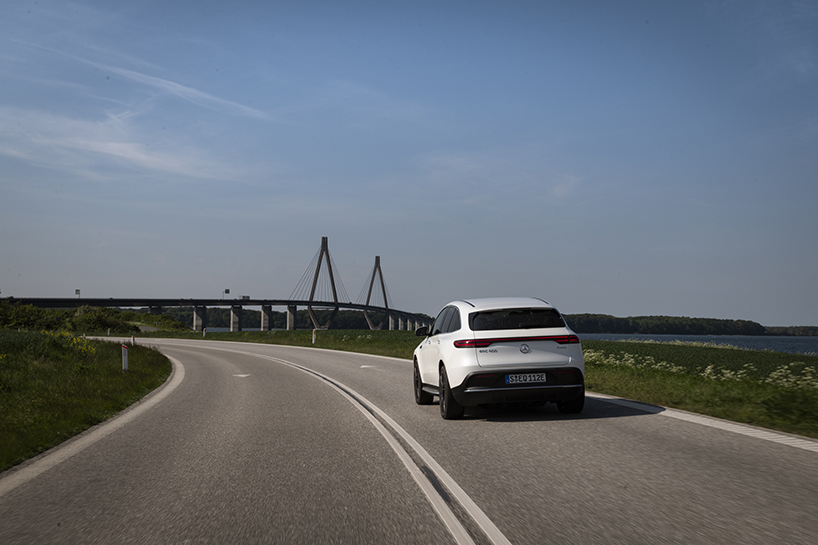 our final journey took us on a hybrid ferry from gedser, denmark to rostock, germany and then the famed autobahns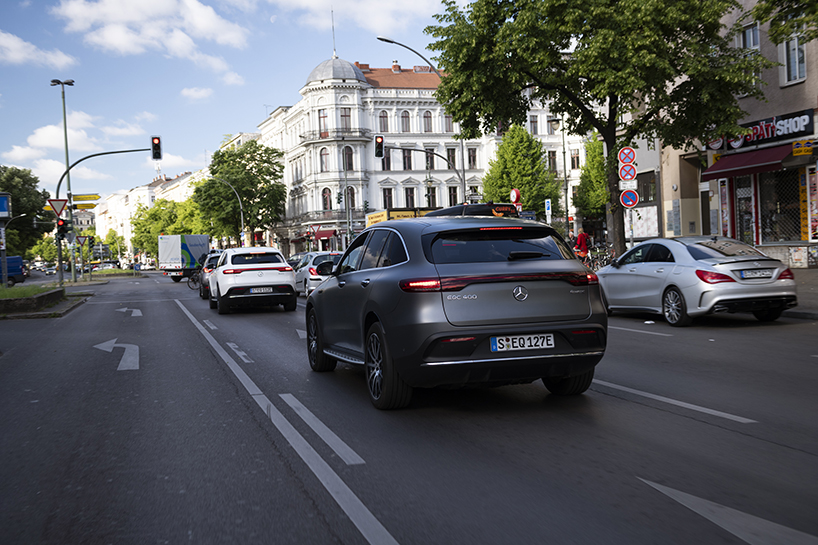 after over 400 km and 1070 km overall, our final stop was berlin, germany
product info:
brand: mercedes-benz
model: EQC
battery range: 445 – 471 km
power: 300 kW and 760 Nm
jan 29, 2020
jan 29, 2020
oct 31, 2019
oct 31, 2019
jul 14, 2019
jul 14, 2019
jul 10, 2019
jul 10, 2019
jul 03, 2019
jul 03, 2019
jun 24, 2019
jun 24, 2019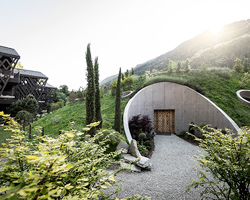 jul 30, 2020
jul 30, 2020
jul 30, 2020
jul 30, 2020
jul 28, 2020
jul 28, 2020
jul 28, 2020
jul 28, 2020
jul 27, 2020
jul 27, 2020
jul 22, 2020
jul 22, 2020
jun 13, 2020
jun 13, 2020
may 09, 2020
may 09, 2020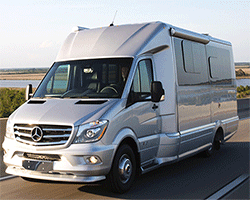 apr 18, 2020
apr 18, 2020
a diverse digital database that acts as a valuable guide in gaining insight and information about a product directly from the manufacturer, and serves as a rich reference point in developing a project or scheme.