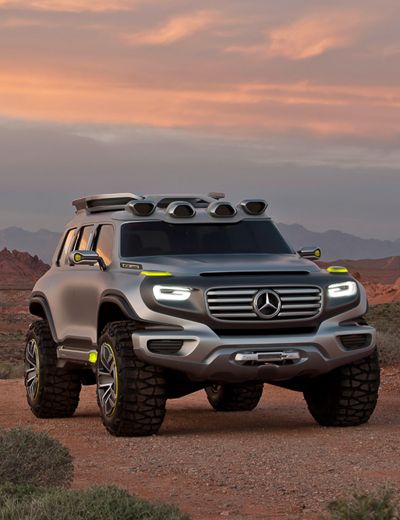 nov 19, 2012
mercedes benz ener G force fuel cell concept
mercedes benz 'ener-G-force' fuel cell concept
in response to the 2012 los angeles design challenge for the 'highway patrol vehicle of 2025', mercedes-benz has introduced the 'ener-G-force' fuel cell SUV concept as a design study into the future of environmentally friendly off-road vehicles capable of supporting police and emergency services.
gorden wagener, director of design at mercedes-benz states: "the ener-g-force is the vision of an off-roader that, while reflecting tomorrow's adventures, also invokes the genes of the mercedes-benz off-road icon, the G-class. modern and cool, it could also be a clue about a new beginning for the off-road design idiom of mercedes-benz".
mercedes benz 'ener-G-force' front view
like the 'G-class, the ener-G-force integrates its front with an expressive radiator grille that incorporates the headlamps. the LEDs in the headlamps form the shape of the letter 'G', where the front turn signals and running lights are mounted on top of the fenders. along with its distinctive roof and the 3-panel greenhouse, the concept provides a pull-out safety tool box as the center pull-out compartment, occupied on the traditional location of the spare wheel cover.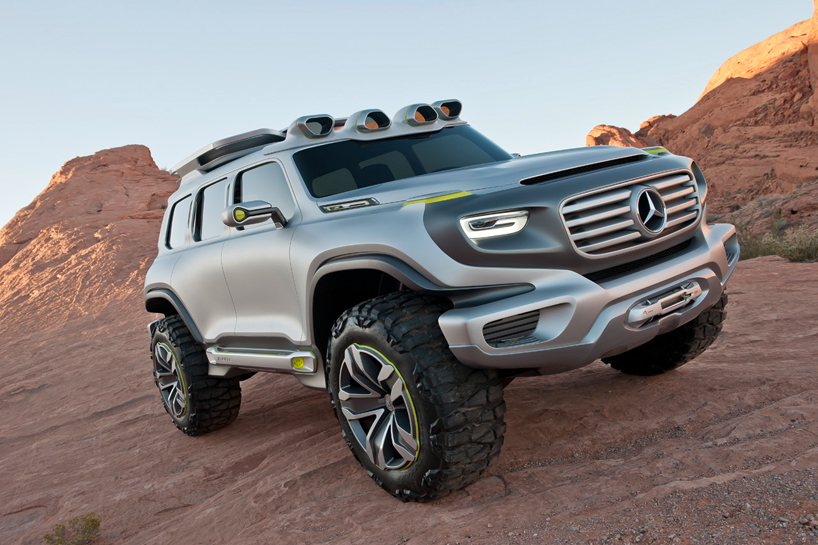 3/4 front view
3/4 driver view
 the zero emission concept provides an operating range of about 500 miles, where four wheel-hub motors, provide the pulling power, adapting to the respective terrain through high-performance electronics.a 'terra-scan' 360-degree topography scanner on the roof permanently scans the surroundings and uses the results to adjust suspension parameters for maximum traction on the respective surfaces.
side profile
rear 3/4 passenger view demonstrating charging function on side skirts
for energy purposes, the SUV stores recycled water in tanks on the roof, and transfers it to the 'hydro-tech converter,' where natural and renewable resources are converted into hydrogen for operating the fuel cells. the storage units for the electricity generated during the process are housed in the side skirts. these side skirts house either the energy storage units or hot-swappable battery packs, as changes in the color of the illumination indicate the operating and charge status of the energy packs.
view from below
3/4 top view showing roof rack and vents
rear view with tool kit attachment mounted to previous wheel hub storage
front view sketch
side view sketch
rear view sketch
aug 16, 2017
aug 16, 2017
aug 07, 2017
aug 07, 2017
jul 18, 2017
jul 18, 2017