live from las vegas: inspired by the film series avatar and its world of pandora, the mercedes-benz VISION AVTR reveals at CES 2020 as a concept for mobility in the distant future. translating to 'advanced vehicle transformation', the VISION AVTR showcases a new interaction between human, machine and nature, and does so by fusing its exterior, interior and user experience. the result distinguishes a distinctive inside-out design that also references several creatures from the original movie.
live from las vegas: designboom is covering all the latest launches of CES 2020 – the world's largest consumer technology fair – from the trade show grounds, including the exclusive world premier of the mercedes-benz VISION AVTR. stay connected for the future of technology as it debuts.
'the main thing in my life right now is sustainability. I look at this vehicle and I see the future. it is not just the automotive future with all the wonderful things it could inspire in real production cars, but also an aspirational future for humans. for a major manufacturing company like mercedes-benz to make this commitment is awesome and I think it should be celebrated. when I look at this beautiful car, I see the physical manifestation of the velocity of an emotional, spiritual idea. they manifest and inspire,' explains james cameron, director, screenwriter and producer of avatar, to designboom at the CES 2020 launch.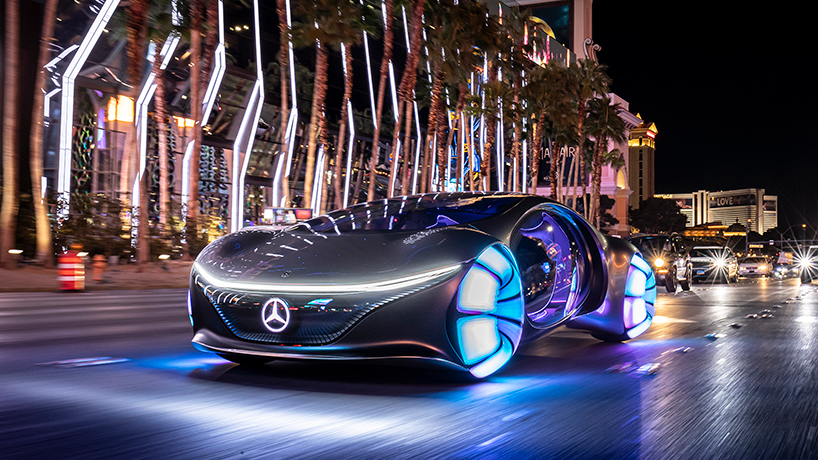 the mercedes-benz VISION AVTR cruising down the las vegas strip
all images courtesy of daimler
adorning a silver coating, the mercedes-benz VISION AVTR's body greatly resembles the VISION EQS with its organic, stretched one-bow design. its unique, spherical-shaped wheels – inspired by the seeds of the tree of souls from avatar – embodies the intelligence of nature as treads and blue-illuminated rim arms merge together. the form aids manoeuvrability as, with both front and rear axles, the car can move sideways by 30 degrees. from the grille to the rear, human and information energy is visualized as neurons that flow across the interior and exterior. these unite at the back where 33 bionic flaps – reminiscent of reptile scales – communicate with the driver, the outside world and vice-versa through subtle gestures.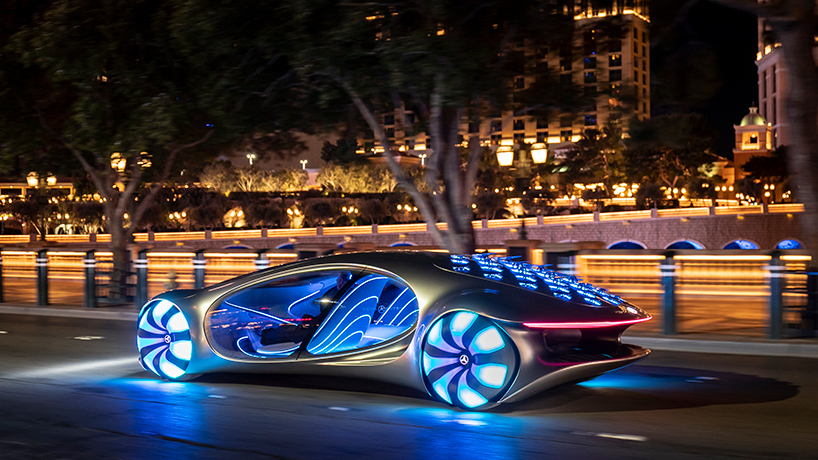 visually, the interior and exterior are connected via large oval openings but also outer lines that spiral through the cabin. the illuminated spirals carve generous loop structures that unite the front and rear seats, center console and the glass forms. the dashboard is replaced by the main projection area that flows into the center console, which resembles the tree of souls from the film. this comfortably encompasses the driver and passenger in their hammock leaf seats, and continues to connect to the rear bench.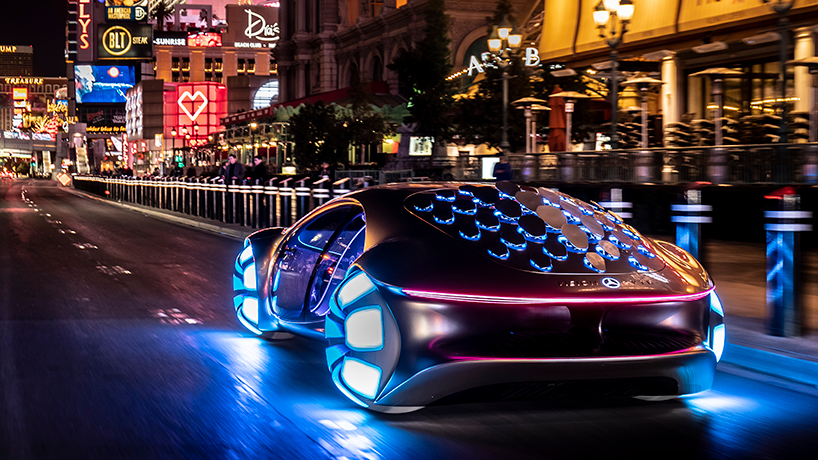 the car behaves as if a symbiotic organism that reacts to passengers as soon as they board. when the driver places their hand on the multi-functional control element on the center console, human and machines becomes one. the vehicle recognizes them via his or her heartbeat and breathing – like the connection of all organisms in the world of pandora. although there are no visible buttons or switches, passengers can intuitively control the environment as a menu selection is projected onto the palm of their hand, when lifted. this creates a biometric connection, instead of a conventional steering wheel, whilst still ensuring the driver can select between autonomous, half autonomous where they control the speed, and full steering.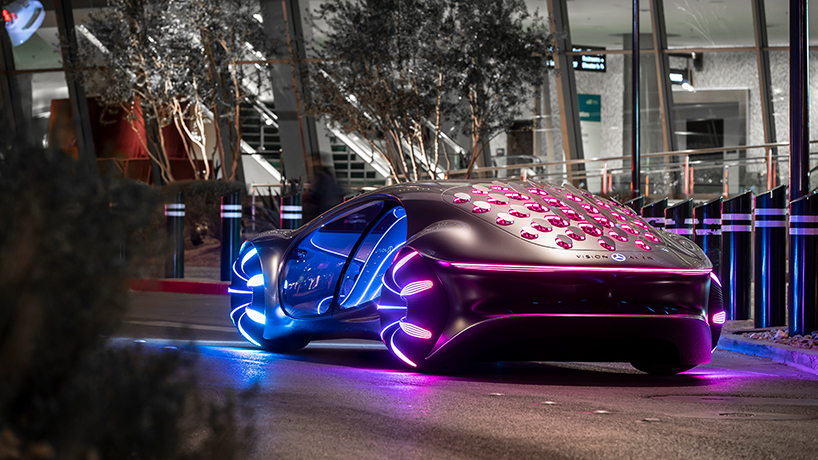 with nature as its main inspiration, the design offers a level of sustainability that matches its high technology. floral and softly woven elements of the interior contrast and create tension with dynamic contours and warm highlights, such as the rose gold accents. the seats are upholstered in vegan DINAMICA leather – made from recycled old clothing, flags and PET plastic bottles – and guarantees environmental sustainability throughout the entire production cycle. its flooring is decked with karuun wood, which grows extremely fast and is harvested by hand in indonesia.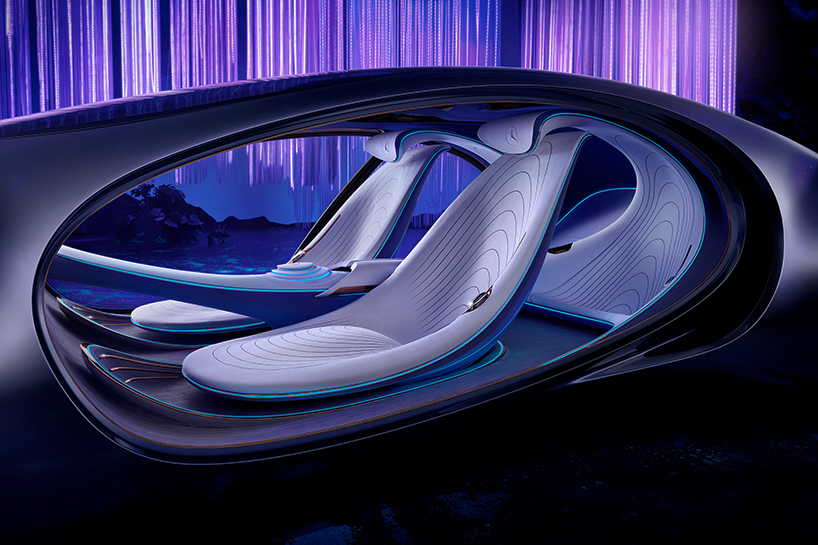 although for a distant future, the mercedes-benz VISION AVTR showcases innovations for its 'ambition 2039', which is to have a carbon-neutral new passenger car fleet by that year. the highlight is its organic battery technology that is made from completely compostable and recyclable materials. this is created by graphene-based organic cell chemistry that is free of rare earths and metals. for performance, the battery offers exceptional fast charging through automated conductive charging technology, meaning it can be fully recharged in less than 15 minutes. it also offers a capacity of 11kWh and a range of more than 700 km. this is thanks to four high-performance and rear-wheel-built electric motors with a combined power of more 350 kW.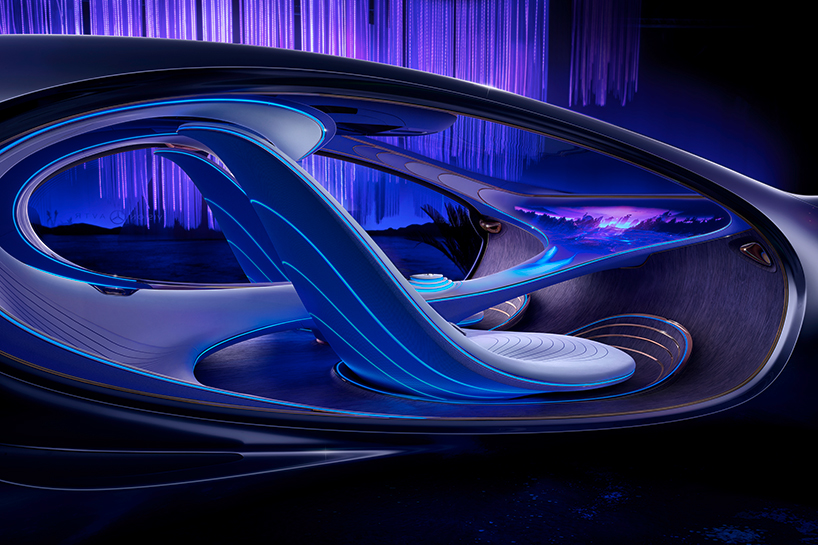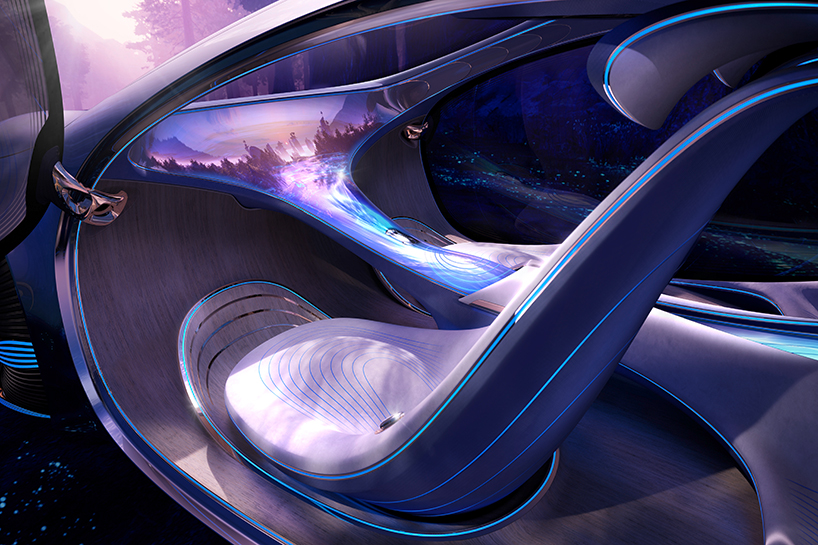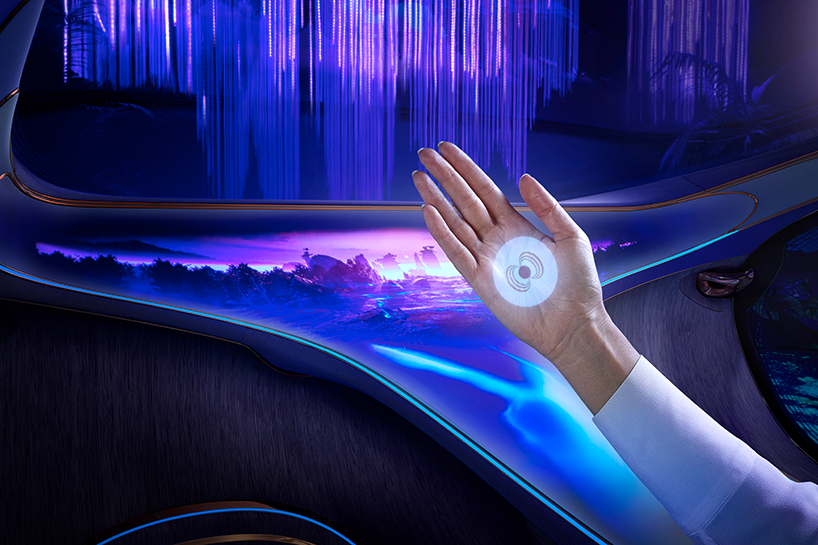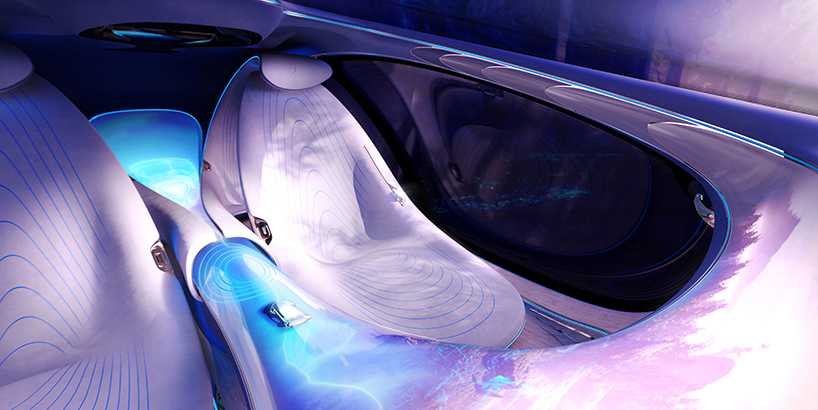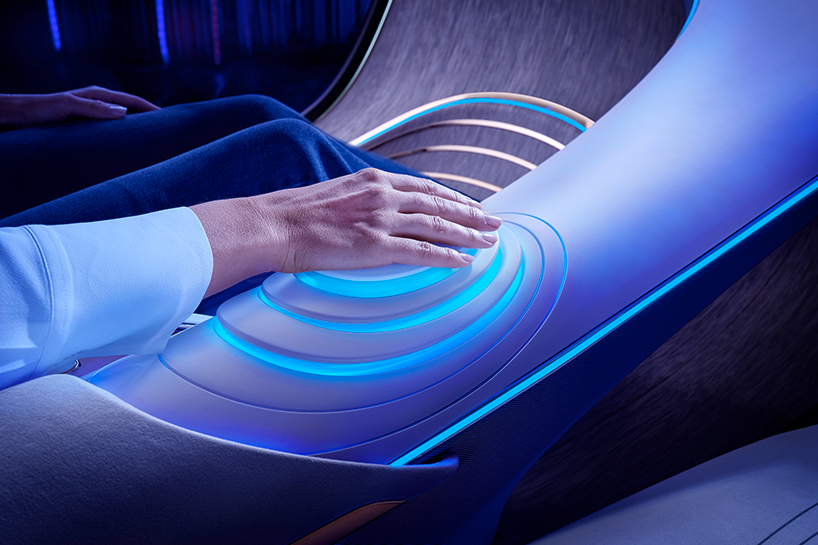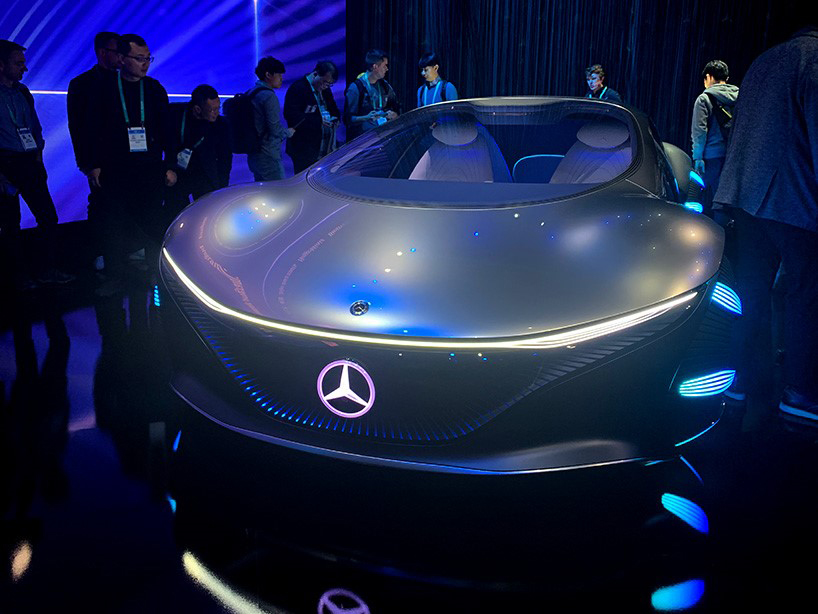 image © designboom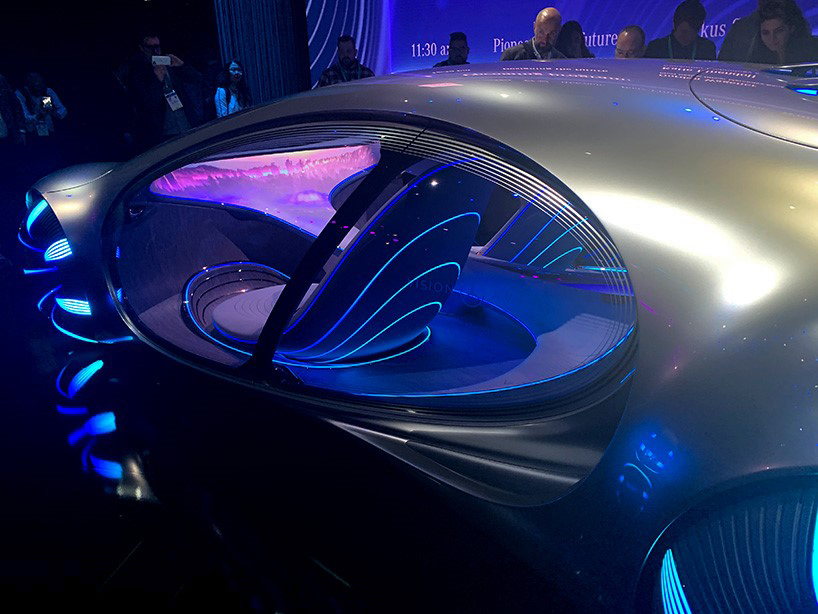 image © designboom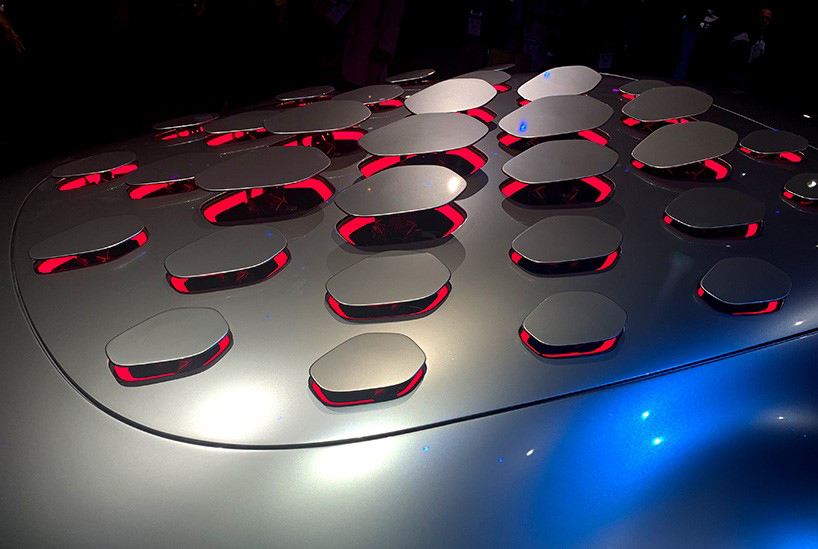 image © designboom
concept info:
brand: mercedes-benz
model: VISION AVTR
debut: CES 2020
dates: january 7-10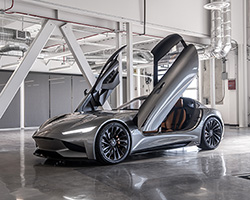 jul 10, 2020
jul 10, 2020
jul 05, 2020
jul 05, 2020
jun 13, 2020
jun 13, 2020
jun 09, 2020
jun 09, 2020
may 03, 2020
may 03, 2020
apr 22, 2020
apr 22, 2020
jan 15, 2020
jan 15, 2020
jan 15, 2020
jan 15, 2020
jan 15, 2020
jan 15, 2020
jul 09, 2020
jul 09, 2020
jul 09, 2020
jul 09, 2020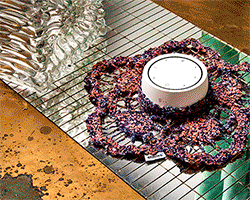 jul 09, 2020
jul 09, 2020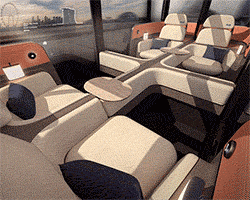 mar 13, 2020
mar 13, 2020
feb 19, 2020
feb 19, 2020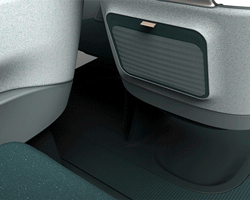 jan 27, 2020
jan 27, 2020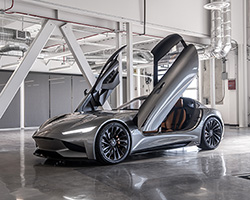 jul 10, 2020
jul 10, 2020
jun 13, 2020
jun 13, 2020
jun 03, 2020
jun 03, 2020
jun 13, 2020
jun 13, 2020
may 09, 2020
may 09, 2020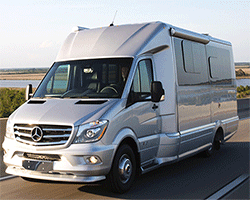 apr 18, 2020
apr 18, 2020
a diverse digital database that acts as a valuable guide in gaining insight and information about a product directly from the manufacturer, and serves as a rich reference point in developing a project or scheme.