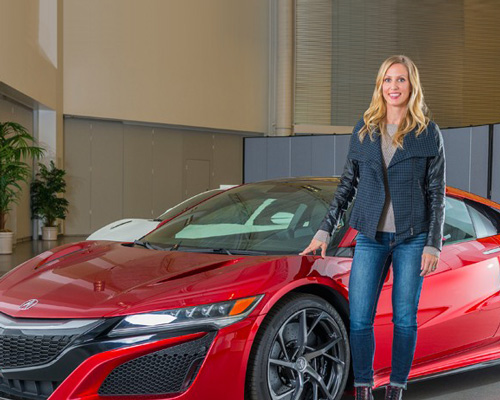 mar 31, 2015
interview with acura NSX exterior designer, michelle christensen
interview with acura NSX exterior designer, michelle christensen
images courtesy of acura
after graduating in transport design, at the art center college of design in pasadena, california, michelle christensen has gone on to work for the likes of honda, general motors and currently acura, a luxury division of honda. most recently, she led the exterior styling for the second-generation acura 'NSX' which made its debut at the 2015 north american international auto show. the supercar, debuting 25 years after the original was first released, was a highly anticipated launch, as it had the difficult task of transforming the icon, which ceased production in 2005, into the modern day. ahead of the 2015 new york auto show, designboom talks to michelle to gain an insight into her design background and how this helped her overcome the challenges of creating the new 'NSX' model.
designboom (DB): what originally made you want to become a designer?
michelle christensen (MC): my connection with cars has always been an emotional one. my childhood was a blur of car shows, drag races, and loud engine noises, early on saturday mornings. my earliest car memory is watching my dad rebuild a 1967 hemi GTX… it had 25,000 miles on it. I would sit on a milk crate in the gutted interior while he worked – sanding the body and tinkering with parts. he would take me on test drives as he tuned it. it was a blast! as I got older I started to be more inquisitive about the mechanics and got more hands on and really fell in love with that aspect of automobiles.
after high school, I first learned that car design was an option. I loved drawing and I loved vehicles. I also loved making things for other people. I once designed a prom dress for my friend in high school, and she loved it… or so she said. this satisfaction, the feeling I got from making something that she was emotionally attached to, was what made me want to become a designer.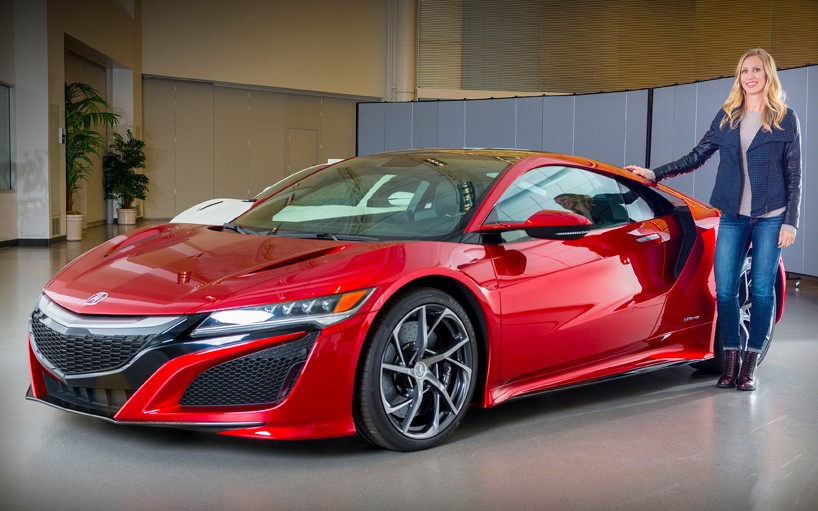 michelle standing alongside the supercar that she designed the exterior for
DB: how were you first introduced to the field of automotive design?
MC: I luckily stumbled on it! I had no idea this was a professional career choice until my dad pointed out a car designer, chip foose, at a hot rod show. at the time I was at a community college taking art classes and general ed, not really knowing where it was going. But the thought of having a career that forged my passion for art & design with cars was irresistible. I then researched schools, in particular the one where chip had gone to school, and got into the art center college of design in pasadena, in their transportation design program.
DB: who / what has been the biggest influence on your work to date?
MC: my biggest influence was working on hot rod automobiles with my dad. the emotional surfaces on the NSX, that imply movement and command attention, for example, come from my background as an american woman who grew up with hot rods.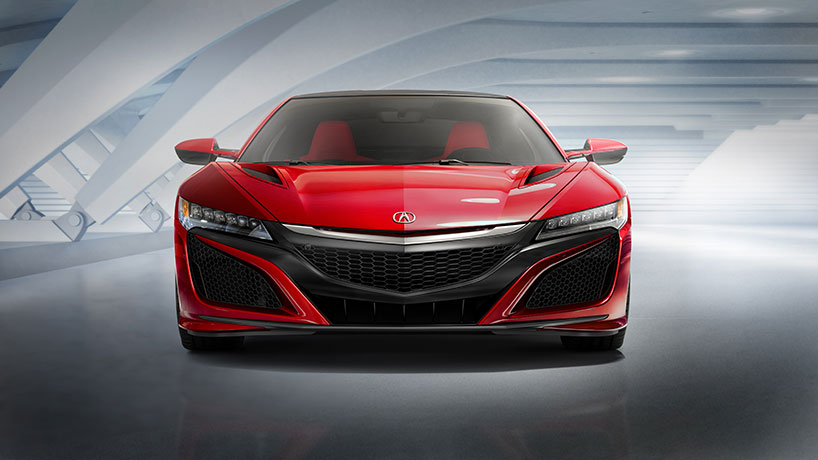 the second-generation NSX debuted at the north american international auto show in 2015
DB: what was your first car and what was your dream car when you were growing up?
MC: my first car was a 1989 ford escort! it was a fun little guy to whip around. I love that my parents taught me to drive with a manual. I think it's one of the reasons I love driving…you feel so much more in control and connected with the car. my dream car growing up is still my dream car today, the 1967 chevrolet chevelle (SS396). it's the perfect muscle car. it's beautiful and sounds like a beast! I've wanted that car since I was 12 years old… someday I will have one. right now I drive my honda pilot to work – it is seriously one of the most comfortable rides. however, sometimes I steal my husband's porsche cayman S… now that car is a ton of fun to whip around.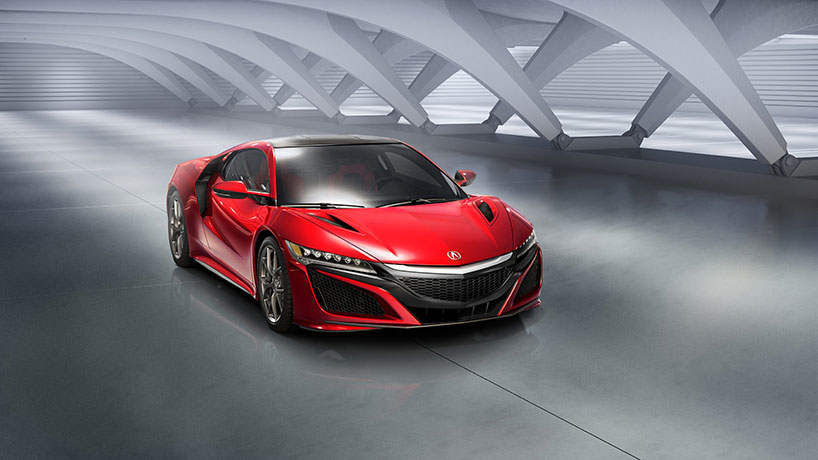 the supercar was unveiled 25 years after the original was first released
DB: in your personal opinion, what would you say is your strongest skill and how have you honed that skill over the years?
MC: its not a skill but I think my biggest strength has become my patience. I think this is an important trait for designers. daily, designers are faced with the roller coaster of praise and rejection, putting all your hard work on the wall for people to rip apart, putting your products out into the world for people to love or hate. patience has helped me navigate the roller coaster and not get too bogged down by the lows or get a big head about the highs, and it helps keep me focused on the bigger picture of our projects.
for the NSX, all the years surrounded by top fuel dragsters and big block chevy's definitely made for a natural transition into the project. I try to inject a combination of sensuality and aggressiveness into each car I get to work on. working on the NSX, the design had to enhance the function of the car. that forced me to grow as a designer.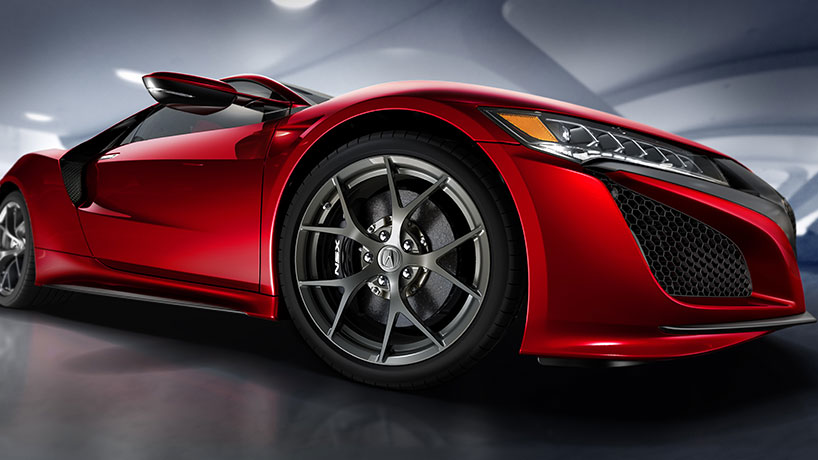 a close-up of the car
DB: what were the toughest stages when designing the second-generation NSX?
MC: the main challenge was keeping the already established exterior styling direction after a complete change in powertrain. the team decided half way through development that a transverse, normally-aspirated V6 would simply not deliver the new sports experience that we wanted our customers to have. instead, we changed it to a longitudinally mounted twin turbo V6, meaning we needed to drastically increase the number of air intakes / outlets. this meant our biggest focus was to maintain the styling while helping the total air management of the NSX…this ensured that the function was truly supported by the form.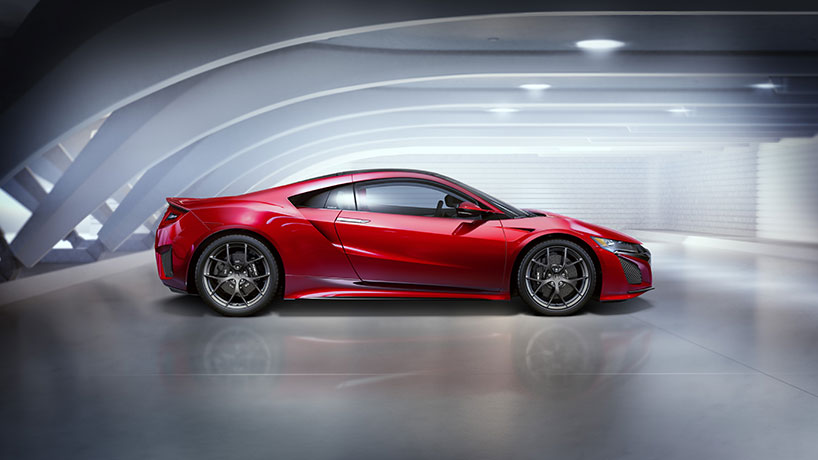 side view
DB: what were the key aspects that you wanted to translate from the old model to the new?
MC: being the icon that the original NSX is, we definitely had a big challenge when ensuring that the new one lives up to the name. other than the signature black roof and wide rear tail lights that are an intentional nod to the first acura supercar, we have a new esthetic to reflect a new era. however, the process we used to design and develop the new NSX was directly inspired by that of the original. this was because we wanted to keep the purity and function-inspired form, and deliver a truly unique and exhilarating driving experience.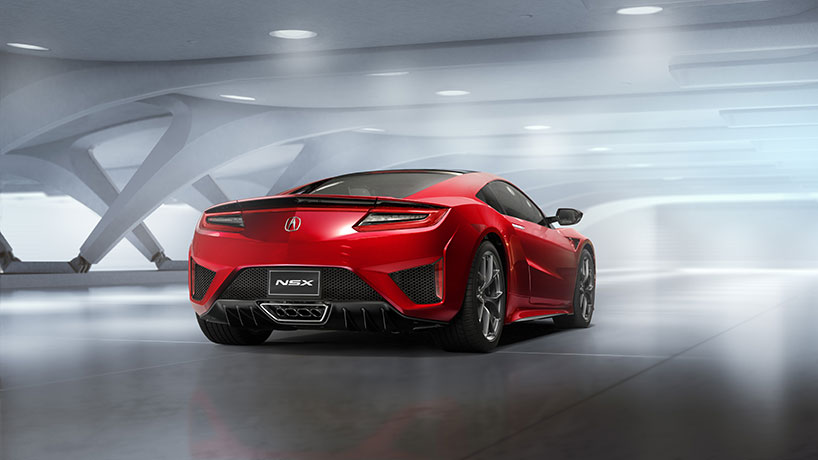 DB: if acura were to develop a third-generation, what would be some key features and technologies that you would expect it to have?
MC: as we're on a mission to take acura back to its performance roots, we would apply our most advanced technology but you can also expect it to have the same soul…human centered and very much about the joy of driving!
DB: what should our readers look out for from acura at the upcoming new york auto show?
MC: new york is an amazing show – full of energy in a city that never sleeps. look out for the NSX at the acura booth as well as the ILX endurance racer. of course there are a lot of other exciting models to see all over the show.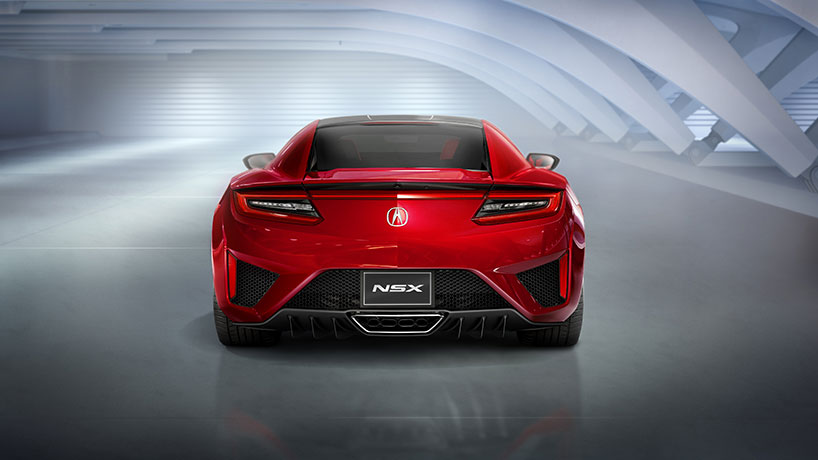 DB: as some of the most manufactured products in the world, how do you try and create a personality into your car designs?
MC: one of the best parts about working on the NSX is knowing that the design cues, technology, and functional details will all inevitably trickle down to the acura line-up. the process with which we developed the NSX has had a lasting impact on our team and the way we develop cars.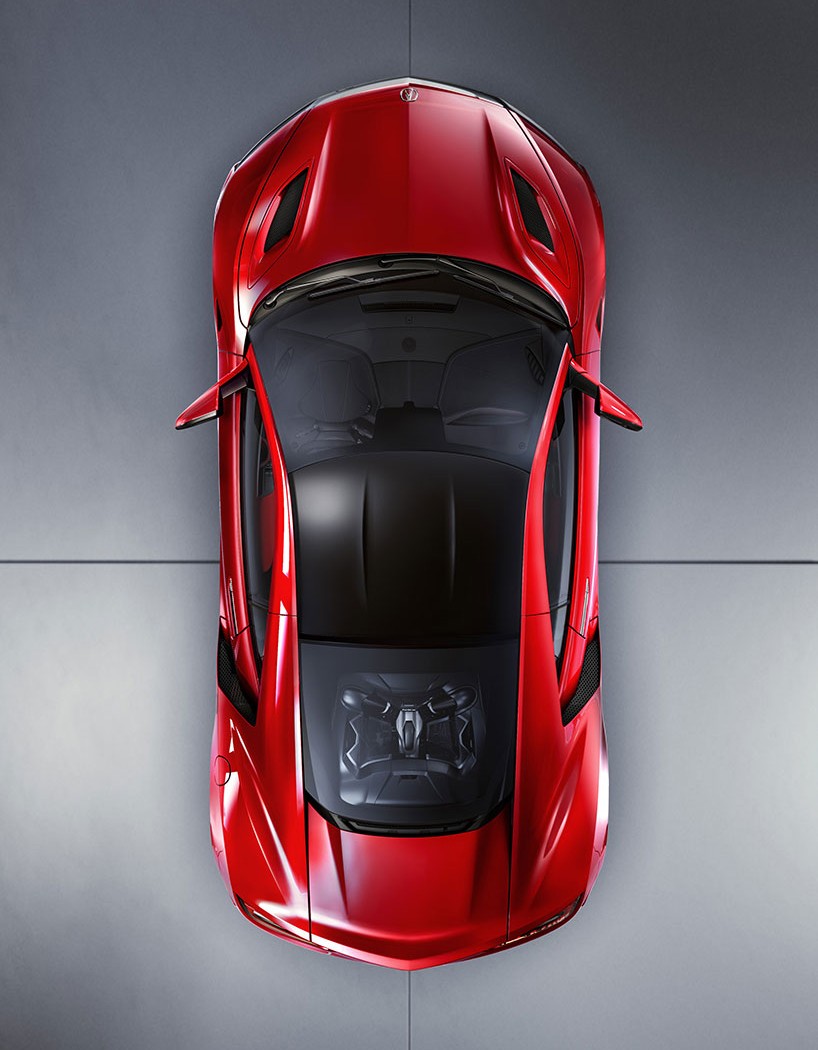 top view of the supercar
DB: what are you passionate about besides your work?
MC: I love being physical and being outdoors. I do crossfit almost every day and love taking advantage of california weather to hike up into the mountains. I've recently learned how to snowboard so my husband and I take quite a few trips to mammoth mountain! as well, spending time in nature offers endless design inspiration…
DB: what's your personal motto?
MC: this question has made me question what that is!

video courtesy of acura
acura
(7 articles)
aug 15, 2019
aug 15, 2019
jun 22, 2016
jun 22, 2016
jan 13, 2016
jan 13, 2016
may 12, 2015
may 12, 2015
jan 13, 2015
jan 13, 2015
jan 16, 2013
jan 16, 2013
may 12, 2015
may 12, 2015
apr 02, 2015
apr 02, 2015
apr 01, 2015
apr 01, 2015
a diverse digital database that acts as a valuable guide in gaining insight and information about a product directly from the manufacturer, and serves as a rich reference point in developing a project or scheme.