mar 22, 2016
microlino electric vehicle concept rejuvenates BMW's isetta from 1956
microlino electric vehicle concept rejuvenates BMW's isetta from 1956
image courtesy of microlino
wim ouboter, a swiss urban transportation entrepreneur, wants to change personal mobility with a small electric vehicle concept under the name 'microlino'. the proof of concept was based on an electrified BMW 'isetta' from 1956. with conventional cars in the city only being occupied by only two people on average, the team behind the vehicle wanted to develop a functional light car that is reduced to the max. 

the concept comfortable seats two passengers 
image courtesy of microlino
micro-vehicles are still a niche, but with car sharing and car pooling becoming popular in congested cities, the concept would be affordable for everyone, whether it's for renting or for buying. being only 2.4 meters in length, two 'microlinos' can be parked in a single conventional parking space. outfitted with an electric drive system and weighing less than 400 kilograms, driving around town in the car maybe become economical enough to stay within city limits. the concept made an appearance at the 2016 geneva motor show. 

it includes a foldable canvas sunroof 
image courtesy of microlino

 the BMW 'isetta' side-by-side with the mircolino 
image courtesy of microlino

the concept is outfitted with an electric drive system 
image courtesy of microlino

the rear view 
image courtesy of microlino

a constructed prototype built in china 
image courtesy of microlino

the microlino at the 2016 geneva motor show
image © designboom

the interior view of the concept 
image courtesy of microlino

founder wim ouboter next to the microlino 
image courtesy of microlino
aug 18, 2017
aug 18, 2017
aug 17, 2017
aug 17, 2017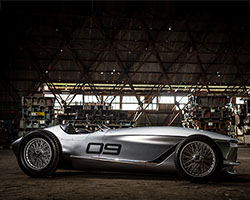 aug 14, 2017
aug 14, 2017
aug 10, 2017
aug 10, 2017
aug 09, 2017
aug 09, 2017
jul 28, 2017
jul 28, 2017
mar 15, 2016
mar 15, 2016
mar 13, 2016
mar 13, 2016
mar 10, 2016
mar 10, 2016