at IAA 2017 in frankfurt, MINI presents a double world premier of concept cars which showcase the british brand's broad diversity, as well as customisation. the 'electric concept' references the MINI 'E' from 2008, embodying a whole new vision for EV emission-free and go-kart characteristic driving. whilst building upon its heritage, the electrified vehicle explores new opportunities for design and enhances many advanced technologies, such as 3D printing and car-sharing. on the other end of the portfolio, the 'john cooper works GP' concept presents a modern racing essence of the automaker, where its dynamic flair and driving fun is at the forefront. it follows the iconic silhouette's of the company, most notably of its side, but builds upon the form with contrasting smooth yet crisp air intakes.
at the unveiling of these two forward-thinking concepts, designboom was a global first when interviewing the newly appointed head of MINI design, oliver heilmer. the chief designer gave further insight into their latest work, how new technologies are influencing them, and why the brand strives to continually surprise consumers with cool, modern and characteristic designs.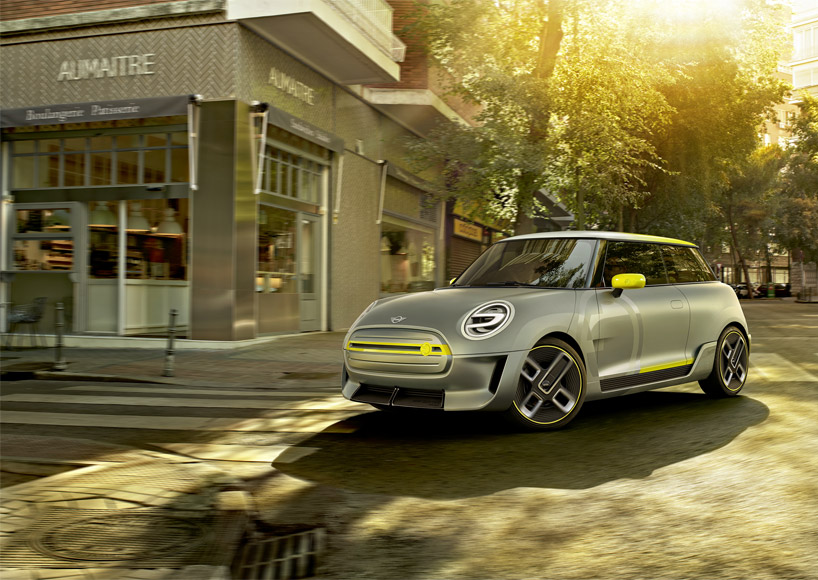 with an electric engine, its hexagonal front grille is closed in order to enhance the car's aerodynamic properties
all images courtesy of the BMW group
designboom (DB): as the new head of MINI design, what are some of the key directions and approaches that you personally want to focus on when developing MINI's portfolio of vehicles?
oliver heilmer (OH): to start with, I believe that in general we are talking about a brand that has a strong heritage. that is something that I don't want to lose. however, on the other hand, I believe in the further development of new technologies and its influences to create the future. my goal is to keep the brand as cool as it is, whilst developing it further into the direction of modernity. this might be a stretch but is something that I would like to achieve.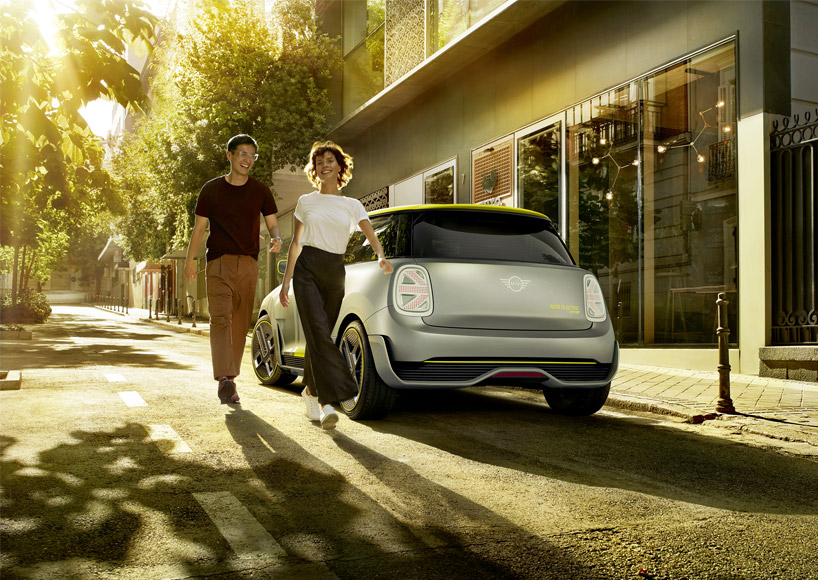 the taillights showcase the brand's british heritage
DB: referencing the MINI 'electric concept' here at IAA, in what ways does it still reference MINI's heritage whilst appearing as a beacon for the future?
OH: from a conceptual perspective, it is still a three- door hatch and is compact. if you look closely at some details and surfaces, you will see that there has been a reduction in itself. this includes the front hexagon grille, which is totally changed in its internals and shape, the different tail lights, and the color and trim options, which we could consider to develop further with this project. our concept vehicles always showcase something achievable and possible, but it does not mean that this will necessarily happen exactly as we have presented. this is the same for both the electric concept, as well as the 'john cooper works GP'. with them both, we are basically showing the bookends of what the MINI brand can embrace.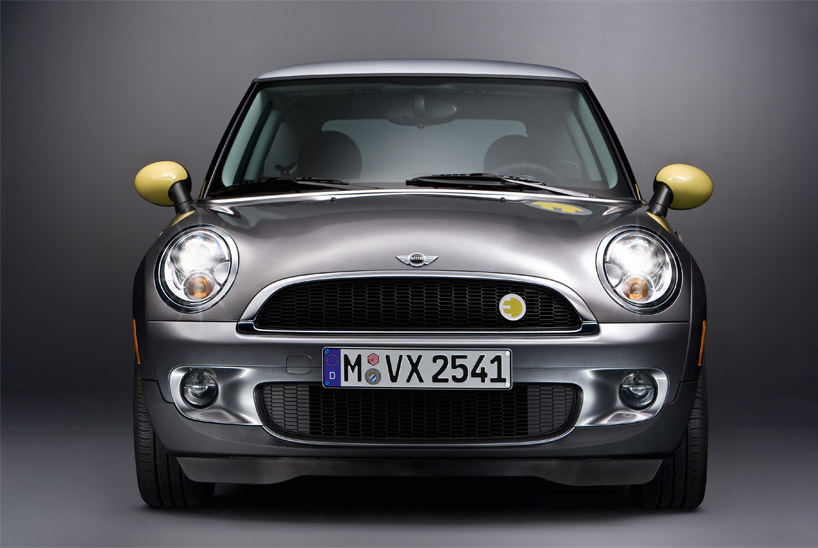 the MINI 'E' was presented in 2008
DB: in terms of electric drive, how has technology in this field advanced since the 'E' and are consumers much more ready to embrace electric mobility now than nine years ago?
OH: I think that consumers have changed and are much more ready for it now. we are going to get used to electrified vehicles becoming the norm. I think that electrification is much further ahead now than 10 years ago – it certainly feels like that to me. most of our customers would like to have this experience of electrified driving because it is fun and is sporty, so matches perfectly to the MINI brand. I am really convinced that this concept and production car will suit us perfectly.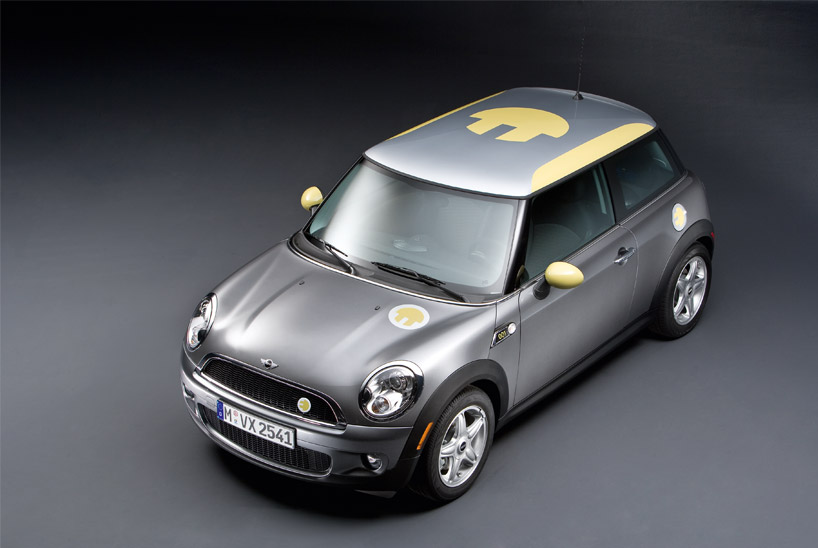 the colors and graphics have influenced MINI's 'electric concept'
DB: what new technologies will MINI look to further incorporate in the future?
OH: what we presented last year, the MINI 'VISION NEXT 100', we communicated autonomous driving, car-sharing much more and additional new technologies such as electric drive. it enabled us with nice opportunities to change space, roominess, passenger experience etc. we were able to have the front windscreen to go right down to the wheel and the floor. the enabler of this was two technologies – automated driving and battery power – and these are features I would like to take into the future of MINI. without knowing in advance which types of technologies will enable us, we need to take opportunities and make the best of it. there are a lot of things on going but we will see which of these technologies are ready for our next concepts. MINI's core product though, the three-door, has an iconic shape and that is something that we might be able to enhance further thanks to new technologies.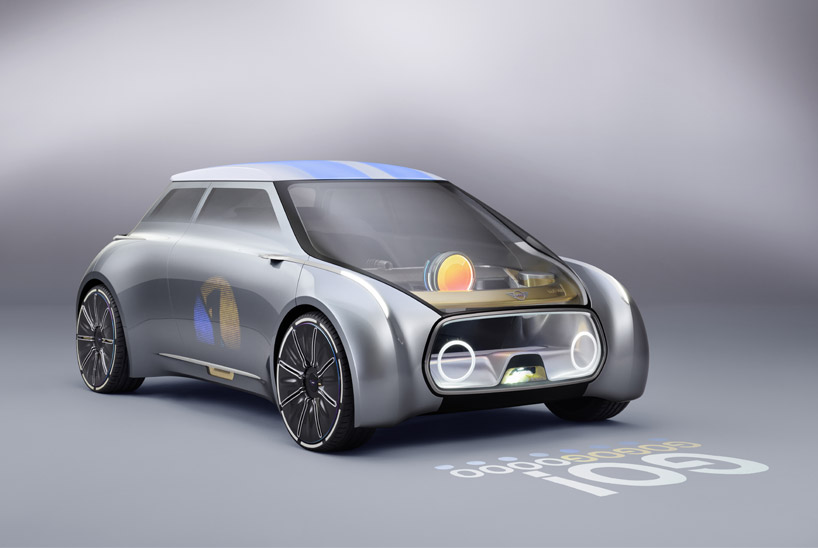 debuting in 2016, the MINI 'VISION NEXT 100' concept enhances autonomous and car-sharing technology
DB: with BMW's growing car-sharing service, drive now, will MINI electric further car-sharing as well?
OH: yes, absolutely, but not only battery electric vehicles necessarily. we can do this with every machine. at the end, the engine is the technology to get from A to B, but the additional technology is the enabler.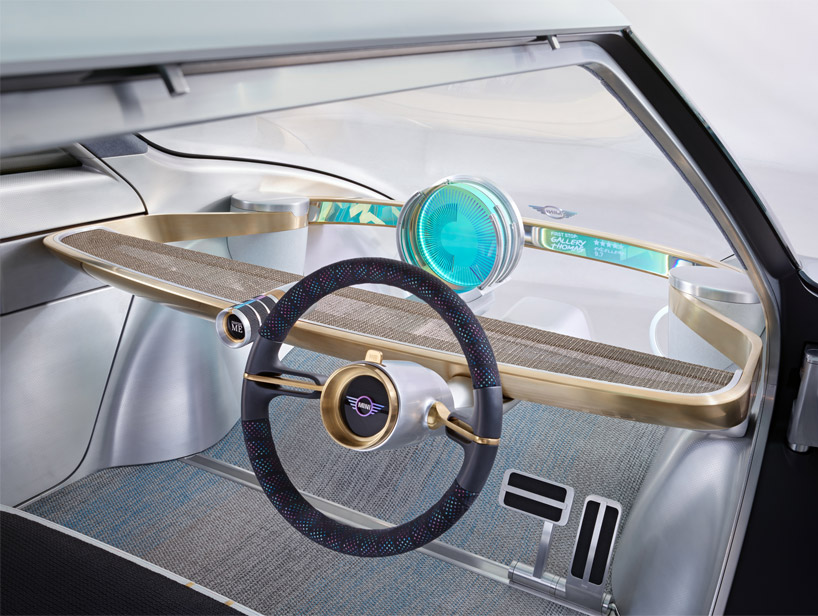 with electric batteries and self-driving technology, the windscreen can extend to the car's floor
DB: an important feature of the 'electric concept' is its 19-inch wheels, which even enhances a 3D printing production process. how will the continuous advancements of 3D printing influence MINI's design in the future?
OH: that is something that we are considering for the future, even for full production. we are always talking about individualisation, which basically plays an important role within MINI. a customer in the future could be able to choose his or her's center console and personalise it to their needs and taste.
the technology of 3D printing has changed a lot already. it is getting faster, more precise, more durable and more colors can be used. it is just the beginning of the technology and we are already seeing so many possibilities. it is not all about the big picture per say, it is the little personal parts and details that are interesting for our customers.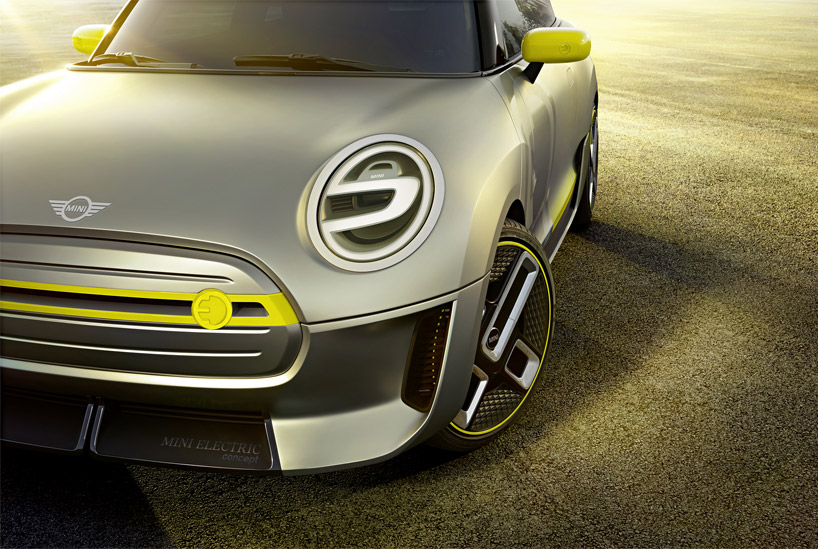 the 19-inch wheels have been produced using 3D printing processes
DB: looking towards the production model of the electric concept, will color options and graphics be the same?
OH: the concept uses a yellow as the iconic color for electrified vehicles, but its matte gloss is an idea that we are not sure will be continued for production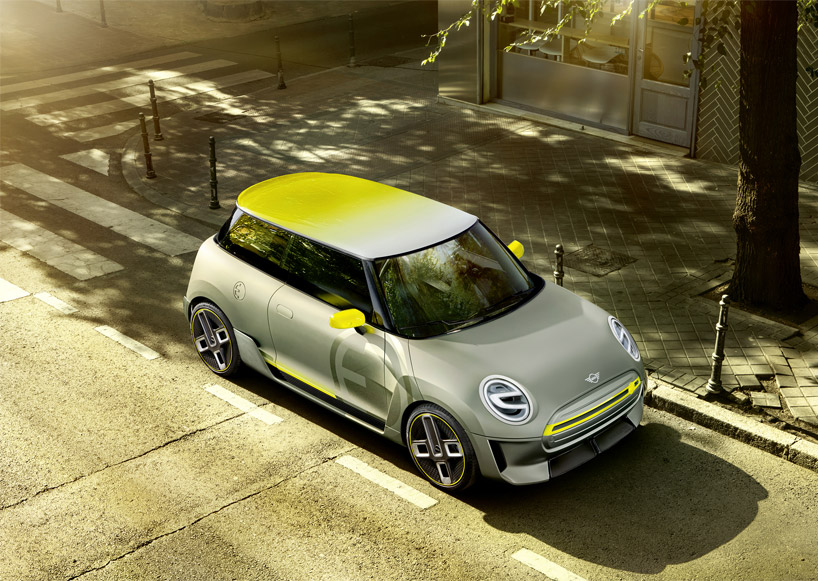 the matte gray and electric yellow references the MINI 'E'
DB: on the other end of the portfolio, MINI have also presented the 'john cooper works GP' concept at IAA 2017. what was the aim for this concept car?
OH: for us, this project was very important. we wanted to show the bookends of MINI and this is much more dynamic than what we have had in the past. this is still MINI and is totally valid to show as it enhances this go-kart feeling. it focuses on the pure essence of driving which references our heritage.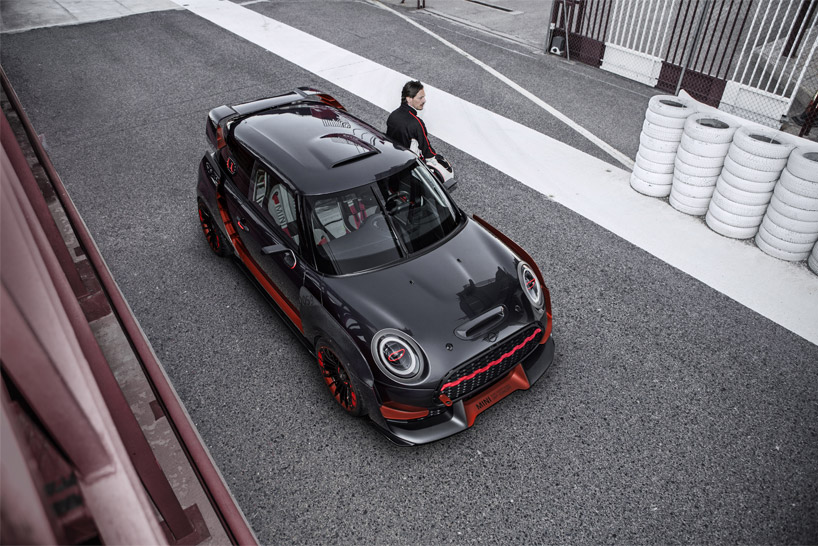 large air intakes and precisely molded air deflectors dominate the front end of the 'john cooper works GP'
DB: the additional racing body work feel as if its built upon a regular MINI. however, when looking closely these details are subtly connected with the car's main body. is that the core to making an even more sporty MINI?
OH: it strikes a very nice balance. its track is much wider as well and so appeals like a perfectly formed MINI. the details are almost floating but they are very smoothly worked into the bumpers. overall, it is like how the BMW has the 'M series' for racing and then the electrified 'i' brand for electric. with MINI, it is the same as what we have presented two concepts at the IAA.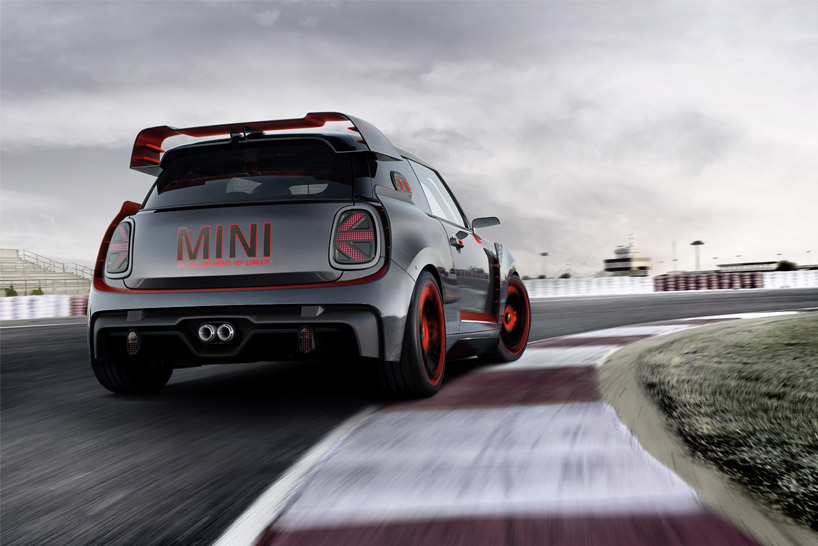 the prominent roof spoiler slots cleanly into the geometry of the car's side elements
DB: now becoming the new head of MINI design, what kind of concepts will we see from MINI in the future? right now, we are witnessing BMW's most aggressive product launch ever so will MINI follow the same pattern?
OH: I believe that we should be open to new concepts in the future and not lose the core of the three-door hatch. MINI started as just one car and now we have a whole family. 15 years ago, if you would have mentioned an SUV at MINI then people would have thought you were crazy, and that spirit is what I would want to keep.
we have a lot of consumers who grew with the brand, and that is why we have the 'clubman' and 'countryman' because they needed more space. there are other customers who don't even have licenses yet (14 to 16 years old). they have different manners of living and different expectations in terms of interactions in the car, so this is going to change our cars dramatically. what if you don't own a car any more and you just share it? we started this quite successfully with the drive now service but that was with cars that are made to be owned or leased. if you are making cars that are meant to be shared then there are loads of new opportunities to explore.
we don't know where we will end up, and it is a fantastic place to be. I am starting as head of design at the right point because we are starting with the new generation right now. the 'countryman' was the last one of the current generation – it is complete – and now we are starting with the next group.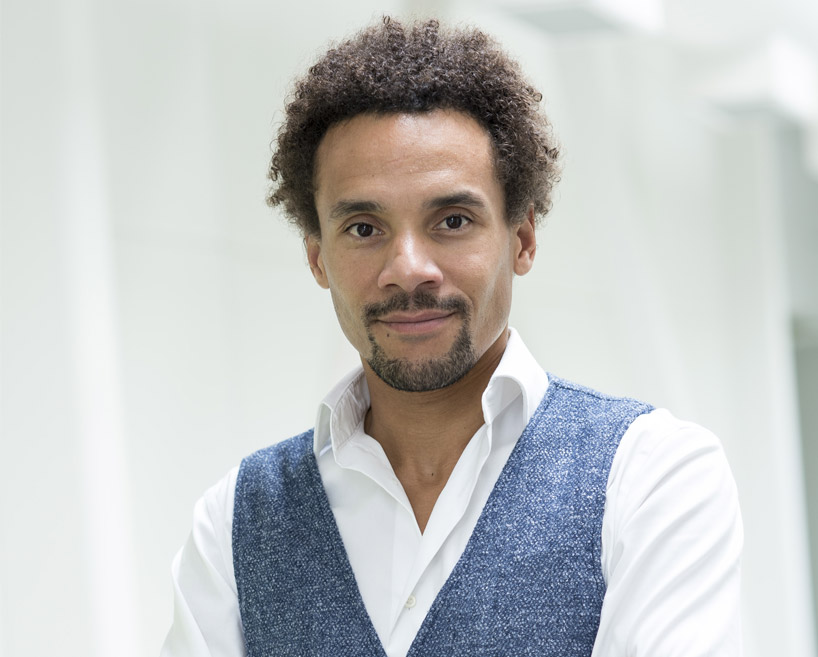 oliver heilmer, head of MINI design
Save
a diverse digital database that acts as a valuable guide in gaining insight and information about a product directly from the manufacturer, and serves as a rich reference point in developing a project or scheme.
designboom will always be there for you
milan, new york, beijing, tokyo

,
since 1999