MINI believes the future hinges on car-sharing with vision next 100 concept
celebrating BMW group's 100 year anniversary, MINI has unveiled their answer to the future of mobility covering several key questions on urban mobility over the years ahead with MINI 'vision next 100' concept. on show at the roundhouse, london, from june 16th to 26th, designboom were present for official launch of the concept car.

the future of mini with 'vision next 100' concept
the core philosophy behind the car concept is the thoughtful use of the planet's resources in providing personal mobility. following the motto 'every MINI is my MINI', the company is following the very popular trend of car-sharing. in the future, users of the brand will be able to call on a MINI tailored to their personal requirements where they are, day or night. the MINI of the future will be available 24/7, able to pick its driver up from their desired location in a fully automated way and will adapt itself to the driver's individual tastes, interests and preferences. at the heart of this concept is fully connected digital intelligence. 

the side view with all-silver paint theme
MINI 'vision next 100' is wrapped in silver skin as a completely blank canvas used for various purposes according to the individual user, their mood and the situations they encounter. even the color of the roof and the lighting mood in the interior respond in kind. it uses projects adapted to the driver in terms of color, graphics and content to create a personalized experience and customized package of on-board information. 

the whole body adapts the driver's specific preferences
in addition to modern technology, all the materials are made from recycled plastic and aluminum in the floor area, roof lining and side panel trim. the wraparound carrier and information strip, with its mount for sliding steering wheel and 'cooperizer' with its thin brass structure are good examples here. 

projection technology communicates to pedestrians nearby
autonomous driving plays an important role in the MINI 'vision next 100', allowing it to travel occupant-free to a charing station, cleaning service, parking space or the next user. to switch from driving themselves to autonomous driving, the user simply moves the steering wheel in the central area between themselves and the front passenger. the design team with anders warming at the helm, have made the future MINI widely and instantly adaptable, making the driver feel it is their car, tailored precisely to their own taste and available whenever and wherever they need it. be sure to check out BMW's 'vision next 100' concept here to compare. 

MINI 'vision next 100' doors open to allow for easy access inside 

the front dashboard 

copper dash simplifies the needs for the driver 

in autonomous mode, the steering wheel slides to the middle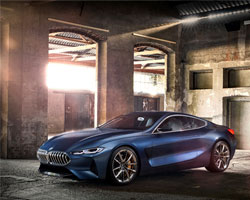 may 29, 2017
may 29, 2017
may 26, 2017
may 26, 2017
may 18, 2017
may 18, 2017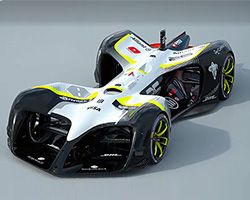 feb 28, 2017
feb 28, 2017
feb 24, 2017
feb 24, 2017
jan 10, 2017
jan 10, 2017
jul 13, 2017
jul 13, 2017
jul 05, 2017
jul 05, 2017
jul 04, 2017
jul 04, 2017
MINI
(40 articles)
jun 13, 2017
jun 13, 2017
may 02, 2017
may 02, 2017
apr 04, 2017
apr 04, 2017