the aguahoja pavilion — this tall, honey-skinned cocoon structure — is composed of the most abundant biopolymers on the planet. molecules found in insect exoskeletons, tree branches and yes, even components found in our own bones were printed by a robot, shaped by water and formed into this organic tower by MIT media lab's mediated matter group — a team of researchers led by neri oxman.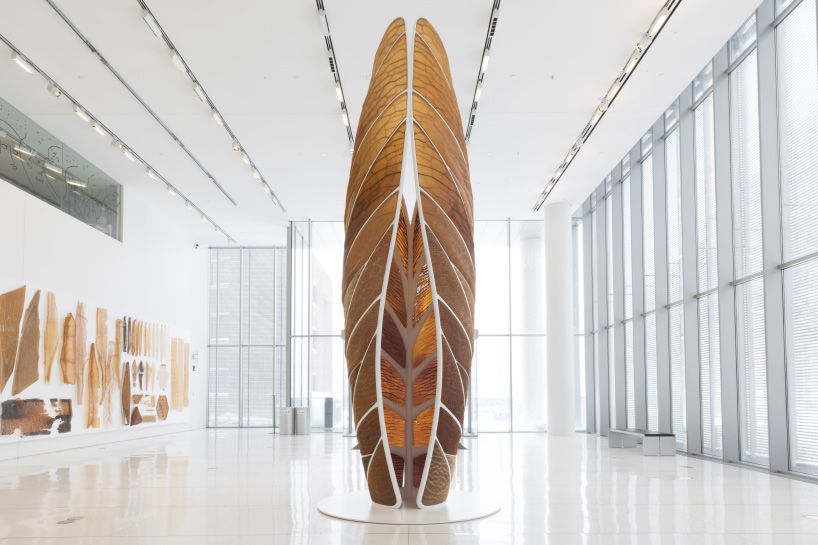 all images courtesy of the mediated matter group
it looks sort of insecty, sort of leafy, orange, yellow and brown, with milky white bones hugging it all together for now… but heat, humidity, light and time will of course run their course on these water-based materials. programmable or not, fabricated-digitally and printed robotically or not — from dust to dust and from water to water, these organisms will serve their purpose then vanish to create something else — unlike the 300 million tons of plastic produced globally each year. only about 10% of that will vanish.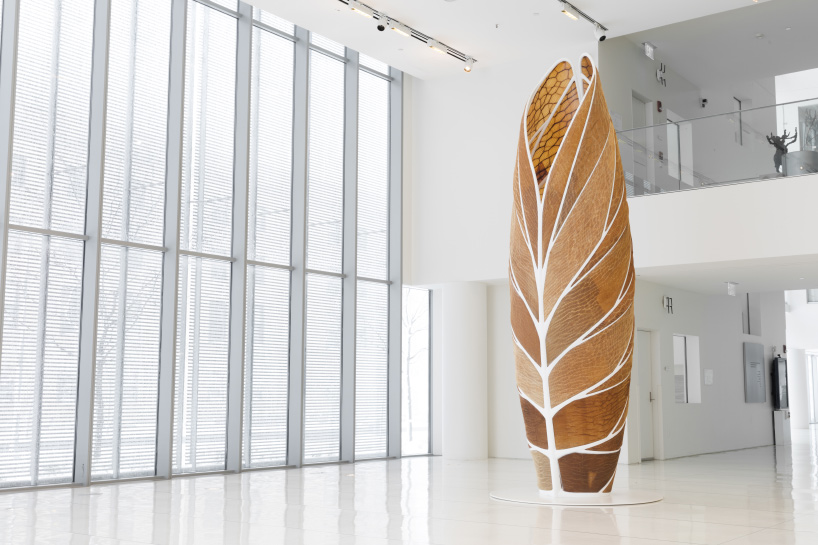 aguahoja was created by researchers at the MIT media lab's mediated matter group, led by neri oxman. within this project: a pavilion and a wall of artifacts. what you've seen thus far, the tall leaf-like cocoon, is the aguahoja pavilion, which replicates nature in its appearance and, more impressively, its life-cycle. '[aguahoja's] environmentally responsive biocomposite artifacts are composed of the most abundant materials on our planet – cellulose, chitosan, and pectin. these components are parametrically compounded, functionally graded, and digitally fabricated to create biodegradable composites with functional, mechanical, and optical gradients across length scales ranging from millimeters to meters. in life, these materials modulate their properties in response to heat and humidity; in death, they dissociate in water to fuel new life.'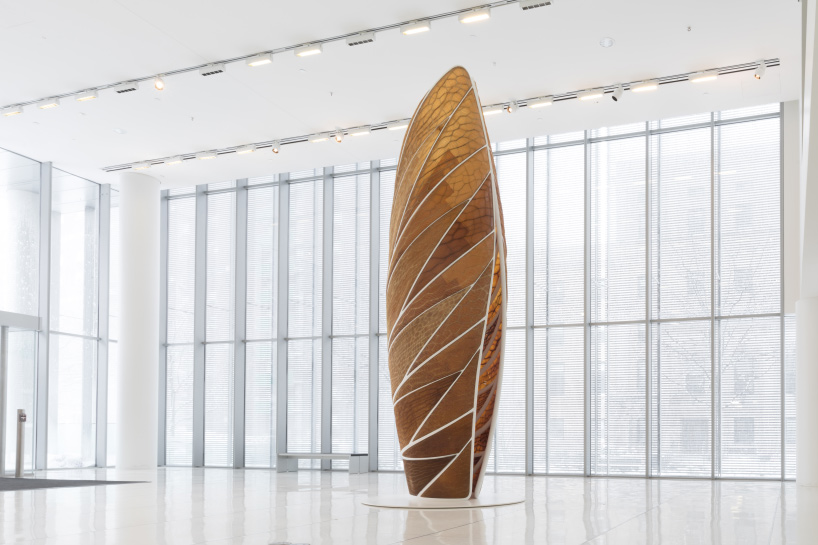 'in old growth forests and coral reefs, waste is virtually non-existent,' says the mediated matter group. 'within this framework, matter produced by one member of an ecosystem, living or nonliving, inevitably fuels the lifecycle of another. the result is a system fueled by water with unparalleled efficiency in the use of energy and resources. this cycle of birth, adaptation, and decay allows ecosystems to use materials in perpetuity'. the environments we build are rarely as natural or as efficient as coral reefs. instead, we extract materials from earth faster than they can grow. we build things that outlive their functions, then throw them under a rug of land or dump them in the water as we turn the other way to begin looking for more materials to prematurely extract and use for a short while.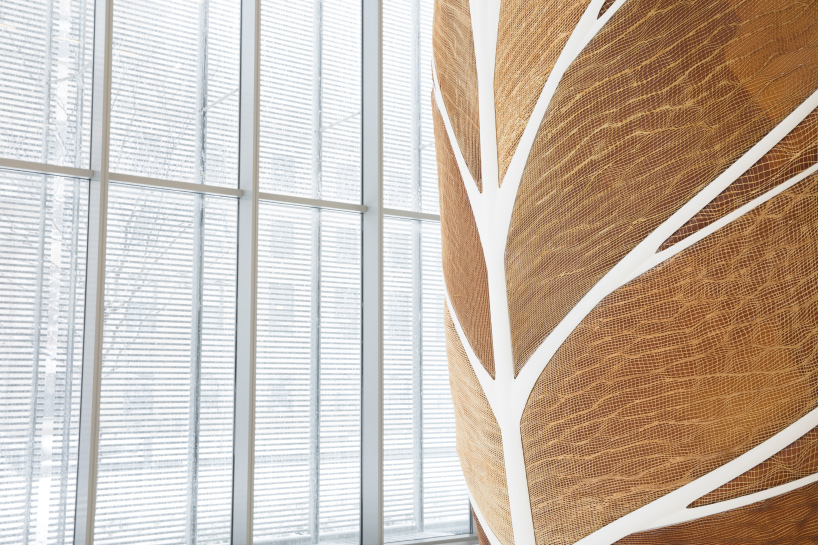 adjacent to the pavilion, environmentally responsive biocomposites line the wall in a crescendo of color: 'the aguahoja artifacts.' glossy, dense, soft, brittle, strong and tough as leather — each material responds very differently to environmental factors, but all of them respond nonetheless. some get cold and hot easily. others darken and lighten as the seasons change. humidity is a catalyst for all of them in life, and in death they all dissociate in water and return to the ecosystem. chitin, for example, may go on to compose the exoskeletons of crustaceans, or the cell walls of fungi.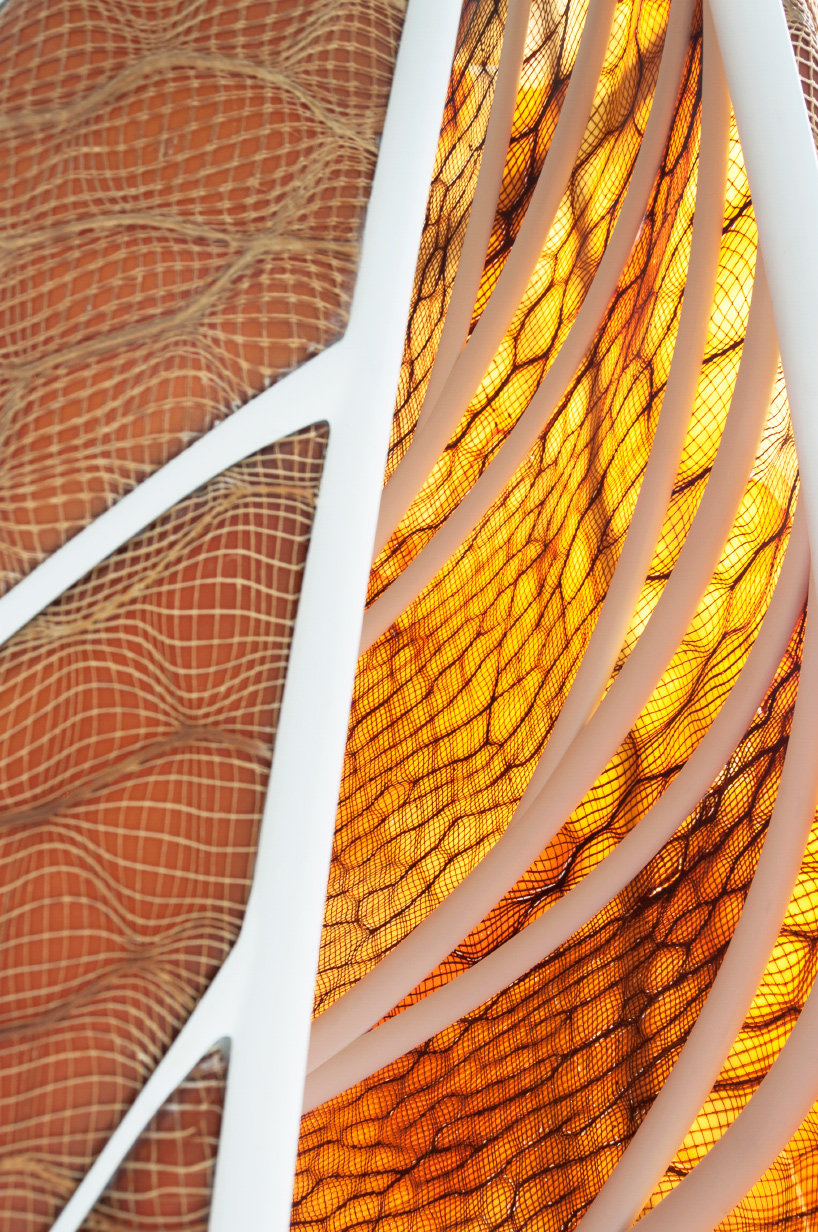 stories are organic, too. please like and share this one to keep the cycle of learning flowing. comment your own applications, your critiques or praise for aguahoja, the pavilion and its artifacts. for project info, researchers, creators and producers, see the full project info at the bottom of this page, but do not forget the truest heroes of this story: perhaps the most abundant and the most unappreciated heroes on our planet — cellulose, chitosan, and pectin.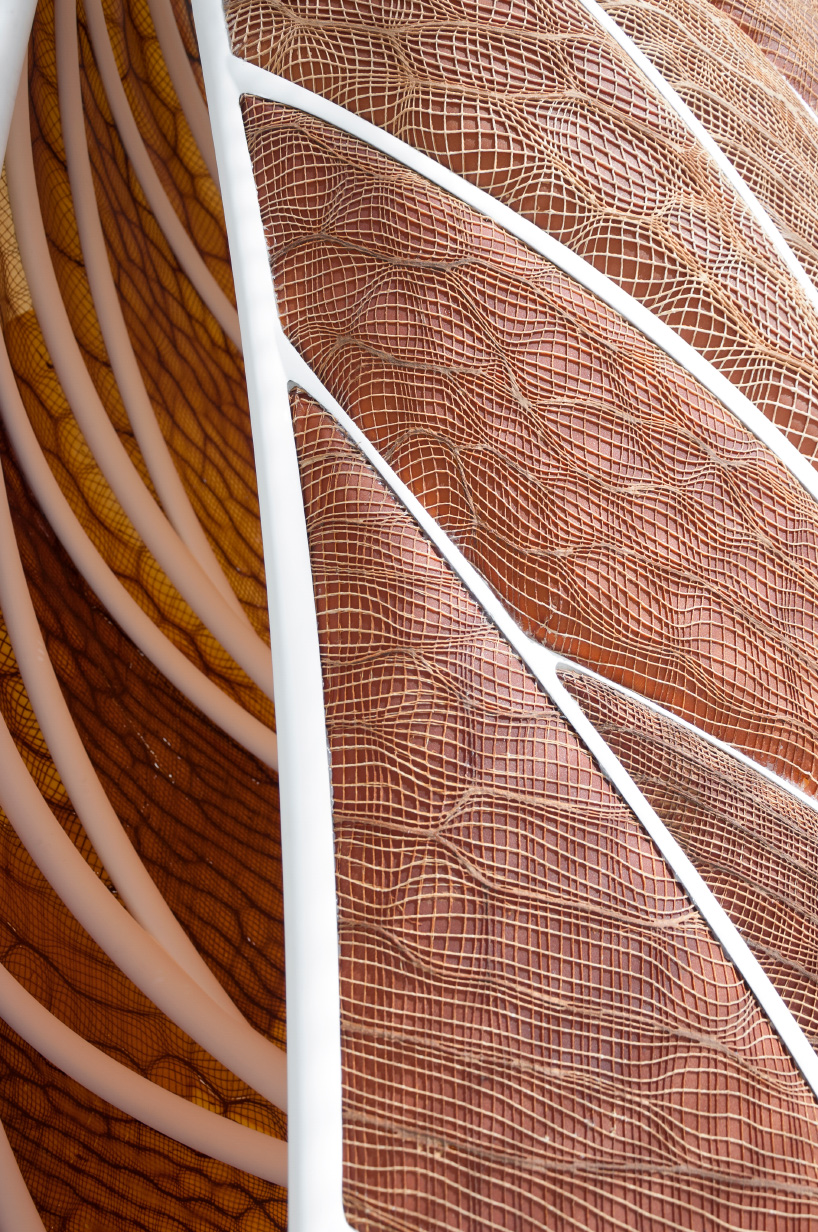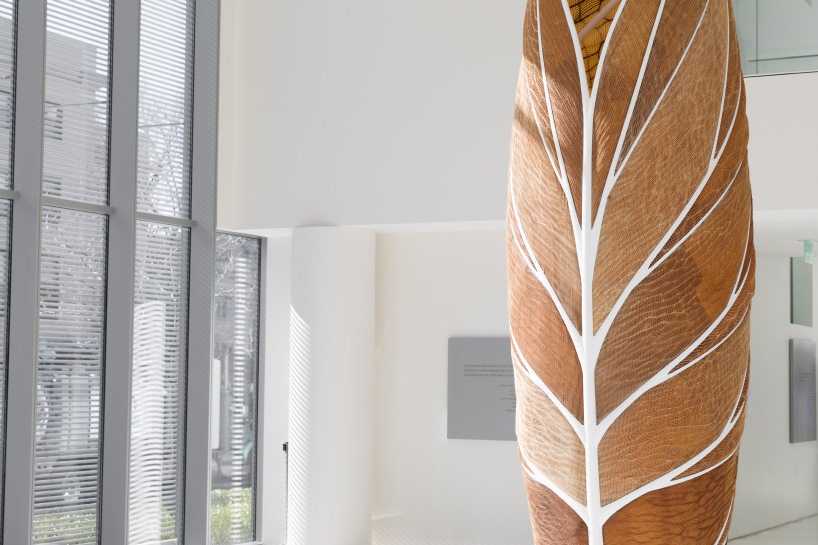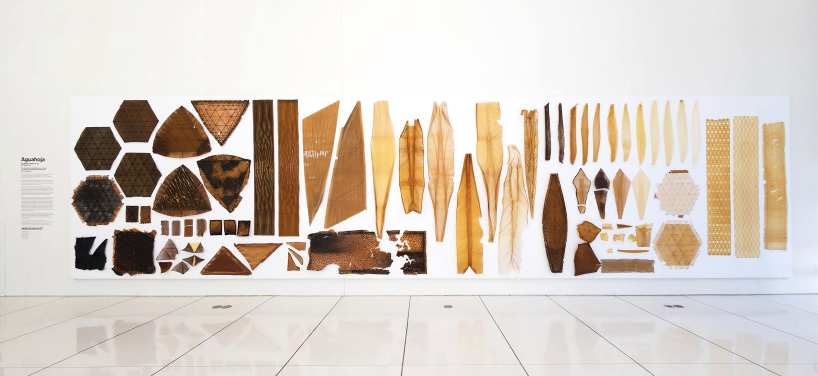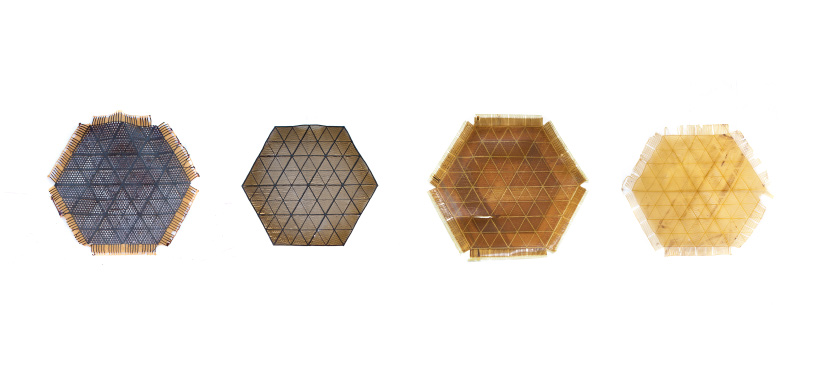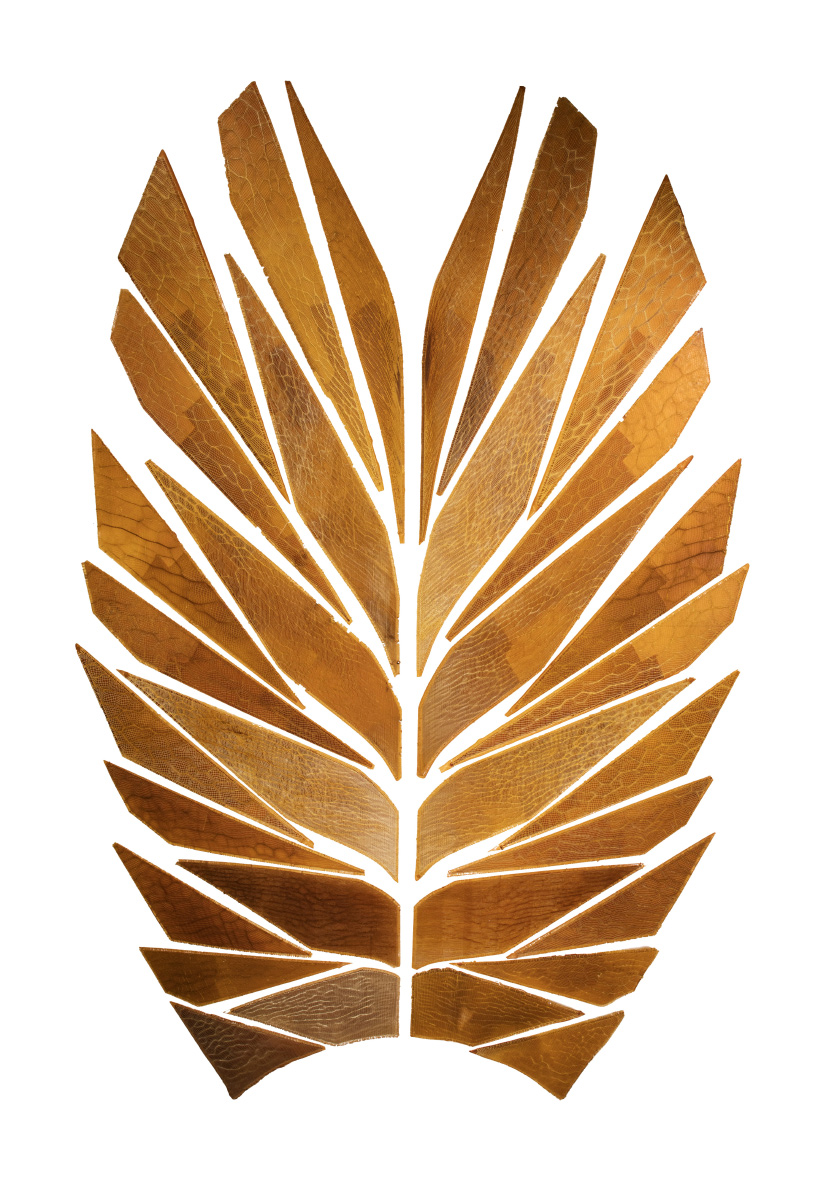 project info:
the mediated matter group
jorge duro-royo, joshua van zak, yen-ju (tim) tai, andrea ling, nic hogan, barrak darweesh, laia mogas-soldevilla, daniel lizardo, christoph bader, joão costa, sunanda sharma, james weaver, prof. neri oxman.
research collaborators
joseph faraguna, matthew bradford, loewen cavill, emily ryeom, aury hay, yi gong, brian huang, tzu-chieh tang, shaymus hudson, prof. pam silver, prof. tim lu
substructure production
stratasys, ltd., stratasys direct manufacturing
music composition
jeremy flower
video production
the mediated matter group, paula aguilera, jonathan williams
acknowledgements
mit media lab, noe. llc., stratasys ltd., mit research laboratory of electronics, wyss institute at harvard, department of systems biology at harvard, gettylab, robert wood johnson foundation, autodesk build space, tba-21 academy, thyssen-bornemisza art contemporary, stratasys direct manufacturing, national academy of sciences, san francisco museum of modern art, esquel group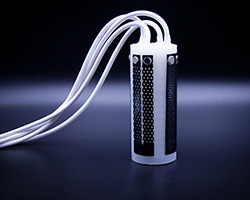 feb 14, 2020
feb 14, 2020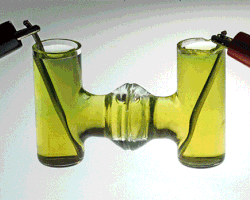 oct 04, 2019
oct 04, 2019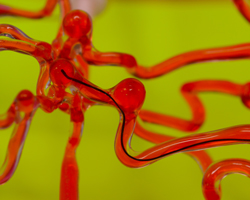 sep 03, 2019
sep 03, 2019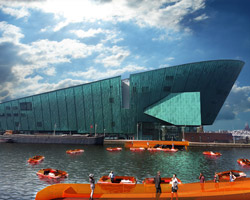 aug 08, 2019
aug 08, 2019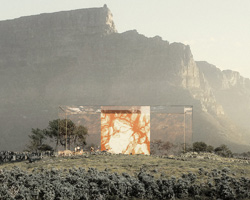 apr 15, 2019
apr 15, 2019
dec 17, 2018
dec 17, 2018
feb 24, 2020
feb 24, 2020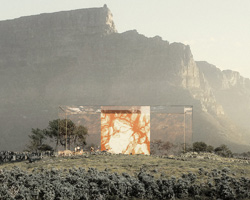 apr 15, 2019
apr 15, 2019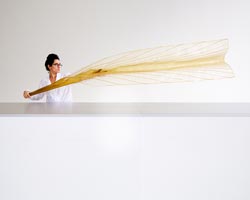 may 14, 2018
may 14, 2018
a diverse digital database that acts as a valuable guide in gaining insight and information about a product directly from the manufacturer, and serves as a rich reference point in developing a project or scheme.