we currently live in a world where flying cars are no longer part of science fiction, where uber wants to test flying taxis in a few years and volvo's parent company geely just acquired terrafugia. we have also seen the lilium electric aircraft take its maiden flight in germany and dubai has announced that during this summer the chinese model 'ehang 184' will be carrying people around the city. but before all these flying cars, there was the moller M400 skycar—the world's first VTOL (vertical-take-off-and-landing)—and it's now for auction on eBay.
paul moller's speech on flying cars at the palo alto research center (PARC)
developed for over many years and first flown in 2001 at the company's shareholder meeting, the moller M400 skycar is a true collector's (museum or private) piece. over the last 30 years, moller international has spent more than $150 million developing the engine and airframe technology to make the prototype possible. the feasible, affordable and personal VTOL has eight rotary engines that provide a total of 720 horsepower to the propulsion fans. running on gasoline, ethanol or methanol, the M400 skycar has flown numerous times even though it has never been FAA approved.

the auction starts at US$1 million or you can just buy it for US$5 million
taking place on eBay, the bid starts at US$1.000.000 or you can get it for US$5.000.000. the company states that the prototype M400 skycar was never damaged and that it will be delivered in the same condition as when it was originally flown. the vehicle can be the centerpiece of any car or aircraft collection in a public or private museum. 'upon successful competition of this auction, moller international will immediately transfer title to its new owner', says the company. 'a bidder that is first qualified by eBay is invited by moller international to inspect the M400 skycar during the auction.'
the M400 skycar runs on gasoline, ethanol or methanol

moller has spent more than $150 million developing the engine and airframe technology

the moller M400 skycar has flown numerous times even though it has never been FAA approved

eight rotary engines provide a total of 720 horsepower to the propulsion fans
video information:
edited by: designboom
credits: moller international, comex joe, SacBizJournal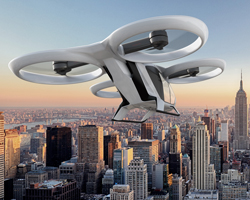 oct 06, 2017
oct 06, 2017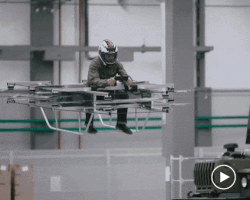 sep 27, 2017
sep 27, 2017
aug 14, 2017
aug 14, 2017
jul 06, 2017
jul 06, 2017
jun 18, 2017
jun 18, 2017
jun 18, 2017
jun 18, 2017