jan 23, 2015
multi-material 3D printed wearable synapse morphs to brain responses
multi-material 3D printed wearable synapse morphs to brain responses
images courtesy of behnaz farahi
the interactive project, 'synapse', created by behnaz farahi, is a multi-material 3D printed wearable helmet that changes form in response to brain activities. developed to not only explore the possibilities of 3D printing a shape-shifting second skin, it also analyzes the direct control of movement from our intellectual organ in order to use thoughts to govern the environment around us. as an extension of the body, the device enhances this intimate characteristic and blends it, in a blurred distinction, as a single entity with the surrounding space.

a close-up of the direct interface design
the soft and flexible structure of the 'synapse' was produced using autodesk's object connex500 multi-material 3D printing technology and then modified into a seamless blend, with the mindflex headset. within, it features a neurosky's eletroencephalography (EEG) chip that evaluates the motion-controlling EEG of the brain. this assesses cognitive loads and measures data such as attention, meditation, delta, theta and alpha values, and translates all this into actual movement.

it is a combination of the mindset helmet, neurosky's EEG chip and the 3D printed multi-material

the chip analyzes the collected data and translates this into movement

project video displaying the intimacy between the helmet, human and environment
video courtesy of nicolas cambier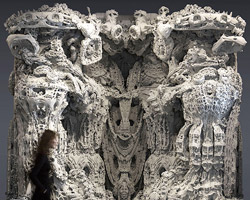 jul 14, 2017
jul 14, 2017
jul 14, 2017
jul 14, 2017
jul 13, 2017
jul 13, 2017
jul 21, 2017
jul 21, 2017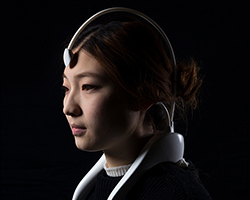 jul 03, 2017
jul 03, 2017
jun 12, 2017
jun 12, 2017