jul 19, 2012
music boxes for iPad by joelle aeschlimann
'little boxes' music box for the iPad by joelle aeschlimann
as a part of her studies at ECAL, joelle aeschlimann has created a music box prototype for the iPad. the 'little boxes' project consists
of three separate devices that interact with the tablet to create melodies and animations. replicated to work like the traditional player,
the new digital iteration is constructed using rubber tips from commercially available pens, and a conductive metal crank.
the
adobe air
for iOS software recognizes when pressure is applied to the iPad, and when the rotating mechanical movements
are turned by the lever, music and visual content are generated.
music box devices
top view music box and crank detail
bottom view music box and conductive rubber detail demonstration
process
process
oct 07, 2017
oct 07, 2017
aug 22, 2017
aug 22, 2017
aug 15, 2017
aug 15, 2017
jul 04, 2017
jul 04, 2017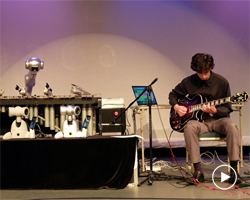 jun 20, 2017
jun 20, 2017
jun 16, 2017
jun 16, 2017
aug 08, 2017
aug 08, 2017
apr 11, 2017
apr 11, 2017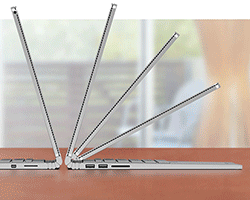 oct 07, 2015
oct 07, 2015