NEON, an artificial human that hopes to 'make science fiction a reality', has been unveiled at CES 2020. NEON is a computationally created virtual being that looks and behaves like a real human, with the ability to show emotions and intelligence. unlike AI assistants, NEONs are not meant to be 'know-it-all' bots. rather than functioning as an interface to the internet, they are designed to converse and sympathize just like real humans. the project is the first venture of STAR labs, an independent branch of samsung, led by CEO pranav mistry — a scientist and inventor.
designboom attended the unveiling at CES, where we met up and spoke with bo moon, NEON's head of strategy, and the team at NEON, who explained the project in more detail.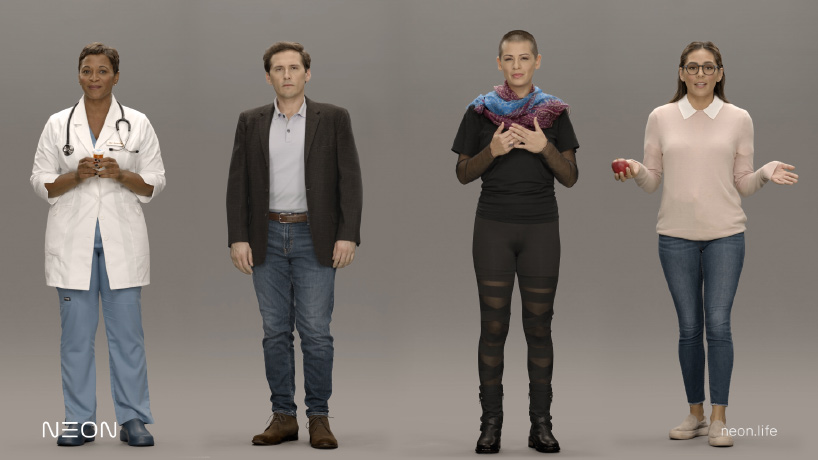 image courtesy of NEON | video © designboom
each NEON is powered by the company's proprietary technology platform — CORE R3, where R3 stands for reality, realtime, and responsive. NEON says that CORE R3 is inspired by the rhythmic complexities of nature and extensively trained with how humans look, behave and interact. consequently, it can computationally create lifelike reality that is beyond normal perception to distinguish. with latency of less than a few milliseconds, CORE R3 makes it possible for NEONs to react and respond in real-time.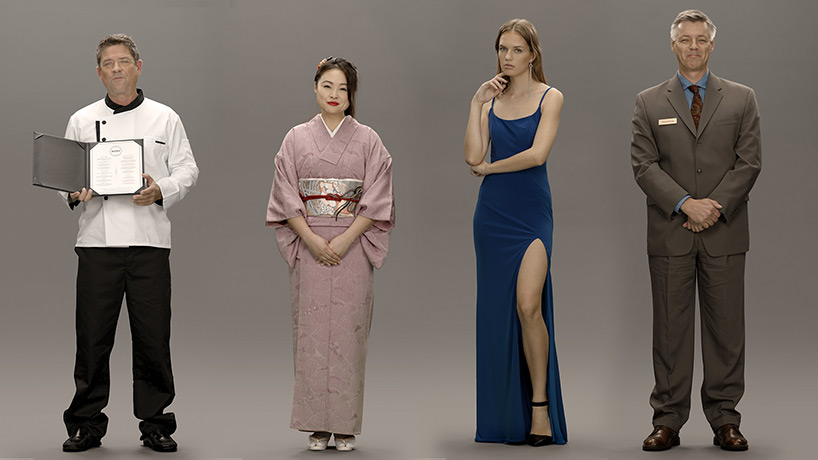 although these artificial humans may borrow the likeness of or are modeled after real people, each digital character has their own unique personality and can show new expressions, movements, and dialogs. NEON suggests that, in the near future, one will be able to license or subscribe to a NEON as a service representative, a financial advisor, a healthcare provider, or a concierge. over time, they could even work as TV anchors, spokespeople, or movie actors; or they can simply be companions and friends.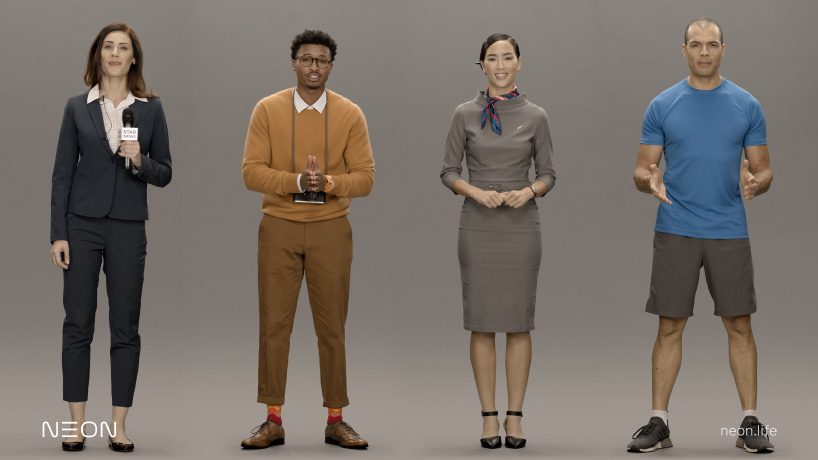 image courtesy of NEON
designboom (DB): what are NEONs and what are they for?
NEON: a NEON is an artificial human, an AI-driven virtual being. what we really want to do, and the vision of our company is to make the way people interact with technology really seamless — to feel very natural, as if you and I were to talk. we trying to add that human touch. the first iteration is called CORE R3, which stands for reality, realtime, and responsive. we want to capture that they look real, and that their features are real, and that the movements they make look really natural. in the next iteration, we would ultimately love for them to be really interactive and really immersive, so that they learn and have emotions.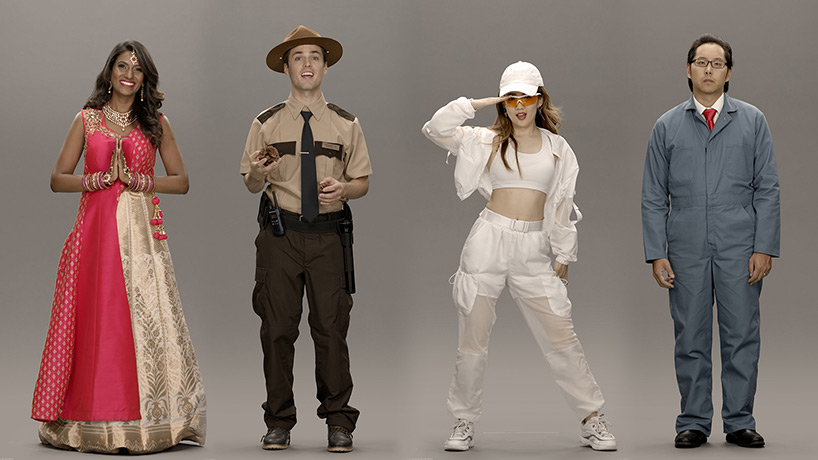 DB: what are the applications you have in mind in the short term?
NEON: our goal is to provide humans, and when do you need visually perfect humans? it's primarily when you want to create interaction. so, in a business sense, it's when you have customer service, sales, things where you need a person to help a customer. our use cases are hotel concierge, airline gate, sales people…these are the people that are listening to the customer and providing service, but need to do it in a very cordial and nice way, because you care about your customer. that's why our focus on reality from a business perspective will probably be customer support and sales.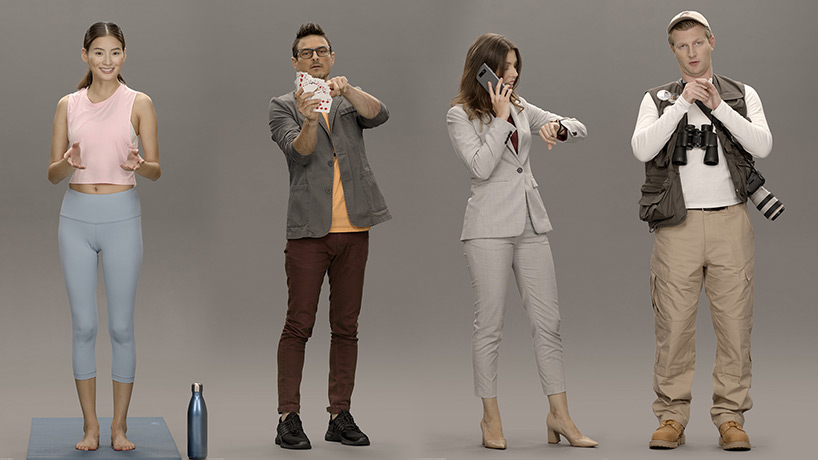 (continued): NEONs are artificial humans. they can exhibit the most important aspects of human capabilities: the ability to communicate with human affect, the ability to learn from experiences, and the ability to form new memories. NEONs understand, converse and sympathize just like a real human, allowing us to bring AI where the world needs it most. they can assist with goal-orientated tasks or can be personalized to assist in tasks that requires human touch. they can serve as an individualized teacher, a personal financial advisor, a healthcare provider, or a concierge. a NEON can also be an actor, a spokesperson, or a TV anchor. a NEON can be our friend, collaborator or companion.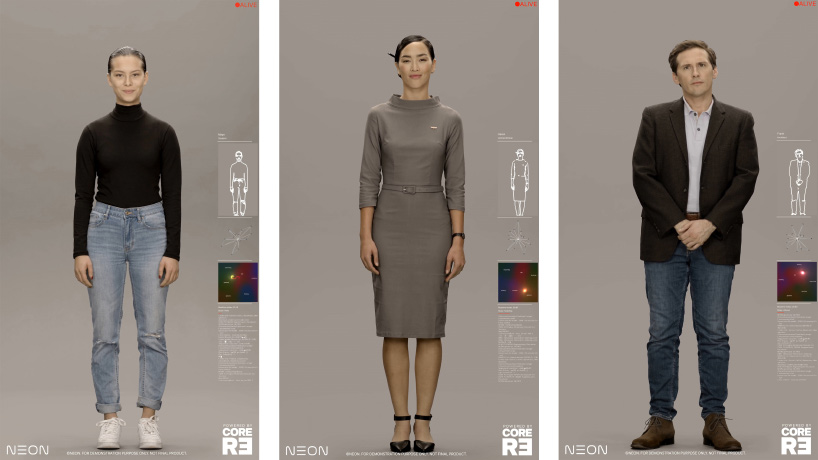 image courtesy of NEON
DB: can it also be for personal assistance, not related to business?
NEON: there's a whole other deeper aspect about companionship — sometimes you just need someone to talk to. as long as we can create a realistic experience, there's a possibility it can be a companion, or even a teacher. I teach my kids math, but I don't do a good job. I don't have the patience. NEON will have unlimited patience to understand and teach math to my child. I think it's definitely possible for educational use cases, and also just talking and listening.
DB: how are NEONs different from the AI assistants we already use, such as amazon's alexa or the google assistant?
NEON: NEONs are not AI assistants. NEONs are more like us, an independent but virtual living being, who can show emotions and learn from experiences. unlike AI assistants, NEONs do not know it all, and they are not an interface to the internet to ask for weather updates or to play your favorite music. NEONs are more like our friends and companions, with whom you share your experiences and build memories.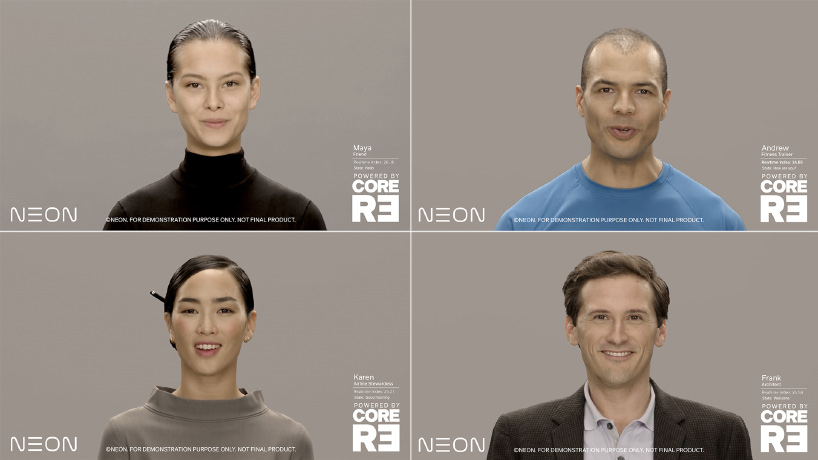 image courtesy of NEON
DB: so a NEON is able to learn and develop?
NEON: SPECTRA (NEON's upcoming technology platform currently in development) will bring NEON one step closer to us by complementing CORE R3 with the spectrum of intelligence, learning, emotions and memory. our interactions with NEONs will help evolve their understanding about us and the world.
DB: could NEON replace real humans?
NEON: the creation of NEON was never about replacing humans, but in fact to make us more human. it is a new medium of expression, compassion, learning and love. NEONs are not some know-it-all bots. nor are they androids, surrogates or copies of real humans. NEONs are like a new species of artificial humans. they are our companions, friends and collaborators. we truly believe NEONs will integrate with our world and serve as new links to a better future, a world where 'humans are humans' and 'machines are humane'.
DB: what NEONs are you presenting at CES?
NEON: the different types of NEONs that we have here include students, architects, flight attendants — they take on very different identities and very different roles.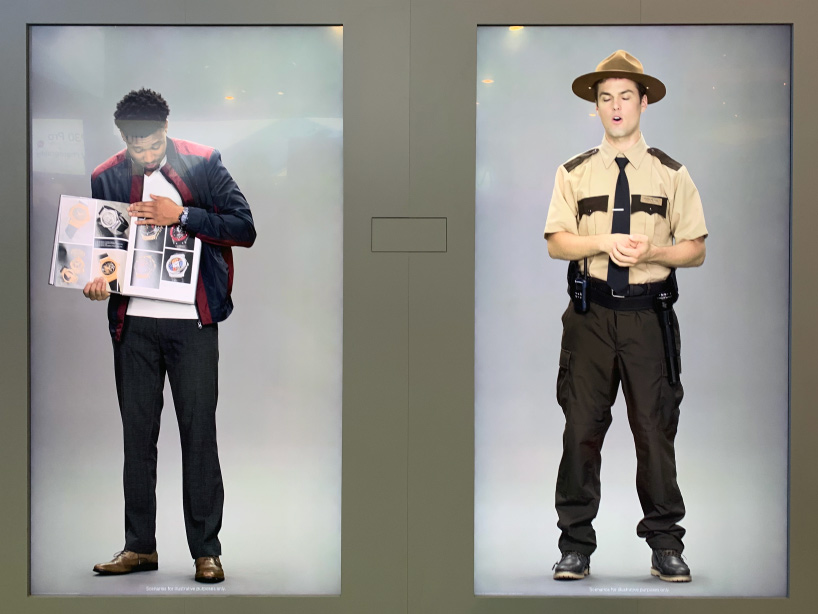 image © designboom
DB: would you create a 'double' of somebody? any pets? or children?
NEON: no, that is not our goal — that was never our vision. we're not trying to create a digital copy of someone, we don't want to do that. what we want to do is create individualized artificial humans that will ultimately have functions in the world.
DB: any pets? or children?
NEON: no.
DB: are there NEONs from every background?
NEON: we would love to do that, so that there's a NEON for almost everyone — whether you have it in a business or in a more personal setting.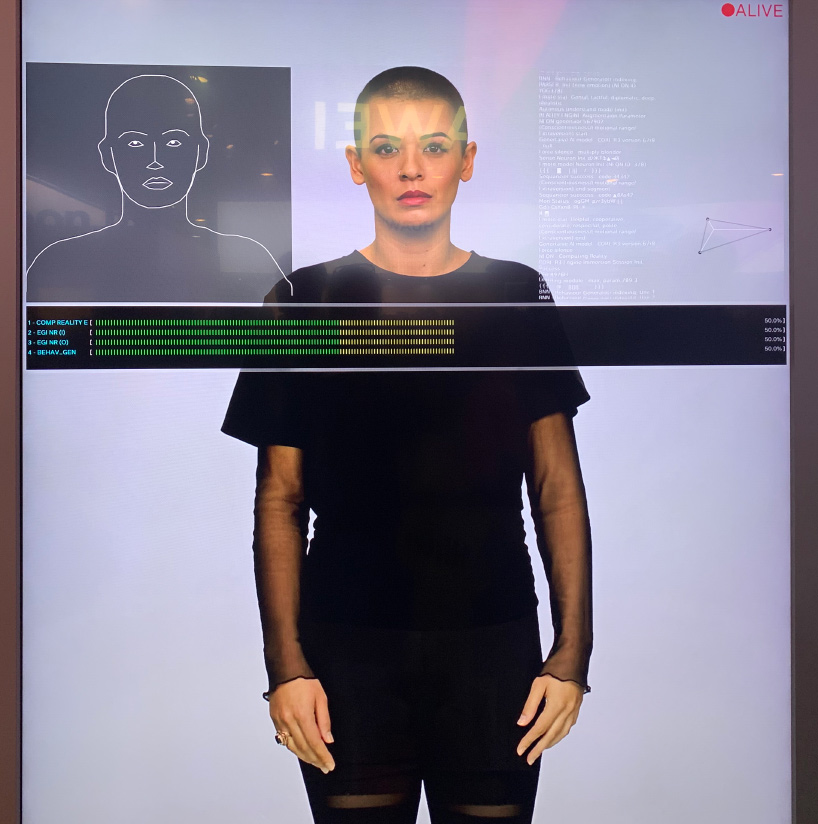 image © designboom
DB: what if someone falls in love with a creation?
NEON: it's possible! but it's not something we're afraid of.
DB: do you have any fears, restrictions, doubts?
NEON: we create our NEONs and will never destroy them, or alter them. they way that 'maya' looks right now is how she will always look. so you will actually know her. we will never hide that she is virtual — that she's an artificial human. in terms of privacy, the local memory of a NEON is not accessible to us. if you tell her a secret, she knows it locally. she may use it to improve her personality, but the next day, if you say, 'maya, I need you to forget that', it will forget it. our company never even saw it. it's all local, and only used to build personality.
DB: where does the term 'NEON' come from?
NEON: the word NEON derives from NEO (new) + humaN. the naming of NEON is also inspired from the properties of neon as a noble gas. neon (Ne), the tenth element on the periodic table, is an inert gas that glows orange-red when electrically charged.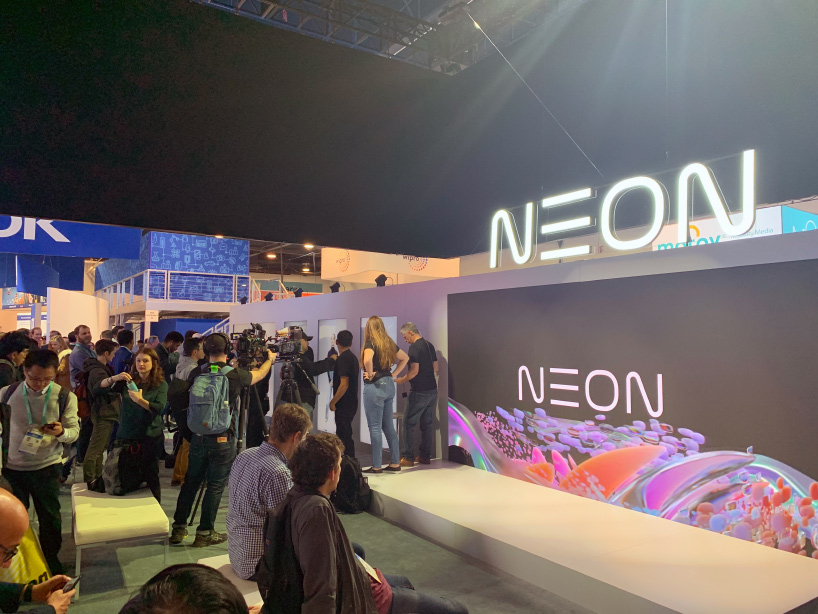 image © designboom
DB: what is the business model behind NEON?
NEON: we truly believe a company should not exist just to make business but rather to make a positive impact on the world. we plan to make NEON available to business partners as well to consumers all around the world. it is too early for us to comment on the business model or pricing for NEON, but we plan to beta launch NEON in the real world with selected partners later this year.
DB: what are NEON's plans for the future?
NEON: we plan to continue perfecting CORE R3 engine, and later this year we plan to beta launch NEON in the real world with selected partners from around the world. you will hear more about SPECTRA and experience-enhanced version of CORE R3 at our special event NEONWORLD 2020. we are excited about the future roadmap ahead with a clear vision for the next generation of NEON and beyond.
nina azzarello
I designboom
jan 08, 2020
a diverse digital database that acts as a valuable guide in gaining insight and information about a product directly from the manufacturer, and serves as a rich reference point in developing a project or scheme.
designboom will always be there for you
milan, new york, beijing, tokyo

,
since 1999