step into the most advanced automotive design center in the world, invites jaguar. their new, purpose-built design studio opened as part of the redeveloped design and engineering center in gaydon, UK in september 2019, and marked a new era for the quintessential british sportscar marque. it follows julian thomson replacing ian callum – who introduced the XF, F-type and I-PACE to our roads – as their design director in summer 2019. now the new chief has a creative hub that, for the first time, unites all his team in one building when designing their cars for the future.
on this occasion designboom joined the journey, travelling to jaguar's new design studio and watching how their design process unfolds as their cars move from sketches through to production models.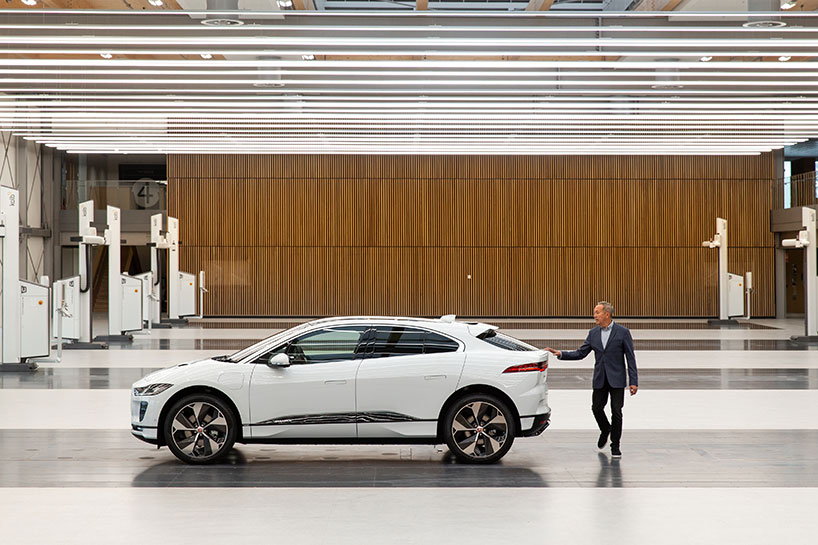 julian thomson, design director of jaguar, inside studio 4 with an I-PACE
all images courtesy of jaguar
the rare opportunity to create jaguar's new design studio prompted their designers, researchers, modellers – everyone involved in the design process – to immerse the architects, bennetts associates, into their specific workflow when conversations first started for the new building in 2013. six years later, the result is purpose-built with every detail either aiding the design process or matching jaguar's leading visions, such as sustainability. like the journey of our story, workers walk into the expansive, light-filled atrium of the redeveloped design and engineering center, beneath its solar panelled roof, and into the secretive design studio at the rear.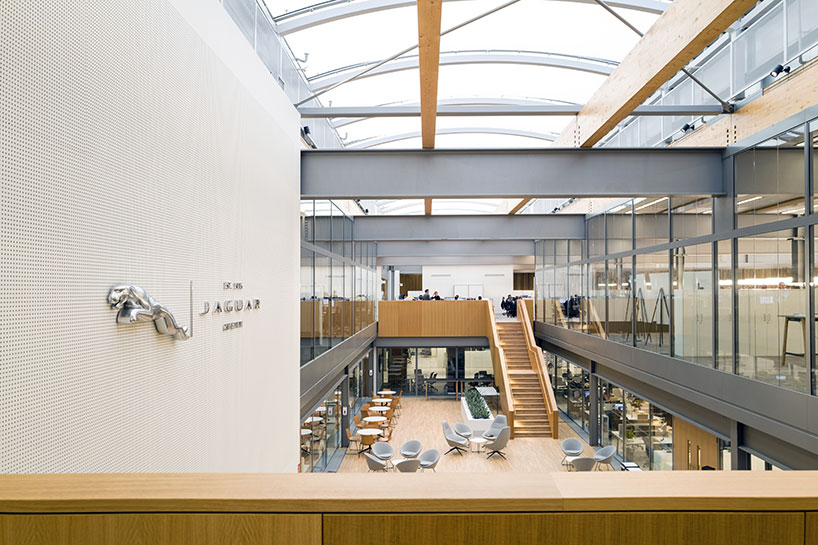 the 'heart space' offers a place for all our jaguar's creatives to unite and collaborate
in contrast to their previous location in whitley, jaguar's new design studio is double the size, measuring over 39,000 square feet in floor area. at its core, a large 'heart space' offers a place for all the 280-member team to meet, communicate and collaborate. it links to a mezzanine level above – with office space for the technical and visualization teams and more – and the two vast design studios for the exterior, interior, and color and material design departments on either side. the 'heart space' unites all of jaguar into one creative space for the first time, and supports a seamless and efficient workflow between creative and engineering teams.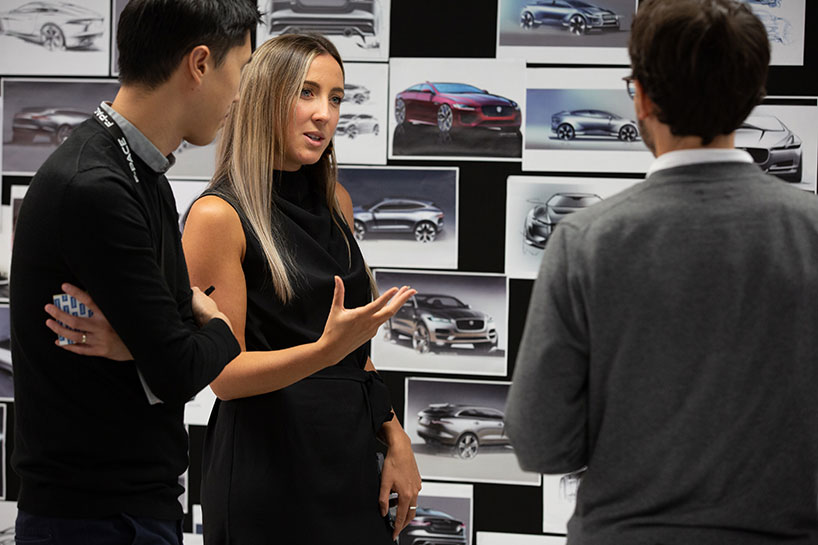 the design process starts with their designers understanding stimuli from research as well as their archive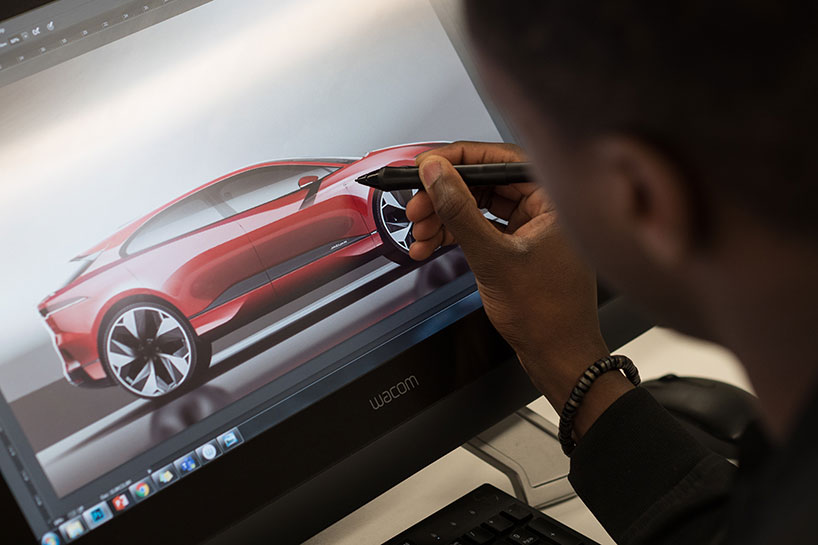 hundreds of sketches are made every day using pen/pencil and paper or tablets
their design process begins for the exterior and interior teams in the two vast studios. whether drawn by pen, pencil or tablet, every designer is invited to sketch ideas during an internal competition when a new vehicle is pitched. the best six to eight designs are chosen, translated into a digital version by their computer-aided surfacing specialists, before being milled into clay models. the studios are both fitted with five clay modelling plates, each one long enough to accommodate two full-sized clay models and fitted with floor-integrated lifts to allow modellers to adjust its height. this allows them to move from sketch to full-size clay models in just two weeks.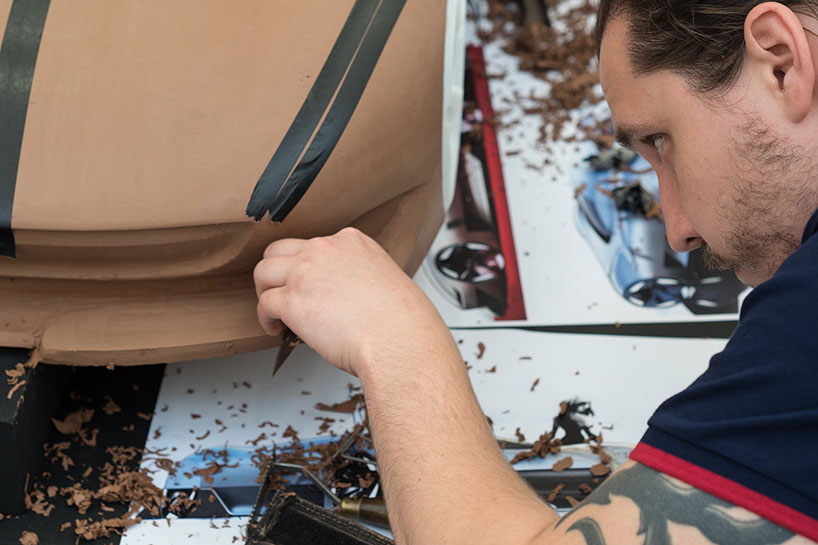 during the design process, the best sketches are then recreated in half-sized clay models
analyzing the physical 3D design is very important for jaguar when understanding proportion and sculpture. an expert team of 46 sculptors might use their human touch to bring sketches to life but the building is designed to aid this process, too: lines of LEDs are specifically positioned above the plates to illuminate the middle and side surfaces of the clay objects, its vast size ensures the models can be moved around, and a mezzanine allows designers to critic the form from all perspective and heights, furthermore, studio 4's huge glass doors open up to an outside presentation area where the designs can be viewed in natural light.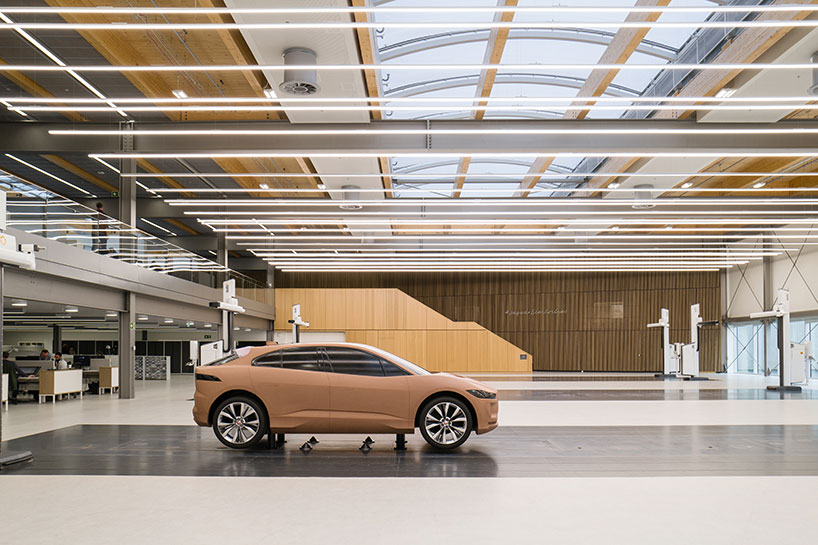 studios 3 and 4 each have five clay modelling plates – all featuring floor-integrated lifts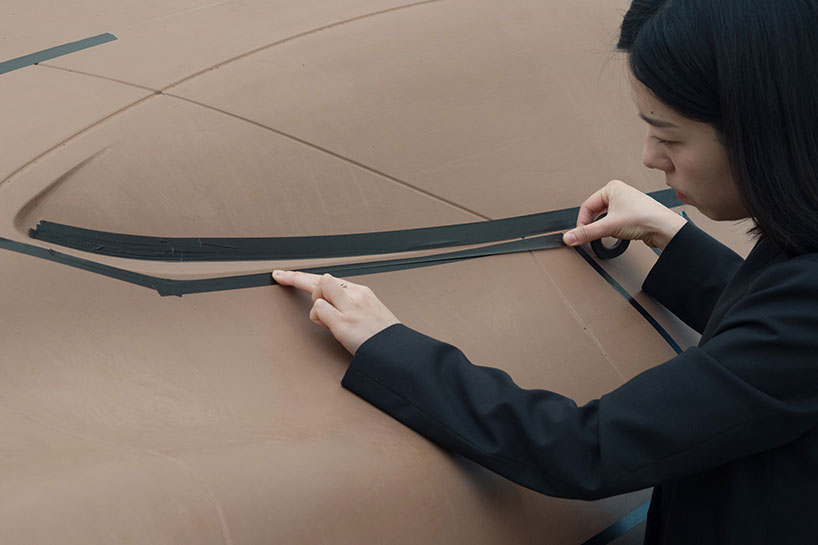 modellers create 3D copies of the sketches that are then digitally scanned by their design technical and visualization teams
the 20 meter-long plates for the clay models in studios 3 and 4 also enables interior models to sit side-by-side with their exteriors. this shared space ensures the integral components of a car – and their designers – align in creativity throughout their development and refinement, which takes months between departments. however, within the interior design process, there is a tension between digital and analogue when exploring boundaries. parts like the seats, steering wheel and dashboard architecture are sculpted from clay whilst lamps, grilles and wheels are milled or 3D-printed. furthermore, virtual reality is actively used for designers to experience the interior and even respond to fast, flexible amendments throughout.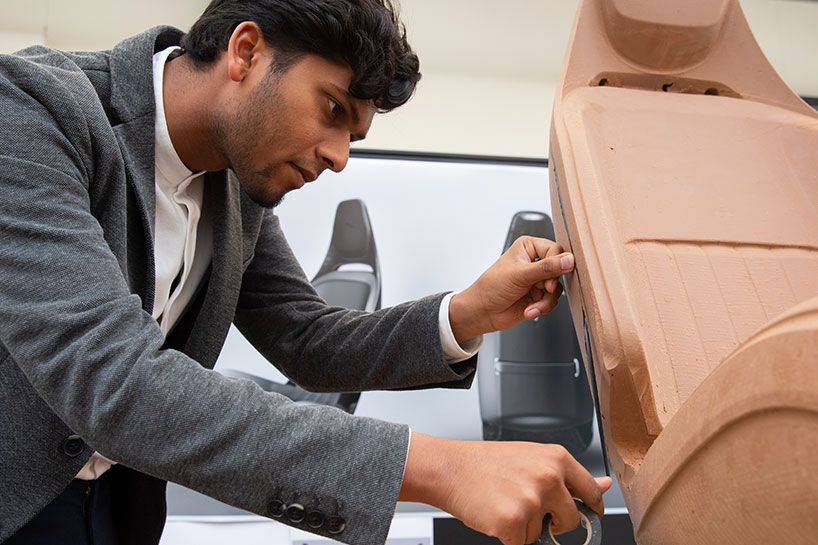 models of the interior – seats, steering wheel and dashboards – can sit alongside the clay copies of the exterior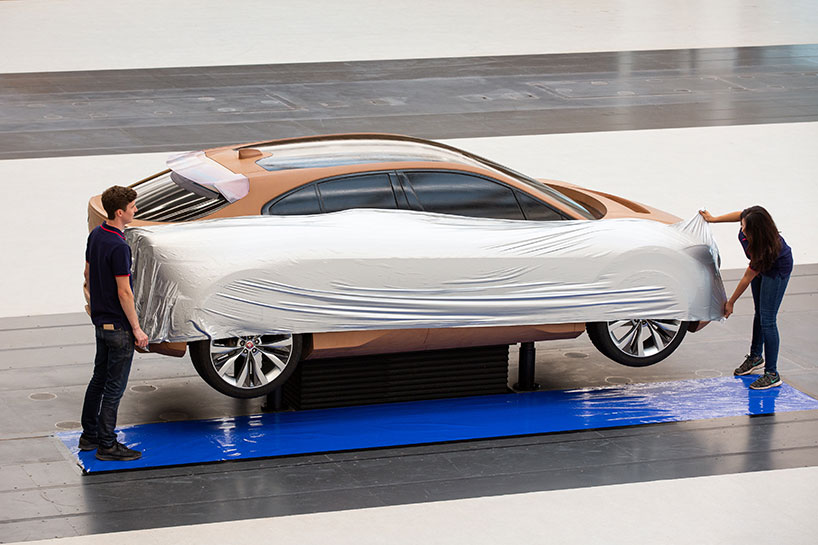 reusable plastic sheets are used to cover the clay to give an immediate impression of the car with a painted surface
from sketching to manufacture, the design of a new jaguar takes four years – and so does introducing a new exterior color to market. the color and materials team function to enhance forms and complete the experience for the users. as they work across the exterior and interior departments, the new studio allows them to be connected throughout the design process. it also provides much more space – and technologies – to investigate new resources, which are currently focusing on sustainability. every single customer-facing surface of a car is treated so each needs to offer an exciting solution that not only fits a modern interpretation of 'britishness' but also matches customers' expectations and desires for luxury.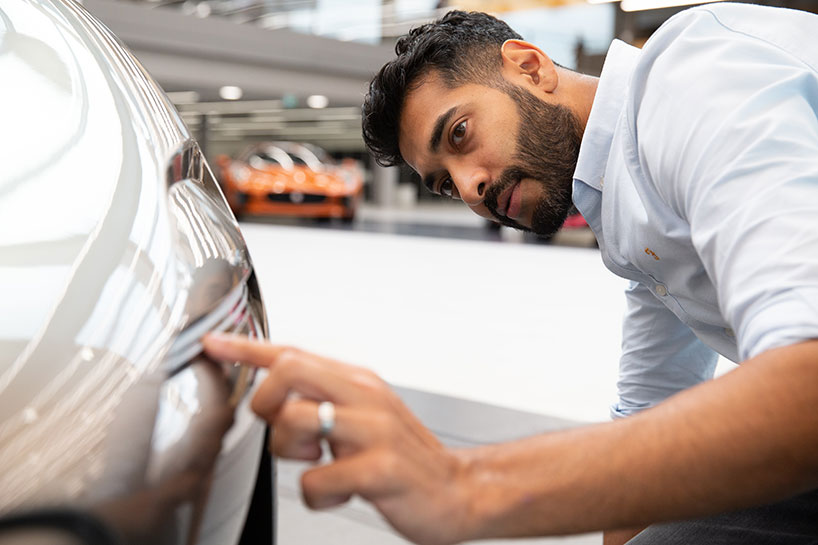 the facilities ensure the designers can visualize the future car at all stages of its development
it is a rarity for an automotive manufacturer to have the chance to build a new design studio yet alone invite 'outsiders' in to see the way they work. as we joined their designers on a journey from the initial sketches through to the manufacture models and the colors, materials and finishes, there felt a synergy in the whole design process. from the technical team constantly finding solutions for the exterior design ideas to the visualization department recreating environments in VR for the interior designers, there was a constant overlap. now, for the first time, jaguar's whole creative mind is in one place, under one roof. as a symbol for a new and even more exciting era for the marque, we look forward to seeing the first design to roll out from their new home.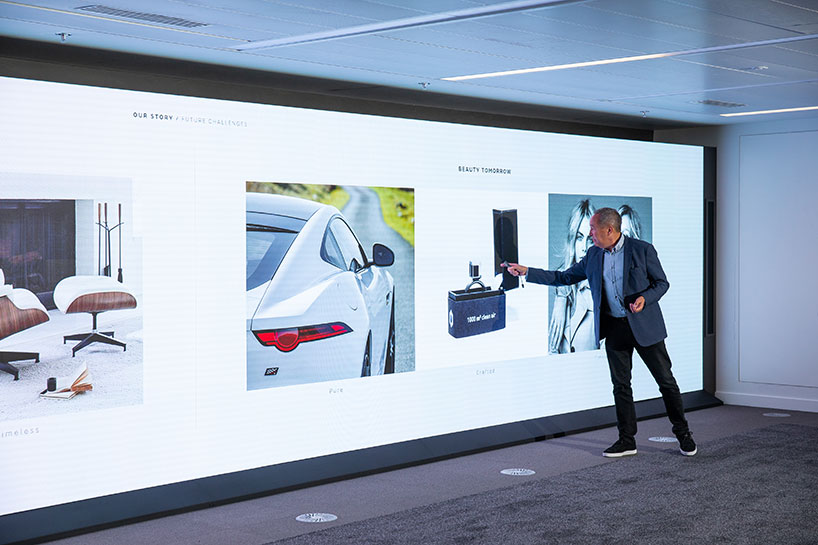 an 11 meter visualization screen can be used for product presentation and research
project info:
brand: jaguar
purpose: design studio
building: design and engineering center
location: gaydon, warwickshire, UK
architects: bennetts associates
opening date: september 26 2019
feb 19, 2020
feb 19, 2020
oct 25, 2019
oct 25, 2019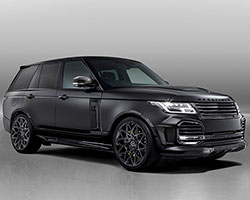 oct 18, 2019
oct 18, 2019
oct 11, 2019
oct 11, 2019
sep 12, 2019
sep 12, 2019
sep 10, 2019
sep 10, 2019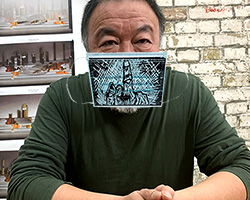 jul 02, 2020
jul 02, 2020
mar 17, 2020
mar 17, 2020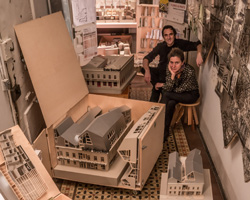 feb 10, 2020
feb 10, 2020
a diverse digital database that acts as a valuable guide in gaining insight and information about a product directly from the manufacturer, and serves as a rich reference point in developing a project or scheme.