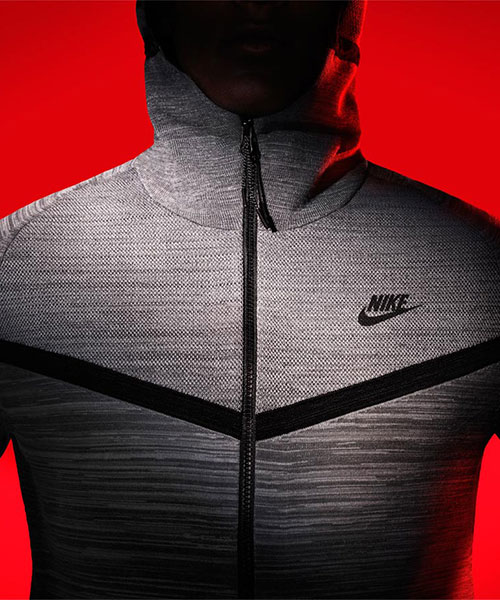 jan 28, 2016
interview with jessica lomax, NIKE's senior tech knit designer
interview with jessica lomax, NIKE's senior tech knit designer
all images courtesy of NIKE
at NIKE sportswear, each project starts with insights from athletes before they even put pencil to paper. this approach is applied to lifestyle design to deliver innovation for everyday life influenced from history and place, global culture and current trends.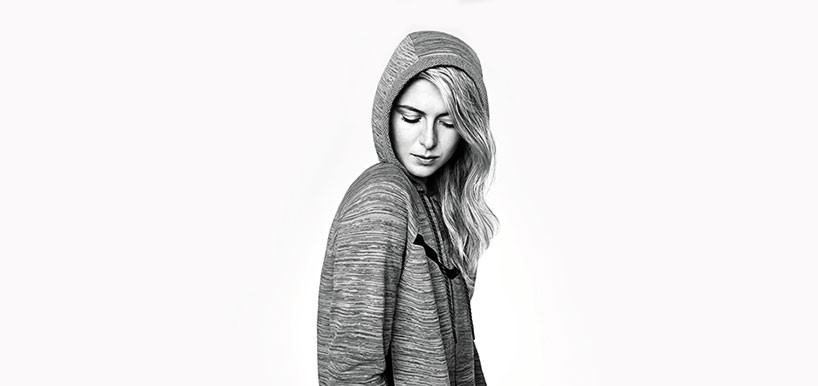 tennis player maria sharapova in the 'tech knit' sweater
the NIKE 'tech knit' collection is a product of this distinct formulae, combining practical awareness with thermoregulation discoveries to produce garments with a ongoing blend of form and function. to deliver apparel for 14 hours of movement or more, the 'tech knit' collection offers both warmth and breathability. NIKE designers worked together with yarn specialists, computer programmers and knitting machine technicians to evolve the next-generation of technical knitwear. the team combined cotton and nylon to create a performance yarn that emphasizes rich texture and surface structure. they the experimented with different stitches and wefts to achieve the most advantageous hand-finished knit.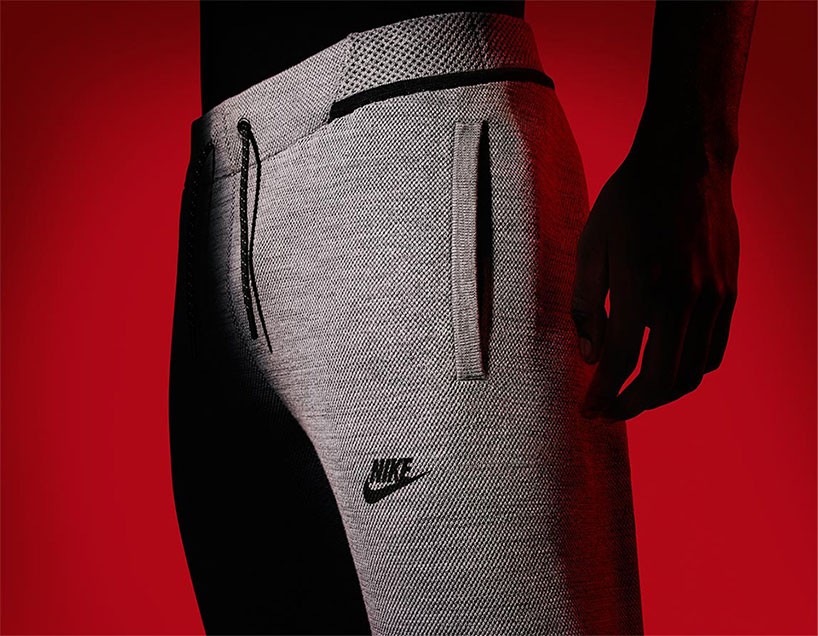 the collection includes matching pants
designboom spoke to jessica lomax, asking about her background, what it took to create the 'tech knit' collection, and the direction NIKE is moving in.
designboom: can you provide more information on your personal background? what originally made you want to study design, and how did you eventually become a senior apparel designer at NIKE?
jessica lomax: design has always been in my family. my dad is sixth generation architect, my mum is an art teacher, and out of my grandparents, three were architects and one was a textile designer. originally, I was drawn towards architecture, but my interest in fashion was sparked by my grandmother teaching me to sew and make patterns from a young age. whilst studying design in london, at istituto Marangoni, I apprenticed at giles deacon, roksanda illincic, jens laugesen and alexander mcqueen, where I learnt my craft. after graduating I started working at aquascutum, where I became interested in outerwear, before moving on to work with hussein chalayan. it was here, that a collaboration marked my start in sportswear. I then took my experience to a startup brand, work out life, designing collections in performance, fashion and lifestyle. shortly after this, I joined NIKE, designing apparel for both sportswear and NIKE lab.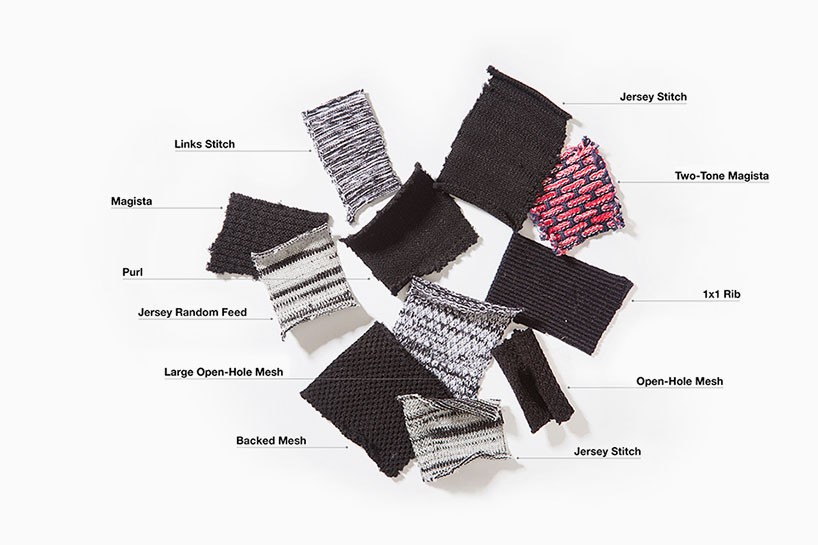 the various engineering knits
DB: who were the first set of athletes you targeted to gather insights for developing the NIKE 'tech knit'? is it designed for a particular type of athlete?
JL: in NIKE sportswear, we design with the everyday athlete in mind. this individual needs apparel that will perform and transition through different micro-climates and activities throughout their entire day, whilst continually providing comfort.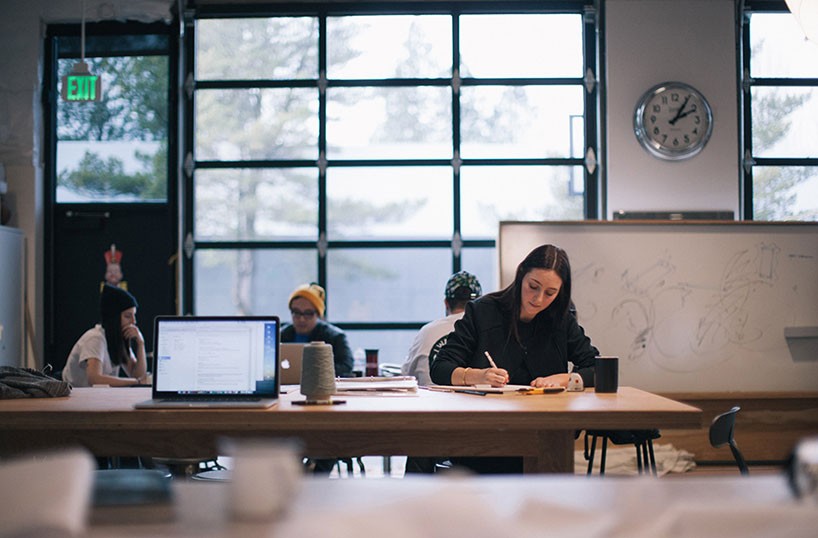 mrs. jessica lomax at NIKE
DB: what exactly was the aim in creating the NIKE tech knit fabric?
JL: the aim was to create the best fit through engineered articulation, and the most comfort by combining yarns and stitches to provide warmth and breathability at the same time. we focused on reducing seams, and engineering what you need, where you need it.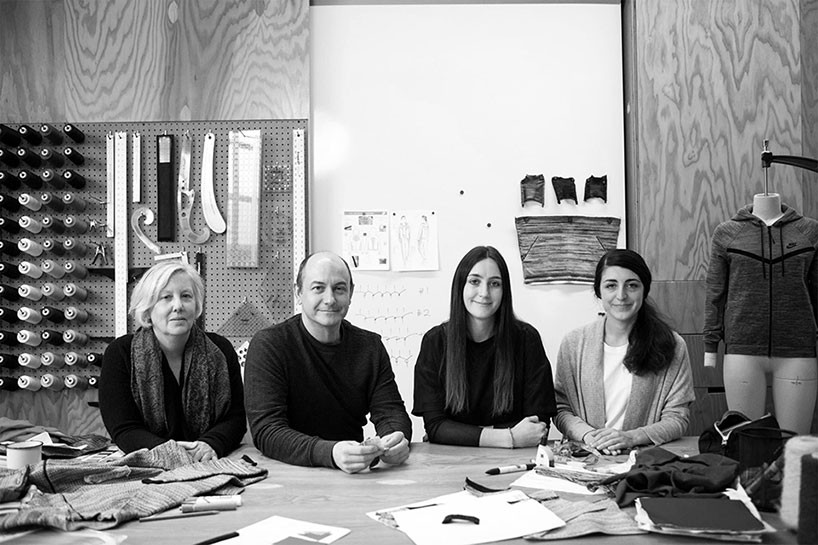 the 'tech knit' team (left to right): linda brown, senior material developer, tim-campbell stephen, knit director, jessica lomax and rhiannon taylor, senior technical developer
DB: could you talk about the interdisciplinary collaboration involved in realizing the textile, and some of the challenges you faced during the development process?
JL: it was very much a team effort. through close collaboration with our yarn specialists, material developer, and knit vendor, we were able to combine cotton and nylon yarns, creating a signature heather texture material. the main challenge was, that rather than picking a fabric from a hanger, we were creating these fabrics from the yarn-level ourselves. the most important thing here was to get the tension between the varying yarns balanced, creating the precise weight and a density needed for our styles.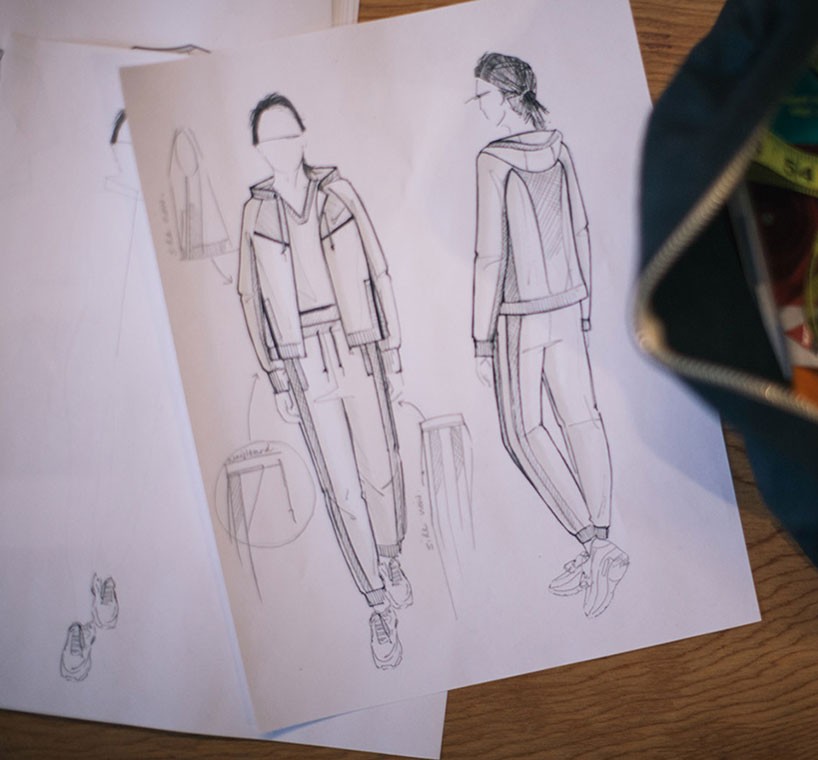 the collection sketches
DB: what particular technological innovations can we find in the NIKE Tech knit that haven't previously been seen before?
JL: rather than a consistent material across an entire garment, in tech knit we are innovating through engineering. this is the first time we have been able to engineer multiple performing benefits into the same piece, all through the same yarns and knitting process. the result is that the same piece of material can now do many different jobs.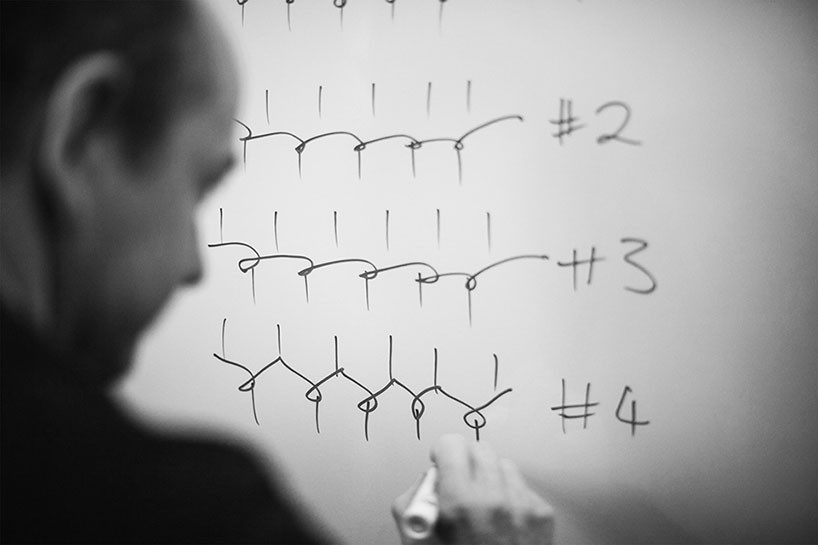 drafts to the stitch count
DB: can you elaborate on how the garments have been engineered to provide natural thermoregulation for athletes?
JL: the stitch layouts were informed by thermo-mapping of the human body. we used open-mesh structures in the center-back and under the arms where heat builds up. in areas that loose heat, we've used double-knit constructions with the inner layer in a mesh-stitch to create breathable warmth.
DB: the tech knit isn't the first knit innovation from NIKE. there was previously 'flyknit', which was primarily applied to footwear. would you say that this is a continued extension of that?
JL: although flyknit uses technology traditionally associated with apparel, we were inspired by how NIKE footwear had repurposed it, taking a traditional craft and bringing it to an unexpected and modern place. with such a strong aesthetic already in place, we wanted to create tech knit apparel to complete the full toe-to-head look.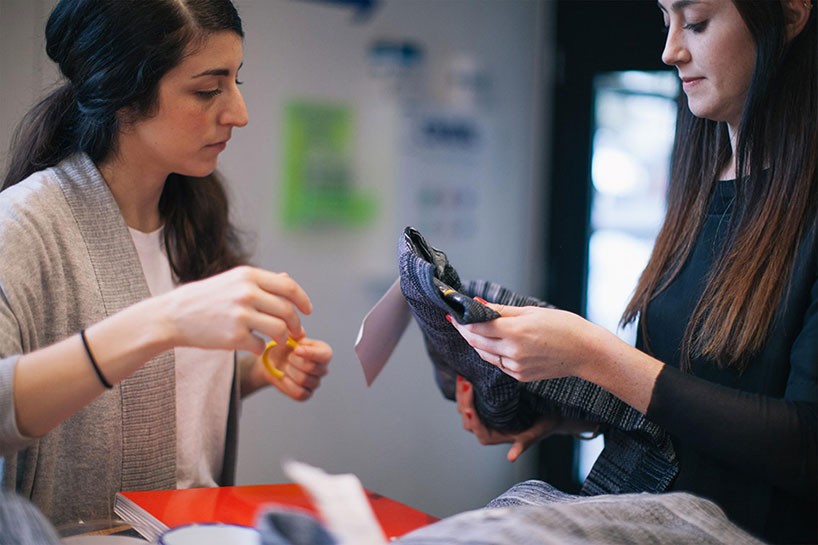 the team translates sketches to garment with quick samples
DB: What are you currently interested in and how is it feeding into your designs?
JL: function. as an apparel designer, I have to consider how each garment will be used, how each element within the garment will contribute to this, and work backwards from there. currently, I'm also working on a record label, started by my husband, with the main focus on the end product. how can music be presented to the listener? what format and materials can be used in this presentation, and how does this change the perception of the music? what function does the product, format, or even printing process have in the listener's experience? my design work is currently inspired by this holistic approach.
the design process is a conversation about yarn details
DB: which designers working today do you most admire?
JL: martine rose, anrealage, y/project, toogood…
DB: what direction do you see apparel design at NIKE moving in?
JL: mixing craft and innovation, we will keep exploring traditional methods of make alongside technology, to deliver new apparel design. we will continue to find new solutions, and performance benefits, alongside driving the bold style of NIKE sportswear forward.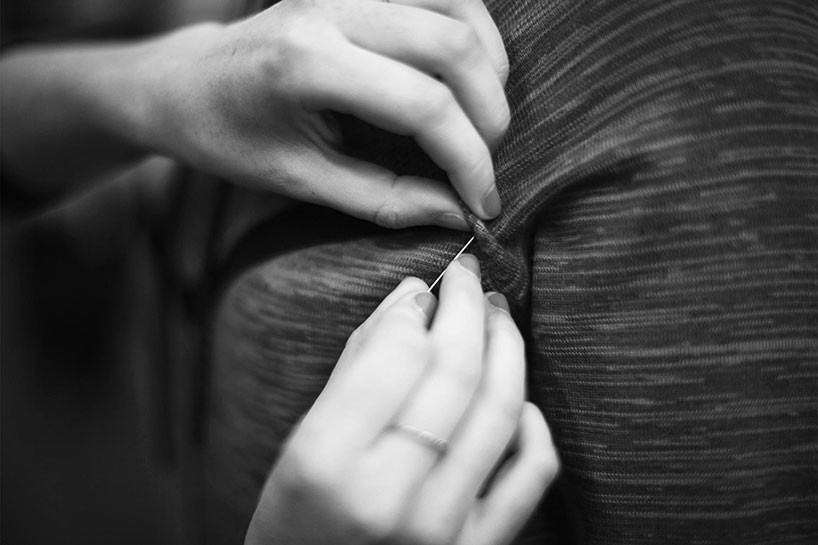 the first prototypes are hand made in the lab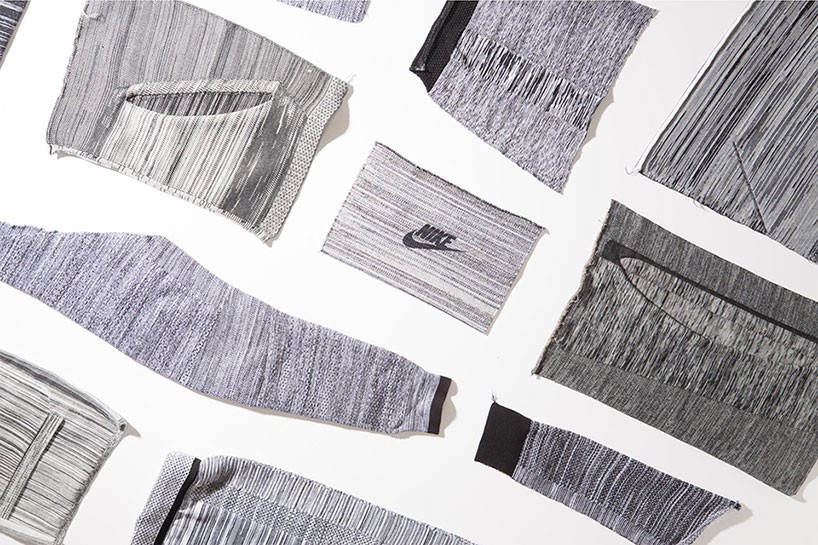 yarn samples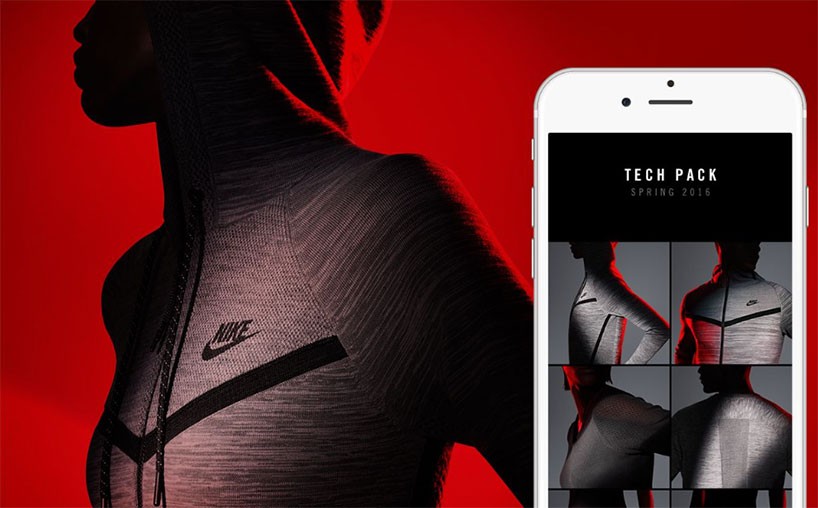 the NIKE 'tech kit' is available through the sportswear app
NIKE
(195 articles)
jun 01, 2020
jun 01, 2020
apr 19, 2020
apr 19, 2020
apr 08, 2020
apr 08, 2020
mar 28, 2020
mar 28, 2020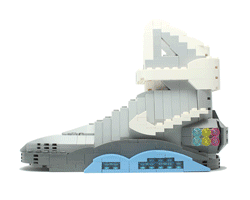 feb 22, 2020
feb 22, 2020
feb 02, 2020
feb 02, 2020
a diverse digital database that acts as a valuable guide in gaining insight and information about a product directly from the manufacturer, and serves as a rich reference point in developing a project or scheme.