jun 30, 2014
nissan concept 2020 vision gran turismo - the real driving simulator
nissan concept 2020 vision gran turismo – the real driving simulator
all images courtesy of gran turismo
in celebration of the driving video game gran turismo's 15th anniversary, nissan designers were asked to dream-up their ideal concept car for their own gran turismo fantasy garage. responding to the open brief, a team of young creatives at nissan design europe in london, UK, developed the 'nissan concept 2020 vision gran turismo'.


behind the development of the nissan concept 2020 vision grand turismo
video courtesy of gran turismo TV
citing stylistic references from nissan's GT-R, as well as evoking aspects of the company's performance models throughout the ages, the aerodynamic scheme was considered to have so much potential that the advanced engineering team based at the nissan technical centre in atsugi, japan got involved to take the car from a state of virtual concept to reality. together the designers and technicians worked closely to ensure that the computer-generated vehicle would perform as realistically as possible.

the concept vehicle draws stylistic references from nissan's various performance models
at the 2014 goodwood festival of speed in the UK, a physical version of the 'nissan concept 2020 vision gran turismo' was unveiled. while visitors of the event were the first to experience a physical interpretation of the car, the first people to actually get to 'drive' it will be GT6 gamers; with the 'nissan concept 2020 vision gran turismo' available for download as an avatar, in 10 different shades, from july 2014 onwards.

the rear wing's height can be adjusted
'this is in line with the nissan philosophy,' says koji nagano, vice president, nissan design europe. 'in reality, not everyone would be able to own a car like the nissan concept 2020 vision gran turismo, but through gran turismo anyone can drive it and experience nissan's promise of delivering innovation that excites.'

the aerodynamic scheme appears if some aspects of its body have been sculpted by the wind

top front view

physical version of the 'nissan concept 2020 vision gran turismo'

overview of the nissan concept 2020 vision gran turismo
video courtesy of nissan newsroom
jul 16, 2017
jul 16, 2017
jul 16, 2017
jul 16, 2017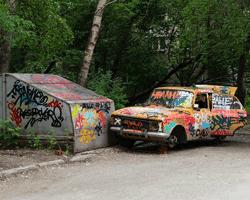 jul 13, 2017
jul 13, 2017
jul 01, 2014
jul 01, 2014
nissan
(30 articles)
apr 11, 2017
apr 11, 2017
jan 12, 2017
jan 12, 2017
jan 10, 2017
jan 10, 2017