NAIAS 2017: shining light on their future sedan design direction, the nissan 'vmotion 2.0' concept made its debut at this year's north american international auto show in detroit, michigan. it combines a high sense of style and emotional design with space, comfort and intelligent technology to create a mobility experience tailored for busy professionals. the futuristic concept car received the prestigious eyeson design award for the best concept on show, and also won for the best innovative use of color, graphics and materials.

the front features the latest evolution of the 'v-motion' front design
all images courtesy of nissan
'vmotion 2.0 offers a stunning look into the future of nissan design – fresh and dynamic, yet cabin-focused,' said mamoru aoki, executive design director, nissan global design strategy, nissan motor co., ltd. 'this prestigious award, earned from top design leaders from around the world, exemplifies the enormous potential of nissan's newest design direction. we're honored to be here and excited to continue to show the world the limitless capability of nissan design.'

the concept previews the brand's design direction for future sedans
the nissan concept presents the latest evolution of the 'v-motion' front design signature as seen across many of the brand's models. this development forms a sculpted three-dimensional shape that resonates volume, edginess and architectural style. its sharp yet expressive surface language flows seamlessly across the sides. the car's distinctive silhouette is defined by a floating-like roof that steeply declines towards the trunk. at the rear of the vehicle, the 'vmotion 2.0' exudes class and strength, featuring signature boomerang-style taillights.
 
its edgy and sculptured form continues on the rear end

signature boomerang-like taillights reflect class

the doors swing outwards to welcome passengers into its open cabin
as on display at the NAIAS 2017, where designboom were in attendance, the nissan 'vmotion 2.0' concept car's front and rear doors swing outwards to create a large pillar-less interior space. this inviting and spacious cabin features comfortable and supportive seats that are upholstered in supple leather, and panels decked in natural zebra wood. furthermore, it includes an integrated instrument panel and infotainment system, as well as bose ultranearfield speakers that generates a 360-degree sound field.

the interior features panels made from zebra wood
'copper is an emerging color trend in many industries, including fashion, product design and interior design. we wanted to introduce shades and hints of copper while mixing it with other metals such as satin silver and chrome,' said shiro nakamura, senior vice president and chief creative officer, nissan motor co., ltd.

as well the instrument panel and infotainment center have been fused into one
these are not the only technologies involved with the nissan concept car, it also demonstrates the brand's steps towards driverless automobiles through many software advancements. the intelligent driving system – just one of three core elements in the company's intelligent mobility goals – provides a safe and comfortable cruising experience. this aims to not only be used on highway and heavy traffic congestion conditions, but also on regular urban roads as well.

designboom witnessed the debut of the nissan 'vmotion 2.0' concept at the NAIAS 2017
image © designboom
'technology is evolving. so is design. at nissan we see design as the ultimate expression of how customer see themselves, but also an expression of the vision and values of our brand,' said nakamura. 'vmotion 2.0 previews what the future designs from nissan will be. and it is an insightful proposition of what the future sedan could be in the coming years.'

the car recieved the eyeson design award for the best concept on show
image © designboom

image © designboom

image © designboom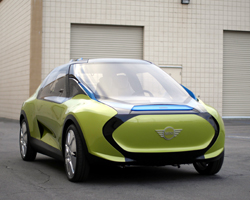 oct 27, 2017
oct 27, 2017
oct 26, 2017
oct 26, 2017
oct 26, 2017
oct 26, 2017
oct 25, 2017
oct 25, 2017
oct 23, 2017
oct 23, 2017
oct 13, 2017
oct 13, 2017
jan 26, 2017
jan 26, 2017
jan 11, 2017
jan 11, 2017
jan 10, 2017
jan 10, 2017
jan 09, 2017
jan 09, 2017
jan 09, 2017
jan 09, 2017
jan 07, 2017
jan 07, 2017
nissan
(32 articles)
oct 25, 2017
oct 25, 2017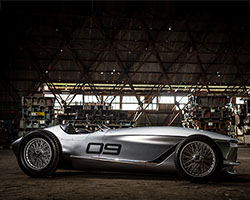 aug 14, 2017
aug 14, 2017
apr 11, 2017
apr 11, 2017
jan 10, 2017
jan 10, 2017
oct 28, 2016
oct 28, 2016
sep 28, 2016
sep 28, 2016