feb 26, 2016
NVBOTS' 3D printer can make one component in 21 different metals
NVLABS' 3D printer can make one component in 21 different metals
all images courtesy of NVBOTS
boston-based startup NVBOTS is beginning to develop technology for rapid 3D printing multi metal parts for commercial use, through its NVLABS 'alpha' program. the direction is capable of printing 21 different metals – aluminum, nickel and and tin, to alloys like stainless steel and nickel titanium. all of which can be use multiple times during the same consistent piece of work. 

automotive companies can construct a single chassis in different metals depending on structural needs
this would allow companies to introduce high speed 3D printing into their manufacturing operations without using metal castings which are costly and time consuming. by using SLS (selective laser sintering) to fuse thin layers of metal powder to make components, will have a significant impact on medical, automotive and aerospace industries. by eliminating traditional metal manufacturing methods, design and engineering teams can accelerate testing, skip energy intensive metal melting procedures and go straight into production. 

NVBOTS is beginning with an initial 'alpha' program
'NVBOTS is breaking entirely new ground by bringing together a powerful combination of patented technology, with a level of 3D printing and metallurgy expertise unmatched in the industry,' said NVLABS chief research officer paul burke. 'any company prioritizing on the ability to cost-effectively manufacture and scale will benefit from being part of the NVLABS alpha program.'
aug 13, 2017
aug 13, 2017
aug 01, 2017
aug 01, 2017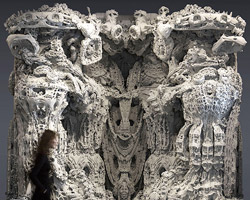 jul 14, 2017
jul 14, 2017