nov 05, 2012
oakley airwave HUD + GPS goggles
 oakley airwave HUD + GPS goggles
as winter approaches in the northern hemisphere, oakley has developed a new type of snow goggles for those counting down the days for a highly anticipated ski season. featuring a built-in heads-up display (HUD), the 'airwave goggle' implements GPS and bluetooth technology alongside an accelerometer, barometer and gyro sensors for accessing real time information about jump analytics that show distance, height and airtime. 
oakley airwave – GPS enabled goggle
video courtesy of
oakley
equipped with smart optics and innovative prism technology, all stats and data will appear as though users are looking at a fourteen-inch screen from a distance of five feet. compatible with both iOS and android operating systems, incoming calls and text messages can be viewed through bluetooth connectivity, allowing the goggle to access and interface with your smartphone, heart rate monitor and music player.
interior view of the HUD
product view featuring the HUD and adjustable head strap
wrist accessory controls
jun 26, 2017
jun 26, 2017
oct 03, 2012
oct 03, 2012
feb 01, 2012
feb 01, 2012
OAKLEY
(9 articles)
nov 25, 2014
nov 25, 2014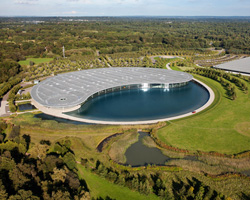 jul 28, 2014
jul 28, 2014
jul 27, 2014
jul 27, 2014