may 03, 2014
the Oplab musical experimental PCB by teenage engineering is back
Oplab musical experiment board by teenage engineering
all images and video courtesy teenage engineering
teenage engineering has developed an experimental PCB (printed circuit board) that allows users to network electronic musical instruments and software together. the 'Oplab' lets you connect things, toys and random junk laying around the house, which interacts with any device that produces sound; grab a broken hard drive, rip it apart, hook it up, and use it as a scratchpad. below, london-based designer yuri suzuki has directed a series of demonstration videos, showing the endless possibilities of the intelligent device:
'Oplab' has two standard USB host ports and one mini USB device port. essentially any mobile device or computer that sends MIDI over USB or can output an audio trigger click sound will work as a controller.
with 2x 12 bit switchable digital in-and outputs, you can interconnect more than just synthesizers. the device works together with LEDs, buzzers, motors or sensors, all in syncing together with your music or controlled via MIDI data from a sequencer.
build your own synth kit by connecting knobs, potentiometers and LEDs. with some basic programming skills you can build your own soundmaking machine solely using the 'Oplab'.
 Oplab comes as a bare PCB for maximum flexibility
technical specifications:
2 x USB host port
1 x USB device port
2 x CV IN or any analogue IN
2 x CV OUT or any analogue OUT
MIDI in / out / thru
sync 24
program selection switches
dimensions: 92mm X 92mm X 20mm
hole pattern: 82mm X 82mm center to center
oct 07, 2017
oct 07, 2017
aug 22, 2017
aug 22, 2017
aug 15, 2017
aug 15, 2017
jul 04, 2017
jul 04, 2017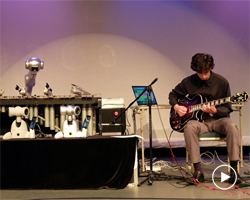 jun 20, 2017
jun 20, 2017
jun 16, 2017
jun 16, 2017
mar 14, 2015
mar 14, 2015
feb 19, 2014
feb 19, 2014
sep 25, 2013
sep 25, 2013