jan 17, 2016
bicycle prototype by paolo de giusti experiments with wheel-ratio ergonomics
bicycle prototype by paolo de giusti experiments with wheel-ratio ergonomics
all images courtesy of paolo de giusti
large rear wheels are common for bicycles used in velodromes. the '36/28 postale' by designer paolo de giusti, takes a similar setup and introduces it to every riding needs. the focal point is the 36 inch rim which is the biggest available size on the market today. it is accompanied by a 28 inch front wheel that surprisingly doesn't radically change the positioning of the rider. the purpose of the design was to exhibit aggressive riding placements typically found in racing, while still maintaining correct ergonomic measurements not far from a standard bike. 
the rear 36 inch wheel is biggest available on the market
the '36/28 postale' has a sturdy frame, fat tires and an eight-geared internal rear hub. de giusti built the structure himself with a 3D printer, a mix of ABS materials and PVC tubing. the commercial frame could have a similar layout using 3D printed titanium joints and carbon fiber tubes, or could be built in a traditional manner with welded aluminum tubes.
the handle bars include LED lighting
the fat rear tire 
the frame is double reinforced to handle the large wheels 
the internal eight geared rear hub
detailed decals by paolo de giusti 
diagram showcase the similar geometry with a racing bike
aug 17, 2017
aug 17, 2017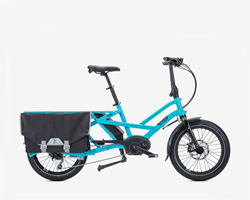 aug 08, 2017
aug 08, 2017
aug 08, 2017
aug 08, 2017